Imagine this: you don't have to worry about wearing BB Cream to the beach because your under eye circles and acne are gone. You can travel to Cabo or Florida without a care in the world because the airplane won't dry out your skin or cause breakouts. The only worry you have about going to the pool is whether to get a watermelon margarita or a mint mojito, because the the chlorine won't dry out your skin, and painful sunburns and sunscreen-induced breakouts are a thing of the past. You've got a glow even the lifegaurds envy, and you don't need to tool around blotting papers because your face doesn't get shiny or sweaty, even when the temperatures are reaching new heights.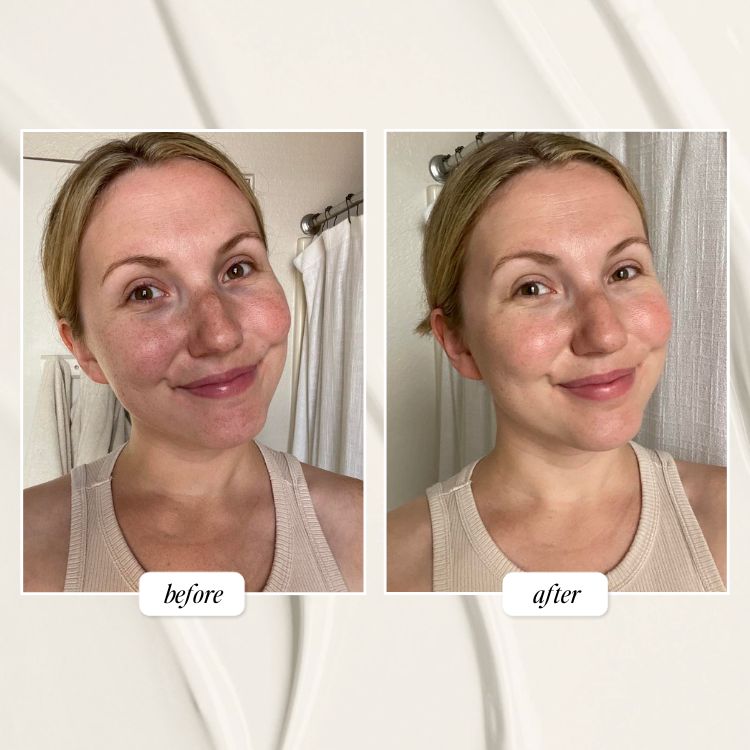 Does it sound like a dream too good to be true? If so, you have yet to discover the latest in skincare, promising answers to all the problems summer brings your skin. No matter if your ideal skin includes a bright complexion, acne-free radiance, that subtle tan that makes any bathing suit look good, or all the above, these seven it-products are going to help you get there.
1. Cooling Skincare
Your skincare doesn't have to just reduce acne, boost glow, or prevent wrinkles. Expect more from your skincare when the weather gets warmer by opting for products with cooling ingredients. The latest in skincare technology offers products that combine your go-to ingredients (like hyaluronic acid and antioxidants) and add a cooling effect to literally cool your skin's temperature down — I mean, does anything sound more refreshing!? It's like an ice cone for your face, except it makes you glowy instead of bloated. Besides just feeling good, a cooling effect helps shrink pores, reduces puffiness, and calms inflammation. Get your fix in a variety of moisturizers, eye patches, body sprays, or an ice roller (to soothe muscles, sculpt features, and help product absorption).

2. Non-Toxic Sunscreens
SPF is a no-brainer year-round (uh, duh!), but all SPF is not created equal. 100 percent mineral-based sunscreen is not only better for the environment (the chemical kind is especially damaging to coral reefs!), but it's also better for you. Mineral sunscreen uses natural minerals to reflect rays from your skin, while chemical formulas absorb the rays through a chemical reaction. Since the mineral variety does not sink into pores and reflects rays instead of absorbing (and is made from minerals instead of chemicals!), it's proven to be the healthier, cleaner option, and even protects better against the sun. For more info on non-toxic sunscreen, read here.

3. Post-Sun Lotions
While we're on the topic of sun skincare, what are you putting on your body when you get home after a day in the sun? If your answer is "uhhh sweatpants?" you're missing out on your most radiant skin and a prolonged glow. Your sun skincare doesn't stop when the sun goes down — not only will a post-sun treatment soothe burns (if you goofed and forget to re-apply that mineral sunscreen we talked about…) but they'll also preserve (and even intensify) tans. They're loaded with good-for-your-skin ingredients like hyaluronic acid, coconut oil, and vitamin E for your smoothest, silkiest skin ever. Dehydrating chlorine has nothing on these lotions and treatments.

4. Aloe Products
You've probably heard of aloe from the stuff your mom used to rub on your sunburns, or maybe you're one of the lucky ones who have sipped an aloe margarita on the beaches of Aruba. No matter how you know the plant, you probably know it for its cooling, soothing effects (or its deliciousness in a refreshing cocktail!). But aloe actually packs major beauty perks for more than just soothing a sunburn. We'd go so far as to say it's actually our summer beauty MVP ingredient.
It can be used as a powerful acne treatment (studies show that the plant contains multiple antiseptic agents, including salicylic acid), and as a bonus, it soothes digestion (no more bloat!) and boosts immunity. Plus (as if you needed any more!) it actually counts as an adaptogen. Add this super ingredient to your skincare for your best summer skin ever.

5. Probiotics
If you're a devoted reader (or a beauty-obsessive like me), you might have read about my journey with probiotics/prebiotics and how they transformed my breakouts. For that reason, the trendy supplement has earned VIP status in my beauty arsenal. Probiotics are live bacteria and yeast that are stored in your gut to keep it healthy, and help you properly digest food. A leaky or unhealthy gut doesn't just cause stomach pains or digestive issues — it's also associated with inflammatory skin conditions. Not only will popping a probiotic help with that post-salty margarita bloat, but it will also clear up any breakouts on the skin that appear from food sensitivities or a leaky gut.

6. A Clean Self-Tanner
Since we're not baking in the sun with tanning oil on (sun safety!), a girl's gotta faux a glow somehow! Lucky for us, we no longer have to depend on obvious streaks and orange tints (that was so 2005) to get a fake tan. 2019 brings us a new generation of self-tanners, this time with natural ingredients, violet or blue undertones, and a streak-proof formula. No more orange sheets or splotchy hands — these formulas are good. Mist, rub, or pat them on (forget lotion! — we're into mists, mousses, and moisturizers for a natural finish) for a glow that will last you from the first beach day to that last barbecue.

7. Vitamin C Skincare
Be you a beauty junkie or not, you've probably heard of vitamin C in your skincare, and maybe even tried a serum or face mask containing the buzz-worthy ingredient. The vitamin that's found in red peppers and oranges and is used to prevent a cold from coming on is making its way into all your skincare for good reason. It's a potent antioxidant that treats hyperpigmentation and prevents aging, as well as boosts collagen production and cell turnover — meaning it's amazing for brightening your complexion. Bonus: Vitamin C actually can help protect against sun damage (which doesn't mean you can ditch your sunscreen!). Basically, this super-ingredient is the secret to achieving that flawless summer glow we're all chasing.

What's your go-to product to save your skin for summer?