The time has officially come: I actually wear sunscreen every single day (I know, I'm an advanced individual in society). But of course, as soon as I finally get my sh*t together, sunscreen has a pretty tough year. There's been sunscreen recalls from Johnson & Johnson, big drama in the Korean sunscreen world surrounding labeling their sunscreen and third-party testing, and lots of misinformation and confusion concerning shady ingredients that the FDA isn't sure are safe. After what feels like headline after headline, we're all left wondering which sunscreen is actually safe. We got down to the research and asked a few experts for the 411 on sunscreen in 2021.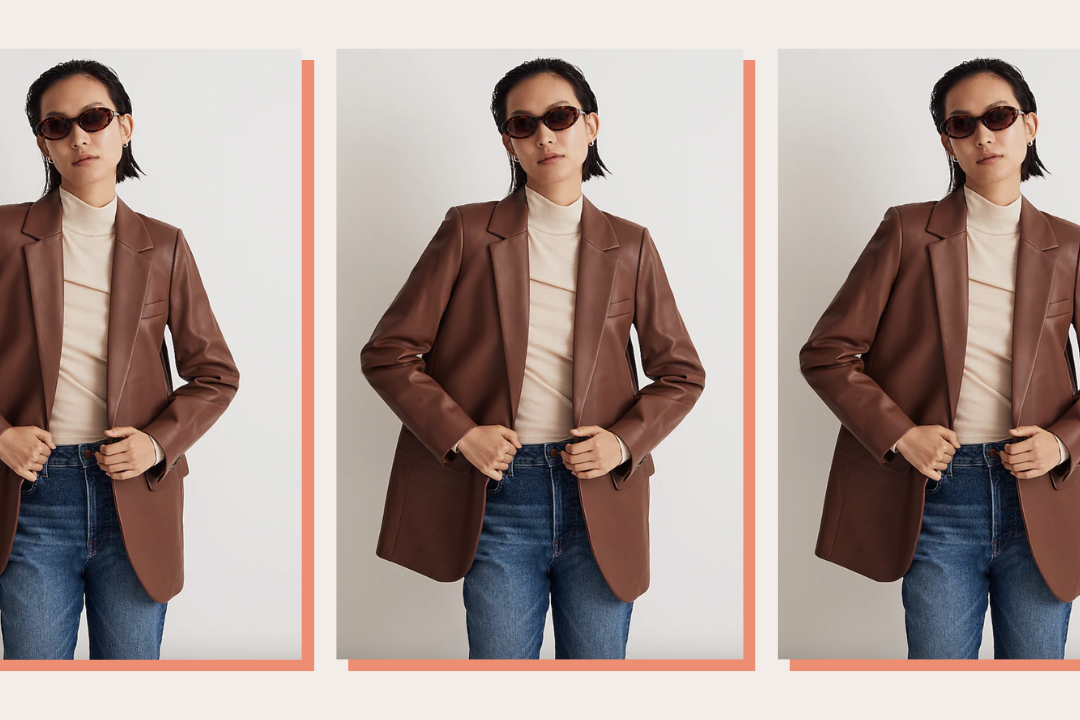 time for your fall wardrobe update!
Meet the expert
Dr. Loretta Ciraldo, MD FAAD
DERMATOLOGIST, FOUNDER OF DR. LORETTA SKINCARE
Dr. Loretta Ciraldo is a board-certified dermatologist in Miami with over 40 years experience and the founder and owner of Dr. Loretta skincare.
Meet the expert
Dr. Ailynne Marie Vergara-Wijangco, MD
DERMATOLOGIST, WRITER AT THANK YOUR SKIN
Dr. Ailynne Marie Vergara-Wijangco is a clinical dermatologist and researcher at Thank Your Skin. She specializes in acne, scarring, and oily skin.
The Drama With Benzene
On July 14, Johnson & Johnson recalled five aerosol sunscreens that contained trace amounts of benzene, a carcinogen. According to the CDC, long-term exposure to benzene can cause leukemia, excessive bleeding, decreased immune system, and more. However, Johnson & Johnson said, "​​Daily exposure to benzene in these aerosol sunscreen products at the levels detected in our testing would not be expected to cause adverse health consequences" and that they were recalling these products just to be cautious. It covers all SPF levels and canister sizes and includes these products: Neutrogena Beach Defense, Neutrogena Cool Dry Sport, Neutrogena Invisible Daily, Neutrogena Ultra Sheer, and Aveeno Protect + Refresh. J&J urges those who own these to stop using them and purchase an alternate form of sun protection.
The FDA is currently investigating 12 chemical sunscreen ingredients: cinoxate, dioxybenzone, ensulizole, homosalate, meradimate, octinoxate, octisalate, octocrylene, padimate O, sulisobenzone, oxybenzone, and avobenzone. Of those, oxybenzone is receiving the most press, as the Environmental Working Group, an organization of scientists and policy experts, cited studies that state it can be absorbed into the bloodstream and has been found in breastmilk, blood, urine, and more bodily fluids and can disrupt the endocrine system.
However, how do these effects weigh against the risks of skin cancer? The FDA originally said the fact that an ingredient was absorbed into the skin did not "mean that the ingredient is unsafe"; however, they also recognize that as Americans use more and more sunscreen, it deserved another look.
What About "Reef-Safe"?
Hawaii has already banned sunscreens containing oxybenzone and octinoxate in order to protect coral reefs and other marine life. These ingredients cause coral bleaching, which is when coral expels the algae tissues living inside them (which is what gives them their beautiful color), leaving a white transparent color behind. For some coral, they'll starve without this algae, putting coral and the marine life that need coral to survive in danger. Now, many sunscreens are being labeled "reef-safe" to show that they don't cause this damage and don't contain those two ingredients.
SPF Labeling
The way brands label their sunscreens is also being looked at. When you go to buy sunscreen and there are options ranging from SPF 15 to SPF 100+, how are you supposed to know which ones to buy? The FDA is looking into requirements around labeling to prevent confusion, especially considering SPFs over 60 don't always provide more sun protection.
Dr. Loretta Ciraldo MD FAAD, dermatologist and founder of Dr. Loretta skincare, explained that more is not better with SPF numbers. "I recommend you use an SPF in the range of 30 to 60 and nothing lower or higher." When you use an SPF 100, you're getting about 1 percent more coverage from the UVB burning rays than an SPF of 50, but that higher amount isn't actually worth it. If it's a mineral formula, it would be very white and cause a harsh cast on the skin with lots of pilling (nope!). In a chemical formula, those chemical ingredients could be absorbed into the bloodstream (as explained above) at these higher levels, and the FDA isn't sure of the long-term effects of that yet. Plus, Dr. Ciraldo explained, an SPF above 60 offers less UVA protection, which is what's to blame for skin cancers like melanomas, hyperpigmentation, and aging.
The Korean Sunscreen Controversy
For years, North Americans have looked to Korean sunscreens because the regulations in other countries and continents are stricter than in the West and their formulas have been easy to use, comfortable, and good for your skin. However, two European laboratories tested a bunch of Korean sunscreens and discovered that the SPF in a popular Korean sunscreen, Purito Centella Green Level Unscented Sun, was much lower than the label. The brand claimed it was SPF 50, but tests showed it was only SPF 19. While this isn't nothing, it's recommended that your face sunscreen lie anywhere from SPF 30-50.
What Kind of Sunscreen Should You Buy?
The FDA is set to release new guidelines on sunscreen ingredients, labeling, and requirements by Sept. 27, but what are we supposed to do while we wait? Some experts recommended opting for mineral sunscreen in the meantime, which include titanium dioxide and zinc oxide, two ingredients the FDA already deems safe. "Mineral sunscreens work differently because they sit on the top of the skin and deflect or scatter damaging UV rays away from the skin," said Dr. Ailynne Marie Vergara-Wijangco, MD, dermatologist and writer at Thank Your Skin. She explained that because of this, those with sensitive and acne-prone skin often tolerate mineral sunscreens better.
However, Dr. Ciraldo recommended using the sunscreen you like. "Because zinc oxide is often chalky and many people don't like the white cast it gives on their skin, dermatologists often advise their patients to use a sunscreen product that you like whether it is chemical or mineral," Dr. Ciraldo said. "Having SPF on skin is much more important to us than going without just to 'avoid' the chemical sunscreen actives."
As far as the best sunscreen formula, Dr. Ciraldo suggested choosing based on your activity. Go for something waterproof if you're swimming and sweatproof if you're playing sports or being active. Beyond that, she recommended choosing something fragrance-free if you're sensitive to fragrances, as this could cause allergic reactions.
How Can You Vet Your Sunscreen?
If you're unsure if your favorite sunscreen is up to par, don't fret. First, do a little research. You can look up a product's name on NDClist.com, which verifies that the manufacturer of a product is registered with the FDA and has gone through its proper testing in the U.S. Research the brand and read the product's ingredient list, especially the active ingredients.
Which Sunscreens to Try
There are still plenty of sunscreens deemed safe by the FDA, so don't take this as your opportunity to forgo sunscreen the rest of the summer. Here are a few sunscreens you can feel safe wearing:
For your beach and pool days, hiking, and any other outdoor adventures you get to this summer, don't miss putting sunscreen in these key areas.