Making the commitment to share a home with a roommate can be quite the daunting experience. Choosing a location, unit, paint color, or even deciding who will wash the wine glasses in the morning are just some of the many decisions that can come your way. Will my roommate mind if I have a guest? Will she get annoyed if I leave a mess on the coffee table? Better yet, will she like the same coffee style as me? Who will buy the coffee table? You know, the reaaal serious stuff.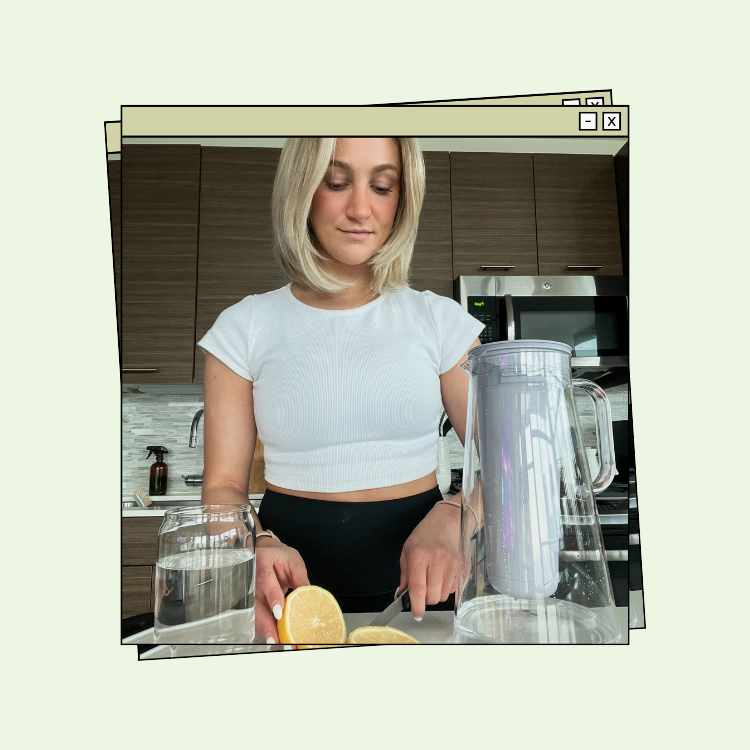 get it right in 2023 and beyond
Yet, these issues never crossed the minds of former internship roommates Natalie Pavela and Taylor Laitsch, who always knew they'd find their way back to each other. After Taylor made a career move to return to Chicago, and Natalie's lease was one month away from expiring, it seemed like the perfect opportunities to find a place together. As all Chicagoans know, it isn't easy to find the perfect apartment before someone else does, "Natalie sent me videos and pictures real-time as she toured it, I told her to sign immediately." Taylor trusted her future roomie with their place, and doesn't regret it in the slightest.
Both ladies agree that most importantly, in order to have a successful and enjoyable living arrangement, agreeing up-front on basic manners and house rules. For the first time on The Everygirl, two roommates take us on a tour of pad they share.
Full Name: Natalie Pavela
Age: 26
Location: Chicago, IL
Current Title/Company: Senior Account Executive, Hall & Partners (Branding & Communications Research), Blogger behind Street Smarts: A Learning Process
Educational Background (College/Degree): Baylor University '11, B.B.A. in Marketing and Entrepreneurship
Full Name: Taylor Laitsch
Age: 24
Location: Chicago, IL
Current Title/Company: Ad Agency Account Executive, Sales + Brand Development for The Everygirl, Blogger behind The Adventures of a Girl
Educational Background (College/Degree): Winona State University '11 B.A. in Mass Communication Advertising Focus
You two met while interning during the summer of 2010. Having a shared love for the arts, fashion, and interior design, you instantly became friends. As your careers progressed in Chicago, you became roommates. What made you decide to share a home together? How did you know it'd be a good fit?
Taylor: We were paired up as random roommates during our internship program, so we actually had the opportunity to "test drive" living together. When our internships finished, I moved back to Minnesota to finish school, and then spent two years building my professional career experience in Minneapolis. When I made the decision to move back to Chicago last July, becoming roommates again was a no-brainer.
Natalie: I've been living and working in Chicago since graduating, but Taylor and I had always stayed in touch, and secretly I was plotting a way to get her back here. As luck would have it, a new career opportunity brought her to Chicago in July 2013, a month before the lease at my last apartment was up. She crashed with me at my apartment for a few weeks while we searched for our new place, and last August we made the move to where we are now. I couldn't be happier to be sharing a space with a friend that inspires me, makes me laugh, and is always down for splitting a bottle of wine.
Tell us a bit about that internship experience. Was it helpful in narrowing down a career path? What was your first job out of college and how did you land it?
Taylor: I think internships are necessary, even if they only help you narrow down what you don't want to do. That's just as important as knowing what you want to pursue. I did three internships (all some form of marketing) before I graduated college in 2011. I was able to use past experiences from those internships in my interviews, and landed my first job right out of school as a Project Manager at an ad agency in Minneapolis. That being said – I'll be the first to admit that I might have been a little too hell bent on getting a job immediately. Don't slack off, but do let yourself explore different things and find your passion.
Natalie: Totally agree – take advantage of your summers with internships, gals! I had spent previous summers working in finance and politics, both of which didn't seem like the best career fit for me. During my internship with the brand research agency, I was lucky enough to get exposure to a variety of teams, clients, and types of projects. I really enjoyed the internship and company, so I kept in touch with my manager during my senior year of college. When a position opened up on her team that spring, I was the first person she spoke with about the opportunity. With my foundational knowledge from the previous summer, I hit the ground running just a few days after graduation and have been with the company nearly three years.
You live in an apartment in Chicago's Old Town neighborhood. Tell us the process you went through while looking for your place. Do you rent or own? How long have you been there? Did you both initially agree on the same place?
Taylor: The Chicago rental market, we quickly learned, is tough. Places go so fast! I swear we saw 6-7 other apartments before we found our current one, and they were either snatched up in front of us as soon as we walked in the door, or looked nothing like the pictures that were posted online. Natalie found this place when I was out of town, and sent me videos and pictures real-time as she toured it. I told her to sign immediately…and here we are!
Natalie: My previous apartment was in Old Town and I truly love this neighborhood for its location: proximity to the lake, ease of getting downtown for work, and other areas of the city without much hassle. Ultimately, a recommendation from my hairdresser led us to this property and it came with pretty equal sized bedrooms, one and a half bathrooms, a dishwasher, a back porch with skyline views, a backyard (we can't wait for summer grilling season!), and is close to public transit. It met the 'need to haves' on our list and many of the 'nice to haves' too.
Considering there are two of you, walk us through the initial decorating process. Where did you begin? Did you have a general idea in your heads of how you want a space to look that you agreed on?
Taylor: The most important thing to us was creating a space that both we and our friends wanted to spend time in, so we've focused mainly on making our living room/dining room area bright and inviting. Because we live in an old brownstone, a lot of the charm was already built into the little details of our place, like the wood burning fireplace, original hardwood floors and crown molding. We also take turns buying flowers and greenery weekly for some extra cheer
Natalie: Our design aesthetic is pretty similar, and luckily many of our pieces are pretty neutral and flow well in the open space together. Before moving in, we drew a rough sketch of where we thought each larger piece of furniture might fit best and the layout has remained pretty similar to date. I'm an advocate of unpacking everything right away when moving into a new space; filling the bookshelves and hanging artwork make your apartment feel homey right from the start. Don't be afraid to change things up! I'm guilty of rearranging decor on a frequent basis.
How would you describe your personal decorating style? Where do you look for inspiration?
Natalie: I like working with a blank canvas of white walls and have been drawn to more neutral and minimalistic decor lately. I also appreciate what a statement piece of furniture, colorful area rug, or thoughtfully placed houseplant can do for a space. I definitely find ways to incorporate my ever-growing collection of books into our home decor. When it comes to materials, I love a good mix of wood, metals, marble and glass. I like to visit West Elm, CB2, or Jayson Home to go browsing for decor inspiration – their stores are so thoughtfully laid out.
Taylor: I'm still trying to grow and evolve my style. I've been gravitating towards industrial accents, and trying to pair those with more modern pieces. The mixing-and-matching is kind of a fun challenge. There are endless sources of inspiration online, but Apartment Therapy and Design Sponge are two of my favorites.
When designing, how did you ensure that both of your personalities and styles were reflected in your home? Was it difficult finding balance?
Natalie: We both came into the roommate partnership with a few pieces of artwork, a few pieces of furniture, and a healthy supply of kitchen utensils, serving pieces, and cookbooks that come in handy when we entertain. Our personal style is pretty similar as well, and you'll see some of our favorite heels and hats displayed on the open shelving in the family room.
Taylor: Agreed! We're lucky enough to share a lot of the same likes and dislikes, so it hasn't been difficult at all to find that balance. Natalie's also been kind enough to let me hang some of my favorite artwork above our bar: Pantone Pairings designed by a former colleague, a kangaroo print by Sharon Montrose, and a Minneapolis neighborhood typography poster.
You've acquired your home furnishings over time, and have an eclectic mix of splurge-worthy pieces and budget-friendly finds. How did you decide what to spend on and what to save on?
Taylor: One way we've been able to save is by repurposing existing furniture. Our bar area is actually a drafting table I purchased from Ikea last year. It's been transformed into the perfect place for showcasing some pretty books and an extra space for food and drinks while entertaining. In our bedrooms, we constructed nightstands out of West Elm trays and old Ikea bar stools.
Natalie: I think most decor can be done really well on a budget, but I have also started to invest in a few important pieces that I know will stay with me long into the future. Over the past few years, I've saved up for and purchased a good mattress, a quality floor mirror, and my favorite piece of furniture in the apartment, a marble dining table. There are other areas of decor where we've been resourceful, like decorating our kitchen. We've hung tea towels on the open walls – specifically this one from Nourishing Notes, this one from Crate and Barrel, and this one from Redcruiser.
Were you on a budget while styling your home? Where do you like to shop for affordable pieces?
Taylor: We're still young professionals, so we certainly don't have a limitless budget. I've found some great things at Target in their Threshold and Nate Berkus lines, World Market, Gilt, Ikea and at The Randolph Street Market. And, believe it or not, I found my upholstered studded headboard on Walmart.com for under $150!
Natalie: Yes, other than the few big-ticket items mentioned above, I've definitely been thrifty when purchasing home decor. I've had some good luck at Marshalls (both our entry way table and the grey Victorian style chair were both sub-$100 finds!). I found the gold floor lamp and side table in our family room from Urban Outfitters. Our matching coffee & side tables in the family room are from World Market. Target is a great source for organizational items like wicker baskets and affordable kitchenware.
Would you consider yourself a DIYer? If so, what pieces did you do yourself?
Natalie: I honestly haven't attempted many DIY projects, but I did paint the gold chevron canvas leaning up against the floor mirror thanks to an easy tutorial from Jess Lively. I am starting to build a version of this folding wall bookshelf with a few of my guy friends, so soon I can add carpentry to my list of skills!
Taylor: I wish I was more of a DIYer – I certainly have enough DIY ideas pinned on Pinterest. I think I'm more of the constantly rearranging, repurposing and restyling type. Similar to Nat, I'm more into art projects like painting, and most recently, calligraphy.
Tell us about the advantages and disadvantages of having a roommate. What advice can you give to others who are looking to move in with a roommate for the first time?
Taylor: There are not many disadvantages. I love having coming home to a friend to share a glass of wine or cup of tea with at the end of a long day. When looking for a roommate, I think it's important to make sure you agree on the basics up-front: do you both have an interest in investing the time and money to decorate your apartment? How do you feel about friends/guests staying for extended periods of time? Will you assign house cleaning duties, or are you comfortable enough taking turns and trusting your roommate will do the same?
Natalie: I completely agree with everything Taylor said. Although we share similar interests and hobbies, I'm grateful for the way we've been able to expand each other's horizons and grow beyond our comfort zones during our time as roommates. We're both pretty laid back about chores, but we respect the communal spaces in our apartment. Ultimately, I think it's important to find a roommate who you can laugh with and be yourself around.
You love to entertain and are always up for hosting a weekend brunch, cocktail celebration, or movie night. What tips can you give to others when inviting guests into your home?
Natalie: We're lucky to have an open kitchen layout and enjoy cooking and preparing the meal with our guests. I've learned from past events that taking on very ambitious recipes can often lead to more stress. My rules for entertaining: definitely experiment by trying out one or two new recipes, but also stick with some tried and true items. I also try to do as much prep work in advance as possible, whether that's cooking related or just laying out the decor/serving pieces and utensils the night before. Hosting can be expensive, but since we love having friends over we'll often do a potluck brunch or dinner. I've found that our friends are always happy to contribute to the menu and often they have recipes they've been wanting to try themselves!
Taylor: One thing I've learned to be better at (and am constantly working on!) is relinquishing some of the hostess duties. I love to cook for people and make sure everyone is comfortable, has a drink, etc., but sometimes that causes me to be running around like crazy. It probably doesn't create a very relaxing atmosphere for our guests. By letting others help, I've learned to let myself enjoy the process a little more. Also, never underestimate the power of a good cheese plate. People love that stuff.
What do you love most about living Chicago? Any favorite spots?
Natalie: There are so many places to explore, I don't know if I'll ever tire of Chicago. Each neighborhood has a unique vibe, and there's something I love about each of them. I love visiting the Art Institute and the Garfield Park Conservatory. Some of the best bites I've had in Chicago include brunch at Avec, coffee at Heritage Bicycles, dinner at Nightwood or Longman & Eagle, and cocktails at Billy Sunday. I also like to plan neighborhood excursions and invite friends to come exploring with me. Most recently, I ventured down to Hyde Park on a Saturday to visit the Museum of Science and Industry, take pictures of the beautiful University of Chicago campus, and dine at Matthias Merges' new Italian restaurant, A10, which was absolutely fantastic.
Taylor: This city is constantly changing and growing, so there's something for everyone. I love spending a free afternoon wandering around the Art Institute. Lately I've been loving small BYOB bistros and restaurants for dinner or date night. Also, brunch is huge here. My favorite spots would have to be Kanela (red velvet French toast!), and in the summer, the outdoor BoHo brunch at RM Champagne Salon.
Taylor Laitsch and Natalie Pavela are Everygirls…
If you could have lunch with any woman, who would it be and what would you order?
Natalie: I admire Alice Waters and would love to share a meal with her. We'd swing by the farmers market to pick up whatever fresh and local ingredients were inspiring us that day. Then, we'd head to the kitchen of her restaurant, Chez Panisse, and cook a delicious meal together.
Taylor: Bri Emery of designlovefest – her creativity floors me. We'd share champagne and lots of yummy brunch food.
Best moment of your career so far?
Taylor: I feel like the best moment of my career has yet to happen! I've had the opportunity to work on big brands and national advertising campaigns (client interaction and photo shoots are my favorite), and most recently had the pleasure of joining The Everygirl team part-time. I can't tell you how great it feels to work for a brand you're so passionate about! I'm excited to help The Everygirl continue to thrive and grow. The potential of this site is endless.
Natalie: I wear my research hat by day and have enjoyed working on a recent shopper segmentation study for a retail client – it's great to see my team's hard work make a lasting impact on brand strategy and future planning. I've also served as the events chair on the junior board of an arts education non-profit for the past two years, and have found the fundraising and event planning role to be very rewarding. I recently started interning with the lovely Forth Chicago ladies, and I have The Everygirl to thank for introducing me to this opportunity! I'm passionate about learning from other creative women and can already tell that this year will be a valuable experience. Beyond that, I'm launching a series of yoga + educational events with my sister called Yoga+ later this spring!
Where do you see yourself in 5 years?
Taylor: If there's one lesson I've learned so far in my adult life, it's that even the best-laid plans will shift and change. With that in mind, five years from now I hope to be living a life that's filled with more creating and making. I love to be surrounded by and meet other creative types, so maybe working in a co-collaborative space somewhere. I also have a strong interest in e-commerce and photography that I'd like to dabble in. Living somewhere warmer than Chicago isn't out of the question either.
Natalie: I hope to never stop challenging myself, both personally and professionally. I'm eager to continue devoting more of my time to creative side projects like Yoga+ and see what they grow into! Like Taylor, I also have a newfound hobby in photography and am excited to grow in that disciple. And exploring, I'll never stop exploring.
TV show you wish was still on the air?
Natalie: Felicity. I love Keri Russell's character in this show and enjoyed watching her evolve from an insecure girl during her freshman year at NYU to a bold, confident women by the end of the series.
Taylor: Friends. I wonder where Ross, Rachel, Monica, Chandler, Phoebe and Joey are at now…
Aidan or Big?
Taylor: Aidan! 100 times over. What's not to like about a guy who can build things?
Natalie: I'm right there with Taylor, Aidan all the way.