When it comes to my wardrobe, I've always had the mindset, "If it looks good, I feel good." In other words, I'm willing to put up with itchy seams and obnoxious bunching as long as my outfit receives a few compliments. While my eye for fast fashion is still going strong, the comfort of my clothes and what goes under my clothes has climbed the ranks since I started working exclusively from my pint-size apartment.
Hate grocery shopping? Same. These hacks make them 100x easier.
Now when I say I prioritize comfort, I mean that I've become pretty darn picky about the softness and feel of my clothes. And while my go-to tops and pants are important, my intimates are the ones that need to be the coziest. After all, they do come in contact with the most sensitive parts of my body, so quality material is not something I'm willing to play around with.
Until recently, I tried to find intimates that were coupled with buzzwords like "buttery-soft" and "ultra-cozy." But I've come to learn that a few head-turning words can also be pretty misleading. That's why my newest requirement is the word "TENCEL™" because I know it means I'll be getting a quality item that doesn't miss the mark on comfort.
If you aren't familiar with the name, TENCEL™ is the branded fiber name for both TENCEL™ Lyocell and TENCEL™ Modal fibers, two of the most sustainable fibers on the market. . And besides making my intimates feel like they fell from the heavens, the fibers are also incredibly breathable and cooling. Lucky for me, responsibly sourced TENCEL™ products can be found at plenty of retailers. In fact, a bunch of my favorite clothing brands already feature collections—all I have to do is check the tag.
I could rave about this for hours, but until you actually feel the fabrics for yourself, you won't understand the real reason why tried-and-true brands and leading designers are hopping on the TENCEL™ train. Below, you can check out some of the pioneers, trendsetters, and innovators that will help you snag your own comfy, eco-friendly intimate items in no time.
We all need underwear, right? So can someone explain why it's so complicated to find intimates that are actually made for everyone? Enter: Proclaim, an inclusive nude lingerie brand that's trying to turn the tables by making bras, underwear, and swimwear that can end up in anyone's dresser, no matter their body shape or the color of their skin.
Available in sizes small to 3XL and in cup sizes A to DDD, the brand promises to relieve the pain that comes with finding intimates that truly work with your body. And while the size inclusivity is worth highlighting, it's the brand's eco-friendly nature that makes it a trailblazer in the intimates space.
Rather than creating a single line of sustainable clothing, all of Proclaim's products are made with earth-conscious materials. Does TENCEL™ sound familiar? The brand refers to it as "the Beyoncé of fabric," but it's the same sustainable fiber you can find at multiple retailers on the market. The fibers in Proclaim's TENCEL™-based items are produced from wood pulp, and the production of their intimates has a very low ecological impact, allowing you to feel good in more ways than one.
Proclaim
4 colors available
Proclaim
4 colors available
Pajamas aren't always the first thing people think about when it comes to getting good sleep. Sure, they're willing to invest in high-end pillows, cooling sheets, and supplements, but the truth is that sleep attire might be the culprit stealing away Z's at night.
Intimate brand Eberjey is on a mission to steal them back by offering pajamas, loungewear, and lingerie that will have you begging to stay in bed all day. Their most popular pajamas are their Gisele PJs, which take softness and comfort to a whole new dream-worthy level. Their secret? The line is crafted with a blend of TENCEL™ Modal derived from responsibly sourced wood pulp. But don't let the thought of splinters in your pajamas keep you from snagging a set of your own.
The fibers make the sleepshirts, sleep sets, and robes especially breathable and cool to the touch. They also have a bunch of different styles and colors to help you look as good as you feel—even if you're relaxing alone in your home. While the silky smooth sensation of Eberjey's Gisele PJs may take center stage, the real star of the show is the eco-friendliness that goes into the composition and production of these pajamas. The TENCEL™ Modal fibers are derived from trees that are grown in sustainably managed forests.
eberjey
10+ colors available
eberjey
10+ colors available
Now that the option to use TENCEL™ is widely available, brands and retailers are creating new eco-friendly product lines in addition to their tried-and-true items. Hanky Panky, a go-to intimates brand known for quality underwear, is one that recently added ultra-soft TENCEL™-based Modal thongs, boyshorts, and Brazilian-style panties to their site. They call it the "Dream" line, and knowing the soft, supple nature of TENCEL™ fibers, wearing them will truly feel like a dream come true.
Sustainable production is by far one of the neatest parts of Hanky Panky's Dream line; it's EU Ecolabel-certified and sustainably produced, two things you can't ignore. However, the design of the underwear also deserves time in the limelight.
The thong features a flattering v-front and v-back waistband that keeps it in place as you move, and the Brazilian option is super cheeky and trimmed with soft lace. Want more coverage? Turn to the boyshorts, which showcase a medium-rise silhouette that makes them great for lounging. But no matter what style ends up in your panty drawer, each one will provide outstanding breathability and a cool-to-the-touch feel thanks to the TENCEL™ Modal composition.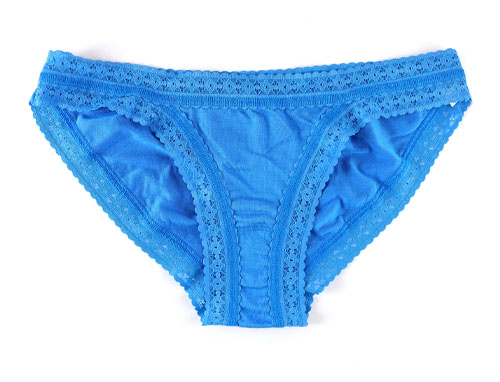 hanky panky
6 colors available
hanky panky
8 colors available
When Mother Nature makes her monthly appearance, she brings with her a bundle of gifts like fatigue, mood swings, and discomfort. Then, of course, there's the physical component of it all, which takes discomfort to a whole new level. So when I finally learned about the existence of period panties—washable underwear that protects against leaks and wetness—I was all ears.
I did what I do when I get super excited about something and took a deep dive into the web. That's when I discovered Thinx. Thanks to the brand's innovative, moisture-wicking technology, their underwear controls odor while absorbing up to five regular tampons' worth of blood. Neat enough, right? But to go a step further, Thinx launched an eco-friendly version of their bestselling panties, made with a blend of cotton and TENCEL™ Modal.
This is what keeps customers coming back for more. The fibers in their briefs, boyshorts, thongs, and bikinis make them ultra-soft and incredibly breathable. And since TENCEL™ Modal fibers are crafted to last, the Thinx Modal underwear can be washed over and over without losing their performance quality or feel over time.
Whether it's acne or eczema, if you have sensitive skin, you know it's no joke. So when it comes to dealing with the most sensitive area of your body (you know where I'm talking about), it's essential that you treat it with the respect it deserves. Thankfully, the intimates brand Huha makes undies that are infused with soothing zinc oxide. Naturally anti-microbial, this mineral is designed to protect even the most sensitive regions of skin.
It also helps that Huha's underwear is crafted with TENCEL™ Modal and Lyocell fibers that are ultra-breathable, keeping you cool and comfortable whether you're lounging around the house or finishing up your weeknight yoga session. And if you're someone who wants to help Mother Nature without going out of your way, you can do it by adding a couple pairs of Huha panties to your wardrobe.
Produced from sustainably sourced natural raw material wood, the fibers found in the collections are both biodegradable and environmentally friendly. The TENCEL™ Modal lends itself to the overall comfort of Huha's underwear, and the durability of TENCEL™ Lyocell means you can wash them time and time again without sacrificing quality.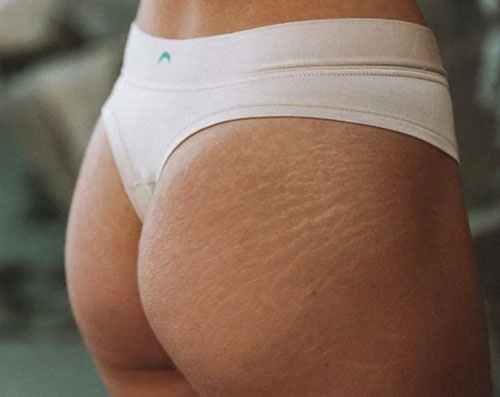 This post is sponsored by TENCEL™, but all of the opinions within are those of The Everygirl editorial board.