When I was little, my grandmother would host these amazing Thanksgiving dinners — with a huge spread filling a table long enough to seat 15 people (at least). The dishes would fly back and forth across the table, while the sound of good-natured ribbing (and wine being poured) filled the air. Ever since, I've longed to host my own Friendsgiving event — with the same spirit of joy and fullness. The problem? I have NO IDEA where to even begin. Like, how early do you need to buy the turkey? And how big of a turkey?! (They come in different sizes, right?) And do you have to assign seating? And wait, how do you set the table? HALP.
Clearly, I am in need of reinforcements in the form of someone who actually knows what they are doing. So I consulted our Director of Brand Partnerships, Alexandra Pagar-Wolf (literally the most together person I know), on how to host people without losing your mind.
Here, she outlines a 5-day countdown with specific steps on what to do from the Saturday before leading up to Thanksgiving. If you too are hosting your first Thanksgiving, or need some fine-tuning after previous, stressful attempts, worry no more. Ally is here with all the help you need!
And Macy's is offering up to 50% off all our favorite brands for your kitchen so we can all stock up on everything we could possibly need for holiday meal prep!
We picked up and love the black stainless and copper slow cooker, this 12-piece black and rose gold cookware set, and this practical and lovely 6-piece bakeware/storage container set!
Saturday, 5 Days Until Thanksgiving: Get Organized
• Sit down with a cup of coffee (fresh from your Nespresso coffee machine), and work on writing out your whole menu for Thanksgiving. It's always good to write out the menu so you can ensure you will have enough appetizers, entrees, and desserts for all of your guests. For appetizers, think of items that don't require the oven or too much assembly day of. You won't need much as you don't want your guests to be stuffed but items that can be easily taken out of the fridge and assembled beforehand are a win-win. Once you have your menu completed write out two grocery lists: one for dry non-perishable goods you can buy in advance and one for fresh items like vegetables and your turkey. *A tip is to write out your list by section of the store… i.e. baked goods, vegetables, dairy, etc.
• Take a trip to the grocery store today to stock up on all of your dry goods and items that don't perish quickly at a time when the store is less crowded. Don't forget about any items you might need for entertaining or setting your table like candles, extra linens, and paper napkins. Also don't forget home essentials: fresh seasonal hand soaps and towels for guests to use!
•  This is a good time to delegate tasks to other family members if you would like them to bring something so they have enough time to prepare. We definitely recommend doing this: it takes some items off of your plate.
Sunday, 4 Days Until Thanksgiving: Get a head start on baking!
• If you are making pie crust from scratch or a batch of your favorite cookies you can easily make the dough today and freeze it so it's all ready to go Wednesday night. This will cut your baking time down by half!
Monday, 3 Days Until Thanksgiving: Begin to Set Your Table
• Begin to set your table. If you are using a tablecloth or cloth napkins they may need to be cleaned or ironed. Set out what you can and ensure everything is clean including vases so you can easily pop your flowers into them. Make sure you have fresh candles–always use unscented alongside food.  If you still need to use your dishes and flatware for the next few days no big deal–everything else will be done you can you just put them down and go the morning of.
• Are you assigning seats? Go ahead and make the name cards now.
• One of our favorite things about hosting an event is creating the perfect playlist. We made one for you here.
• If you are planning to cook with a frozen turkey now is the time to think about defrosting it. The best and safest way to defrost a turkey is to leave it in your fridge to thaw for a few days. A safe rule of thumb is 24 hours in the fridge per every 4-5 pounds. If you are tight on time you can use a cold water bath to speed it up but be sure to only use cold water and change the water every 30 minutes. Be sure to keep the temperature of the outer layer of the turkey below 40 degrees to prevent bacteria from growing.
Tuesday, 2 Days Until Thanksgiving: Set up the Bar
• Set up a space for a bar. During events people love to all crowd in the kitchen while you are cooking. If you set up a small bar elsewhere people can help themselves without getting in your way, and letting them serve themselves makes one less thing for you to do!
• It's also good to start thinking about how you will want to serve your guests. Do you want people to serve themselves buffet style or will you put all the dishes out on the table? It saves a lot of time and makes it easier for people to help you if you set out all of your serving dishes with sticky notes attached that say what should go inside. That way when your food is done people can easily help you get things onto the table quickly.
• Now that you have most of your items at home (remember, you're still waiting to get fresh ingredients!), it's time to think about the flow of your day. Make a list of all of your dishes and their corresponding cook times, temperatures, and necessary prep for each dish. This cheat sheet will help you so you have all of your recipes handy and know when you have to put something in the oven or start the crockpot (and you can make sure you have enough oven or cooktop space to actually make your dishes)! This should make Thanksgiving day a breeze so you can catch some of the parade with a mimosa in hand stress free.
Wednesday, 1 Day Until Thanksgiving: Grocery Store and Prep Any Food You Can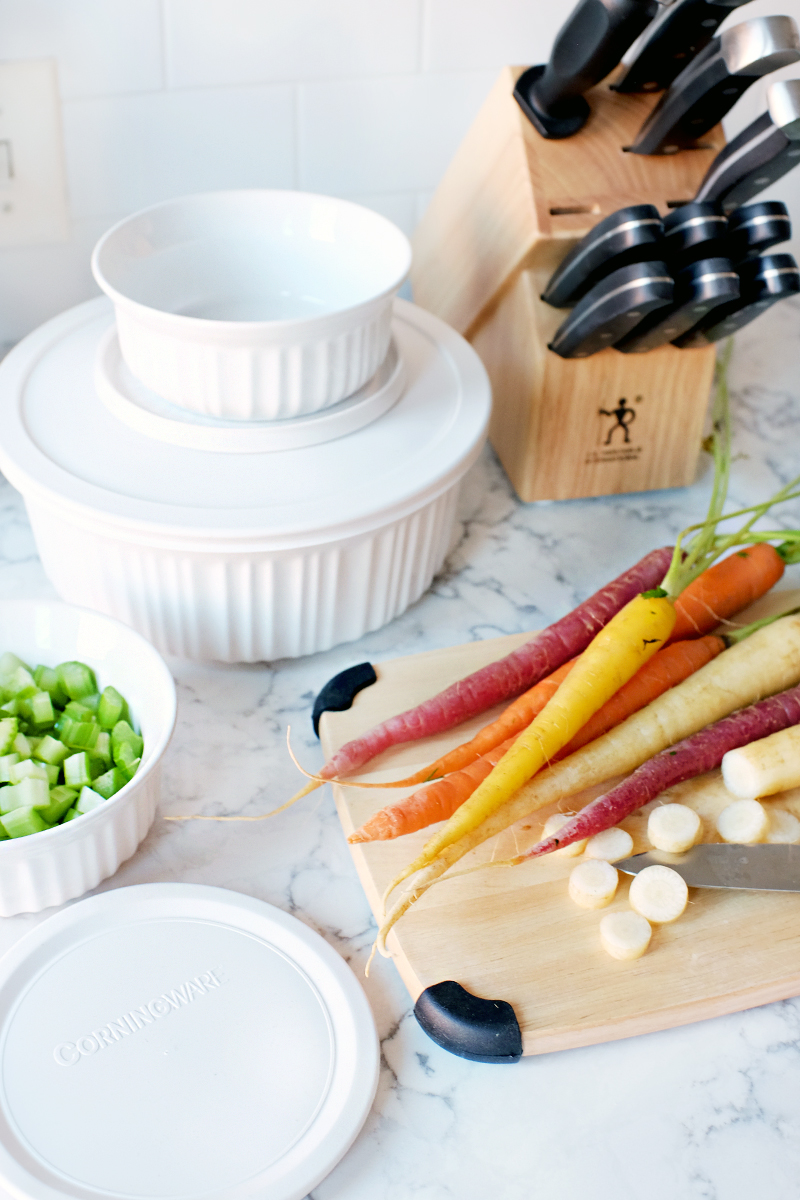 • Set out early in the morning to beat the crowds to get your last minute fresh ingredients.
• When you get home pull out your timeline and begin to prep all ingredients that can be done in advance, clean and wash all vegetables and produce, chop ingredients for stuffing and put in air tight containers, prep appetizers. This white 6-piece Corningware bakeware set comes with lids and does double duty acting as both bakeware and storage containers before and after the big feast (need to keep those tasty leftovers fresh)!
• Finish all of your baking and store in the fridge or on the counter overnight.
• Set out your roasting pan and make sure you have all the cooking essentials you need out for the morning to get your turkey in the oven on time.
• Set the last few things out on your table such as flowers if you are using those as your centerpiece and plates if you had been using them.
THANKSGIVING DAY!
• This day should be the easiest as you have done most of the prep work. Follow your schedule and begin by getting the turkey in the oven. Depending on if you cook your stuffing inside or outside the bird that will be your next step. Once that is in the oven, prep your potatoes and assemble ingredients for the rest of your side dishes. You can get everything ready and leave them in their baking dishes in the fridge until they are ready to go into the oven.
• After the turkey, be sure to get your potatoes started in the slow cooker! We shared the recipe for crockpot garlic mashed potatoes in our last post, but look no further than this beautiful Crux black stainless and copper 6 qt. slow cooker to handle the heavy lifting.
• Put the stovetop to use as soon as you can by cooking and heating up sauces, gravies, and veggies in your pots and pans! We recommend a set like this black and rose gold 12-piece set by Cuisinart – the more the better so you don't have to waste time washing a pot or pan between before starting on the next item!
• Pull your easy appetizers out of the fridge and set them, the ice, and chilled beverages out on your bar.
• You are ready for your guests! Just relax and try to enjoy of the planning you have done. Be sure to ask people for help as they can easily help you fill water glasses or hand you serving dishes.
FIND OUR 4 EASY RECIPES for THANKSGIVING HERE!
SHOP THIS POST
This post was in partnership with Macy's, but all of the opinions within are those of The Everygirl editorial board.