I never realized how much I actually need exercise until I found myself laying on my couch at a 160 degree angle for five days straight, thinking that this is how the world would remember me. The second my friend texted me to tell me about one of her favorite at-home workout apps having a free unlimited class deal for the next few weeks, my 160 degrees of existence quickly changed to a respectable 90, and I and sat up and proceeded to download it. One seven-minute workout later, I can genuinely say that I felt like a new person.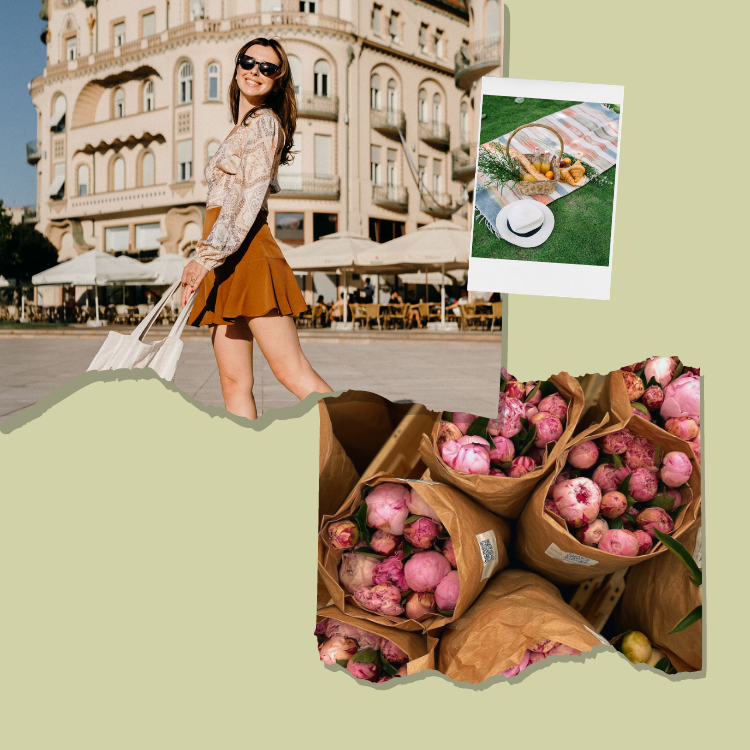 read this if you're in your saving era this summer
With gyms and studios closed around the world, our homes are the cool new all-in-one hangout. Thanks to technology, we have a plethora of tools that we can take advantage of, and no excuse to not keep our bodies moving. To exercise while staying at home, here are the best workout apps and YouTube channels to stream in your living area or bedroom to keep your heart pumping and endorphins rushing. The best part? They all offer free trial periods that are perfect for finding which ones work the best for you—and the YouTube ones are, of course, completely free! All you need to do is shift your coffee table and grab a hair tie.
Workout Apps
If You're Looking For: a variety of live and on-demand classes
An Everygirl office fave, Obé Fitness offers every possible class you could think of to stream live or on-demand in the comfort of your own home. The live classes make a workout feel more engaging and like you're in your own little nook in an actual class. They offer classes for cardio, strength, yoga & stretch, and have several 10-day programs custom-made by your favorites (like The Yoga Deep Dive or, ahem, The Everygirl Program, just to name a few).
Use promo code "TEG50" to get 50% off your first month of Obé Fitness.
If You're Looking For: yoga, barre, HIIT, and short workouts
This collection of apps offers some of the best at-home workouts, without the need for equipment. With classes like yoga, barre, HIIT, and seven-minute workouts—all with varying levels of difficulty—you can experiment with all different classes to find what works best for you.
If You're Looking For: all things pilates
I've always had the vision for myself to be one of those girls from the movies who gets complimented for her muscle tone and nonchalantly responds, "oh thanks, it's from pilates," while having a chic mat tucked under her arm. Only problem is, I've never done a single pilates workout. Enter this app. With a library of over 3,400 pilates videos to utilize at home, this app is great for whether you haven't tried a single pilates class ever, or if you're already a pro at it. It also allows you to choose among varying equipment types as well, including options for using none at all. Cue my journey to become "movie pilates girl."
If You're Looking For: a step-by-step program that tracks progress, with a huge fitness community and motivating trainers
BBG, PWR, FIERCE, BUILD, and BAM are not only a collection of intense, all-caps letters–they're literally a way of life for many women globally. The Sweat app has one of the biggest online fitness communities for women, and rightfully so! The certified trainers offer some of the best classes and programs that have shown to help transform so many women physically, emotionally, and mentally. I just tried my first ever BBG workout a couple days ago—and all I can say that this is no joke. It made me feel like I was in the beginning part of a Rocky training montage, which is a feeling I will latch onto for as long as I am physically able.
If You're Looking For: short, effective workouts with multi-week programs
For when you just want some quick bursts of energy, this app will be your savior. Specializing in quick, effective workouts (with their fat-burning, seven-minute workouts), Workout For Women lets you have the freedom to exercise anywhere, anytime, without the need for any equipment. It also features multi-week programs designed by professional trainers to help you accomplish more specific goals, and is compatible with Apple Health to track your fitness.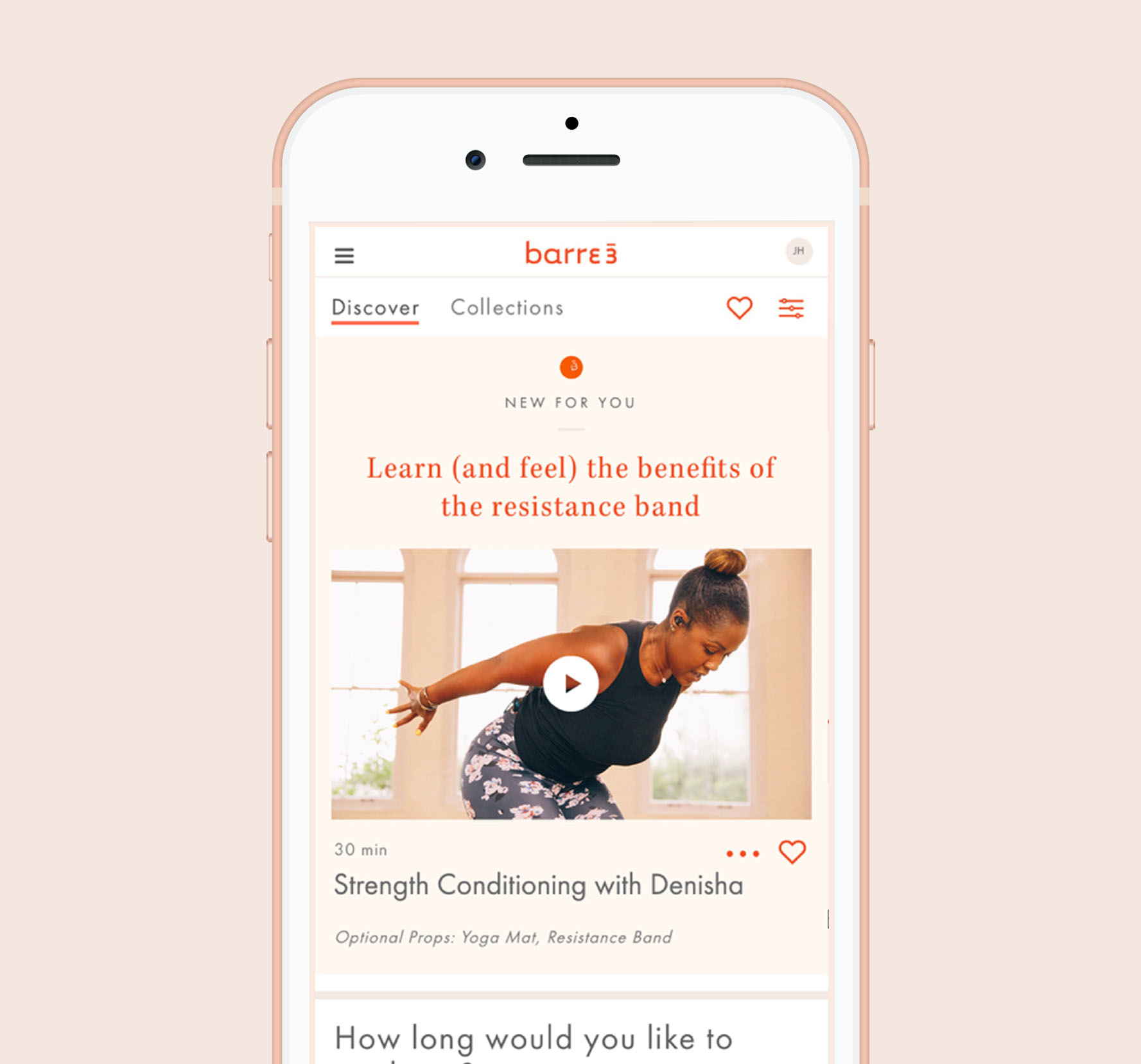 If You're Looking For: all things barre
Barre is all about the low impact, highly effective workouts that require little space to complete—it's the perfect workout to stream from your home. This nationally-popular studio chain is currently offering up a free 15-week trial for all of you barre enthusiasts to be able to take part in their phenomenal workouts designed by their master trainers, complete with progress-tracking features. Combining cardio, strength conditioning, and mindfulness, these workouts are going to leave you feeling like the best version of yourself.
If You're Looking For: dance cardio and sculpt workouts
Trainer Megan Roup has had some amazing fitness clients ranging from models like Elsa Hosk to TV personalities like Morgan Stewart, and this app offers some of the most fun workouts to get your heart pumping and your body sweating. Megan's intention with this app was to create dance cardio and sculpt workouts for non-dancers, as to remove the intimidation completely, and help you become your most confident self.
If You're Looking For: personalized, no-equipment strength training
Wish you had a personal trainer to tell you everything you need to do for your specific needs, but don't want to dish out the excessive payments per session? Well, this app is about to make you very happy. Start out by filling out your profile to indicate your fitness level and goals, decide when and where to train (with zero equipment!), follow your custom-made workout plan, and experience their AI coaching by offering feedback that goes into tailoring your following sessions.
If You're Looking For: yoga in all its glory
"Flow, sweat, and savasana—whenever, wherever," as they say. You might already be one of the thousands who consider Corepower their fitness haven, and their online workout community is not short of hype either. Light some candles, cue up your favorite meditation playlist, and bring your favorite yoga workouts into your own home by trying out their several levels and varieties of classes.
YouTube Fitness Channels
If You're Looking For: dance workouts with a super fierce and sassy coach
Caleb Marshall (aka The Fitness Marshall) is an absolute icon and gem. This man will guide you through the most amazing dance combinations, while yelling out wonderfully improvised compliments, and throwing in some fantastic graphics. His videos also feature diverse backup dancers to showcase how to modify various steps to your ability and dance expertise. The "Dua Lipa – Don't Start Now" workout is a real mood, and I may or may not have actually used his "Justin Bieber – Sorry" dance workout moves at a party or two.
If You're Looking For: 20 minutes or less full-body and isolated workouts to your favorite songs
This channel is the place to go for a super effective and real-time workout that doesn't require you to leave your home or grab any equipment (aside from the very rare and occasional dumbbell, which you can replace with some basic household items). All of Maddie's full-body or isolated workouts are 20 minutes or less, and make you work hard to feel the oh-so-good burn the next morning. She also specializes in rhythmic workouts that work with the pace and beats of specific songs, which honestly is a very satisfying experience.
If You're Looking For: pilates, HIIT, and sculpting videos with an extremely charismatic trainer
Cassey Ho has trademarked the concept of POP Pilates, and has been regularly posting workouts for her subscriber audience (of 4.85 million+) for over 10 years! She always has the best motivational comments, and does everything with a genuine and infectious smile. Her pilates, HIIT, and sculpting exercises always feature upbeat pop music, and she also has an app (and clothing line!) with a huge community and following.
If You're Looking For: a variety of workout-types and class lengths
Almost all of us have come across a POPSUGAR fitness video at some point. This channel has been super popular for years and only keeps getting better. All of the variety of classes are led by groups of energetic and upbeat instructors, vary in time, and require little to no equipment. Whether you like dance cardio, barre, or strength training, you're sure to find something that will help you stay motivated to keep tuning in and moving.
If You're Looking For: curated playlists of various types of workouts, with a personable coach
Jessica's channel features real-time workouts, with curated playlists for 10 minutes or less, walks, abs, barre, cardio, and beginner workouts. Her channel is described as, "No crazy exercises, revealing outfits or negative energy here—just common sense fitness, advice, and support from a certified wellness coach, trainer, and instructor with 20 years of experience, and her sidekick, Peanut the French bulldog." Peanut the French bulldog. Need I say more?