Picture this: A classic rom com scene when the girl comes out of the bedroom wearing the boy's dress shirt clearly suggesting that she wasn't practical enough to pack jammies for her sleepover. Her perfectly tousled hair and "I-just-woke-up-like-this" makeup obviously took hours. Just a few buttons are done so the men's shirt turns into this drapey, curvy and delicious dress. She reaches for a cup of coffee but I'm already distracted. Dress shirts don't "drape" on me. They take on a boxy, art class smock effect look. Or the buttons are bursting at the seams, which makes me look like a centerfold. Or Violet Beauregarde turning violet.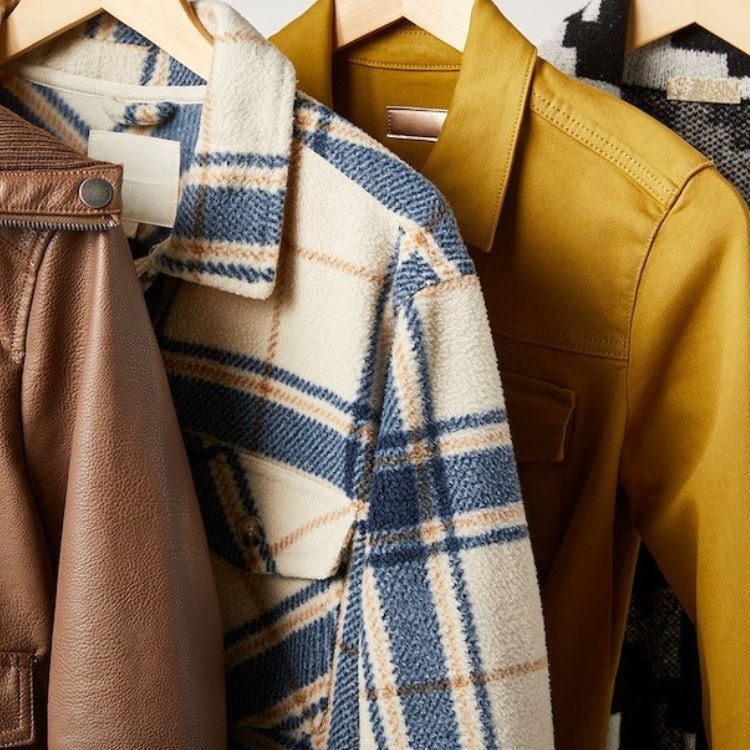 ...and it's wallet-friendly
It just isn't fair that button downs don't fit me easily! They are a classic look for both men and women. It is much easier for men to find shirts that fit because their button downs don't have to accommodate curves. Men's shirts have a collar width and sleeve length and now come in varying body styles (slim, super slim, relaxed) so men can find a flattering fit. And what about us Everygirls?
While our sizing isn't as easy, there are more and more options popping up in retail each season. Menswear for women is still a designer trend (as we saw on the runways this fall) and the white button down is hot right now. A button down shirt is classic for work or play: tucked in, left out, buttoned up, left open and worn with skirts, shorts, leggings, jeans, and with any kind of hairstyle you want.
Like everything else, finding the right one to fit your body takes some work. Luckily, many retailers offer button down shirts with flattering design elements in multiple styles and in a variety of fabric and cut so you can figure out what works best. Let me introduce you.
DESIGN ELEMENTS
Image via Shapely Chic Sheri
Darts:
Back darts are the seams on the back of a shirt to eliminate extra fabric and create a more contoured look. These can make or break your fit; if the darts have cut out too much fabric, you might not be able to button the shirt all the way up or down. You'll want to look for darts that start an inch below the armpit and either end around the waist or run the length of the shirt and curve to allow for an hourglass shape.
Bust darts start at the side seam of the shirt and work their way up your bust. They can also mimic the line of back darts and start at the bust and run all the way down the front of the shirt. Bust darts are a good alternative for back darts if you want a looser fit in the back or they can compliment back darts to make a well fitting shirt all around.
Darts can always be added to a shirt but they're more difficult to let out. If you're looking at a shirt and think it is just a hair small, go a size up and visit your tailor to add darts!
Shoulder Yokes:
A shoulder yoke is a triangle piece on the back of a shirt that extends from shoulder to shoulder. A quick peek through a boy's closet will confirm that almost all of his shirts will have shoulder yokes (and if he's a cowboy, his shirts will have yokes in the front too). Yokes are totally optional for women's button downs. Although they don't make much of a different to the fit or shape, we think they're the perfect touch if you're looking for something menswear-inspired.
Shirring:
When two or more rows of fabric are gathered together, almost like pleats but not as rigid, that's shirring. Typically if a shirt has shirring details you'll see it at the shoulders or yokes. Shirring works best on lighter fabrics so you won't see it often in 100% cotton or flannel shirts. Shirring adds that little "extra something" to more delicate button downs.
BUTTON DOWN STYLES
Image via Redbook
In the world of button downs, we have several style options: oxford, popover, boy or boyfriend, and work or utility styles. While, as always, these are all interpreted differently by every designer, I'll try to use a very broad brush when painting these descriptions.
Oxford Shirts:
These are your most classic, polo style shirts. They have buttons from top to bottom and the collar is structured and stiff. Usually they are 100% cotton and don't have much stretch. They'll have darts, usually just one breast pocket, and maybe a yoke.
Favorite 100% Cotton Oxford Shirt: The Custom Fit by Ralph Lauren
Favorite Stretchy Oxford: J.Crew Stretch Perfect Shirt
Favorite Curve Oxford: ASOS Girlfriend Shirt
Honorable Mention: Banana Republic Soft-Wash Oxford Shirt
Honorable Mention: Mango Violeta Cotton Oxford Shirt
Popover Shirts:
An overhead version of the oxford shirt with buttons that start at the waist up to the collar. Popovers happen to be my favorite style! Because they fit over your head, they are cut more loosely. Some styles have back darts, some don't. These shirts come in any fabric you can think of but I prefer lightweight cotton blends. I wear them tucked into a pencil skirt for the office and on their own with a pair of boyfriend jeans for errands on the weekend.
Favorite Popover Shirt: Old Navy Oxford Pullover
Favorite Curve Popover Shirt: Mango Striped Pullover
Honorable Mention: Loft Henley Blouse
Boyfriend Shirts:
Basically, the men's shirt for women. Often, boyfriend shirts are a more relaxed fitting oxford that doesn't have darts and will be cut for feminine curves. And most of them are going to have a shoulder yoke.
Favorite Boyfriend Shirt: Gap Fitted Boyfriend Shirt
Honorable Mention: J Crew Boy Shirt
Work or Utility Shirts:
These will typically have two pockets at the bust, maybe one on the sleeve. They often also have tabs sewn in to secure the sleeve when rolled up. They'll usually come in either chambray, broken-in khaki or flannel. Most will have shoulder yokes, some will have darts or shirring, but generally you should expect a looser fit from this style.
Favorite Work Shirt: Madewell Tomboy Workshirt
Favorite Curve Work Shirt: Old Navy Chambray Pullover
Honorable Mention: Banana Republic Silk Utility Blouse
FINDING YOUR MOST FLATTERING FIT
Image via Kendi Everyday
Fit isn't universal: The fit of a button down shirt can be described many ways: classic, fitted, favorite, boyfriend, easy, and relaxed fits. Each brand/designer decides what the fit truly is. Generally, classic or fitted shirts are going to be the least forgiving and easy, boyfriend, and favorite fits will be more comfortable. Don't pay too much attention to the "fit" description, rather go off measurements.
Pay attention to your bra: Wear your favorite or most comfortable bra when trying on oxford shirts. The buttons should be able to close completely and lay flat without any stretching or pulling. If yours fits in the bust but is looser than you want around the waist, take it to a tailor and have darts put in or have them adjusted.
Button alignment is key: The most flattering fit will be shirts with a button smack dab in the middle of the bust (hint: try switching your bra to line things up!)This button location ensures the placket (the part of the shirt with the buttons) lays flat down the front of the shirt. A button too high on the bust will stretch and pull to accommodate the curve between it and the next button.
Scope out sizing charts: If you're shopping online, know your bust measurement and your waist measurements before you start browsing. Measure your bust by wearing your most comfortable and most loved bra as well as around the fullest part of your bust. Don't squeeze the measuring tape right up against you, leave a little room to move. Also measure your natural waist which is located at your belly button and your drop waist, which is an inch and a half below your natural waist. Read the size charts and the reviews for each shirt for clues on how it will fit. Base your size off of your largest measurement, and look for bust and/or back darts for a more snug fit.
I know this is a lot to consider, but there are button down shirts out there for every shape! And like everything else, you have to work to find the one that fits you best. Now that you understand a bit more about why your shirt might not be fitting well, it's time to shop for your new staple: the button down!
What are your tips to finding the perfect button down?