I'll be honest: I have tried a lot of products in the last few months. My taxes were slightly less than I expected, and I stopped ordering a $14 cocktail multiple nights a week. But not everything was created equal. Some of the products I tried were absolute garbage (a new foundation I tried made my face break out in the worst break out I've ever had… no thanks), but some have officially made it to holy grail status. Below, I'm sharing the products that have totally made their way into my everyday makeup basket, whether for daily wear, just taking some selfies, or the first time I got to see my friends again (socially distant, but oh so glorious regardless). They're perfect for mask-wear, but also just lounging around the house.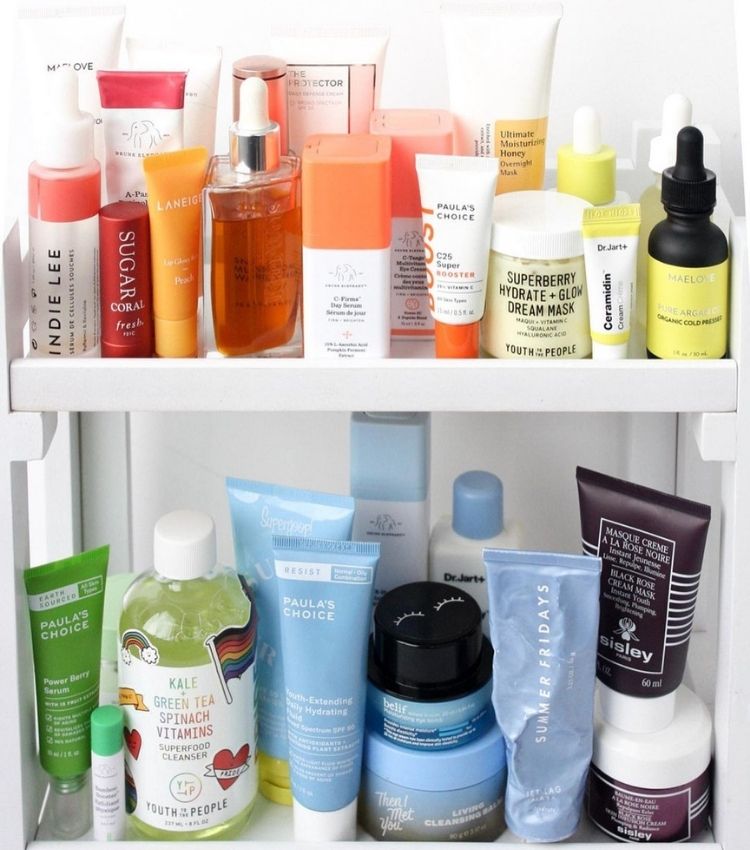 the wrong order can reduce effectiveness
Laneige
I snagged this in Sephora's Spring Beauty Event in May the second it went back in stock. I've loved every single thing I've tried from Laneige, and I was intrigued by the idea of their first foray into a skincare/makeup hybrid product. I was not disappointed. I use this as a makeup primer, but I've even used it on days that I'm not wearing makeup just to look glowy without any coverage. The glow comes from the texture of the product (a light, liquid/serum that comes out of a dropper) rather than a bunch of glitter or shimmers all over your face. It does have a hint of a pearl, but I can't see them at all on my face once it's blended in. Oh, and as a primer it works wonders. I've worn this on days I know I'll be wearing my mask for a long time in the heat, and my makeup doesn't budge.
I have combination skin, but I can get away with using this all over my face, so I honestly think it would work on all skin types.
Elysium Naturals Co.
I raved about this on Instagram the second it came in the mail. I was looking for a thick body butter to rub all over my legs after shaving, but nothing has ever been the right consistency for me. I love the look of a body oil, but I hate the process of putting it on; and a body butter moisturizes, but it rarely gives me the glow I want. This product is the perfect medium between an ultra-moisturizing body cream and a body oil. I put it all over (arms, shoulders, chest, legs, butt, feet—legit, this goes everywhere), and I get compliments every time that my skin looks glowy and hydrated. I purchased the "sweet mango" scent, and it's great for summer. The scent lingers, but I don't notice it inferring with my perfume either. I am dying to try the orangesicle and the lavender vanilla too!
Tower 28 Beauty
Next to eyeshadow, blush is one of the most fun products out there. It's an easy way to have a little extra fun with color without going full blue eyeshadow. And of course, I'm opting for more cream cheek products than ever to keep my skin looking glowy and natural. These ones from Tower 28 are some of the best I've tried. I have the shade "Golden Hour," a terracotta orange that blends out to look like a light orange on the skin. If the idea of orange blush scares you, don't let it; it actually looks really natural on my warm skin tone—like I'm actually blushing. But it's also available in two other shades that I absolutely am dying to get my hands on: a neutral pink/mauve and a bright, summer coral-pink.
Charlotte Tilbury
Charlotte Tilbury just gets me sometimes, IDEK. I've tried a few new bronzers this summer, but this one… Y'all, this bronzer is one of the best powder products I've ever tried on my face. I spent all of last summer absolutely raving about the Fenty Beauty bronzers. And trust me: I still love that bronzer with my whole heart. But when I wasn't wearing foundation or was just wearing a concealer, it didn't blend as easily. I love the look of nothing but bronzer on the skin in the summer—your skin looks even and flat without any coverage. And CT's new bronzer is perfect for that. I like to think this is because it's the exact same formula as Charlotte's iconic Airbrush Flawless Finish setting powder, so it's made to be worn on bare skin and reapplied throughout the day.
If the price of this bronzer is holding you back, I feel you. I ultimately decided to try it because I love that this is a refillable pan. Once I hit pan (or want a lighter shade in the winter), I can just replace the pan without buying a whole new package. It's less wasteful and cost-effective, which I absolutely love. This pan is also absolutely massive (see image above next to my Fenty bronzer). I have used this every single day since I got it, and I cannot imagine going through it in my entire lifetime. I've only had this just over a month, and I think I've already used it 55 times. For reference, I got the third shade, "Tan," and I am currently a Fenty 330 and use the "I$land Ting" bronzer!
JD Glow Cosmetics
I considered adding these as an honorable mention because some of the shades I have are sold out, but these actually might be #1 right now, so I gotta tell it like it is. I'm an eyeshadow fiend, but as my collection grows, I am strategic about finding shades and textures that are really unique. These Galaxy shadows are basically as unique as it gets. First of all, the price is absolutely right. These pans are huge, so you'll never run out while getting a great deal per gram. But what really stands out about these are the texture. These are all duochromes. I have "Peachy Keen," which at first glance looks like a light peach shimmer, but it shifts to a gorgeous green. I recently used this to recreate this gorgeous picture of Gigi Hadid, and it was basically the exact tone. I also have "Prismatic," a green-blue duochrome, which I'm wearing in this picture (shoutout to my hairstylist for my hair looking as good as it ever will in this picture).
Obviously, I have brighter shades, but I'm excited to try some more neutral ones. I genuinely don't want to wear any other shadows right now! JD Glow is a Black-owned indie beauty line by two BFFs in Baton Rouge, L.A., which only makes me more excited to buy more of their incredible products.