As a partner at the top producing luxury real estate firm in Santa Barbara, Calif., Sarah Kelly knows the value of a good home. Which is why she has turned her own space into an oasis on the coast. With help from Interior Designer Lauren Christine Henno, Sarah was able to bring the beachside "inside" using serene colors, seascape accents, and plenty of boho vibes.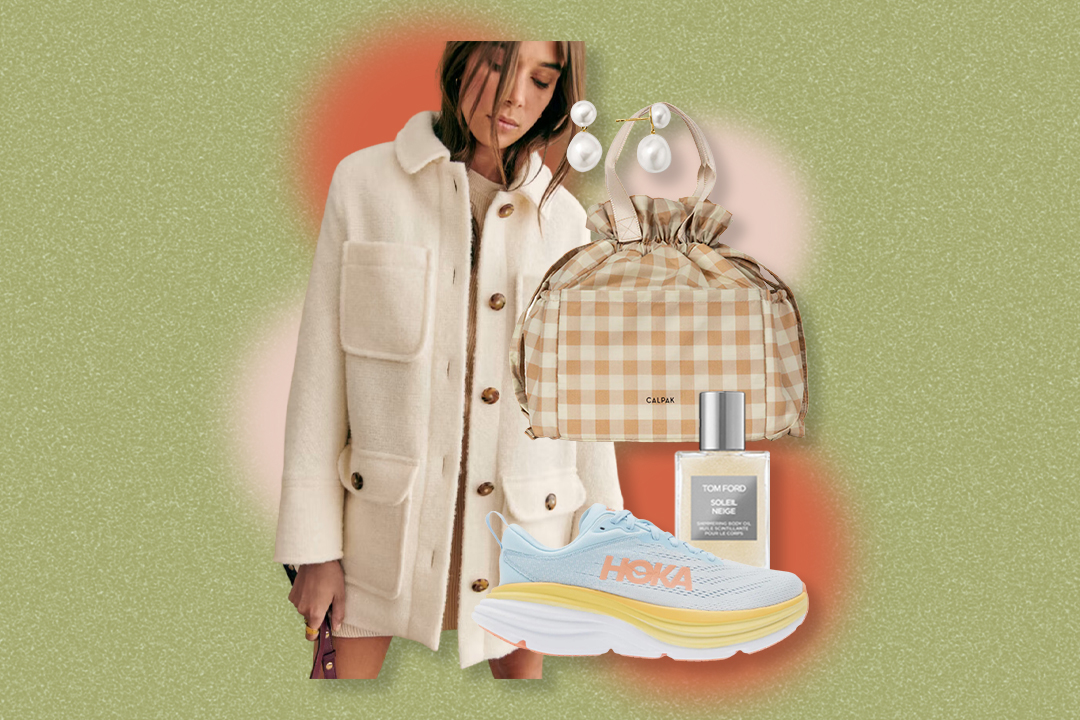 Name: Sarah Kelly, Partner at Riskin Partners
Age: 37
Square Footage: 1,800
Rent or Own: Own
City: Santa Barbara, CA
What was your first job out of college and how did you land it?
My first job out of college was as a nanny for my relatives. I desperately wanted to stay in Santa Barbara, and they offered me a great opportunity to be their nanny and travel the world. I did it for two-and-a-half years before moving into my current role in real estate. I started as an assistant about 13 years ago.
You're now a partner at the top real estate firm in Santa Barbara. What does a regular work day look like for you?
I'm up early to check emails, then I head to my workout class from 7-8 a.m., home to shower, check more emails, and then into the office by 9:30 a.m. My day consists of meeting with potential sellers about listing their homes for sale, showing our listings, taking a buyer out to see homes, writing and negotiating offers, working on marketing for our listings, team meetings, and emails, emails, emails for correspondence between sellers, buyers, other agents, and team members.


Hard work is what puts you at the top of your game. There is no way around it in real estate.
What do you enjoy most about working in real estate? What are the challenges?
I love working in real estate because of the great people I get to meet and the incredible homes I get to sell. We represent some of the most beautiful properties in the world, and I try to never take it for granted that I get to walk around a $20 million dollar property on a beautiful Santa Barbara afternoon. The challenge in real estate is that you never have an official day off. We work seven days a week. We have created a team to try to give a little flexibility, but there is never a single day that I do not check my email and engage in work in some way. Hard work is what puts you at the top of your game. There is no way around it in real estate.
Since you work at a real estate firm, we're interested to hear about the hunt for your home. What was on your wishlist and how did you choose your current neighborhood?
I am renting my home, and looking to buy at the moment. On my wish list was a great location (my place is about two blocks from the beach), great natural light, beautiful hardwood floors, and an open floor plan that opens up to the yard. My house is great for entertaining and perfect for relaxing at home after a long day.


Once you settled in your home, what was the design process like? What was one of the most difficult obstacles you encountered in the process?
The design process was so much fun! My designer, Lauren Henno, and I decided on a 'boho glam' theme. I had purchased much of my furniture in years past and was looking to freshen the look. Lauren helped me redesign the living room, two guest bedrooms, and office. The challenge was to fit the pieces I bought for a previous place in the new 'great room' space. The previous tenant had her TV above the fireplace and so we had to move the cable, etc., to repurpose the spaces for my pieces. Lauren is a fabulous space planner and laid out a few designs for me to choose from.
What was it like collaborating with Lauren?  
Lauren and I worked very well together. I hired her because I loved her portfolio and could tell we had a similar design aesthetic. We became quite close during the year long-process and had a blast doing it. I was sad when it was done!

How would you say your design style reflects your persona?
I think people who visit my home think it shows a lot about me. The basis of the home is white and bright, and I am known to be super positive with an outgoing personality. The house also features pastel and soft colors, particularly pinks and blues. I have always been a girlie girl and a beach bum at the same time. I grew up in Laguna and have never lived away from the ocean. I also love to travel and have collected many things that are featured in my home from Bali, Croatia, Italy, and Paris. I think my homes reflects my laid back personality with a fun, relaxed feel.

Did you decorate on a budget? What are some of your favorite places to shop for affordable home decor?
We worked within a budget but I must admit, I am one of those girls that somehow always picks the most expensive things. I see some of the most beautiful homes with the most amazing interiors. My eye has become accustomed to quality, so sometimes I prefer to save for a special piece rather than a knockoff. That said, some of my favorite pieces were found in vintage stores. We also shopped at Restoration Hardware, Anthropologie, Domino, and Pottery Barn.
Which items did you splurge on?
My biggest splurge was on my Moroccan Rug in the living room. Lauren told her 'rug guy' at Summerland Rugs exactly what we were looking for. He had his contacts in Morocco hand pick several rugs and ship them over. He brought them to my house, and when he showed me the second option, I absolutely flipped! It was exactly what I had dreamed of for months. I will have it forever.



What's your favorite spot in your home?
My favorite place would have to be the 'great room' that encompasses the living room, dining room, office space, and kitchen. It's where I spend most of my time, and I love how we were able to blend the spaces together with color and style.
Is there a piece in your home that holds special value to you?
My favorite thing in my home is my collection of four framed shells collection. This was one of my first purchases for my home many years ago when I started doing well in real estate. It was a treat to myself for working so hard, and I still love them today.


Where do you see yourself in five years?
I hope to be married to my wonderful boyfriend David, raising his 7-year-old twins, and with a baby of our own by then. I also hope to be continuing in my success at work and to own a home that can fit in all of the fun!
What advice would you give your 23-year-old-self?
I would tell myself to choose a career that you love, which I am so happy I did. I would tell myself to travel often and enjoy each day of life. And that you will find love one day…to never give up!

Sarah Kelly is The Everygirl…
Life motto? Work hard, play hard.
Coffee order? I actually don't drink coffee…crazy I know!
Who would play you in a movie of your life? Blake Lively
If you could have lunch with any woman, who would it be and what would you order? Gwen Stefani. I would love to tell her what an amazing career woman and mother she is. She handled tragedy and heartbreak in the classiest of ways. I would order a salad and a glass of white wine to calm the nerves.
Product Sources
Office
Desk, Worlds Away
Lucite chair, Apt 2B (Similar here)
Hat and stool, Diani Living
Plant arrangements, Dalla Vita
LOVE artwork, Made by Girl
Petal artwork, Flora Forager
Coastal artwork, Travel Print Shop
Painting, Painted by Interior Designer Lauren Henno
All artwork framed by Santa Barbara Frame Shop
Rug, ABC carpet and home
Living Room
Sofas and pouf, Cisco Home
Rug, Summerland Rugs
Pillow, Custom made with Eskayel fabric
Lamp, Mary McDonald
Dining Room/Fireplace
Chairs, Restoration Hardware
Ladder, A Rustic Garden
Tasseled floor pillow, Urban Outfitters
Moroccan floor pillow, Custom Made by Boho Pillow
Artwork, Photographed by Interior Designer Lauren Henno
Rug, Summerland Rugs
Pink Bedroom
Headboard, Custom Made
Duvet, Anthropologie
Pillows and rug, Amber Interior Design
Lamp, Pottery Barn Teen
Artwork, Wilder California
Side table, Serena and Lily
Mirror: Custom by Santa Barbara Frame Shop
Bench: Custom made by Dalla Vita
Cacti arrangements, Dalla Vita
Basket, Swahili Modern
Blue Bedroom
Bed: Custom Made
Standard shams, Cisco Home
Blue pillow, Custom Made
Black and white accent pillow, Amber Interior Design
Dream catcher, Sourced by Sarah while on vacation in Tulum
Side table: Diani Living
Books and silver box, Anthropologie
Vase, West Elm
Lucite table, CB2
Ocean artwork, Minted
Triangle mirror, Hawaii Not