Veronica Grimm hasn't lived more than 10 miles away from a beach in 28 years, and the last five she has spent living in Long Branch, NJ have been no exception. After a long search for the right home, Veronica and her partner landed on a 110-year-old house with a sunny porch and timeless beauty to boot. Now, five years and two kids later, the family is looking forward to the future as they continue to lay down roots in the New Jersey beachside town.
Find out how Veronica and her family have made a historic home reflect their creative lives, pulling inspiration from Veronica's travels throughout Europe as she grew her wedding and lifestyle photography business, and filling the home with family heirlooms and one-of-a-kind, handmade pieces of furniture.
Name: Veronica Grimm, Owner/Photographer of Veronica Lola Photography
Age: 37
Square Footage: 1,450
Rent or Own: Own
City/State: Long Branch, NJ
What was your first job and how did you land it? 
My very first job was a babysitter for the owner of the gymnastics gym I was an athlete at. I was 14 and watched three young kids between the ages of 6 months to 7 years old. It was a lot of responsibility for a teen, but I seemed to have done a decent job. Bonus: I got to eat all of the snacks. 
You are a lifestyle and wedding photographer — tell us about how you launched your own business and the origin of your love for photography.
I began my own business a decade ago, after I had second-shot multiple weddings and thought, "I can do this myself!" I asked my then-boyfriend (now husband) to second-shoot for me, and it's been 10 years since our first wedding. I had been taking photos since I was in high school, capturing everything from landscapes to bands at shows to the food I was eating. My love for it grew quickly and my camera is almost always in my hands. 
You mentioned you like shooting on film. Why do you prefer this medium to digital photography?
Film is timeless. There is a softness and a romance to film that I'm sure most film photographers can attest to. There is no comparison in my eyes, and I am constantly brought back to this medium that I originally was taught with in my late teens. Film allows you to slow down and pay attention to what you're capturing, all while teaching you more about your subject, lighting, and surroundings. When I receive my scans back, I almost always gasp at how beautiful they are. It's worth the wait in a world where everything is so instant. 
Have you had a chance to shoot in other parts of the world? If, so tells about that experience or where you would like to go if you could photograph anywhere in the world.
I have been extremely fortunate to have had the opportunities to shoot in other countries. Weddings have taken me to places like Mexico, Italy, and Ireland. We also have had the extreme pleasure of frequenting the Catskills, Charleston, and Washington State. 
I'd love the chance to shoot more weddings in France, Spain, or Greece! Holy dreams. 
You currently live in New Jersey within biking distance of the coast — tell us about what it's like to live so close to the ocean.
It's something I have never taken for granted! It's been my favorite place growing up and I am beyond lucky to raise my girls here. It's special. The salt, the wind, the waves, the shells, the seagulls — I love it all, and find deep comfort in each trip to the beach. Our favorite days are the overcast ones, where you require a cozy sweater or blanket. It's where we end our days, have picnics, build sand castles, find treasures, and make the greatest memories.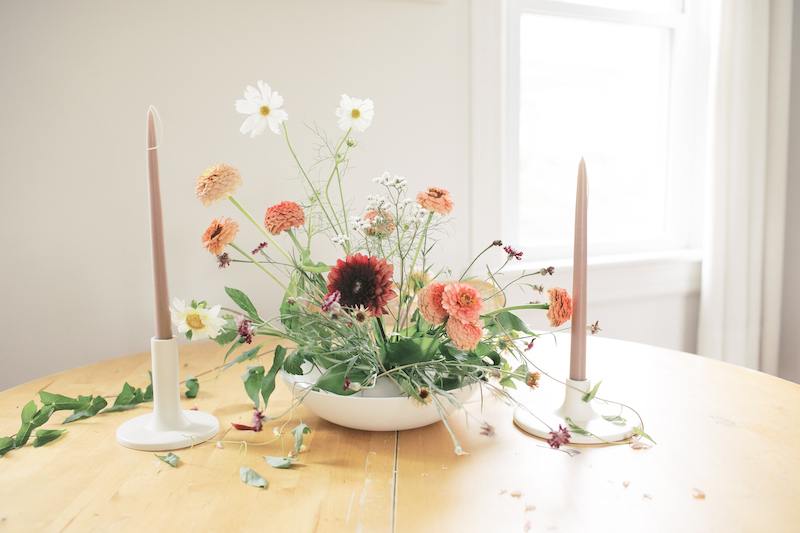 What was it like searching for a home while pregnant? Were there any challenges you faced during the home buying process?
I highly do NOT recommend searching for a home while pregnant. The stress I endured was not the best for my mental state during that time! Failed inspections, dealing with banks and closing dates and all of the things that come with buying a home — it was quite the headache, but we're so insanely lucky to have found our little house. 
What advice would you give to someone embarking on the journey of buying their first home with a significant other?
Take your time if you can. We were in a rush because of my pregnancy and it led to us settling for something we didn't fully love. Luckily, that home fell through, and when we walked into our current home, I immediately envisioned my children growing up here. I knew this was the place. Something as important as a home is worth the wait.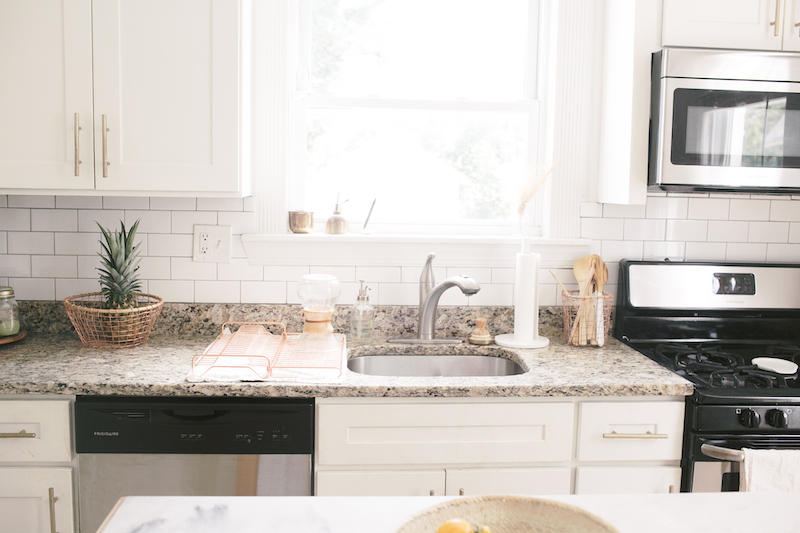 Your house is 110 years old — that's incredible! Can you tell us a little about the history of the house, if you know it?
I would love to know more of the history, but our house was vacant for many years. I do know that the previous owners were gardeners with a love for roses and flowers. I love having that connection with our home.
When planning a space, it's clear that you bring a lot of intention into your design aesthetic. Tell us how you strike a happy medium between eclectic and clean. 
It's tricky with kids and dogs, but I believe it's possible to create the home you want and love along with keeping your aesthetic. I keep toys in baskets, dolls in a bench, and art supplies in a cabinet designated for just the girls, but also display my favorite photographs in frames, ceramics in a hutch, and plenty of cheery plants. 
Were there any quirks to the house that you needed to mitigate during the design process? If so, tell us about them.
Our home was flipped, so even though everything was relatively brand new, some aspects were not our taste. The kitchen cabinets were super dark and the backsplash was just plaster, so we painted, switched the hardware, and added subway tile. Such a difference!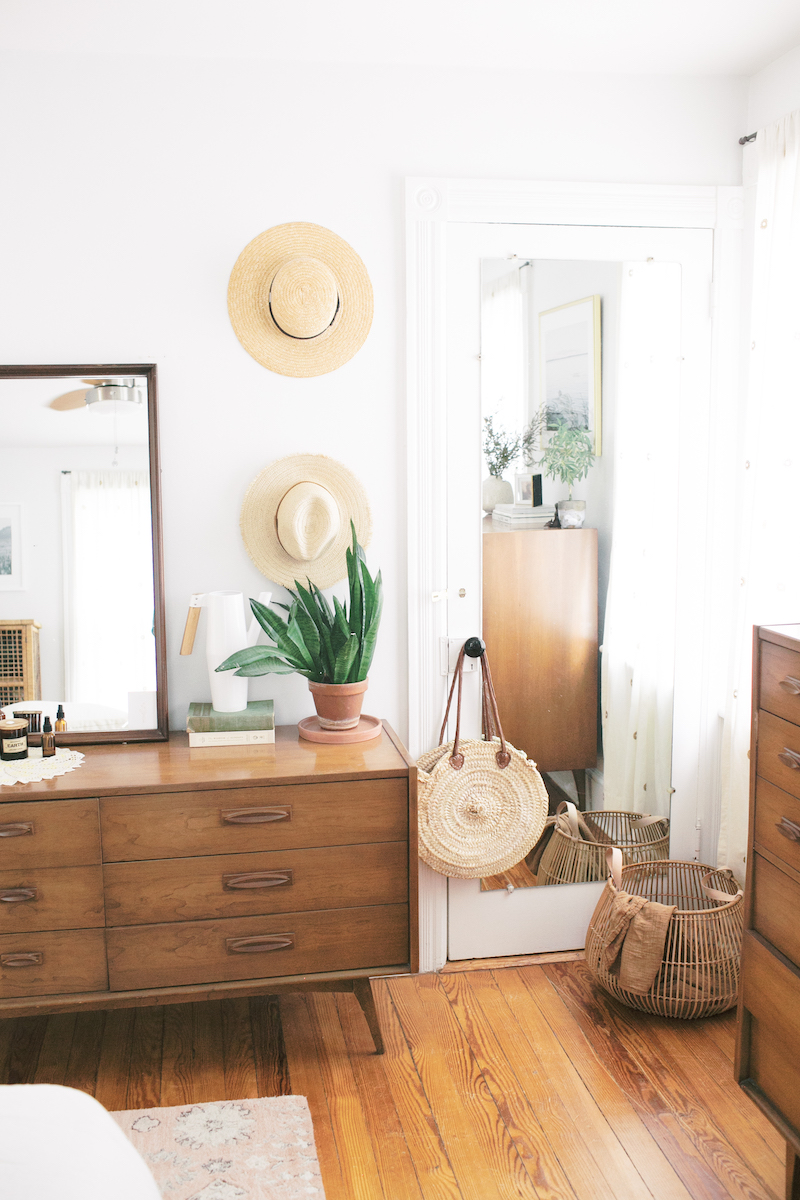 Where do you draw inspiration for interior design? Do you have favorite blogs or stores that your frequent? Or do you derive the inspiration internally from your family or travel?
I am drawn to earthy and beachy neutrals, a LOT of rattan, natural fibers and linens, different landscapes and coasts (such as the Pacific Northwest or rocky New England beaches), and meaningful heirlooms and ceramic pieces I have collected over the years. Feeling calm and happy in our home but also having it be functional was so important to me. I am loving all things Jenni Kayne, but I mostly make my purchases from antique stores, thrift shops, Etsy, or my new favorite: Facebook marketplace! Second-hand is where it's at! 
What do you think is an underrated item to use as decoration in a home?
Baskets! I have been collecting them for years and when I find a good one, I snag it, even if I am not sure what I'll use it for. They'll always get used! Towels, blankets, toys, linens — you name it. It really allows you to quickly tidy and keep things organized without a lot of effort. 
How would you describe your design aesthetic?
Earthy, beachy, neutral, and thoughtful.
What are some of your favorite ways to influence the energy of a room? For example, creating a focal point around a favorite piece of art, decorating with candles or plenty of pillows, etc.
Fresh flowers! They are my favorite focal point in any room. A simple arrangement can add so much warmth and color to a blank space. 
What are some of your favorite ways to incorporate nature into your home?
I am forever bringing the outside in. With each season, I cut from what I have available in my yard (well, sometimes I may snip a few lilacs from a neighbor). Even in the winter when things are brown and dead, I try to find dried branches, sea grass or flowers, fragrant evergreens with berries, and pieces of nature that are unsuspectingly beautiful.
In the summer, I grow a cut flower garden to keep fresh blooms around my home during those warm months into the fall. In the spring, I go for cherry blossom branches, forsythia, or anything with a bud! I'm not shy about spotting a flowering tree and running over with clippers. It sparks JOY!
What are some of your favorite elements of your home? For example, is there a particular room you're in love with? A favorite piece of art or an heirloom that is particularly special to you?
I truly love my sunporch. I mostly love it during the spring or fall when it's cool enough to sit out there with the windows open during a rainstorm. It's bright and full of plants, a few of my favorite poetry books, and also (conveniently), our bar. I have a rattan chair that I frequently sit in that we have had for over 10 years, passed from three homes. Enjoying a cocktail out there with a book during golden hour is honestly pure bliss — until a child or dog most likely barrels in and climb all over me. 
I do have an oil painting of Castellamarre, the Sicilian town my daughter was named after, that was painted by my great uncle that is hanging in my dining room. That little painting fills me with tremendous happiness, reminding me of my family's roots and my daughters namesake. 
Are there any projects or DIYs you and your husband are particularly proud of? If so, tell us about them!
My husband and my father both built me a little greenhouse with antique windows and reclaimed wood shelves. It is so darling and special to me. It's 6×6, full of vines, piles of pots, baskets, and gardening tools, and some days I just stand in it, looking at every nail and imperfect detail, and smile. 
You and your family have decided to stay in your current home for the foreseeable future. Are there any plans that you have for the house going forward, and if not, any big trips you're planning on taking?
We have some pipe dreams and also some realistic dreams. Pipe dream would be to move overseas to Europe for six months and rent out our home. It seems impossible and crazy, but I do dream about it. We plan on renovating our garage into a tiny cottage/studio in the spring. I'm both excited and terrified to begin that project!
What does a typical day in your life look like?
My kids are normally up between 6:30 and 7:30am, and we all head downstairs for coffee and breakfast. If our chickens are cooperating, we'll throw some eggs to boil and some toast in the toaster. My kids thrive on avocados, so most likely, avo toast is on deck. There is always music playing while we congregate in our tiny kitchen. There are jokes told and chaos usually happening.
If it's a school day, lunches are made and my husband is out the door with our oldest. I normally hang with Flora, our youngest, and we venture out together to mostly food shop, run errands, or meet up for a play date. Nap time means work time for me, so I try to get to some editing or emails done, even though that time seems to fly in a blink of an eye.
Once my husband arrives home with our oldest, we repeat a similar scene as the morning, with cooking, music, and chaos in the kitchen. The kids are usually outside on the swing set, or inside coloring, taking out every toy out of their baskets.
We'll eat dinner together, food spills, some whining is heard, and dessert is almost always a guarantee. If it's summer, we are heading to the beach around sunset and ice cream is had for that last burst of energy before bed. Then we give baths, brush teeth, read bedtime stories (we have to make them up), and A LOT of snuggling is had.
I get in a quick workout, shower, come downstairs for a glass of wine, and most likely fall asleep while scrolling. It's real life, and although it may seem ordinary, it is extraordinary to us. 
And finally, what advice would you give to your 22-year-old self?
Love your body, trust your gut, and take NO SHIT. 
Veronica Grimm is The Everygirl…
The best way to unwind after a long day is…
Feed the kids dinner and head to the beach with a bottle of rosé for golden hour and ice cream.
You're happiest when…
I know my family is healthy and happy.
What is one movie you recommend everyone should see?
Good Will Hunting
Guilty pleasure song?
I can really get down to some '90s hip hop
Favorite ice cream flavor?
Pistachio Gelato (I'm Italian, what?)
Coffee or tea?
Cold brew with almond milk OR a matcha latte
If you could have lunch with any woman, who would it be and why? 
At the moment, I'd say Robin Arzon. She has motivated and inspired me this year and she is an all-around badass. I'm a total fangirl for her.