I remember the first time I bought a cashmere sweater. It was deeeeeeeeply discounted from the J.Crew men's sale rack and I was in an odd period where I thought wearing men's clothes was girl-next-door-with-a-flippy-ponytail endearing. Suffice it to say, that cashmere sweater was not long for this world. Now that I've graduated to wardrobe planning, seasonal capsules, and Marie Kondo's folding methods, I feel it's time for a cashmere upgrade. And pleasantly, this coincided with a wave of reasonably priced yet high-quality cashmere flooding the market. HALLELUJAH.
So if you're also ready to invest in a gorgeous, deliciously soft (yum), long-lasting closet staple, read on!
What exactly is cashmere? Is it worth the investment?
High-quality cashmere comes from the fleece of goats, usually from Mongolia and China. The raw material is very delicate and finicky to work with (honestly, same), which is why most cashmere is more expensive than wool or man-made fibers. Well-made cashmere will last you longer than most Bachelor winners stay engaged, so factor in the cost-per-wear and think of it as an investment in a radiant, non-itchy future.
Not all cashmere is the same, even if they are all labeled "100 percent cashmere," so be wary of very cheap (under $75) cashmere sweaters and check the product details for the exact breakdown of material. Look for 100 percent Mongolian, Grade-A cashmere for a top quality, angel-wing-soft feel.
Well-made, high-quality cashmere has become much more accessible — at much more reasonable prices — in the last few years, so now is the time to buy! I'd be careful with anything under $75 (it's probably a blend, or under-pilled and thus not very soft or strong enough to last), but any sweaters above that threshold that meet all the requirements listed above are worth your time. GO FORTH AND GET COZY.
Budget
Invest
Splurge
How to style a classic cashmere sweater
Because cashmere is an investment piece, you want it to be hella versatile. Choose mockneck, crewneck, and V-neck (oh, my!) styles that can be worn pretty much all year round minus those hell-hot weeks of summer. Start building your collection with neutral or solid colors that can remixed with many different pieces from your wardrobe for basically any occasion.
For Work
Cashmere Sweater / Leopard Print Midi Skirt / Black Booties / Reversible Tote
Cashmere Sweater / Navy Trousers / Bow Mules / Trench / Hoops
Cashmere Sweater / Tie-Front Button-Down / Ponte Pants / Velvet Loafers / Gold Watch
Cashmere Sweater / Wide Leg Pants / Statement Earrings / Leather Mules
For Weekend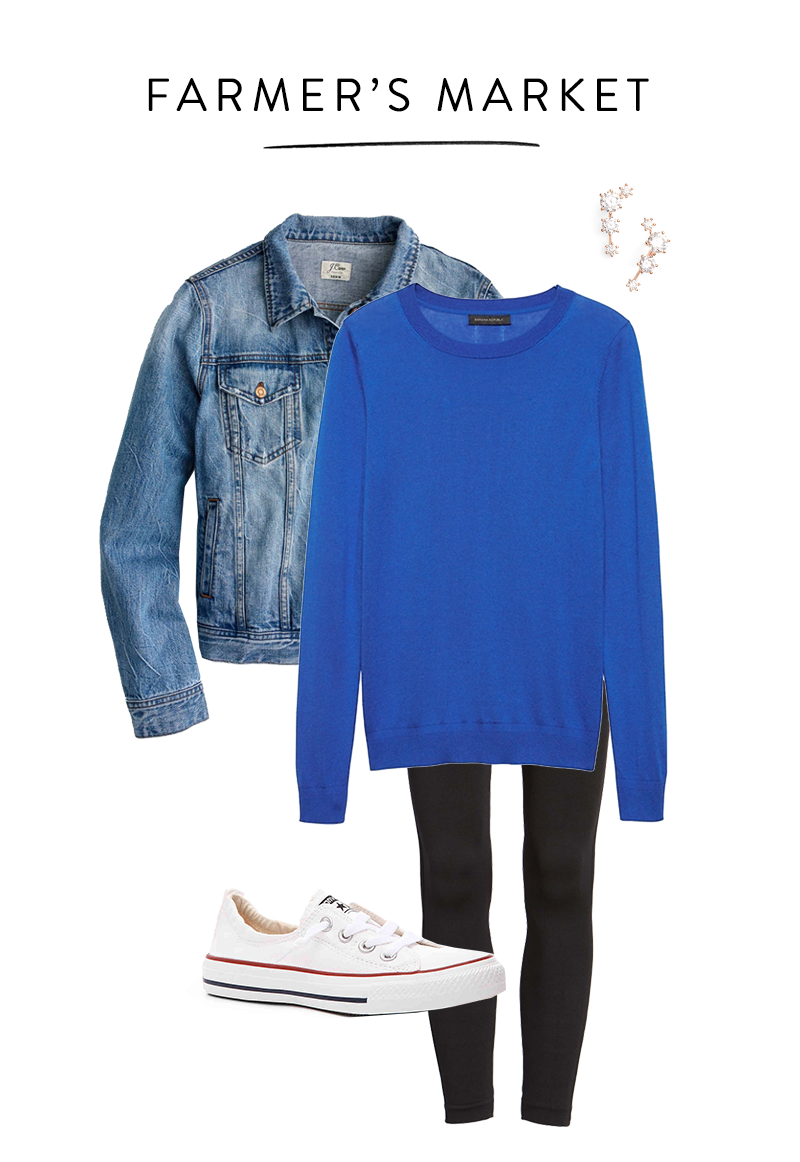 Cashmere Sweater / Denim Jacket / Black Leggings / Chuck Taylors / Ear Crawlers
Cashmere Sweater / Headband / Jeans / Crossbody Purse / Mules
Cashmere Sweater / Faux Fur Vest / Faux Leather Leggings / Knee High Boots / Crawlers
Cashmere Sweater / Breezy Dress / Crossbody Purse / Crawlers / Sneakers
How to care for cashmere
Since we all know cashmere is a bit of an investment piece, it pays to be a little ~extra~ with your cashcareTM so you get the most possible wear from your sweaters. Here's how:
Just straight-up, good ol' fashioned dry cleaning. Do your research to find a highly-rated local place near you with the best prices. Drop off and go.
Hand wash with cashmere-specific shampoo. If you have the time and the impetus, this can save you money on dry cleaning! Here's a great resource for everything you need to know about washing cashmere at home.
Store your cashmere carefully — never hang it!!! For your in-season pieces, keep them folded and handy in a dresser or open-air shelves. Keep shelves lined with cedar balls or other moth repellants to save sweaters from tiny holes. For your out-of-season pieces, make sure they are clean and dry and then store with more cedar to keep fresh.
Pilling is inevitable with any sweater and cashmere is no exception. Grab a handy motorized de-piller from Amazon to make your life easier. Fun to do while chilling and watching Netflix!