We can pretty much all agree that finding the elusive ~perfect bra~ can feel pretty impossible. You've got to find the perfect fit, the perfect straps, and just the right amount of cleavage — definitely not an easy feat.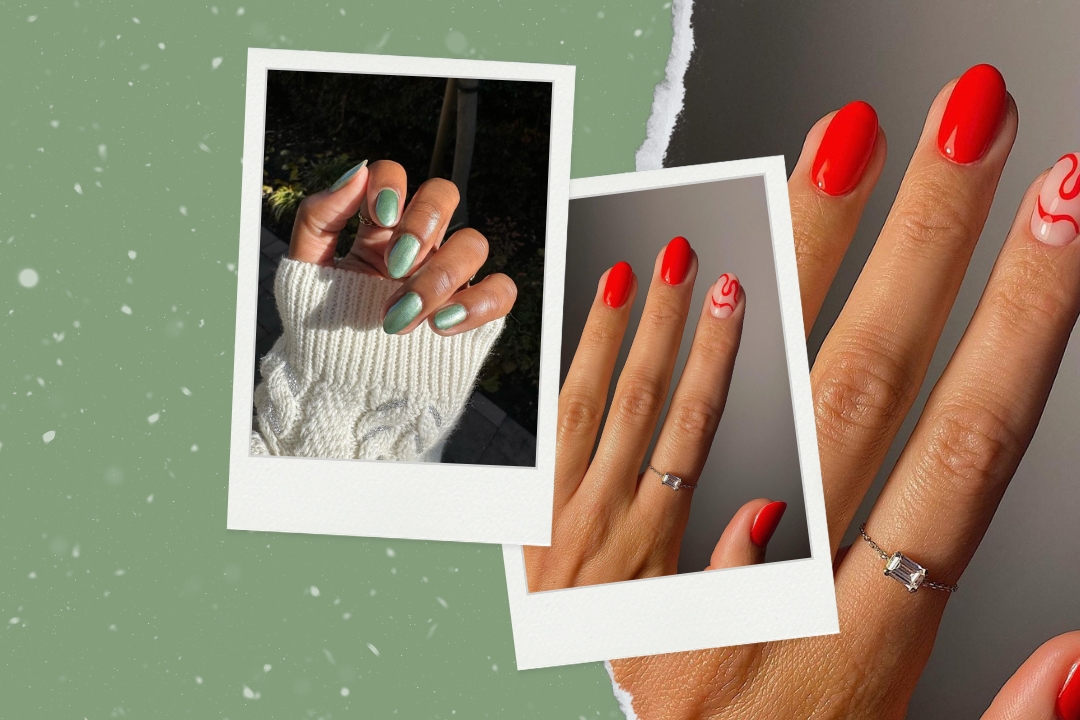 every one of them is a certified sleigh
We heard about the mythical magic of Sneaky Vaunt bras, but they honestly seemed too good to be true. Sneaky Vaunt bras are adhesive — but they're unlike any sticky bra you've seen before. The two separate cups are attached to one another with a laced-up center — and when the laces are tugged at the bottom, you're left with the benefits of a sticky bra (i.e. no straps, no back bulge, no problems) PLUS the added bonus of some amped-up cleavage.
Again, it seemed too good to be true — so of course, we jumped at the chance to try them ourselves. Two of our editors were game to test the magic (one with a D cup, the other with a B cup), and they're excited to tell you all about their experience.
Name: Daryl Lindsey, Contributing Editor
Cup Size: B
First Impressions
When the bra first arrived, I was surprised to see it came in its own zippered, spherical carrying case. It was cool, but seemed extra. I totally get it now, though — because one side of the bra is covered in a sticky, silicone-like adhesive, the case protects the bra and prevents stuff from breaking down the stickiness.
Overall, I liked that the bra was a really neutral, nude color. I could wear a semi-sheer button down (with an extra button undone! ha) without the bra showing, and I loved not having bra straps visible from behind, which is a personal pet peeve of mine. I'd encourage them to also carry "nude" color bras for even darker skin tones in the future, since a woman with a darker skin tone than mine would have trouble wearing something semi-sheer with a light tan bra. Of course, it would still totally work for women of any skin tone under solid, non-sheer clothes.
Putting it on
This was easier than I thought it would be. After peeling the plastic sheets away from the adhesive, all you do is stick that sucker right on. There is a small, non-sticky area in the center for your nipples to hang out, so that's cool. The adhesive is impressively strong but not annoying, and — best of all — it does NOT hurt! I was worried peeling the thing off would feel like ripping off a band-aid, but there was absolutely no pain.
Strapless
So, listen — I am NOT blessed in the chest department. To call me a B cup is a stretch. For this reason and this reason alone, cleavage just isn't going to happen in strapless tops and dresses, and I feel like I'm better off in a regular, padded strapless bra so that I can build out more of a "shape," if you will.
Backless
HALLELUJAH, Y'ALL. This is, far and away, the best bra I've ever had to wear with something backless. It completely covers what needs to be covered without a single strap. This is miles better than my previous backless dress strategy, which was to press stickers onto each boob and hope for the best.
Staying power
I decided to go for it and put this bra to the ultimate test. While in Los Angeles, I went to meet friends for dinner and drinks and wore an orange, silky camisole with the Sneaky Vaunt underneath to provide a little extra oomph in the cleavage department. One restaurant, three bars, and several hours of dancing later, and the bra was still firmly in place.
At the end of the night, it peeled right off without any pain. I saved the little plastic sheets it came with and re-stuck them on to the back of the bra, then put it back in its case so it wouldn't get stuck on anything.
Sneaky Vaunt promises on their website that, with proper maintenance (i.e., don't go throwing this thing in the washer) the bra should last for 40+ wears before needing to be replaced. This seems reasonable to me — I'll probably only wear it once every few weeks when wearing something low cut.
Cleavage
It's a little bizarre to see real cleavage on my b-cup chest. I was concerned it wouldn't look natural, but luckily that's not a problem — it looks good under shirts and doesn't leave any bra strap lines. And because my chest is on the smaller side, the overall effect was still pretty subtle. The biggest difference I saw was when I wore a navy blue, pin-up style dress with a deep scoop neck. The bra totally made my chest look more lifted and filled the dress out. It really helped with the old school, Marilyn-Monroe-esque vibe I really wanted to channel while wearing this dress.
I'm happy with my body as it is, so I don't need this product to be my magic cleavage enhancer. That being said, I will absolutely wear this bra under sheer-ish tops, backless stuff, and shirts where bra straps and band would normally show through the fabric. Outfits instantly feel more put together without those lumpy bra lines.
Name: Allyson Fulcher, Editorial Director
Cup Size: D (possibly a DD)
First Impressions
I have been struggling for a way to store my bras, so when I saw that the Sneaky Vaunt came in its own carrying case, I was excited. Being at the end of my twenties, I'm trying to invest in higher quality items, but that also means putting in the time to take care of them and store them properly. I appreciate that Sneaky Vaunt made it easy for me, especially as someone with limited drawer and closet space.
Putting it on
Having bigger breasts, I'm a little skeptical of stick on bras. I've been duped many times by the cheap Target backless options with sticky sides. They never last the night (which come to think of it, makes them not cheap at all), especially in the south where we basically sweat year round.
Sneaky Vaunt's bra is sticky all over the cup with a space for your nipple. Let me tell you, the adhesive is no joke. The minute I put it on, I knew this was different from any stick-on bra that had come my way. The nipple area makes it easy to line your breast up in the cup, so you don't have to reapply multiple times to get the right look.
I also really like how much of my breast it covers and that there is a natural look to the shape of my breasts while wearing it. I've had strapless bras that create a weird mini-mountain on top of my mountain boobs and it just looks a mess. For the first time, I felt trust for a strapless, backless bra.
Strapless
The problem with wearing a strapless item usually comes with a lack of support or "push up." Often times, the bra ends up just dragging my boobs down which is not okay. And if I try to combat that by purchasing a smaller size so it's tight, the fit is all off and my boobs look lumpy and it makes me have a back roll, which is not cute for anyone.
What I love about Sneaky Vaunt is that with the lace-up feature, I actually get some pushed up cleavage. And even if you aren't looking for a va-va-voom Jennifer Lopez moment, it's a welcome relief that a strapless bra can give the appearance of my breasts being perky and full in an outfit.
Oh and that little back roll and the constant pulling up throughout the night? Not an issue anymore.
Backless
Even if you have a strapless bra you love, there is no denying that this is the best backless option out there, hands down. After testing it out, I immediately called my bridesmaids (who are wearing backless dresses for our wedding) and had them order it. There is just no comparison. It's an option that provides support and coverage… unlike those little sticky chicken cutlet options I won't even go into.
Staying power
While it isn't quite summer yet, spring has definitely arrived in the south. Since our "nice weather" days are short numbered, I wanted to test the Sneaky Vaunt on a night out with friends to see if it would hold true to the heat — the humidity both inside my bra and out. I'm happy to report it stayed in place all night and wasn't remotely painful to remove. I did fling it across my dresser (#oops, so much for adulting) but retrieved it in the morning and put it back in its case safely.
While I can't confidently say it will withstand our 110 degree summer nights (only because I haven't tested it yet), I can say I don't see why it wouldn't make it.
Cleavage
I'm a firm believer that if you've got it, you might as well flaunt it. I was pleasantly surprised by the amount of cleavage the Sneaky Vaunt provided. I've never had that much ~ OOMPH ~ from a bra that wasn't a traditional push-up bra. I didn't even think it was possible for me to love a strapless bra before this.
This post was in partnership with Sneaky Vaunt, but all of the opinions within are those of The Everygirl editorial board.