CBD is a product that many of us are adding to our daily self-care rituals. It's said to help with cramps, anxiety, inflammation, and pain, and with those benefits, who wouldn't consider adding some form of the THC-free cannabidiol to their routine? I use CBD to help with my anxiety by dropping a few droplets under my tongue 2-3 times a day.
Taking CBD under your tongue isn't the only way to enjoy the benefits. Equilibria, a women-owned and founded wellness brand, offers up science-backed CBD options. You can try everything from lavender, lemongrass-scented bath bombs to daily softgels. If you're ready to try CBD, but aren't sure about the right dosage, they offer one-on-one appointments with an expert about the best dosage for you and your body. Use our code theeverygirl for 20% off your first order.
Aside from topical treatments and daily drops under the tongue, people are getting creative with their uses of the cannabidiol. Some are cooking with it, adding a few drops into their coffee, and mixing up CBD-infused cocktails. Today, we're going to share a few cocktail (and two mocktails) recipes you can shake up at home. Before you start collecting your ingredients, we'll share how CBD oil and tincture (an alcohol-based form of CBD) react when put into cocktails, so you can all of the CBD benefits you rightfully deserve.
Equilibria
The Brilliance Box includes Daily Drops for fast-acting, targeted relief, Daily Softgels for a sustained-release, and topical Relief Cream for local discomfort. Use code theeverygirl for 20% off the first order!
First things first, let's talk about what to expect when adding CBD to your cocktails.
Well, they may taste different. If you've ever taken CBD oil or tincture on its own, you've likely experienced the earthy taste. Since CBD can have a taste to it, even if it's subtle, it can change the flavor of a cocktail. For this reason, mixologists in Food & Wine recommended mixing CBD with gin, tequila, and bourbon, since the flavors of these spirits tend to be on the stronger side.
Now that we've gotten that out of the way, let's talk about the science of mixing CBD with water.
You may remember your chemistry teacher sharing that oil and water don't mix. The same applies here. If you typically use a CBD oil, save it for cooking or dropping under your tongue. Unlike an oil, a tincture has an alcohol base, making it the best option for mixing with cocktails or any water-based beverage. With this knowledge in mind, I searched the net for cocktail recipes that add a CBD spin to the mix.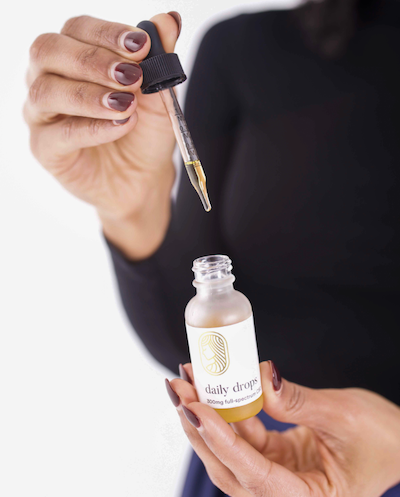 Equilibria
Perfect for targeted, fast-acting results. Use Daily Drops to help increase a sense of calm and balance in the face of day-to-day stress.
Elderberry and lemon are the immune boosters we can always use. This recipe is alcohol-free, but still pairs well with CBD and is packed with vitamins.
Turmeric might not sound like an ideal base of a mocktail or cocktail, but hear me out. I had my first turmeric-ginger cocktail a little over a year ago, and loved it. This mocktail is a hydrating, anti-inflammatory, and anxiety-fighting drink that can be shaken up any time of the day.
After a long, stressful day, a happy hour cocktail sounds like the move. We know that CBD can have a calming effect. So does lavender, which is why I selected this gin-based recipe. You will learn how to cook up your very own lavender simple syrup, that you can use in other drinks as well.
This drink is truly a craft cocktail. So, if you're looking for a space to get creative, grab some mezcal, fresh umes (Japanese pickled plums), one dropper of CBD, and the other ingredients to make your very own CBD, hand-crafted cocktail.
When I think of Mint Juleps, I can't help but think of Blanche Devereaux from The Golden Girls. The Mint Julep is a classic, and adding CBD puts a new spin on a cocktail staple. For those who enjoy more grounded cocktails, this bourbon-based, CBD-infused drink gives you just that.
Brunch drinks don't need any adjustment, but we're always here for the shake-up of an old faithful. The ingredients are just what you'd expect: peach schnapps, peaches, ice, and prosecco. The only new ingredient you'll be adding to the mix is a water-soluble CBD.
This drink calls for cachaca, a Brazilian spirit made from fermented sugarcane juice. A half dropper of CBD, watermelon juice, and lime will help you create a light, refreshing cocktail in no time.