The Sunday Scaries is a phenomenon that plagues us all one way or another. Whether you're stressed out about some big work project coming up in the next week, all the public speaking you'll have to do on Zoom meetings, what you'll wear on that date on Friday, or how you'll actually muster up the motivation to meal prep, the one thing you shouldn't have to worry about is feeling confident and put-together all week. Maybe you'll even work a bit smarter or more efficiently because you're not fiddling with an ill-fitting garment or worrying about your chapped lips all day.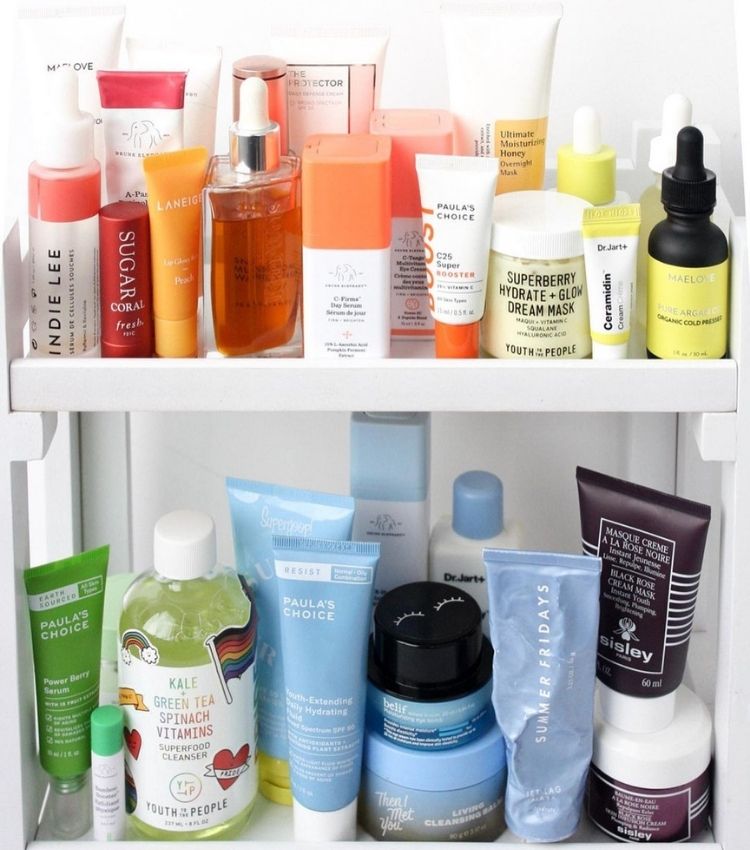 the wrong order can reduce effectiveness
1. Find your inspiration
Every Sunday, I sift through every style and beauty inspo board I've got to figure out what exactly I'm excited to wear that week. Some weeks I'm in the mood to dress to the nine's every day, and others I'm living for athlesiure. Whatever your vibe is, figure it out before you even step foot in your closet or makeup collection to figure out what you'll wear all week. Knowing what kind of pieces are striking your fancy makes it way easier to build outfits that are exciting to you rather than just pulling pieces together.
2. Line your outfits up in order in your closet
Once you've decided how you want to dress, you can actually focus on putting outfits together. I keep an "outfit ideas" list in my bullet journal to make this even easier for me, but go through your closet and pick out what you'll feel comfortable in and excited to wear all week. This can be five trendy, fall outfits, or it can be five iterations of your favorite sweats and T-shirt combo; whatever you're wearing, just get yourself excited to wear it. If your clothes are hanging, then this is an obvious one, but if you have them in drawers, you can set them up in a specific drawer for the week, lay them out on a dresser, or just put them on a different side of your closet.
3. Sort through your beauty routine
After watching about a million "Shop My Stash" videos on YouTube, I've created a similar process of my own. Since I do my makeup at my desk and my makeup is held elsewhere, I bring everything over for the week that I want to use and put it in one of my drawers. On Sundays, I go through my collection and see which products I want to continue using that week and which I can put back. Usually, this is about a few things: how much use I'm getting out of them (I have a fair amount of products and like to use them all!), how convenient they are, if the shades are right (we are entering "fading summer tan" territory right about now), and what matches my inspiration for the week. Then, I go pull new products to use, whether it's new products I'm trying or old favorites I want to add back into my collection. This is also a great time to pull forward items based on the events of the week. For example, I knew I'd be busy this week, so I grabbed my handy tinted brow gel instead of worrying about my shaping wax (which is amazing but a little more time consuming).
4. Do an at-home peel or resurfacing mask
Now that you're ready for the week, it's time to pamper yourself. After you double-cleanse, go in with an at-home peel or resurfacing product to give your skin a deep cleanse and exfoliation. There are products like this for every skin type, even if you have really sensitive skin. Make sure you choose a product that contains hydrating ingredients that will balance your skin as it exfoliates, such as hyaluronic acid, glycerin, aloe, and other naturally-derived oils. You can also search for products that are made for more sensitive skin types, such as those containing mandelic or salicylic acid, as those are milder. I've created a whole Sunday ritual that I follow that includes a special skincare routine focusing on this type of product!
It's imperative to read and follow the directions—many of these masks are meant to be left on anywhere from three minutes to 10 minutes. Don't leave it on for too long to avoid irritation!
5.
Focus on hydration
If you've ever had a facial, you'll know a short portion is usually dedicated to masks and peels, but once that's over, it's all about moisturizing your skin. Think of this in the same way. You've done your peel; now, you want to hydrate and soften the skin.
6. Don't try new products
Although it's exciting to get really into your skincare routine on a Sunday, avoid using any products that you've never tried before or don't know if they'll negatively impact your skin. The worst feeling is waking up on a Monday morning to a breakout or allergic reaction from a new product you were so excited to try. Stick with the basics here until you know what works for you. Pro tip: I always try new products on a certain night every week (for me, it's Monday) because I know that if I wake up the next day with a breakout, I don't have anywhere to be!
7.
Do a deep teeth clean
When was the last time you really got in there with your toothbrush, floss, and mouthwash? Your little two-minute hourglass timer for brushing your teeth from elementary school is calling your name. Grab your electric toothbrush and toothpaste of choice and do a full two-minute clean. Then, use your gloss, making sure to even get your molars and any plaque sitting on the top of your teeth. Swish around some mouthwash, add in some tongue-scraping, and your teeth will be looking shiny and brand new.
8. Do a facial massage
I recently embarked on a journey to do facial massage every day for a month, and while I did fail and lose at around day #18, it made me appreciate it in a whole new way. Facial massage is definitely a self-care moment full of relaxation, but I've also noticed that my skin looks better. I wake up feeling refreshed and glowy from whatever oil I used, and it feels like my products penetrate better. I almost always follow a video, like this one from the LOML Lisa Eldridge and this playlist from another YouTuber I love who swears by facial massage. You can use your hands, a jade roller, a gua sha, or my favorite: ice rollers.
9. Try an at-home blowout
The best mornings are when my hair is already done. When all that's required of me is a simple touch-up, my morning is filled with bliss. So, be the person you want to thank in the morning by doing your hair before bed. I often find a blowout can look even better after you've slept on it because it has a little extra hold and grit. Our editors are obsessed with this Revlon styling tool that makes achieving a blowout at-home a total breeze. With a few products, you'll feel like you just hit the salon. The key is to add dry shampoo before bed so it soaks up any oils throughout the night, leaving you with even less to worry about in the morning. I also use a boar bristle brush before bed, which according to celebrity hairstylist Irinel de León will absorb the oils from your scalp and brush through to the ends, keeping your roots clean and your ends moisturized.