Once upon a time, white jeans were a staple at summer barbecues and restricted after labor day. But fashion girls of the world are following the example of our favorite 2020 badasses (Lizzo, RBG, need I list more?) and saying screw the rules. White jeans are now in style for every season and pair perfectly with your favorite sweaters and coats for OOTDs that are as warm as they are trendy. Here are 12 ways you can rock your white jeans before the groundhog declares spring.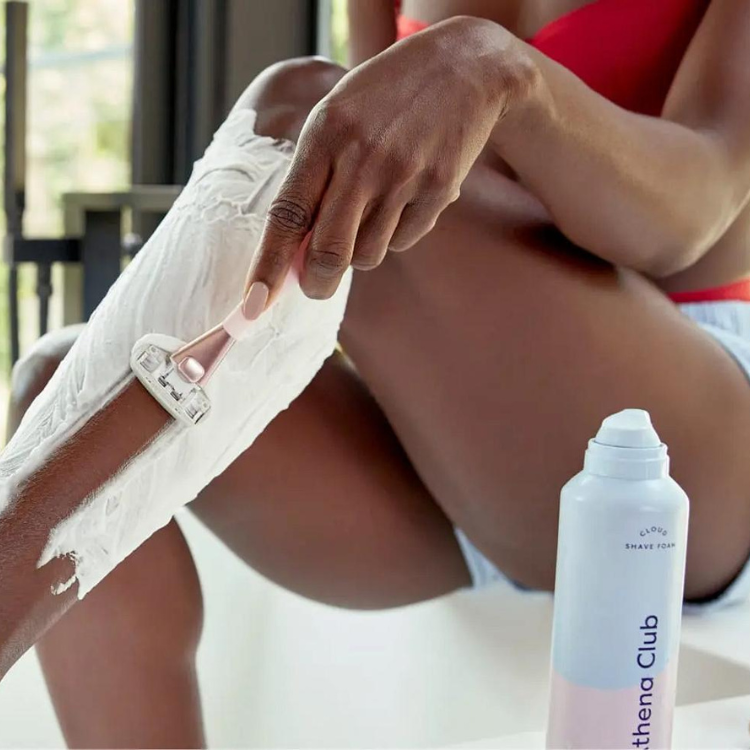 "This razor gave me the silkiest, smoothest shave I've ever had! I never get any cuts or scrapes, even on those hard-to-shave places."
1. With all gray
Source: Wait, You Need This

The classic neutral is arguably the most wintry color there is (think: gray skies, slushy snow), so pairing a monochrome look with your favorite white jeans results in a look that's as classic and timeless as it is unexpected and stylish.
2. Under a leather jacket
Source: Fashion Jackson

Looking for a night-out look that will keep you warm? Your GNO has met its fashion match with all-black accessories and a sleek leather jacket that perfectly contradicts with the white of the jeans.
3. With kitten heels and a chunky knit
Source: @yunah.lee

Whether you're going to work or going on a date, kitten heels are the dress shoe of the moment. Pair with a cozy sweater for an easy outfit formula that will keep you warm and fashionable.
4. With snakeskin booties and muted pastels
Source: @stephanietrotta

Spring may be the season of Easter egg hues (we love a good pastel pink or pop of purple come April), but you can still wear pastels in winter. The colors we're loving this season are neutral blushes and toned down pastels that are pretty, feminine, and simple. Pair with snakeskin boots to give your OOTD an edge.
5. With a pop of color
Source: @kateogata

One of our favorite fashion hacks is monochrome. There's something about one color from head-to-toe that looks chic, no matter what. Make your look appropriate for cold weather with a cozy jacket in a pop of color, like burnt orange or olive green, to stand out against the white.
6. With leopard print
Source: @kayla_seah

Is there anything you can't wear leopard print with!? The answer: probably, but we just don't care (leopard print is our new neutral). The stylish print (on a coat, a hat, or a pair of booties) pairs perfectly with a white ensemble. Don't forget the water-proof boots; you're going to want to take cute pictures in the snow.
7. With a chambray button-up and oversized jacket
Source: Livvy Land

A chambray button-up and a pair of white jeans has been one of our summer go-to outfit formulas for years (I mean, it's just so easy and cute). The warm-weather go-to can transition into winter with an oversized jacket in a deep brown or beige to keep you warm and make the classic look more seasonally stylish.
8. Under a wool duster

Meghan Markle has been wearing nothing but duster coats this season, which means we are wearing nothing but duster coats this season. Whether your go-to duster is in a bright color, an elegant neutral, or a plaid pattern, make it the stand-out piece in your all-white outfit (don't forget the cozy turtleneck!).
9. With different shades of beige
Source: @simplytandya

What could be cooler than effortless style and a mix of neutrals? If "I woke up like this" is more your style, pair your jeans with different shades of beige for an outfit that's Instagram-worthy, but doesn't look like you tried too hard (because you didn't!).
10. With a turtleneck and knit cardigan
Source: The Golden Girl Blog

You know those winter days where you don't want to get out of bed because you're already preparing yourself for the cold? Maybe you live in Chicago, and that day is basically every day from October to March. When you need a little extra coziness, wear a turtleneck with a knit cardigan on top for a simple and classic look you can throw on for the office or a coffee date.
11. With white sneakers and a cashmere sweater
Source: @meghandono

If you're like me, your white sneakers are your best friends. I'd rather crack my iPhone than dirty my white sneakers if that tells you anything about where my priorities lie. Lucky for us and our white sneakers, the easy shoe is still stylish in winter as part of a monochrome ensemble, completed with a white sweater to keep you warm.
12. With black booties and a teddy coat
Source: @accordingtomandy

Full disclosure: I can't get enough of teddy coats. I currently live in LA and risk the confused and judgmental glances when I publicly wear my teddy coat in 70-degree weather; that's how much I love them. Make your teddy coat standout with your chicest pair of white jeans and contrasting black booties.
Our Favorite White Denim
What's your favorite way to style white jeans for winter?