With Halloween just around the corner, our editors have been all abuzz in the office asking one another the age old question: "what's everyone doing for Halloween?"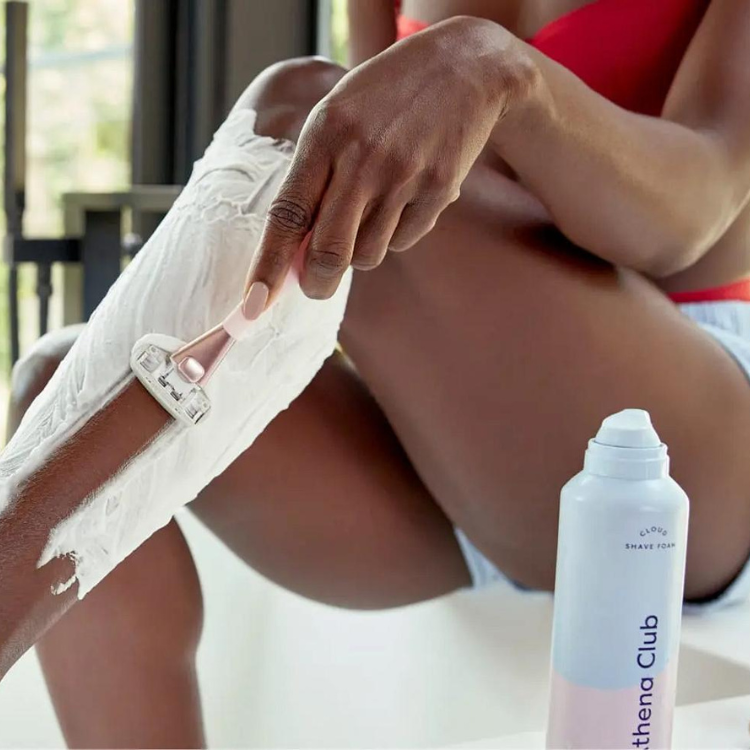 "This razor gave me the silkiest, smoothest shave I've ever had! I never get any cuts or scrapes, even on those hard-to-shave places."
The options are admittedly quite limited: bar hopping, house party, stay in and watch scary movies, go to a haunted house… that's pretty much it, right? Then there's the question of do you dress up? Do you not dress up? And if it is a house party, do you have to get decorations? How do you make it Halloween themed?
My advice? Host a murder mystery.
It takes care of everything! It provides everyone with plans for the evening, details what costume to wear, and gives people a night of unexpected, childlike entertainment and sleuthing!
Last year was my second time hosting a murder mystery for my friends and family – the first was for my 30th birthday. I opted to go the route of spooky Halloween and went with a Vampire Murder – but there are dozens of themes (and costumes) you can choose from! I'm sharing the two I've done below as a bit of inspiration – both the Vampire Mystery and a 1920s Murder of a Millionaire, as well as a third that a reader submitted which had an 80s Prom theme.
Mystery #1: A Vampire Halloween Murder
photos by Alaina Kaczmarski
The Mystery
The Vampire Murder mystery game was purchased from Shot in the Dark Mysteries. The premise is that guests find out that the leader of "their vampire clan," Frederik Antonov, is found staked in his coffin. "Who would stake an immortal? And why!? Not everyone is who they seem to be in this classically gothic vampire murder mystery investigation…"
This was a bit different than the other two because Shot in the Dark provides recordings that are meant to be played at the start and ending of the party. The murder also happens "off stage" before the party even begins whereas it's a bit different in the other two, as you'll see. Basically means less to plan.
The Costumes
I went with this theme mainly because it was Halloween-y but also because the costumes would be super easy for everyone: all guests are members of a vampire clan (or something similar) so everyone just needed to dress in black. Plus it was easy enough to purchase inexpensive capes or jewelry or fangs online or at costume stores.
Almost every guest showed up in a Vampire cloak and black eyeliner. A few of us tried wearing fangs but it proved difficult to talk.
The Decor
I picked up most of the spooky decor from Home Depot (the fog machine, candles, and haunted TV), and some from Target (black fabric, fake cobwebs, fake ravens, and plastic skulls and spiders). I replaced the lightbulbs with red lightbulbs I bought on Amazon and lit candles everywhere to give the rooms a moody vibe (it was supposed to be a haunted castle in the mountains of Romania after all). A few fake cobwebs and black mesh fabric strewn across furniture plus some dry ice for a smokey effect and the mood was set!
Mystery #2: 1920s Murder of a Millionaire
photos by Jennifer Kathryn Photography
The Mystery
For my 30th birthday, I opted to host my first murder mystery, and it was a hit. I purchased the game Murder of a Millionaire from Night of Mystery, we found an amazing bar from the 1920s to host it at, and everyone went above and beyond with their costumes, making it a huge hit.
This is as traditional as a whodunnit gets: characters include the millionaire's widow, his ex-wide, the butler, the maid, a pool boy… well, you get the picture. I told guests to think "Downton Abbey meets Agatha Christie:" trench coats, smooth jazz, dim lights, women wearing gloves, old fashioned's, and men in hats.
The price of the game varies depending on how many roles you need but once you do, you are given a file to download that includes everything from the host guide, the character descriptions, invitations, evidence, and of course, the solution to the crime. What I LOVE about Night of Mystery's games is that the murder takes place during the party. The person does not find out they are going to be murdered until they arrive and the murderer doesn't even find out they are the criminal until after the murder. It really made it extra fun. I had the bartender turn off the lights to coincide with the murder and the guest who was the victim let out an Oscar-worthy scream. No one saw it coming. It was fantastic.
The Costumes
The costumes were easier than you'd think: I told the ladies any old prom dress or bridesmaid dress would work – floor length gowns immediately fancied up the party. You could also browse thrift stores or local costume shops for vintage accessories. Amazon and Halloween stores have plenty of inexpensive accessories like top hats, faux pearls, and cigarette holders. The maids, butlers, the chauffeur, and pool boy (all a part of the mystery) can add one or two key accessories to items they already own or can be easily rented.
The Decor
We looked at a number of venues around Chicago but eventually found a bar that was only open during the weekdays that could be rented out for private events on the weekend – it was in a 1920s building and had a fireplace and chandelier. It was the perfect setting. We cleared out the bar tables, brought in vintage furniture from Rent Vintage Chicago, added in a couple of Downton-inspired flower arrangements, my mom brought in her silver and crystal for food and drinks, and voila! The venue was transformed into the Mystery Manor!
Mystery #3: 80s Prom Murder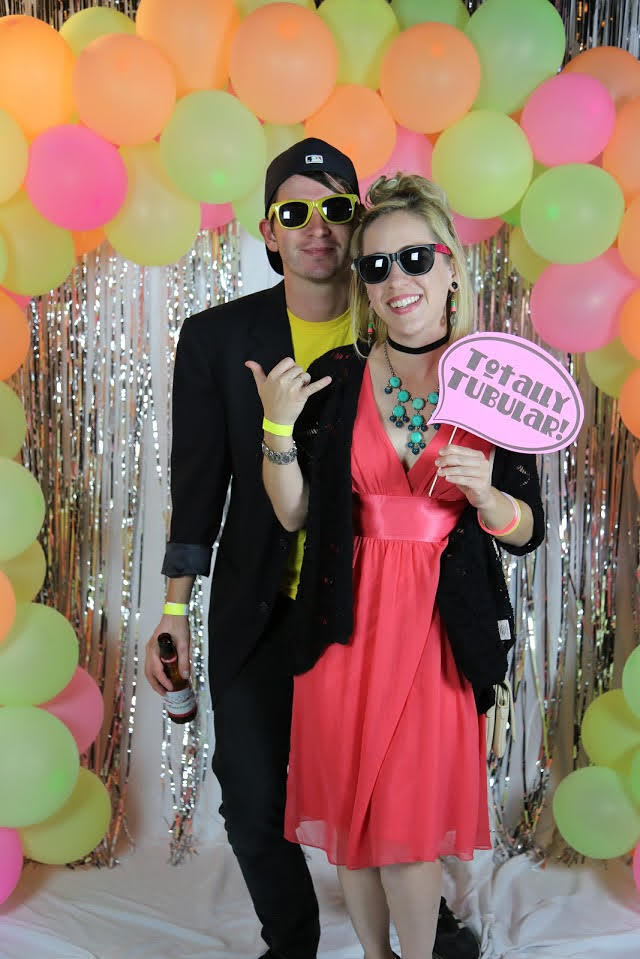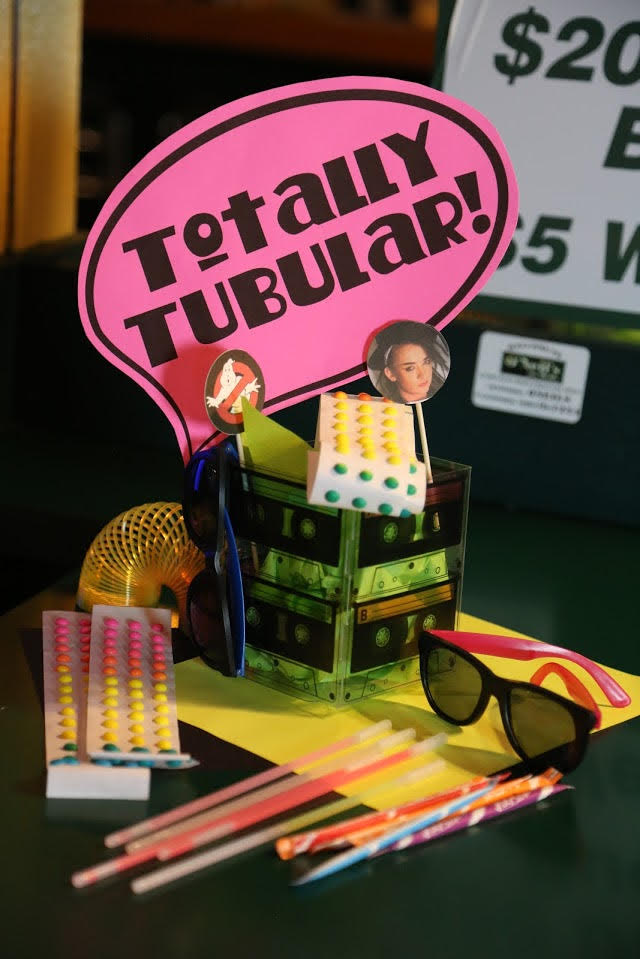 The Mystery
I was so thrilled when a reader, Molly Rowan, teacher and entrepreneur, reached out and said she recreated the Murder of a Millionaire at the same venue for her 30th birthday, but then also hosted the 80s Prom for a fundraiser!
Totally Rad 80's Prom Gone Bad is another theme from Night of Mystery so the format is similar where a murder occurs during the party. Characters include Cheerleader, Mathlete, Senior Class President, Principal, Punk Rocker, etc.
Guests attend the prom (complete with voting for Prom King and Queen), dancing and gossiping until a murder happens. Throughout the night, guests are given envelopes of clues so they can get closer to solving the mystery of who was the murderer. The winners receive on-theme prizes.
The Costumes
Your guests will have a lot of fun putting together their costumes for this one! Most of them will have specific character-types assigned by the game with suggestions on what to wear, and it's fun seeing the dresses people show up in: neon, crazy prints, huge ruffles. Bonus points are given for crimped hair or any guy who can pull of a Flock of Seagulls do.
The Decor
Think 80s prom nostalgia. Molly created centerpieces out of candy dots, pixie sticks, slinkies, Rubik's cubes, glow stick bracelets, and 80s-style sunglasses. Be sure to make a playlist of your favorite 80s songs, and set up a prom-style "photo booth" with neon balloons and streamers so guests can pose for prom photos.
Which of these themes would you choose for a Murder Mystery party?