I still remember the first time I saw WICKED — I was in 7th grade, and my parents took my sister and me to see the witches of Oz sing, dance, and tell a heartbreaking story of love, friendship, and fighting for what's right. It was a truly life-changing experience for me, and I remember feeling so enchanted by the talented actors up on stage.
Since then, I've seen many more shows — a few more shows of WICKED, Chicago on Broadway (another life-changing experience), and even The Curious Incident of the Dog in the Nighttime — and I've fallen in love with theatre and its storytelling power. So when I connected with Ginna Claire Mason and Mary Kate Morrissey, the two women who currently play Glinda and Elphaba in the touring cast of WICKED, I was ecstatic (seriously — everyone in the office was very tired of my gushing!).
To learn more about what it's like to make it as a professional actor, the pre- and post-show rituals these two swear by, and the unique experience of playing rivals-turned-absolute-best-friends in eight shows a week, check out my interview with two women who will leave you absolutely tickled pink (and at least a little bit green with envy).
Name: Ginna Claire Mason
Job Title: Actor, currently playing Glinda in WICKED
Hometown: Brentwood, TN 
Education: BFA degree in Music Theatre from Elon University
Name: Mary Kate Morrissey
Job Title: Actor, currently playing Elphaba in WICKED
Hometown: Downington, PA
Education: BFA degree in Music Theatre from Syracuse University
What was your first job ever, and how did you land it?
GC: I signed with an agency right out of college, and they booked an appointment for the role of Gloria in the national tour of Flashdance! the Musical. I got the job and spent the next nine months traveling the country with this incredibly fun show. It was my first Equity (Union) gig, and I learned so much about the business and what it takes to perform eight shows a week!
MK: My first job ever was the International Touring company of Hair (US/Canada), where I played Sheila. I woke up at 4am, took the subway down to the audition studios, and waited in a line of about 700 other girls until the casting director saw me. They ended up calling me back and a couple days later I got the call that I had booked the lead!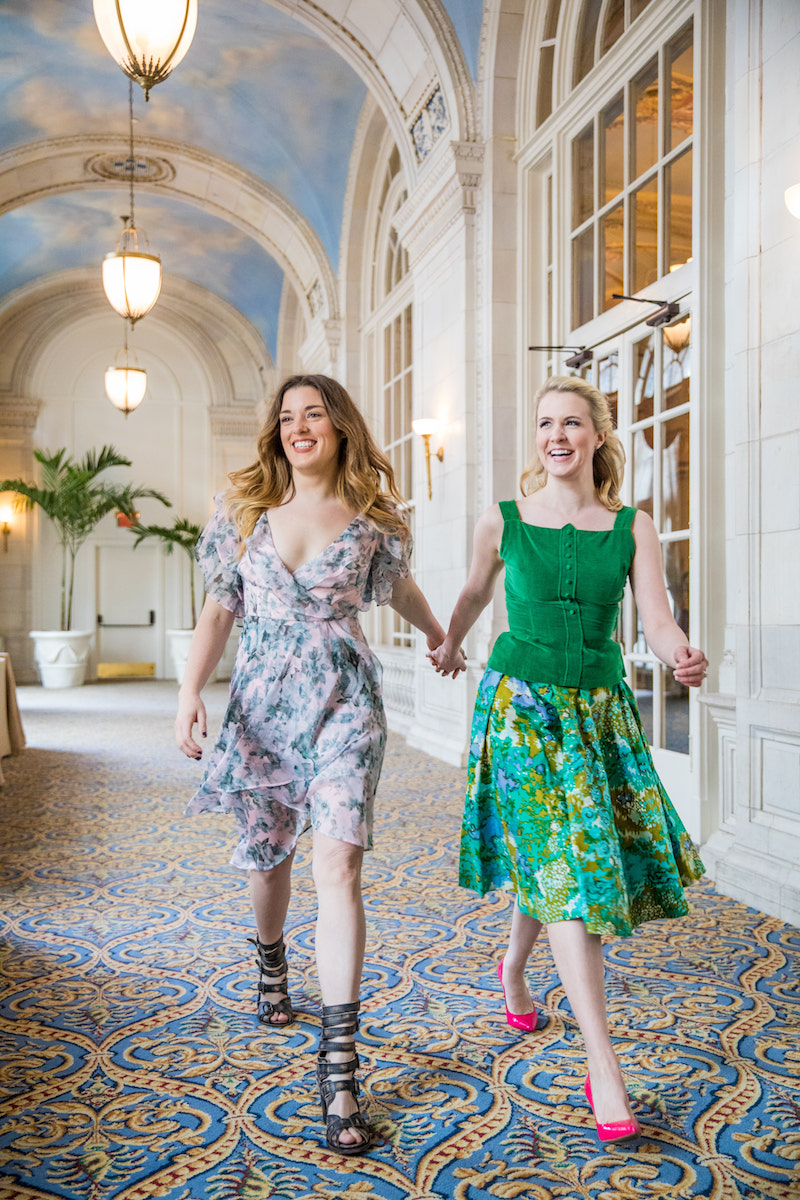 When did you know you wanted to be a performer?
GC: Since birth! My family grew up singing, watching movie musicals, going to shows, and listening to Broadway soundtracks, so I think theatre was always in my bones. I watched my big brothers in community theatre productions and started auditioning myself. My first Broadway show in NYC was Les Misérables. I looked at my mom at intermission, and said, "People do this for a living?!" I was on board after that! Seeing WICKED a few years later really sealed the deal for me, and I've had my sights set on playing Glinda ever since!
MK: My grandfather used to sing on the Irish Radio and play in a band, and my dad would dress us up like the Rolling Stones when my brothers and sister and I were little and we would put on full-blown lip sync concerts. My parents recognized the performer bug in me and put me in the local high school's production of Joseph and the Technicolor Dreamcoat, where my second-grade self played a sheep! The rest is history.
What kind of training did you go through once you decided to pursue this career path?
GC: Growing up, I wanted to do everything related to singing, dancing, and acting – like community theater, voice lessons, performance camps, and dance classes. In high school, I studied with a private acting coach to help me prepare for college auditions and trained with a Professor of Opera at Vanderbilt. I was accepted to Elon University BFA Music Theatre program and spent four years there getting a liberal arts education and a conservatory style training. I'm forever grateful for my time with my mentors and peers at that little piece of heaven on earth.
MK:  I did all kinds of choirs in high school — I think one year I participated in 9 or 10 of them! All States, All Easterns, All Catholics, whatever would let me sing. I also was in the Concert Band and Jazz Band at my high school along with the musicals. I was lucky that my high school teachers cleared a path for me to focus on singing and theatre, sometimes letting me get away with not turning in homework or papers because they knew I was hard at work in something I really cared about.
What roles have you played before, and what did you learn from these different experiences?
GC: I started doing community theatre in third grade. I played "Annie" in Annie in 4th grade, and it revealed to me the depth of my love for theatre. It also taught me how to memorize blocking, lines, and music! Some of my other favorite parts are Sandy in Grease, Millie in Thoroughly Modern Millie, and Polly Baker in Crazy for You. I did these shows in college during the school year and at professional regional theatres during the summer. These roles made up my training ground for post-graduate life as a working actor.
MK: I usually get cast in the "non-genue" role. The Elphie, the girl who somehow has to overcome all odds to XYZ. In working with new writers in the city, I love to help create roles for women that are dynamic, complex, interesting, strong, and vulnerable: because real women inhabit all of those characteristics. I learned that from working on roles like Elphaba.
Your current roles, as Glinda and Elphaba in the touring cast of WICKED, are some of the most well-loved roles of all time — what is it like playing such iconic characters?
GC: A dream come true! I saw the original cast when the show launched on Broadway. I told my dad at intermission that I wanted to play Glinda someday. 12 years later, I made my own Broadway debut as Glinda! I was the standby for the role for 16 months in New York City. Then I joined the tour in the role about a year ago. I still have to pinch myself!
MK:  It's a big responsibility, but I have the best teammate in the world. GC and I have a lot of Glinda and Elphaba in us, and so I think the ability to bring ourselves to the character is what makes us successful in taking people along in the story.
Glinda and Elphaba have such a unique relationship — tell us about the experience of playing these roles together.
GC: MK joined the show about six months into my contract on tour. At our first rehearsal, we sang "For Good," and there was instantly a bond. She is gracious, grounded, and gifted. Over time, we became real-life best friends, which has only enhanced our relationship onstage. There's a mutual love and respect that is very special. I look forward to going to work every day to tell this story with her.
MK:  I feel like the luckiest because not only am I playing a dream role, but I also made a sister through this job. There's something really magical every night when we're looking at each other, hands on the broom, singing "Together we'll be the greatest team there's ever been. Dreams the way we planned them, if we work in tandem. There's no fight we cannot win — just you and I defying gravity!" No matter how tired we are or what happened that day, we lock into the story and ride the wave to the end of the act. Something like that is so special and I'm just grateful for such a strong, brilliant scene partner on and off the stage.
Most of us will never experience the unique schedule of a performer — you work nights and weekends, no exceptions. Tell us more about your day-to-day schedule and how you manage your time.
GC: I like to sleep in! I always try to go to the gym and prep food for the day. Some days I have physical therapy, a voice lesson, or a rehearsal. Energy conservation is key because I want to preserve what I can for the performances. On two-show days, I am usually at the theatre from noon until almost midnight. I like to get to the theatre for a show at least an hour before curtain. This gives me time to warm up my voice and to put on my make-up, wig, and costume without feeling rushed.
MK: What GC said! So much sleep, so much coconut water. Sometimes if we want to hang after the show, we have "Silent Steam Parties" where we watch Netflix and steam our voices.
What's your favorite city you've toured in so far, and why?
GC: The tour was in Boston for seven weeks last summer, and that was glorious! The Boston Opera House has incredible acoustics, and the beautiful weather made for lots of exploring around the historic city. I also loved Chicago! My dad is from Chicago, so I saw a lot of shows there growing up, including WICKED. 
MK:  I loved Chicago. There was something so thrilling about performing at the Oriental there and being in a place where people have access to amazing theatre all the time. The audiences were more challenging, but it made it more fun when we won them over!
What is the hardest part of being a professional actor?
GC: Nothing is permanent! A performer is always looking for the next job. Even if you land a six-month contract, the show could close prematurely. That can be terrifying or exciting, depending on how you look at it.
MK: Not knowing when the next big gig will hit and trusting and believing that your time is coming.
What is the most rewarding part of your job?
GC: I get to go to "work," and play with such wonderful and talented people. The cast and crew become like family, especially on the road. We each do our part — singing, sewing, lighting, dancing, directing — to make the theatre magic happen.
MK: I'm doing what I'm most passionate about, making people think through storytelling. It's given me a platform to be political, to lift up other voices, to make lifelong friends.
If you weren't an actor, what do you think you would be doing?
GC: News anchor or talk show host!
MK: Guacamole Taste Tester.
What's next for each of you and your careers?
GC: I have a few more months on tour, so I've just begun auditions for the next thing. Since I'm still on tour, these auditions largely consist of self-tapes. We will see!
MK:  I want to write my own show. I have a couple ideas and people helping me, but it's just a matter of choosing to write over choosing to nap sometimes!
What's the best career advice you've ever received?

GC: Dream BIG!
MK:  Feel the fear and do it anyway.
What advice would you give to your younger self?
GC: Don't give up! In middle school and high school, I didn't get a single role or solo I wanted. So who was I to think I could go and be on Broadway!? I kept working hard and chasing my dream, and it paid off! (Also, don't stop playing the piano! I wish I had kept that up…)
MK:  Don't sell yourself short. The possibilities are endless and they're all up for grabs — you just have to believe in yourself.
Ginna Claire Mason is The Everygirl…
Favorite song in WICKED?
Always changing! "For Good" this week 🙂

Dream role?
Clara in The Light in the Piazza.
TV show you'd love to make a cameo in?
Jane the Virgin.
Best way to spend a day off?
Sleep in, gym, grocery shopping, massage, date night with my husband.
Best way to unwind?
Every night after the show I ice my knees (the three-inch heels can be killer), stretch my feet with yogi toes, steam my voice with my MyPurMist, drink herbal tea, and catch up on my current favorite TV show or read a book.
Go-to workout?
Right now I'm doing the Bret Contreras Strong Curves Program, and I am loving it!
If you could have lunch with any woman, who would it be and why?
Kristin Chenoweth! I'd love to share how her career has inspired my life's path.
Mary Kate Morrissey is The Everygirl…
Favorite song in WICKED?
Right now, "Popular."
Dream role?
Joan of Arc, Alice Paul, Patti Smith.
TV show you'd love to make a cameo in?
Game of Thrones.
Best way to spend a day off?
Going for a long run and eating a steak dinner!
Best way to unwind?
Steaming, Netflix, and a whole lotta snacking.
Go-to workout?
Running and Yoga.
If you could have lunch with any woman, who would it be and why?
Katherine Hepburn. I would want to know all about her acting process! (Nerdy, I know)