When we first entered quarantine last spring, I'd have bet a large sum of money and lost that there was no way we'd still be working from home come December. But here we are, and I'll be honest, I feel like we're all making the most of it. Being stuck at home in the winter is an entire different ballpark than the killjoy of being stuck inside when it's sunny and 80 degrees out.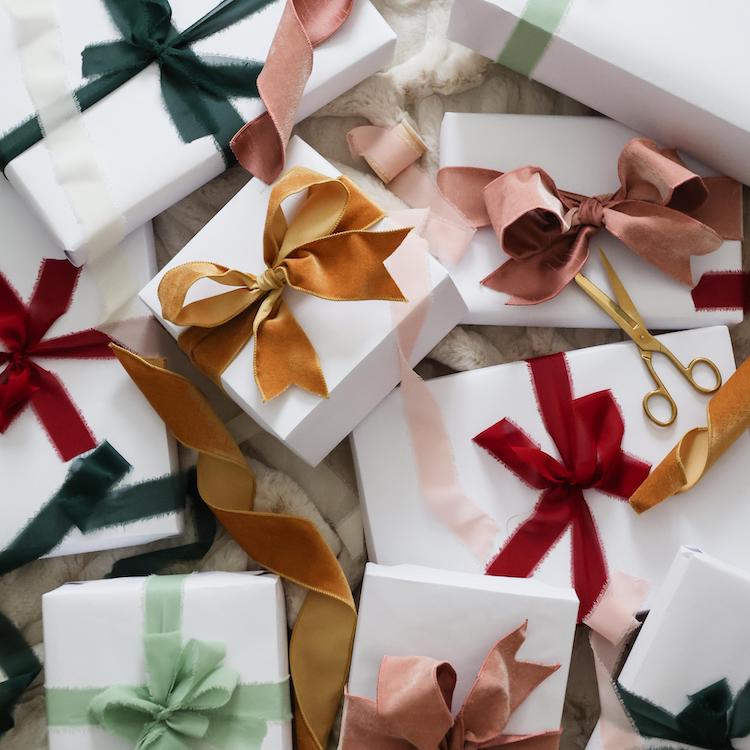 the perfect gifts for everyone—and we mean everyone—on your list
But we'd be remiss if we didn't discuss the couple of items making it way better. Because a cozy day at home *while* you're working is possible—as long as you have these essentials.
Old Navy
I ordered these a couple of weeks ago realizing that I needed to give up the dream that I'll get dressed every single day for work, especially when it gets freezing. These are a cool fabric and style that make me feel kinda dressed up, but they are also the freaking most comfortable thing I've ever put on in my life. I've worn them like four days the last week with sweaters, T-shirts, and everything in between. I run very hot, but I moved into an apartment that has minimal heat and poor windows, and I am freezing 24/7, so these have
Laneige
On the days I don't put makeup on, I give my skin some extra TLC—one of the many benefits of being at home all day! The winter weather has taken a toll on my skin, as it has most of us I'm sure, so I'm loading up on moisturizing ingredients to heal my moisture barrier and hydrate as much as possible. It's an extra self-care step that feels fun to break up the monotony of my days and makes me look forward to something. This mask is meant to be worn while you sleep, but staring at a screen all day writing words over and over is similar enough, and I've experienced the same moisture at the end of the day as I do when I sleep with it on. Plus, it's clear, so I've worn on it more than a few Zoom call occasions than I care to admit. Hehe, coworkers! 🙂
Equilibria
At around 3 p.m. every single day, my anxiety sets in. How on Earth am I supposed to get the 10 tasks still on my list done all before the end of the day? I know I work best in the crunch time, but it doesnt stop my stress from creeping in. Lately as this is starting to really affect my day-to-day health, Ive tried putting my Equilibria Daily Drops in an afternoon glass of decaf tea. It really helps calm me down and has become quite ritualistic. I look forward to it every day!
Use code THEEVERYGIRL for 20% off your first order at Equilibria!
W&P
I'm not a water person. There have been more than a few days where 9 p.m. rolls around and I realize I haven't had a sip of H2O literally all day. But ever since I got this Porter water bottle, I'm getting through multiple refills. There's just something so fun about drinking from it: I love the rolled glass opening that fits my mouth perfectly and the silicone sleeve that is grippy-y and easy to pick up. It's also dishwasher-safe, so it's super easy to clean. Honestly, 10/10 would marry Porter.
MALA THE BRAND
I find I work best from home when I cultivate a mood. I make sure my work area is tidy. I plug in my Christmas tree. I cue up the fireplace channel on my TV. I throw on a coffee shop sounds video on Youtube. And I light this truly excellent hand-poured soy candle that smells like all your holiday dreams coming true. And it does make the work day feel a bit more fun and festive.
Simple Modern
If you've been on TikTok even one single time, you've likely seen this tumbler that basically went viral this year—and I'm here to tell you the hype is real. I love drinking my water out of this all day long and have it with me no matter which corner of my apartment I'm working in. I got the largest size and it's upped my water intake by at least double. I can't wait to drink homemade iced coffee out of this when we go back to the office.
Barefoot Dreams
I am known as being a very cold-running person, and so when I knew that we'd be working from home throughout winter, I wanted to make sure I could maximize my coziness (and warmth) as much as humanly possible. I bought the leopard version of this during the Nordstrom sale, so it was slightly cheaper, but I swear I have gotten my money's worth already. No matter what I'm wearing (even if it's a sweatshirt), I throw this on top and lounge in it every single day. It's so warm without being as bulky as a robe, and truly sparks joy every single time I wrap up in it. It's definitely a splurge, but if something happened to mine, I'd buy it again.
Hamilton Beach
I purchased this 14 ounce personal blender years ago, and haven't used it as much as I have this year working from home. This blender is perfect for a quick smoothie or shake before logging into work. It blends quickly and its compact style allows me to take it to my workspace and drink from there without having to transfer it to another cup. This blender lets me get a quick breakfast in before the day picks up!
Tree Hut
Between working from home during the dry fall and winter season and washing my hands multiple times a day, I have been neglecting my hands and feet, which have been drier than usual. To make sure I infuse some moisture on my skin during the workday, I keep this body butter close to me. It's thick enough to lock in moisture, especially during the harsh, dry weather, which is a necessity even more now, since it's easy to neglect skincare while working from home.
Nespresso
There's just nothing that gets me out of bed like knowing that the cup of coffee (or tea, but in this case coffee) that I'll drink once I make my way to the kitchen is going to be really good. After tiring of my trusty old affordable machine from years ago, I finally sprung for a Nespresso machine. My morning coffee routine is the best it's been all year.
Crate & Barrel
So I initially bought these wine glasses for, you know, wine—and while I do use them for that in the evening, I also use them during the day to make my sparkling water, kombucha, or green juice feel more like an ~event~. I miss sipping wine with my friends while out to dinner, so at least I can get the joy of a cute glass while drinking a healthier daytime beverage.
OUAI
If you've ever smelled any of Ouai's hair products, you know that they smell AMAZING. I have always loved the scent of their Leave-In Conditioner and wished they would make it in a perfume. BOOM, wishes come true! This year, Ouai launched the most perfect desk-sized fragrances (and the one I love is North Bondi, which is floral and a bit musky). They're incredibly budget-friendly, so I feel comfortable spraying it on myself every single day. It's a simple luxury that makes me feel a bit more like my non-pandemic self!
Capri Blue
I love seasonal fragrances, but sometimes I get tired of burning the same one for too long. I bought this four-pack of Capri Blue scents when they were on super sale a few weeks ago, but the non-sale price isn't bad either. The set includes the iconic Volcano candle, plus one pumpkin scent and two winter fragrances. My favorite so far has been the pumpkin (the Alpine Juniper is definitely a sweeter greenery scent), but I haven't even cracked the Frosted Fireside open yet. This is perfect for anyone who likes different rooms to have different scents, or who just wants to mix things up!
Nomad Noé
Candles have become one of my work from home must-haves—the more fragrant, the better. This hand-poured candle doesn't have a winter scent, and that's what I love most about it. It's bright and refreshing, and it has notes of my favorite flower: gardenia. Once I light this, the scent fills my entire apartment and acts as a pick me up for my senses.
Brother Vellies
Before I hit the purchase button on these socks, they took up a lot of space in my head. I went back and forth on whether I really needed a $30-something pair of socks, and my answer after weeks of questioning was yes. Since we're in the house 99.9 percent of the time these days, a pair of lavender socks that give back—proceeds from the purchase of the lavender socks fund Brother Vellies' mask making and food distribution initiative in Kenya—and keep my feet warm while I work is the ultimate win for me.
Bodum
At the start of the pandemic, I was using a Moka pot to make an americano each morning until I realized that caffeine might be making my anxiety worse. I have since given up coffee (inserts crying emoji) for herbal tea. Instead of going the tea bag route, I found Aesthete Tea, a QBIPOC-owned tea company that makes an assortment of herbal teas. After trying a couple of teapots that didn't work well, I saw a YouTube video that showed how to use a french press for loose teas and bought this one. I use it every morning, and I love that making tea has become a part of my morning self-care.
Hydro Flask
Ever since I was a small, red-haired child, I've had water on my nightstand, in my backpack, on the table, on the desk, you name it–absolutely everywhere. It drove my mom crazy, but even now I still can't seem to leave the house, or my couch for that matter, without it. To cut down my use of plastic and the dishwasher, however, I started using my hydro flask as my primary water source while I'm working. It not only holds a lot more H2O than my regular glass, but it also helps me keep track of how much or how little I've been drinking during the day.
New Balance
Despite what my Netflix account may tell you, the activity that got me through this year the most was walking. I've barely missed a day since the pandemic started (while wearing a mask of course!). It's helped me think, destress, and get my heartrate up a bit, and having a great pair of sneakers has made going for long, daily walks so much easier. These never give me blisters, are always comfortable, and have held up so well!