Out of nowhere, my 2022 to-be-read list has become absolutely massive. I went from wanting to read just a few books to needing to read about three a week to finish everything on my list, and that doesn't even include all the new releases coming out over the summer. Thanks to a whole slew of book recommendations, I'm swimming in books to read and have no idea what to start next. So of course, I turned to the stars. Here is the next book you should read, according to your zodiac sign: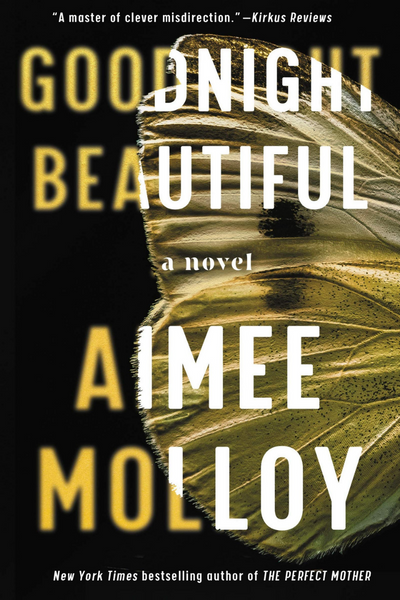 Aimee Molloy
Aries don't turn down an adventure, so a page-turning thriller is right up their alley.
When newlyweds Sam and Annie leave the Big Apple for Sam's seemingly boring hometown, Annie doesn't know what to do with herself. Though she wants to keep her marriage exciting, Sam spends his days seeing his therapy patients in the downstairs office—and soon enough, it sounds like one particular patient is becoming a little too close. As questions surrounding a possible affair fill the house's silence, there's much more than Sam and Annie's marriage at stake as long as Sam keeps taking on more patients. With a surprise twist and a page-turning mystery, I could see any Aries getting lost in this thriller.

Tessa Bailey
I have not been able to go into Barnes and Noble without seeing this book for months now, so of course a Taurus would be the one to check it out.
This spicy murder mystery follows Taylor, a crime podcast junkie, who decides a trip to Cape Cod is exactly what her brother needs to get him out of a slump after the death of his panda. However, as Tessa and her brother arrive at the resort, they soon discover the dead body of the property owner and begin to grow suspicious about the circumstances leading to the death. You Tauruses do like unconventional, don't you? And if you're still wondering about the spice, well, Tessa soon meets a mysterious, no-nonsense bounty hunter who grows cuter by the day. If you've wanted something to break up a reading rut, look no further.

Anna North
You Geminis have a reputation for being cunning and clever (in the best possible way), so you're sure to identify with the protagonist in Outlawed.
Not only is this one of the most unique I've ever read, it was also the first book that I literally could not put down of the year. When 17-year-old Ada's marriage begins, she can't think of anything that could make her happier. However, when she still hasn't become pregnant after a year, her mother tells her to flee the town or risk being accused of witchcraft. Raised in a world in which women must bear children, Ada soon joins forces with the notorious Hole-in-the-Wall gang, a group of women led by a somewhat cryptic leader known as The Kid. As the gang works to spread their influence in their own civilization without men, Ada wonders if she'll truly ever feel safe in a society in which women's bodies are treated as vessels.

Emily Henry
If there's anything a Cancer can't resist, it's a love story for the ages—and I have just the book for them.
The queen of the laugh-out-loud rom-com, Emily Henry, has graced countless summer reading lists with the release of her newest, Book Lovers. The story follows stellar literary agent and all-around successful corporate girl Nora, as she agrees to take a moment away from the city for a much-needed trip with her sister, Libby. Despite being away from the hustle and bustle, Nora soon bumps into a grumpy editor she's had the misfortune of meeting back in the city, Charlie Lastra. As she tries to focus her efforts on meeting an available fisherman or a cute bartender, it seems Nora can't avoid Charlie. As they continue to bump into each other in a series of chance meetings, the two begin to realize that the other isn't so bad after all.

Rachel Yoder
Ah, Leos. Your drive and natural leadership probably lead you to pick up books that align with your ambitions, but if you're looking to step outside your comfort zone, this psychological thriller is the perfect first step.
This captivating satirical tale follows a mother as she makes the difficult decision to stay at home with her newborn son while her husband takes on the role of breadwinner. After about two years, however, she starts to notice her teeth becoming sharper, her hair becoming fur-like, and the urge to engage in dog-like behavior. Desperate to hide this new canine alter ego, she turns to tales of myths and the psychological state of mothers through books at her local library and unwittingly becomes tied to a multi-level marketing scheme. Honestly, this is a far cry from most of the books I pick up, but with commentary on adult responsibility, the societal pressure on women, and the animal inside of us, it's a surprisingly applicable tale of caution.

Jenny Han
With this ode to summer flings and the thrill of high school crushes, Virgos can stray from their usually sensible side and get lost in the whimsy of the coastal grandmother aesthetic.
Belly loves the summer because it means no school, endless hours of sun tanning and swimming, and time to spend with her childhood friends, Conrad and Jeremiah. But this summer, the trio is older, closer to finding out who they are in adulthood, and realize that just a year can make a huge difference in their friendship. Belly finds herself caught in a love triangle between the two brothers, and she knows deep down that no summer will ever be the same again. The perfect balance of cheesy and mature, this coming-of-age series captures the confusion and beauty that is growing up. Looking for another reason to pick this up? As the popularity of the Amazon Prime show grows, Virgo will feel even more in the know and get the bragging rights of saying they read the book and watched the series.

Nicola Yoon
As a Libra myself, I know that we love a good romance story and a solid, substantial plot in a novel.
Nicola Yoon's The Sun is Also a Star is one of the books that got me into reading when it first came out. I love the way she balances a whirlwind love story with other real-life conflicts and sharp observations about everyday life. The narrative in Instructions for Dancing is no different. Evie doesn't believe in love, but when she witnesses a random couple kiss and suddenly envisions the way their relationship began and how it will end, she starts to wonder if romance could have a stronger role in her life. After finding herself taking dance classes with a partner known as X, she begins to wonder if something could possibly happen with this confident, happy-go-lucky boy. They enroll in a dance competition, and as the two grow closer, Evie wonders if falling in love with a near stranger is worth risking her heart for.

Catherine Hernandez
Scorpios are known as one of the most intense signs of the Zodiac, so it only makes sense that they would be drawn to a chilling and raw novel set in a near-apocalyptic future.
In a future civilization, massive floods and a panicked society prompt a government-sanctioned regime known as The Boots to target LGBTQ+ and communities of color as they staff labor camps. Despite the grim outlook for marginalized people, a resistance is forming. As the movement against the government grows, Kay, a former drag queen and another one of the government's targets, joins a group of refugees and a rogue army officer as they fight to break the government's influence and put the power back into the hands of the people. This book has themes discussing the meaning of independence and democracy, poignant to today's world.

Christine Pride
A sagittarius wants a book that will keep them guessing, turning the pages, and sitting on the edge of their seat—all while still being unconventional. Luckily, this riveting, dual-perspective novel makes the cut.
Jen and Riley have been friends since childhood and have stuck with each other through thick and then. As Jen steps into the role of a new mother, Riley is preparing to take on the responsibilities of the first Black woman to become a news anchor in Philly. But when Jen's police officer husband shoots an unarmed Black man, the two friends question their morals, ethics, and how they can possibly remain close friends when the difference between their communities is more noticeable than ever. Tasked with covering the tragedy, Riley questions how she can maintain her identity and her relationship with Jen.

Racquel Marie
Capricorns are famous for their enthusiasm about simply living life, and nothing says celebrating life like a queer coming-of-age story.
Ophelia loves food, her Cuban culture, and boys. However, when Ophelia starts developing feelings for someone other than another popular guy at school, confusion starts to take over. Mainly because her new crush is on Talia Sanchez, a cute but quiet classmate. As Ophelia's hidden feelings become known in her friend group, she's desperate to discover and label herself before someone else does. Not only is this book a story about growing up, but it's a great reminder that there's no rush to have everything figured out in high school, college, or beyond.

Marlowe Granados
For the adventurous Aquarius, a story about self-discovery on a trip far away is the perfect company on a lazy afternoon.
Isla is ready for a summer of new experiences and plain old, youthful fun with her friend and partner in crime, Gala. The two arrive in New York City and quickly establish a balance between hopping across the boroughs and brushing shoulders with social media influencers and celebrities. Experimenting with a series of odd jobs and discovering more about their friendship in the process, Isla becomes captivated by the glamour of the city. Whether you've dreamed of moving to New York City or just want to escape from your own, this book flawlessly combines a contemporary narrative with the splendor of a well-spent summer.

Abigail Hing Wen
One of the most emotionally aware of the Zodiac, Pisces is no stranger to gravitating toward stories about love and loss.
In Loveboat, Taipei, these themes are combined as 18-year-old Ever Wong is sent to study Mandarian in Taiwain. Used to following her parents' strict rules back in her Ohio home, Ever is determined to do well. However, when she realizes her classmates are the type of prodigies known for getting into Harvard or mooching off of their wealthy families' riches, it's apparent that there won't be that much studying after all. Turns out, the program her parents signed her up for was actually a cover for an underground teen-meet market scheme known as Loveboat. Trading in field trips for adrenaline-fueled nights of clubbing, Ever sets out to break the rules for the first time in her life—but soon realizes that every decision has its consequences.