There are a few things my friends might tell you I'm known for: reading the cutest rom-coms, live-Tweeting about The Bachelor for all 80-something of my followers to see, and referring to each of my potted plants as "babies." Oh yeah, and loving absolutely anything "makes the hair on the back of your neck stand up" unsettling.
Yes, I may squeal in delight when the leads finally end up together on my favorite TV show, but I also love a good story about the creepy, the unexplained, and the downright scary. Whether it's a tale about a village's unexplained disappearance, a video collector who can't stop talking in his sleep, or a murder in a small town, there's just something about the thriller that just lets you get lost in the story. And what better way to get your daily dose of true crime, a riveting mystery, or whatever else floats your boat than in the form of a podcast? Seriously, there'll be absolutely zero book cover-induced judgment that all thriller lovers have received as they settled into that book in a public place.
So, without the worries of being judged for a questionable cover, here are 12 fictional thriller podcasts to listen to if you go absolutely feral for the genre. But a word to the wise: Just don't listen to these before bed.
For anyone who loves a good story filled with unexplained and plain bizarre events, this one's for you. This podcast follows reporter Lia Haddock as she tries to solve the mystery of what happened when over 300 people disappeared from Limetown without a trace. The Roanoke-esque story features "newscasts" and interviews with the townspeople in an attempt to try and figure out what happened that day. Similar to The X-Files, detectives, journalists, and police officers try to find someone who can reveal any clues to what happened, but not everyone is telling the truth. Since this disappearance took place about 10 years in the past, the episodes feel as if they're switching from the past to the present. With Lia's occasional check-ins and realistic-sounding reports, you might even forget you're listening to a work of fiction.
Campy Stranger Things vibes meets an evil video store in Video Palace. The series follows VHS collector Mark Cambria as he starts sleep talking in a language that doesn't exist. Confused and slightly disturbed, Mark goes down a Google rabbit hole to find a possible explanation and remembers a mysterious VHS tape he came upon a couple of weeks ago. As a freelance video editor, Mark's no stranger to weird films, but there's something different about this unmarked white videotape that fell into his hands. Though he initially thinks this tape was just a weird experimental film from the '70s, Mark and his girlfriend Tamra soon realize that this tape came from Video Palace, a sinister store tied to conspiracy, the occult, and danger.
Armed with an expertise in old videos and a strong curiosity for the unknown, the New York couple start their own investigative podcast in an attempt to document the truth about Video Palace. With a hair-raising soundtrack and some very creepy-sounding audio clips, this podcast is perfect if you're looking for a chilling new story. As for me, I'll be avoiding any video store I ever come across.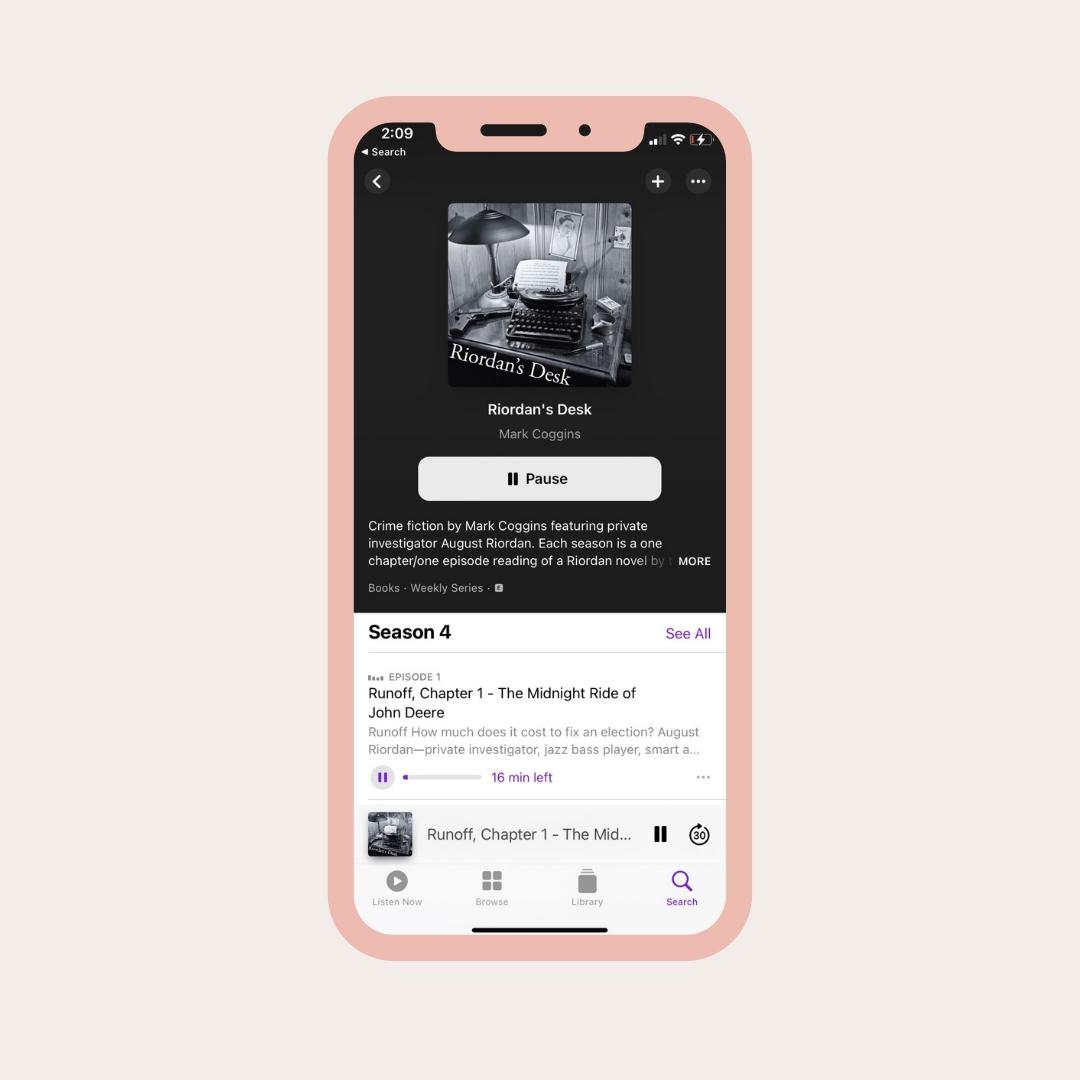 If crime fiction books are your passion, something tells me Riordan's Desk will be right up your alley. Each 20-minute or so episode of Riordan's Desk is an out-loud reading of a Mark Coggins novel, the creator of the August Riordan series. This podcast is a perfect pick if you're stuck inside on a rainy afternoon and want to feel like you're getting lost in a book without having to lift a page.
Though the chipper intro is a bit cheesy, each episode takes you deeper into a complex case Detective Riordan is working on. In season one of Riordan's Desk, our detective goes back to San Fransisco to avenge the death of his partner and comes across an unsettling combination of grotesque murders, kidnappings, and the threat of more deaths to come. Working fast, the detective must uncover the criminal behind all of this before he's their next target. Since this podcast is a reading of a book, I'd listen to this one at a faster speed and queue it up for your next road trip.
Looking for a long new series to binge? Well, with more than 100 different episodes, the Ostium Podcast might be the perfect soundtrack to your afternoon stroll. A story filled with mystery and the unknown, the series follows Jake, who discovers a secret town when a game of GeoGuessr gets a little too intense. Entranced by its secrecy, our fearless protagonist soon discovers that the town of Ostium actually harbors a collection of secret doors that lead to fantastic places. The catch? The whole vibe of Ostium, whose name literally means "small opening" or orifice, is a little off.
With a population of zero and a location that is nearly invisible on Google Maps, Jake soon begins to learn that this town may not be an innocent secret of his but instead an indication of impending doom. Seeing that Jake is a little nervous and is used to the comfort of an office cubicle, he's a bit of an unreliable narrator, which makes for an even more thrilling listening experience. When will he decide to turn around? Why can't Jake remember what happened during his last time in Ostium? With nearly every episode leaving off on a cliff-hanger, the suspense is definitely going to make you press "play" to listen to the next installment.
Sure, sitting back and listening to podcasts are cool, but what if you want something that's a bit of a challenge? Enter: this interactive podcast, 5 Week Countdown. A combination of choices and thrills, this is an audio drama podcast where it's up to you to help a victim escape. Through each episode, you will collect clues and solve mini challenges in order to assist the victim in getting closer to safety. The victim, you ask? YouTuber Whitney Wurd has been kidnapped and held captive by K, and the only way to figure out where she is is by looking at her social media and asking questions.
If you like escape rooms and choose-your-ending, Black Mirror-type movies, this podcast will definitely be a brain-teasing challenge. And, of course, the entire series is a race against the clock. If you've got some time to kill and love a good story and want to feel like you're a secret agent without actually being a secret agent, make sure to tune into this one.
For a bit of a thriller and sci-fi mashup, The Hyacinth Disaster follows a space crew as they rush to survey a Jovian asteroid and save the crew of their sister ship. The first episode kicks off as the crew of the Corvus ship is captured and held for ransom. Desperate to save those on their sister ship, those on board the MRS Hyacinth believe their best, and maybe only hope, is getting to the resource-rich asteroid to save the day.
The story is told as if you're listening to a transcript between the members of the crew. And let me tell you, themes of corruption, horror, and, above all, drama weigh heavy on each of these interactions. As multiple ships fall victim to corporate rivalry, each crew member must question who they can trust and if the asteroid really is going to bring them the victory they need. This series is only seven episodes long, so if you want to listen to something quick and easy to follow along with, The Hyacinth Disaster will probably fill the space-nerd hole in your heart.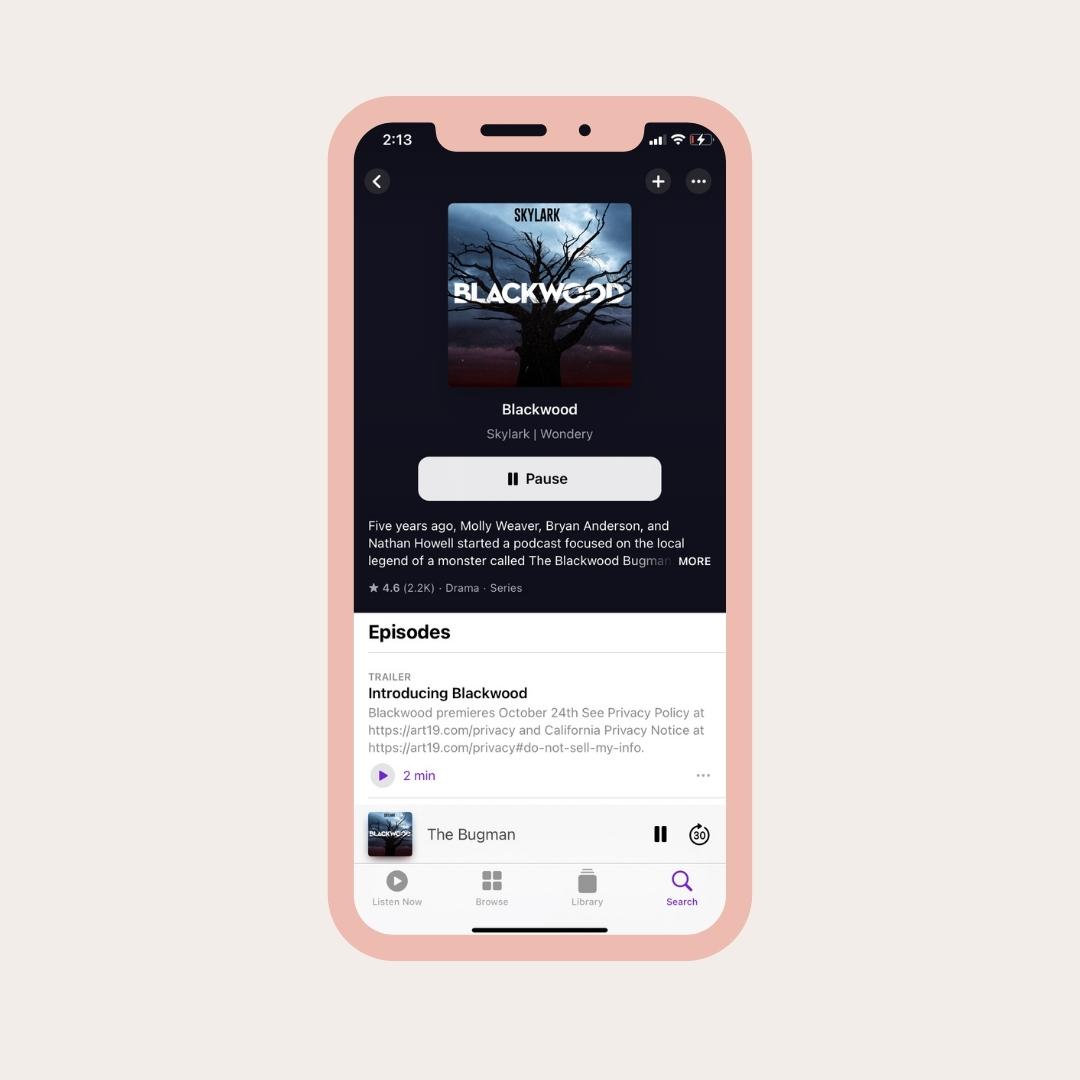 Blackwood follows a group of three teenagers as they play detectives to discover the identity of the mythical Bugman. Responsible for slaughtering teenagers in the woods, the Bugman is a well-known figure around the group's hometown of Blackwood, Connecticut. Lead reporter Molly, along with friends Bryan and Nathan, decides that the only way to separate fact from fiction in these murders is to investigate the people in their own town. But as the threat of an indestructible scaled body, terrifying bulging red eyes, and an inescapable presence of the Bugman legend looms over them, even an impossible creature starts to seem real.
With the "campy local legend that might actually be real" trope and narration reminiscent of The Blair Witch Project, you never know the twists and turns an episode might take. But don't root for this trio too much—even in the first episode, you'll find out tragedy also fell upon these teens. It's just a matter of figuring out who they recorded on these tapes is responsible for their fates.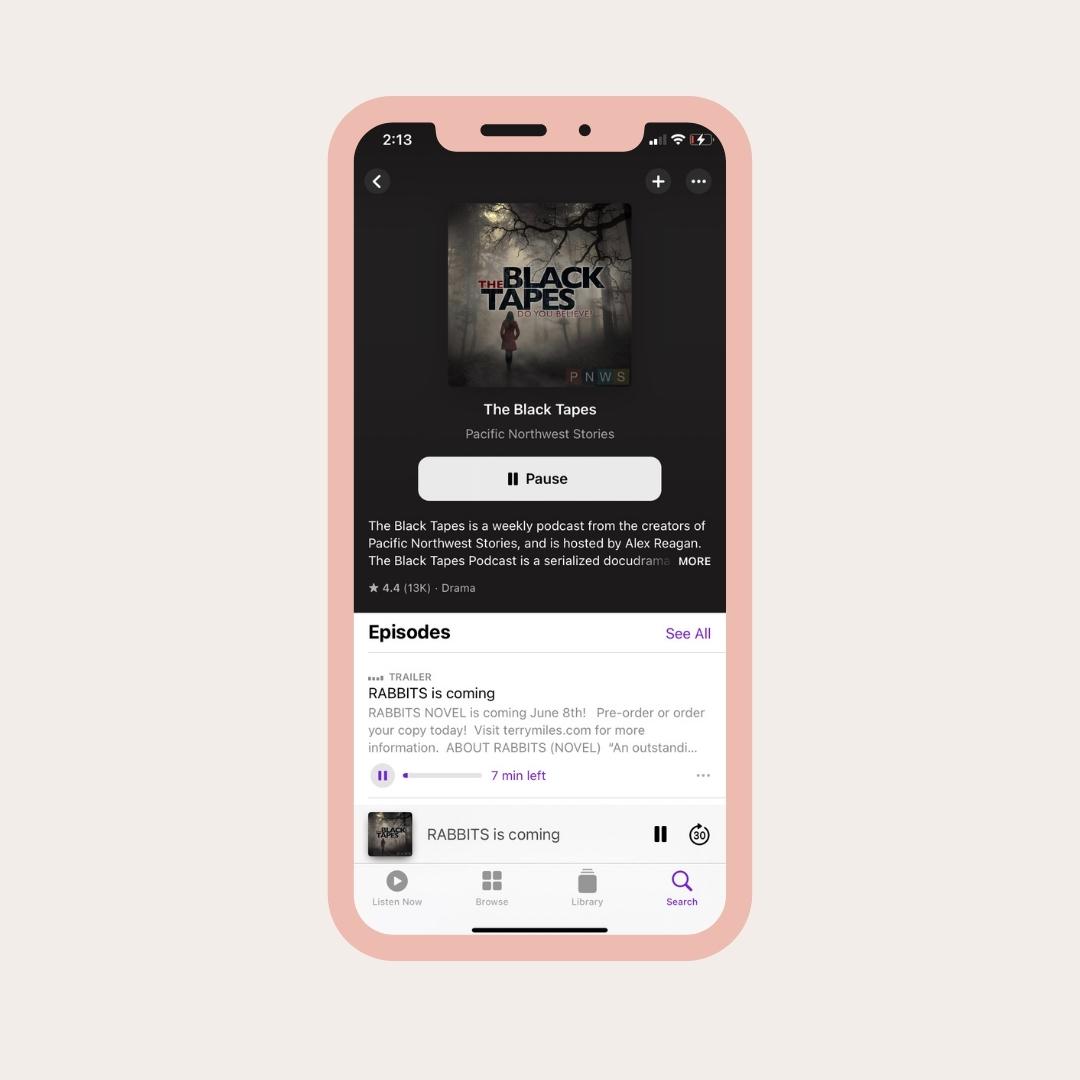 Do you believe in the supernatural? How about demons? If the answer is yes, or even if you were just intrigued by my apparently random questions, let me provide some background. Designed for lovers of ghost tales and those who believe there are evil spirits beyond our control, The Black Tapes is a bi-weekly podcast following a fearless journalist's search for the truth. This podcast is hosted by Alex Reagan (voiced by Lori Henry), who documents her journey as she delves into the world of ghost hunting and paranormal investigation. Throughout her search for evidence of another, more spiritual world, Alex meets Dr. Richard Strand, who, despite being a ghost hunter, is a skeptic. In learning more about Dr. Strand's past, Alex discovers a collection of black VHS tapes that generate more questions than answers. Reluctantly, Alex decides to team up with Dr. Strand to solve the mystery behind one of his Black Tape cases.
Not only does the entire concept of ghost hunting intrigue me (especially when I know the whole podcast is fictional and there's not an actual demon after our favorite host), but the whole series also gives off Supernatural vibes. Alex and Dr. Strand unearth the mystery of little towns, fight evil, and interview other ghost believers. With two seasons' worth of episodes, your new favorite thriller just might be this podcast.
If you've ever strolled the aisles of a library just waiting for something interesting to happen, then I'm sure some creepy archives would fascinate you. The Magnus Archives is a weekly horror fiction podcast that looks at the weird, the creepy, and the unspeakable hidden in the walls of The Magnus Institute. An unconventional museum, this place specializes in collecting the esoteric and, at least in the first episode, a whole lot of dust. In an effort to update the institute's collections, head archivist Jonathan Sims attempts to organize almost 200 year's worth of case files and convert them to audio files.
With a small but persevering team of two, well, technically three, researchers, Johnathan's drawling British voice—which also sounds like the voice of every creepy butler in Halloween movies—takes us along on a mission to study each and every file. However, as the team begins to record their findings over the course of the podcast, they soon start to notice these cases have more in common than they thought. And the deeper they explore the archive, the more horrifying of truth starts to be revealed.
OK, so maybe you're just getting into podcasts or reading is your go-to right now. Even for you podcast skeptics, I have a solution: a podcast dedicated to the world of mystery and thriller literature. That's right, you can listen to one episode and come away with a slew of new book recommendations from hosts who know the thriller genre inside and out. Each episode, hosts Katie and Nusrah reminisce about their favorite books, authors, and pieces of literature that encompass the macabre, the creepy, and the suspense-filled.
I'll admit it, when I first started this podcast, I was expecting it to be more one-note, with the same types of book recommendations every episode. So I was pleasantly surprised to learn that the two aren't shy to redefine "thrillers" and go beyond what Edgar Allen Poe would've written. Sure, there are some traditional thrillers, but Katie and Nusrah expand to romances with elements of thrillers (um, hello Colleen Hoover), books that use unique storytelling formats, and modern adaptations on classics. I also appreciate that the two make sure that their book recommendations feature a diverse group of authors, so we see more representation in the book characters. Though there are over 100 episodes to choose from in this bi-weekly podcast, I foresee book lovers rejoicing over episodes "Fiction Just As Strange As Reality," "Was that for real?," and "You Will Never See It Coming."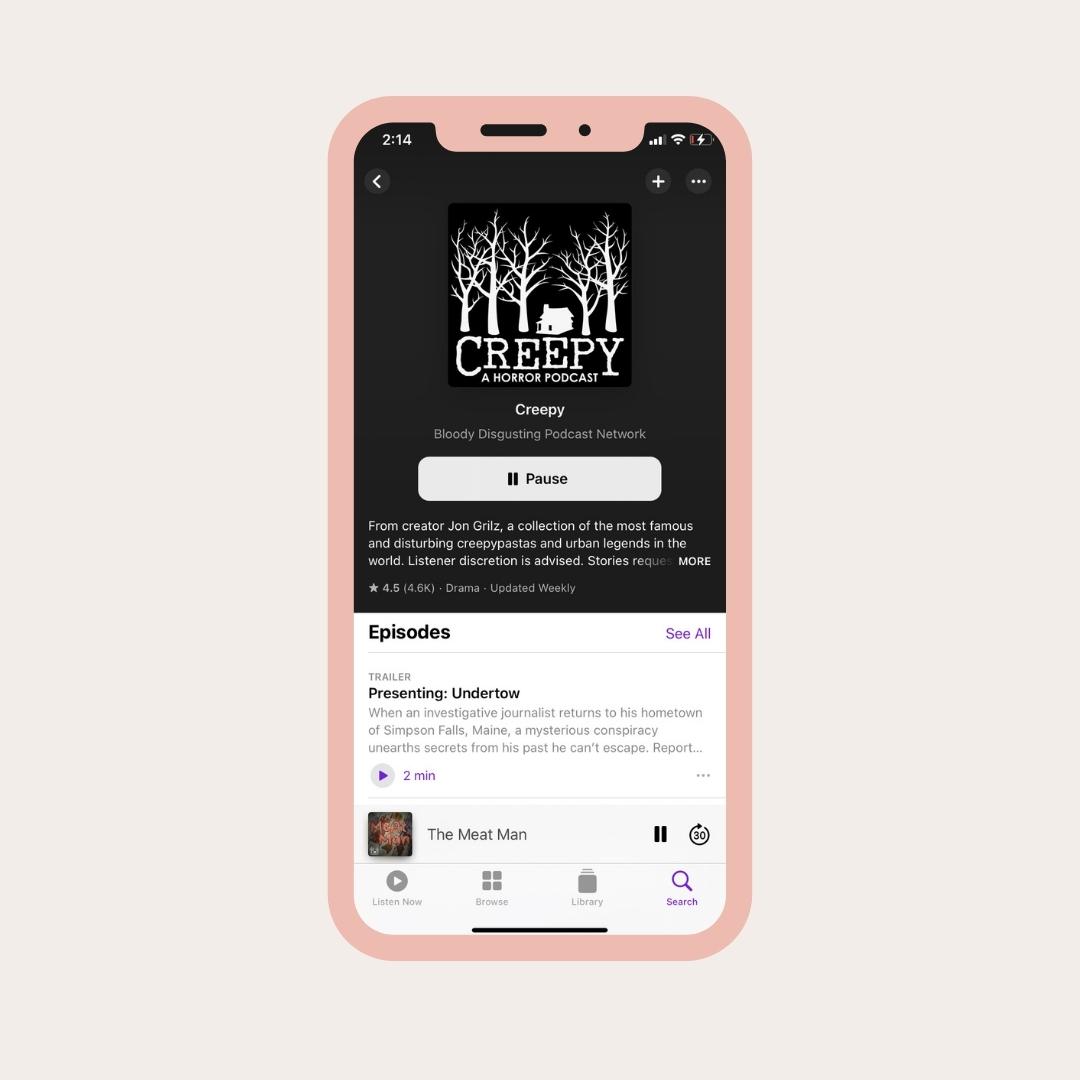 Was anyone else also an avid reader of the spooky Creepypasta stories when you were supposed to be asleep on a school night? For me, this might have been where my affinity for thrillers all began. With this podcast, revisit your inner (scared) child with a collection of the scariest and most disturbing Creepypasta stories the internet knows. A Tom Riddle-esque notebook with a mind of its own, a ghost determined to cause havoc on the grounds of a plantation, and finding a dead body where you least expect are just a few instances of what you're in for with this podcast.
Each episode ranges from about 20 minutes to an hour, so you're sure to find something to keep your mind occupied (and hopefully not too terrified) no matter how much time you have. For those die-hard Creepypasta fans, you can even request via Twitter or email stories you'd love to hear on the show in the future.
Though some may say it's more of a psychological drama, I say unreliable narrators are a scary thing and that's why The Bright Sessions is a thriller. The podcast follows along with the sessions of a group of therapy patients as they detail their home lives, their dark pasts, and their bleak futures. But once you start getting further into the first episode, it starts to become pretty clear that, though they may have some very human characteristics, these patients are not mere mortals.
Each episode sounds like you're listening into each patient's session—which makes me feel very sneaky—and gives you some idea of what these guys are capable of. From time travel to mind control, it's up to therapist Dr. Bright to help the atypical in any way she can. Not only is this podcast absolutely captivating in that you're learning all about the desires and stories behind supernatural characters, but each episode is also fast-paced and easy to digest at about only 20 minutes long. With a brisk back-and-forth dialogue, you'll be on the edge of your seat as you put the pieces together and discover what each patient's magical ability is.