We know the feeling — after eating a granola bar and drinking two cups of coffee at work this morning, your mind is ready for a break and your stomach is growling for a good lunch. Luckily for us, Pamela Salzman, author of the cookbook Kitchen Matters, is sharing her easy desk lunches that will leave you looking forward to your afternoon meal and energized for the remainder of the day.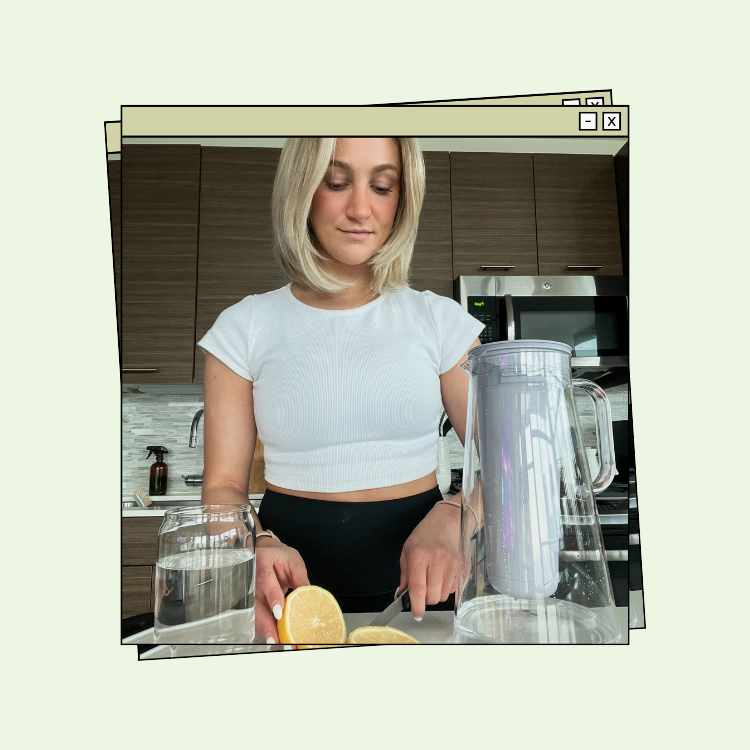 get it right in 2023 and beyond
Saturday Chopped Salad
Serves 6
One Saturday at lunchtime, I took some leftover undressed salad I had made the day before and I put it on a cutting board and chopped it all into the smallest pieces I could. It was the most addictive salad I have ever eaten, and it was the first salad my son (who is not the biggest consumer of vegetables) inhaled. But I was confused why it was so much better than the previous day's, which contained the exact same ingredients! Everyone had his or her own opinion about why a chopped salad is superior, but it was clear to me that tasting every ingredient and flavor in each bite was key. The goal in preparing the vegetables is to cut them smaller than the size of a pea. I use my House Dressing here because it goes with anything and everything.
INGREDIENTS
1 head romaine lettuce, finely chopped, about 6 cups
3 cups diced red cabbage (or a mix of cabbage and chopped endive)
3 radishes, finely diced
½ pint cherry tomatoes, quartered (optional)
1/3 cup pickled red onions, diced (see below) or 5 pepperoncini, seeded and finely chopped
½ bunch chives, finely chopped
2 carrots, finely diced or julienned and finely chopped
2 Persian cucumbers, finely diced
2/3 cup Everyday Salad Dressing (see below)
1 avocado, diced
3 ounces feta, preferably goat milk feta, crumbled
Additional protein: quinoa, diced cooked chicken, tuna in olive oil, canned salmon, chopped hard boiled egg, chickpeas
DIRECTIONS
Combine lettuce and cabbage in a large bowl. Add radishes, cherry tomatoes, pickled onions, chives, and carrots. Toss with enough dressing to coat lightly. Add avocado and feta and drizzle with a small amount of dressing. Toss very gently with your hands to incorporate into the salad without smearing avocado and feta everywhere.
Curried Chick Pea Salad
Makes 2 quarts, serves 6 as an entree
The classic curried chicken salad just got a vegetarian makeover, and I promise you won't miss the meat. It still has the same sweet, salty, tangy, and earthy flavors you love in a good curried chicken salad, with the perfect crunch. Eat this tucked into a pita or scooped into lettuce cups (my favorite).
Fiber-rich legumes, such as chickpeas, are well known for helping to reduce cholesterol when consumed regularly. They are a fantastic source of inexpensive, low-fat protein. If you struggle with digesting legumes, try soaking them and then cooking them yourself.
INGREDIENTS
4 ½ cups of cooked chickpeas, or 3 14-ounce cans, drained and rinsed
2 stalks celery, diced
2 scallions, white and green parts, chopped
1 cup chopped unpeeled apple (about 1 medium apple) or 1 cup grapes, halved
¼ cup unsulphured golden raisins (or dark raisins, if you prefer)
½ cup roasted, salted cashews, chopped (slivered almonds are also good)
½ cup plain, whole Greek yogurt (or all mayonnaise)
¼ cup mayonnaise (I like soy-free Vegenaise) (or all Greek yogurt)
5 Tablespoons apricot or peach preserves, preferably no sugar added like St. Dalfour
1 ½ Tablespoons curry powder
2 teaspoons white wine vinegar
½ teaspoon sea salt plus more to taste
¼ teaspoon ground ginger
pinch cayenne pepper
butter lettuce leaves or whole grain sandwich bread, for serving
DIRECTIONS
1. Take ½ cup chickpeas and reserve. Place remaining chickpeas in a large bowl and mash with a potato masher or a fork to create a coarse puree.
2. Add the reserved chickpeas, celery, scallions, apple or grapes, raisins, and cashews to the mashed chickpeas.
3. In a medium bowl, combine yogurt, mayonnaise, preserves, curry powder, vinegar, salt, ginger, and cayenne pepper.
4. Pour on top of the chickpea mixture and combine to coat well with dressing. Adjust seasonings to taste. Serve on butter lettuce leaves as a wrap or on sandwich bread.
5. Store leftovers in the refrigerator for up to 3 days.
Ask Pamela: Is there a difference nutritionally between canned beans and home-cooked?
Not really, but there can be a difference in sodium. So if you are purchasing canned beans, look for no salt-added varieties. Another important consideration is the container in which the beans are packaged. Buy beans in glass jars or only select cans which are unlined or BPA-free. Although, beans are such a nutritious food, so arguably any negativity from the packaging would be outweighed by their health benefits.
Green Goddess Chicken Salad
Serves 6
This salad is undeniably green from an abundance of fresh herbs and green veggies. It's like a healthified, updated, and upgraded chicken salad. I tend to not toss the whole salad in dressing since it will look like an indistinguishable mass of green. Although Green Goddess dressing feels most appropriate for spring when green herbs are coming into season, I make it all year long. It also doubles as a lovely dip for crudités.
INGREDIENTS
3 bone-in, skin-on chicken breasts, about 12 ounces each
1/2 small onion, peeled
4 large garlic cloves, peeled and smashed
1 Tablespoon kosher salt
Dressing
1/2 cup unsweetened, plain, whole milk Greek yogurt
1 cup fresh parsley leaves
3 Tablespoons chopped fresh chives
2 Tablespoons fresh basil leaves
2 Tablespoons fresh dill
1 scallion, chopped
2 Tablespoons freshly squeezed lemon juice
1 teaspoon anchovy paste (or 2 anchovy fillets)
1/2 cup unrefined, cold pressed, extra-virgin olive oil
3/4 teaspoon sea salt
Freshly ground black pepper
1 head Baby Gem lettuce, leaves washed, dried, and left whole
1 Persian cucumber, chopped
2 stalks celery, sliced
1/4 cup diced red onion
1/4 cup capers, drained
DIRECTIONS
1. Place the chicken in a saucepan with the onion, garlic, salt, and peppercorns and add water to cover.
2. Bring to a boil over high heat, reduce heat to low, cover, and simmer until the chicken is just cooked through, about 25 minutes.
3. Allow chicken to cool in the poaching liquid.
4. Remove the skin and bones and shred the meat into large, bite-size pieces. Set aside in a large bowl.
5. Place all dressing ingredients except oil, salt, and pepper in a blender or food processor. With the motor running, slowly pour in olive oil. Taste for salt and pepper and add accordingly.
6. Toss lettuce with enough dressing to coat lightly. Add remaining salad components on top of lettuce and serve with extra dressing on the side. You can use a rotisserie chicken and remove skin and bones and shred the meat into large bite-size pieces. You should have about 4-5 cups shredded meat.
7. The original Green Goddess dressing contains lots of tarragon. Feel free to experiment with other different fresh green herbs such as tarragon, cilantro, chervil, or mint.
For a diary-free version, use ½ cup of silken tofu in place of the yogurt and increase the lemon juice to 3 Tablespoons. You can sub half of the chives for green onions.
Superfood Salad
Serves 4 to 6
You've probably heard the term "superfood" and wondered how a food earns that label. Truthfully, the word is used more for marketing than scientific purposes, and there is no universal agreement as to which foods fit the bill. In my opinion, a superfood is a nutritional powerhouse which contains a crazy amount of antioxidants, vitamins, minerals, and phytotnutrients, and I want to know what those foods are! That said, there are a lot of superfoods, and by no means does this mean you can eat as many of them as you want or that you should limit your diet to so-called superfoods.
I decided to take my favorite "superfoods," put them all into a salad, and see what happened. The result was incredibly delicious. I think you'll not only enjoy this salad, but you'll also feel energized and healthier after eating it.
INGREDIENTS
Dressing
1 medium garlic clove, minced
1/2 teaspoon sea salt
freshly ground black pepper to taste
1/2 teaspoon Dijon mustard
2 teaspoons pure maple syrup, Grade A or B, or raw honey
2 Tablespoons raw apple cider vinegar
6 Tablespoons unrefined, cold-pressed extra-virgin olive oil
8 cups baby spinach leaves, about 5 ounces
11/2 cups cooked quinoa
2 cups finely chopped red cabbage
1 cup blueberries or pomegranate seeds (whichever is in season)
1/4 cup chopped Brazil nuts
1 cup broccoli sprouts or sprouts of choice, about 2 ounces
1 6 to 7 ounce can of wild salmon, preferably without bones (optional)
1 large avocado, cubed
DIRECTIONS
1. Whisk together the dressing ingredients in a medium bowl or shake in a jar with a screw-top lid.
2. Combine all ingredients in a large bowl and toss to coat with dressing.
3. To make 1 1/2 cups cooked quinoa, start with 1/2 cup dry
SUPERFOOD CHEAT SHEET
Garlic: Boosts immune system
Spinach: Contains phyto-nutrients that have anti-inflammatory and anti-cancer properties
Quinoa: Contains all nine essential amino acids
Cabbage: Contains sulfuric compounds that aid in detoxifying
Blueberries: High in anti-oxidants that fight free radicals
Brazil Nuts: Helps with detoxifying heavy metals because of the presentence of selenium
Sprouts: Aid in digestion
Wild salmon: Great for the brain with all of the healthy omega-3 fatty acids
Avocado: Increases absorption of nutrients
Italian White Bean and Tuna Salad with Capers
Serves 4 to 6
This is one of my go-to summer salads for lunch before the beach or on Sunday nights to go with grilled pizzas. It doesn't look like much, but I promise the fragrant basil dressing is insanely good, especially with these humble ingredients. If you can find a high-quality wild tuna in olive oil, that's what you want to use here. Omit the tuna if you are vegetarian and replace it with shaved Parmesan cheese or bocconcini.
INGREDIENTS
1/3 cup fresh basil leaves
2 Tablespoons white wine vinegar
1/2 teaspoon sea salt
a few grinds black pepper
6 Tablespoons unrefined, cold-pressed extra-virgin olive oil
8 cups mixed greens (butter lettuce, arugula, romaine)
12 cherry or grape tomatoes, halved
1/4 cup finely diced red onion
1 cup white beans such as Great Northern or Cannellini, drained and rinsed if canned
1/4 cup capers, drained
1 6 to 7 ounce can or jar of tuna, preferably packed in oil
DIRECTIONS
1. Place the basil, vinegar, salt, pepper, and olive oil in a blender and process until smooth. Set aside.
2. Add greens to a salad bowl and scatter tomatoes, onion, white beans, and capers on top.
3. Drizzle with most of the dressing and lightly toss.
Pamela Salzman
More than 100 recipes and tips to transform the way you cook and eat. Wholesome, nourishing, and unforgettable.

What are your favorite lunch recipes? Share your go-tos in the comments!