I truly enjoy doing my makeup, trying out new beauty trends and brands, browsing the aisles of Ulta, discovering a new holy grail product, and watching all the beauty vloggers on YouTube. However, I wear pretty minimal makeup on a day-to-day basis, because I just can't be bothered to wear a full face of makeup for a regular day. I also love how it then feels that much more special when you pull out all the stops for a special occasion.
We've all been there: rushing around our bathrooms getting ready for something, with only five minutes to spare to throw on some makeup and run out the door. Thankfully, I've mastered the art of the five minute makeup routine after many years of texting "I'm about to leave!" when I'm really still in my robe.
The key to doing your makeup in five minutes or less and still looking presentable is having a few products that you absolutely love and count on. It's taken me many years to find my favorite products and figure out the formula of which products I need, and which can be skipped. For someone whose makeup collection is overflowing its assigned drawers, I still find myself reaching for these basic products more than all the rest.
Here's what I do and use in my daily five minute routine:
1. Start with a good skincare regimen
The most important step in any makeup routine is starting with a great base. In this case, make sure you are doing everything you can to have your skin at its best, because the better your skin looks, the less makeup you might need to feel up to your personal 100 percent. Everyone has different skincare routines that work for them — mine involves a gentle cleanser, Thayer's Witch Hazel Toner, a moisturizer, and sometimes a facial oil at night. Foundation is probably my least favorite product to have on my face, so I like to skip it, and in order to do that I try to keep my skin looking great naturally. Remember to take off your makeup at night, ladies!
READ: Morning Skincare Routine: Are You Skipping a Crucial Step?
READ: Your Complete Nighttime Skincare Routine
2. Holy-grail concealer
Even when my skin is looking its best, there are still imperfections of course, and that's where a true HOLY-GRAIL concealer comes in (gotta cover up those under-eye bags!). I have tried so many over the years, and I've finally found one that is exactly what I need. Like I said, I really don't like wearing foundation, so I just wear a concealer that matches my skin tone, rather than a lighter one like I would wear if I had foundation on.
My go-to: Tarte Shape Tape
3. Setting powder
Another trick to skirting around foundation and having your skin still look great is a good setting powder. It evens everything out and sets the concealer in place for all day wear. I like to use a translucent one, but you could also opt for a pigmented one to add a little bit of color to your face.
My go-to: Too Faced Peach Perfect Mattifying Setting Powder
4. A subtle bronzer (sometimes)
If I'm in a REAL hurry or really just going for extreme basics, I won't use a bronzer. However, I think a little bit of bronzer can go a long way. It can really add some life and definition to your face, keep you from looking flat, and make you look like an overall bronzed goddess. It just might keep you from looking like a zombie on that dreaded Monday back at work.
My go-to: Morphe Bronzer in Debutante (a $7 dupe for Hoola!)
Morphe
Says "mini" but is a great size that lasts a long time!
5. Eyebrow pencil + gel
Filling in your eyebrows can truly change your whole face, and it might be one of the most important steps in my personal makeup routine. There are so many eyebrow products out there — pencils, gels, powders, and more made by both drugstore and high-end brands — so I know that finding a good one that works for you is very hard, but once you do it's WORTH IT. I prefer an eyebrow pencil and a clear brow gel.
My go-to: Maybelline Total Temptation Eyebrow Definer Pencil + Colourpop Clear Brow Boss Gel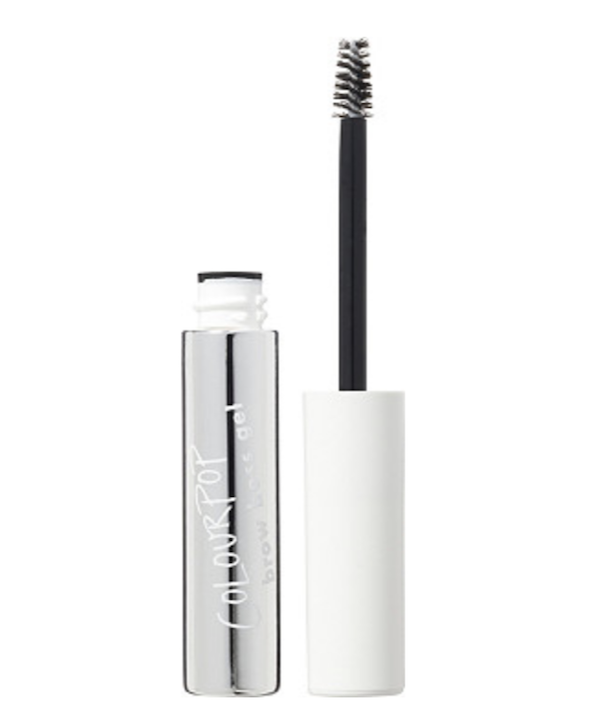 6. Eyelash curler + your favorite mascara
Last but certainly not least: the eyelashes. There may even be some days where the only thing I do is swipe on some mascara. Of course, the options for mascara are endless. I really believe you don't have to spend the big bucks here to get a good one, because the drugstore options are amazing! And don't underestimate the power of an eyelash curler, either. This is one step of my routine where I really like to switch it up and try new products all the time, but I do have a current fave.
My go-to: Maybelline Lash Sensational Mascara