A couple weeks back, we discussed all the high-points that you need to hit in your morning skincare routine in order to keep your skin protected throughout the day — while also not spending 30 extra minutes in front of your bathroom mirror. Taking several steps each day to apply skincare products might feel excessive, but as we like to say, you can't create a youthful complexion later in life, you can only maintain the one you have now.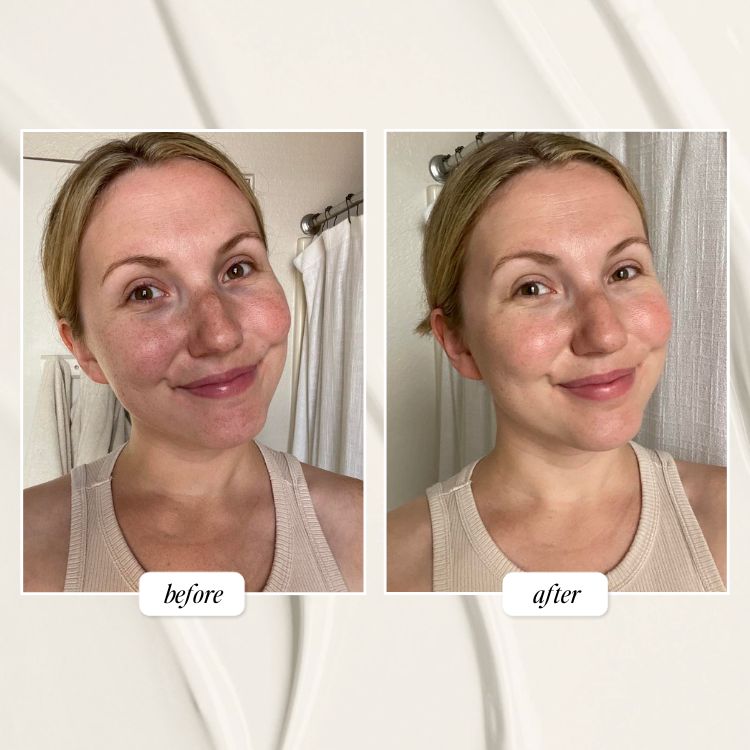 But there is such a thing as too much—you don't need five serums and three treatments and multiple toners to get the job done. "You don't want to over-treat the skin with an excess amount of product and layers," celebrity esthetician Sarah Akram said. "This can hinder certain products from doing their job, meaning you may not see a great improvement."
The most important part of your routine is developing one you'll use consistently. Skincare can't work after one use; it requires a standard routine that you keep up. If you start a routine and don't notice immediate results, hold out for about a month. It can take 4-6 weeks to notice an improvement—especially in ingredients like retinol, acids, peptides, and more.
If you can commit to doing the bare minimum each morning and making that extra time investment into your skin, you're already well ahead of the curve. However, you'll need to incorporate just a few more steps, nightly and weekly, into your PM routine in order to keep your complexion in tip-top shape.
Meet the expert
SARAH AKRAM
CELEBRITY MASTER ESTHETICIAN
Sarah is an esthetician and owner of Sarah Akram Skincare.
Meet the expert
Darya Rzaca
CO-OWNER OF ATELIER BEAUTE
Darya is the co-owner of Atelier Beaute, a spa in Brookyln.

Nightly:
Step 1: Makeup Removal
Your eye area is host to the most sensitive skin on your face and is also this first area to show aging. Avoid having to scrub and tug at this gentle area by using a dissolving eye makeup remover and cotton pad, few makeup removing wipes are saturated with enough product to be effective in this way.
Garnier
A micellar water is ideal for removing makeup and lightly cleansing the skin, especially tough-to-remove waterproof mascara.
You could also opt for an oil cleanser to help remove all of the makeup on your face too. Akram explained that double cleansing is imperative to eliminate breakouts, clogged pores, and texture. "This ensures that all makeup, dirt, and oils produced throughout the day are thoroughly removed [because] remnants of makeup and dirt on the face contribute to bacteria and clogged skin."
Wondergloss
This removes every trace of foundation, concealer, powder, mascara, eyeliner—even SPF.
Step 2: Cleanser
A water-based cleanser is necessary to lift and remove water-based free radical damaging agents at the end of the day. Bonus points if you double wash with an oil-based cleanser.
CosRX
This basic gel cleanser is pH-balanced to match your skin, leaving you with a clean complexion that won't strip you of your natural oils.
Youth to the People
All skin types can benefit from this mild gel cleanser that removes dirt and oil on your face and leaves it feeling clean and fresh but never dry.

Step 3: Toner
The unsung hero of the skincare regimen, toner is essential for balancing skin pH and prepping skin for all of the ingredients and formulas that follow. After patting skin dry with a towel, apply a quarter-sized amount of product by pressing it onto your face, not swabbing it on with a cotton pad.
Fenty Skin
If you want your toner to do a little more work, this one has witch hazel, acerola cherry, and niacinamide to reduce the appearance of dark spots, smooth skin, fights extra oil, and more.
Fresh
This adds an extra layer of hydration to your skincare routine, which is essential for anyone using acids or retinol.

Step 4: Serum
Skin must be nourished before going to bed, and it's best to do it with a concentrated formula of a serum," said Darya Rzaca, Co-Founder of Atelier Beaute Spa in Brooklyn. Serums are the most potent and customizable step in your skincare routine, and depending on what issues you're having with your complexion, will determine exactly which product you will need. A good rule of thumb is to focus more on hydration and regeneration with your nighttime formula while sticking with a vitamin C or antioxidant-rich option during the day.
"With tapping motions, apply the serum into the face with your fingers, but you can also make a gentle face massage using a [skincare] roller," Rzaca said.
The Ordinary
This all-in-one serum is the perfect addition to your night routine if you want glowy, smooth, soft skin—when you apply it and over time.
Environ
"Environ Serience Night Serum is something new that I've recently incorporated into my nighttime routine, and I must say I am obsessed," Akram said. "It is an overnight booster that targets the long term effects of stress on skin."

Step 5: Night Cream
The final step in your nightly routine should always be a viscous moisturizer to seal the effects of all the hard work you've put into the previous steps. Rzaca recommends using a thick cream at night because you don't have to worry about extra shine or pilling with makeup. Sleeping masks and night creams are intended to still be lingering in the AM, therefore also starting your morning routine with an oil-based cleanser is an absolute must in order to begin your day with properly cleansed skin.
Laneige
This water-based sleeping mask is highly nourishing for all skin types, especially oily skin.
Tatcha
For the glowiest skin of your life, this night cream is ultra-luxe. It has a thick texture that leaves a glowy finish that lasts until the next morning.

Step 6: Oil
Applying an oil overnight will enable the skin to combat the overproduction of sebum and pore-clogging oil that leads to breakouts, blackheads, and enlarged pores of combination and oily skin and increase moisture and suppleness for dry skin types.
The Ordinary
Squalane is highly moisturizing but feels practically weightless on the skin and never clogs pores, making it ideal for all skin types—even acne-prone and sensitive skin.
Kiehl's
Apply this overnight oil as the last step in your skincare routine. It soothes, improves texture, adds hydration and glow, and nourishes your skin with a blend of skin-loving oils like squalane and evening primrose. Instead of piling on a ton of masks, serums, and creams, opt for this one oil that basically does it all.

Weekly:
Physical Exfoliation
The removal of dead skin cells at the surface level is vital to improving overall texture and tone, but harsh scrubs and granular exfoliants often cause more damage than they do good. It's important to use gentle powders and polishes. And use them sparingly — physical exfoliants should never be used more than twice a week.
Amorepacific
Our editor loves this powder-to-cleanser because it leaves skin baby smooth without stripping. Wet your hands and put a little bit of the powder on your palms, rub together, and you have a slightly gritty exfoliator that never leaves you irritated.

Chemical Exfoliation
Alpha-Hydroxy Acids and Beta-Hydroxy Acids are ingredients that your skin requires in order to initiate exfoliation at a deeper level in the skin rather than just sloughing away what is already dead at the surface. Treating with a chemical exfoliation two to three times a week promotes more rapid cell turnover resulting in brighter and clearer skin and slows the aging process.
Paula's Choice
Salicylic acid is a master ingredient for removing gunk, dirt, and oil out of your pores, and this toner does just that. It's ideal for all skin types and a favorite amongst our team.
Biologique Recherche
Rzaca recommended this acid toner that's highly effective but gentle enough for daily use. This is loved by estheticians and beauty editors everywhere (including ours—using this daily helped clear her skin indefinitely).
Sunday Riley
A favorite amongst skincare lovers, this treatment combines lactic acid with hydrating ingredients to exfoliate and resurface skin texture without drying you out.

Chemical Peel
If you can't make it in to see an esthetician once a month for a clinical strength chemical peel, you can still reap the benefits from the milder formulations for home applications. Acid peels should be used once a week at the absolute most, and always be sure to test your product on a small patch of skin before committing to a full application.
Dr. Dennis Gross
This AHA/BHA peel is one of the most famous in the business for lightening dark marks, getting rid of texture, and adding a major glow.
No 7
For a drugstore alternative, this peel can be used up to three nights a week to smooth skin texture and fade hyperpigmentation, revealing a brighter, clearer complexion after a few uses.