A few years ago, a painted black gallery wall appeared on my computer screen and I became a forever fan of the lady behind the idea: Alaina Kaczmarski (also known as the co-founder and editor of The Everygirl) who I'm happy to now call a friend. Upon further investigation, I realized that most of her then apartment was decorated with Craigslist finds and made-over thrift store treasures, reassuring me that my own shabby rental could one day be presentable, even on a shoestring budget.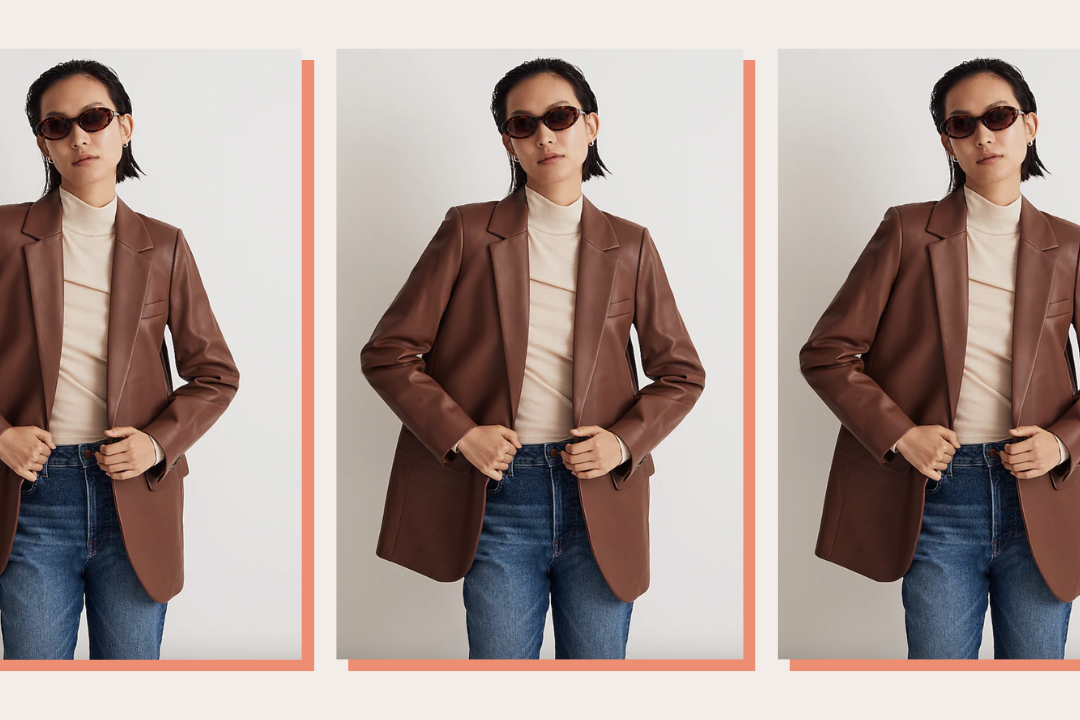 time for your fall wardrobe update!
Since then, Alaina's made her way around the city of Chicago, venturing from her charming Southport walk-up to her sprawling Uptown abode, and most recently landing in this quaint, cozy Lincoln Park apartment that is filled to the brim with inspiration stemming from her signature style: grey, white, pink, mint, gallery walls galore and plenty of styling.
With a knack for transforming rentals that most of us would barely give a second glance on Craigslist, Alaina takes us through the process of decorating the first home she's ever lived in on her own, gives us an inside peek into life as an editor of a website, and lets us in on what is next for her, her career, and her personal blog, Live Creating Yourself.
*NOTE: Alaina has since moved since this interview took place, so her questions are answered in past tense.
Full Name: Alaina Kaczmarski
Age: 28
Location: Chicago, IL
Current Title/ Company: Co-founder and Editor of The Everygirl
The last time we toured your home you were living in a sprawling two bedroom apartment in Uptown. Tell us about your move! How did you find your current place? What was on your wish list?
Well, long story short, my roommate moved to Baltimore, and I didn't know anyone else that able to move in. Plus, I had this mentality of, "I'm almost 28, I've never lived alone and I can finally afford to, so let's give this a shot." My have-to-have wish list always includes hardwood floors, a lot of natural light, laundry in the building, and dog-friendly, the latter of which eliminates 90% of one bedrooms in Chicago. Once I started looking around at pricing, I knew my preferred-but-don't-need wish list of outdoor space and dishwasher were likely off the table. At that point it was just a matter of who allowed dogs and had the most space since I needed room for my new and very large sofa, a workspace, and my pups to run amok.
I have to admit, looking around at places was a bit discouraging. I'm always in shock with what landlords can get away with. And I had plenty of "I'm never going to find anything… I might be moving back in with my mom, at least I'll save money" moments. But when I walked into this apartment in Lincoln Park–an area much farther south and closer to downtown than I've ever lived–I was sold. It was in an old vintage hotel with charming details that I just loved: arched doorways, a separate entryway, built-in nooks, etc. The kitchen and bathroom weren't anything to write home about but I was used to that and have come to expect it having always lived in older buildings. The rent was a little more than I wanted to pay, but I justified it in the money I'd be saving commuting anywhere since I was so much closer to everything. Not to mention, heat was included which saved a ton of money during the never-end Narnia winter Chicago had this year.
This past year was your first time living on your own! What was that like? Would you recommend living alone to other Everygirls, or do you prefer having roommates?
Living alone was… meh. If I'm being totally honest, I didn't love it. Sure, you can walk around in your underwear and watch the shows you want to watch, but I'd much rather have company, even if it's in passing. I am the youngest of three siblings so I'm used to sharing bathroom time, TV time, food in the pantry, et al. I'm not even a big social butterfly–I'll spend a lot of time in my room when I do have a roommate. It's just nice having that human interaction on a regular basis.
Speaking of which, another big factor is the fact that I work from home alone all day. So once evening came, I was desperate to either get out of the house or have someone over. If I had a roommate, at least their arrival home would be a nice indication of "work is over and it's time to relax or socialize." Working from home and living alone was just too much alone time for me. But I know a lot of people who love it; it's just not for me.
We can always count on a few amazing gallery walls in your home, and this one is no different! Did you plan them out before you began hanging your art, or did you play it all by ear?
I gathered all of the art I brought with me in the move–there was a lot. And most of it was colorless. I wanted to get something above the sofa first, but I was kind of stuck with what to do, so I just started arranging the pieces on the floor like a puzzle. You can actually see the in-progress photo on my Instagram. I measured out the dimensions, made sure it fit nicely above the couch, started at one corner and just translated the arrangement from the floor to the wall!
The entryway gallery wall came next. I don't know what inspired me with the floor to ceiling style, but I am so glad I did it! Made a very unimpressive space impressive!
Lastly, I did the gallery wall around the bar. Clearly the apartment didn't need another gallery wall, but the fabulous Society Social bar cart deserved something especially pretty around it. The bar cart I got comes in a lot of fun colors, but I went with white (again, thinking long-term investment since I won't grow tired of it) but it almost got lost against the white walls. Sad. I knew I had to style it in a way that really highlighted what a fabulous piece it is. Once I found this amazing handmade "Press for Champagne" button, I knew more holes were going in the walls. I figured why not go all out?
Your kitchen underwent a pretty huge makeover during your time here (see "before" photo in the slideshow above). What advice would you offer other renters to get a landlord's approval for drastic upgrades or changes?
Show them what you can do! I asked my landlord right away if I could paint and showed "proof" (i.e. photos of my last apartments) that it would look nice. Simple, neutral, and nice! Be aware, however, that telling a landlord you love decorating might scare them. Some tenants want to do outrageous things when it comes to decor–granted painting the entire kitchen is a bit outrageous–but telling them exactly what your plans are and asking for approval ahead of time and showing them past work you've done helps a lot!
Side note: I actually asked for permission to paint the cabinets white, which they approved. I started painting but quickly saw that the white wasn't working out; it made the off-white walls look dirty, so I randomly decided to use the leftover black paint from my last bedroom. I finished the job, photographed it, and sent it to my landlord, acting really excited and proud about how it turned out (which was genuine!). I explained the situation of the white paint in the email when I sent my landlord photos of the finished product, and fortunately, she loved it. But I was very aware there was a chance I would have had to paint over them in white or just pay a fine… either way I knew it was worth it.
What was your vision for this apartment when you moved in? Did you have distinct idea of how you wanted it to feel?
First and foremost, I was a woman living alone, so I really wanted to embrace that time in my life and make this space as girly as I wanted. Kind of like my own little bachelorette pad. Hence the huge floral headboard, leopard velvet pillows, "Press for Champagne," and Paris everywhere.
Second, I knew I wanted to paint the entire apartment white, but I don't really remember why. I'm guessing because it was a small space, I wanted to do everything in my power to make it feel airier and brighter.
As for the decor, it really evolved as I lived there. It wasn't supposed to be entirely neutral, but slowly transitioned into that. I kept a few pink and mint items in the main living area until the bar cart arrived. Then I realized I had three separate areas going on in one room: the living room, the office, and the bar. I was trying to keep them separate by adding a bit of pink to the office, a bit of mint by the bar. But then I realized the easiest option was to just go neutral. So I put all the pink and mint in the bedroom and kept the palette black, white, grey, gold, and beige in the main living areas. It made it much more cohesive.
What was the biggest decorating challenge you faced?
The biggest decorating challenge was definitely arranging the living room. Let me try and explain…
– The desk fit best on the wall where the TV is in the photos, but I knew I wanted to face the window since I sat there 8+ hours a day.
– The sofa fit best in front of the window, but I needed a window AC unit there and the sofa would have blocked it.
– For a long time I had the bar where the TV is, but it was just too small for that wall.
– The TV was originally where the bar is in the photos, directly across from the TV, but it was just too large for that space.
– Finally switching the bar and the TV made everything better. And for those wondering about having the TV perpendicular to the sofa, I always lay on the couch when I watch it, so this worked out better anyway! I wasn't turning my head for an hour at a time causing neck cramps! Voila!
This space is significantly smaller than your last home–how did you choose what pieces to purge or keep? What was your process of elimination?
This was really a matter of What can I take? What do I have room for? So much had to go. Shelves, chairs, end tables, lamps, mirrors, rugs, a dining table, a set of dining chairs, my desk chair…
The sofa was technically too large for this space (it's 90.5″ long), but I had just bought it (a big personal investment) and couldn't part with it. I knew this apartment would be temporary and I could deal for a year or two. The toughest decision was temporarily removing my Jayson Home coffee table, which I love. The room (and my dogs) simply couldn't handle it. There was no where to walk! But I couldn't get rid of it since I love it and it was such a good deal I found at their annual warehouse sale, so I housed it in my mom's basement and bought a really cool, vintage, smaller coffee table on Craigslist for $100.
When sourcing a new piece of furniture, where do you look first?
Can I have four answers? Joss and Main, West Elm, Lulu and Georgia, and Craigslist. I have referred a lot of people (blog readers, Twitter followers, etc.) to Joss and Main so I've accrued a lot of credit, letting me basically get new products for free quite regularly! It's awesome. I often get rugs and lamps from them, which you may have noticed, I change out fairly often.
Working in a creative field means constantly being surrounded by inspiration, which can lead us to evolve our personal style on a regular basis. Would you say your style evolved from your last apartment to this one? How so?
Oh my gosh, yes! It's crazy to look at my last place and the apartment before that, and see how my taste has changed! I try to buy timeless, neutral pieces that can change with my style. And for the most part, even looking back through old photos, most of my belongings have been with me through all four apartments. They just get shuffled from room to room; first in an office, next in the living room, then in the bedroom, etc. But I try to buy pieces I really love that can grow with me over the years.
One of my most complimented belongings is my mint gourd lamp. I bought it on clearance for $30 or so down from $250 when Macy's Home was closing their lighting department; I was 19-years-old and remember that $30 was a big expense for me at the time, especially considering I had no where to even use it. But I loved it and my gut told me I couldn't pass it up. So, it sat in my mom's basement for two years until I graduated and took it with me to my first apartment in Washington, DC.
And speaking of that apartment in DC, I know it's difficult to look at a lot of lovely, styled homes on blogs and Pinterest and think, "Why doesn't my home look like that?" I know I regularly feel that way about larger, lovelier homes! Well, just remember that your home, income, and circumstances change a lot from when you're 22 to 28 to 35 and older. So try not to compare yourselves to what you see online and in magazines. Truth be told, my apartment rarely looks as tidy as it does in these photos! Evidence of that is on my Instagram. Hah and I will just go ahead and say my home did not look like this when I was 23. It took a lot of time, effort, DIY, selling, thrifting, saving store credit/coupons/gift cards, accruing store credit like I said, and eventually even brand partnerships (once my blog traffic picked up) to get it to where it is today. I wanted to share this funny time lapse of my "home offices" to provide a glimpse into how my homes have evolved over the course of my 20s starting with a decently embarrassing photo I just found in the dusty catacombs of my Facebook page.
See my point?
Tell us about your favorite budget-friendly piece that you incorporated into your space.
My favorite budget-friendly find is definitely the coffee table! I found it on Craigslist on my hunt for a worthy coffee table replacement and remembered seeing a similar style in a living room I loved in Lonny Magazine. A quick search on eBay and I learned that similar vintage styles run upwards of $1000, so I knew the $100 price tag was a steal! Two of the three rings can spin inward making it even smaller; it was really the perfect piece for this room!
That headboard. We need details.
It's amazing, right? It all started when my friend Bailey McCarthy of Biscuit Home told me she was designing a bedding after me; the Alaina bedding collection which has tiny Eiffel Towers and pink and mint confetti–very apropos. We knew it would dress the bed in my bachelorette pad, so she helped me concoct a plan for the rest of the room. We agreed my pink lamps, white nightstands, and vintage dresser would work fine, but the bed needed to change.
Enter this gorgeous Scalamandre floral fabric. I got it for around $200 on clearance from "The Third Floor Outlet Store" page of the company's website. Another friend of mine here in Chicago, Alexandra Kaehler, also happens to be an interior designer and connected me with an upholsterer who creates beautiful things for extremely reasonable prices. The cost of having the headboard made was $400 (half the price most upholsterers charge), so the total cost for my custom headboard was roughly $600–which is what I sold my old grey tufted bed for. Not to mention that's actually much cheaper than most retailers' prices save for IKEA and some budget department stores! It is such a special piece and the perfect opposition to my all neutral living space. Will I tire of it? Maybe… but I'd love to keep it in the family. Worst case, I either sell it or give it to one of my nieces.
Tell us about your personal blog Live Creating Yourself! You still pop in and say hello occasionally. Do you think you'll keep it up for a little while longer?
Well, if any of you happened to read my first post on Live Creating Yourself back from 2009, you'll find this:
"Life is not about finding yourself. Life is about creating yourself. As a 23-year-old more than a year out of college who works from home and is constantly thinking about the next step in life–only to come up with a million different options–this quotation hits home… I have a difficult time boiling "what I want to do with my life" down to one job title."
The whole goal behind my blog was to write about all of the things I was interested in–design, photography, travel, architecture, music, fashion, artists, etc.– in hopes that what I should do with the rest of my life would present itself in the content. For a while that was graphic design and interior design, both of which I've been able to do on a freelance basis. But ultimately the blog allowed me to network, meet and collaborate with amazingly talented individuals from around the world, and shape my dream job: editing a magazine-like website, The Everygirl (side note: I was a magazine journalism major in college and have been a part of publications since I was a sophomore in high school so this truly has been my dream job since I was 16).
All of that being said, and to answer your question, I guess Live Creating Yourself has sort of served its purpose. I used to frequently post about decorating projects around my home, and still do from time to time, but my Instagram has kind of taken over in that regard. Much easier to snap quick updates to my followers. So we will see! I miss it, but I also don't really have time for it. Now when I walk away from work, I want to walk away from the computer screen. So the sporadic posting will continue for now. But as for officially shutting it down, well, it's hard to let go of something I've loved that has been such an instrumental part of my life.
In addition to The Everygirl, styling, graphic design, and blogging, you're also the creative director at the newly launched design site decorBase! Tell us about the site and your involvement in it.
I'm so glad you asked about this! decorBase is truly the ultimate online platform for anyone designing their home, both design experts and novices. It offers a variety of tools, from a comprehensive shop page with over 15,000 items from our favorite retailers to an interactive design program for creating room mock-ups to a hiring board for designers to post their portfolios. My good friend and founder of the site, Peter McCarthy (husband to Bailey of Biscuit Home) came to me with the idea and asked if I'd help with some of the creative guidance of the site. I recognized what a valuable tool it would be for design bloggers (not having to do complex mock-ups in Photoshop!) so I was happy to jump on board and offer what help I could! We recently debuted a soft launch to the public and have had a great response from the design industry. We are relying on feedback to work out a few of the programming glitches (like I said, the site has a lot of great tools); but decorBase is live for users to sign up! The team is expanding, and I am so excited to see what the future holds for the new company!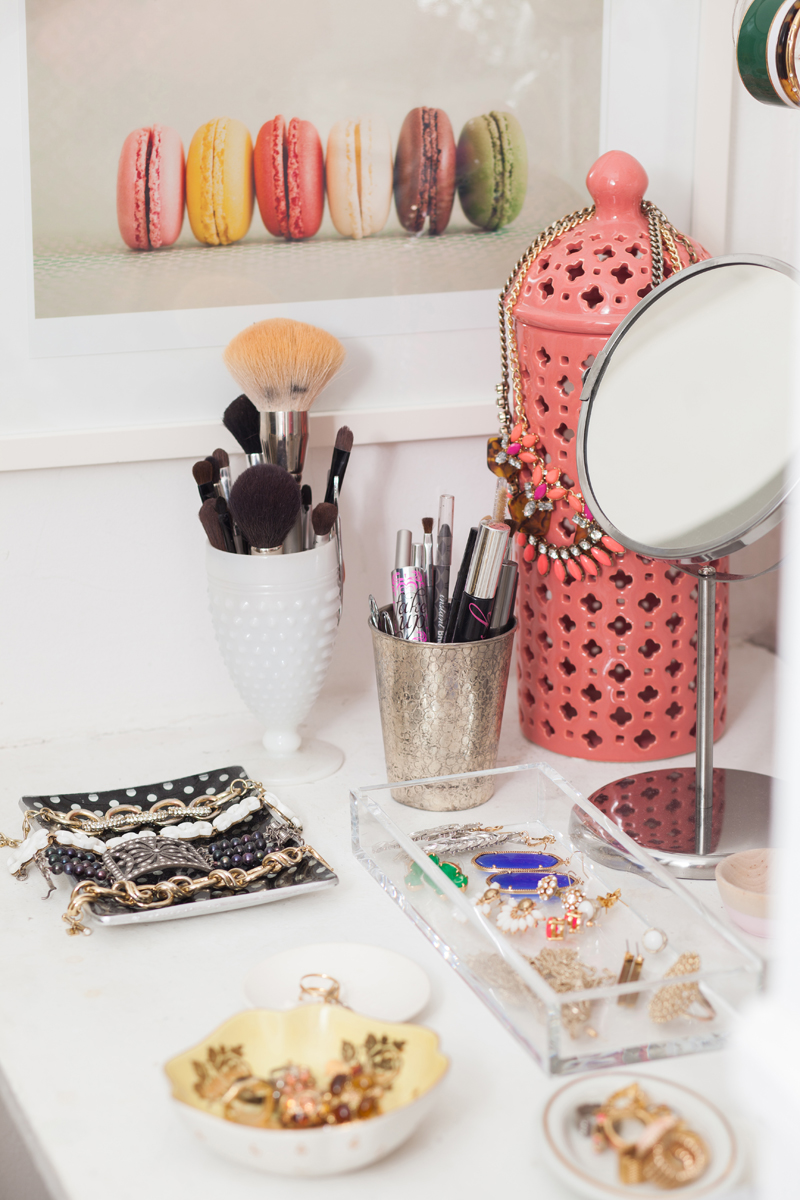 Alaina Kaczmarski is The Everygirl
Typical morning routine?
Feed and walk the dogs, feed myself and make a latte, push out The Everygirl's morning article across social media, delete spam in my inbox, and get to work on the most pressing task of the day!
Ideal vacation spot?
Paris
Celebrity crush?
Joshua Jackson (Pacey Witter)
Perfect day in Chicago?
Go out on the lake or to the beach, followed by a great dinner (so many favorite restaurants), drinks on a patio, then catch a comedy show or concert at the local venues.
In five years I'll be ______.
Hmm… I've learned not to plan that far ahead.
Product Sources
ENTRYWAY
polka dot rug, Lulu and Georgia
entry table, Overstock (similar here)
garden stool, West Elm (similar here)
mirror, Kenroy Home
lamp, JCPenney (similar here)
European letterpress poster series, The Everygirl Shop
custom white frames, FramedAndMatted
LIVING ROOM
striped rug, Joss and Main (available here)
sofa, Pottery Barn in Metal Grey twill
coffee table, CraigsList
short end table, CraigsList
tall end table, CB2
brass curtain rod, West Elm
white curtains, West Elm
Eiffel Tower print, The Everygirl Shop
Paris ferris wheel print, The Paris Print Shop
Paris sky photo, The Everygirl Shop
silhouettes, Curiosity in Charleston, SC
leopard velvet pillow, Willa Skye Home
colorblock pillow, Stone Textile
gold polka dot pillow, Caitlin Wilson Design
gray diamond pillow, Serena and Lily
striped throw, Stone Textile
floor lamp, Kenroy Home
marble chess board, purchased in Mexico
OFFICE AREA
desk, West Elm
chair, Lulu and Georgia
task lamp, IKEA
notepads, Kate Spade New York
acrylic pencil cup, Design Darling
gold pencil holder, Furbish Studio
letterpress business cards, Steel Petal Press
acrylic printer stand, Joss and Main (similar at CB2)
purse, Coach
BAR
Worth bar cart, Society Social
chair, Lulu and Georgia
vertical bookshelf, West Elm (similar here, here, and here)
"Press for Champagne" button, House of Golightly
wall sconce, Serena and Lily
mirror, IKEA
leopard velvet pillow, Willa Skye Home
zebra print, Four Trees Photography
boat print, Ooh Pretty Shiny
spots print, Lulu and Georgia
Paris photo, The Everygirl Shop
KITCHEN
table, IKEA
chairs, EuroStyleLighting
cowhide rug, RugsUSA
shelves above stove, IKEA
metal shelves, Target
moscow mule mugs, Wayfair
Ostrich and Egg print, The Animal Print Shop
BEDROOM
duvet cover, Biscuit Home "Alaina"
coral border shams, Biscuit Home
coral border sheets, Biscuit Home
print shams, Biscuit Home "Alaina
nightstands, West Elm
pink lamps, EuroStyleLighting
mint lamp, Macy's Home (similar here)
dresser, bought at junk shop and refinished by Weber Furniture in Chicago
pink graphic rug, RugsUSA
"Let's Be Adventurers" print, Jenna Leigh Kutcher
macaron print, Ooh Pretty Shiny
monogrammed towels, Bedside Manor