If you are at all familiar with New York City, you know that space is in short supply. Hence, when Alexandra Miller found a spacious and airy apartment in Gramercy with a 500 square foot patio, she couldn't pass it up. After attending New York University and staying in the city after graduating, she had seen her fair share of apartments and knew exactly what she wanted. To help her vision come to life, she worked with a Homepolish designer to plan a layout, finalize a design theme, and search for furniture and décor. The result is a cozy and sophisticated home for two.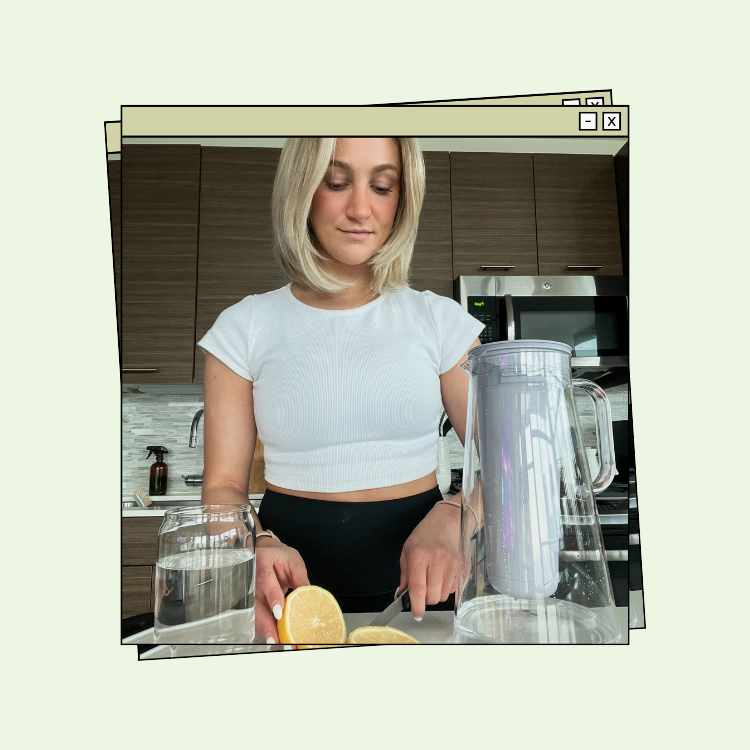 get it right in 2023 and beyond
When she isn't spending time at her beautiful apartment, Alexandra can be found planning events and brainstorming media strategies for her high-end clients at Nike Communications. Her background in acting and directing has helped Alexandra creatively support brands of all kinds, from Moet to the NBA. Read on to hear more about Alexandra's career, home, and love for NYC!
Name: Alexandra Miller
Age: 27
Current Title/Company: Senior Account Executive/Nike Communications
Education: Tisch School, NYU
What was your first job out of college and how did you land it?
My first job was an entry-level public relations position at Nike Communications, a luxury PR firm. With zero PR experience coming out of a film and theater studies program, I ended up interning for a few months at Nike before a position opened up on the spirits team working primarily with Bombay Sapphire gin and Benedictine Liqueur (the bartender darling). Turns out, working with spirits isn't such a terrible alternative to acting, directing and playwriting (for now).
You are now an account executive at Nike Communications. What are your day-to-day responsibilities? 
In a nutshell, my responsibilities include developing and implementing strategies to create extensive media coverage for my clients (Moet & Chandon champagnes, Cointreau and the NBA) primarily within the business/trade, consumer, and entertainment verticals. This includes cultivating strong media relationships, facilitating strategic brand partnerships, and planning newsworthy events to drive brand awareness. Essentially, I'm a storyteller for my clients—I have to ensure their story is being told in the right places so it captures the attention of the right people. Whether those people are millennial champagne drinkers, basketball super-fans, or potential startup investors.
Your client list is impressive! What is the most exciting project you've worked on? 
I would say definitely Moet's partnership with the Golden Globes (particularly considering my film and theater background). The whole experience was pretty surreal.
Graduating from the NYU Tisch program, how do you think studying directing, acting, and playwriting has influenced your work?
Directing, acting, and playwriting is all about storytelling, so using that muscle comes in handy every day.
What are some of your favorite things about New York City and your neighborhood, Gramercy, in particular?
My favorite thing about NYC is that you can walk the same route home from work every day for one year straight, and no two pilgrimages will ever be alike. That said, my walk home is from the lowest tip of Manhattan up to Gramercy, so a lot can go down in three miles of city sidewalk.
I also love how NYC feels like at least 10 different neighborhood communities in one big city—there's something for everyone, particularly for those of us who have a reputation for being somewhat restless in life. I've switched NYC neighborhoods about five times. I'm currently in a Gramercy state of mind because it reminds me of New England (where I grew up). I feel settled and at home among brownstones, tree-lined streets and excessive ivy on a block that offers independently owned cheese mongers and fair trade coffee shops. Most importantly, though, I feel settled.
Your space is unbelievably gorgeous! How did you look for an apartment; what made you choose this one?
I logged a lot of hours on Street Easy. I'd say the 500 square foot patio that looks over an uncharacteristically verdant courtyard (for NYC) made me jump on this place within five hours of it being on the market. The amazing natural light, exposed brick, and super high ceilings don't hurt either. After nearly nine years in NYC, however, my favorite part about this place is being able to look out the window and feel like I'm somewhere else that's far more peaceful.
You worked with a Homepolish Interior Designer to help decorate your apartment. Tell us about the process.
I had an amazing Homepolish designer named Andrea Perez. She truly had a beautiful sense of aesthetic that was edgy and chic yet warm and cozy. Andrea was most effective in throwing together many options for me to choose from in a range of prices—everything from tissue box holders to decorative art to throw pillow combos. I had a strong opinion about most things, and after we had worked together for a few hours, she already developed a sense of what I would like.
She was also excellent at reminding me that my boyfriend would be sharing this space with me in a short few months, and for the first time in my life I had to consider doing away with anything that screamed Liberace. As it turns out, he was probably just excited as I was about the outcome before he even moved in.
How did you work with the Homepolish team to create with a design concept?
I said, "ABC Carpet & Home" and they designed a way to make me feel like I lived somewhere between the store's first and sixth floor—ironically without finding reason to purchase a single item from there.
The finished product is to die for! What is your favorite part about this new and improved home?
It's cozy yet still polished. The plush fabrics and upholstery make the space incredibly warm and inviting; the metallic finishes manage to keep it sleek and chic. It's the perfect balance.
Did you design on a budget? Where did you splurge? What about save?
There was certainly a budget in mind, though it was often discarded for things like the gilded mirror, the bedside lamp, and my beloved bar cart that was schlepped on foot from someone's loft in Noho. Interestingly enough, I saved on the larger, more necessary pieces quite a bit—it was the more decorative statement pieces that really ended up making the space (and had price tags to match).
Where do you see yourself in five years?
Considering how much my life has changed in the last five years, I'd be foolish to think I have the answer to that question right now. History would suggest New York but my boyfriend and I have immediate family straddling the globe from South Africa to South America. Perhaps heading south could be on the horizon, as long as the destination in question promises to offer the inspiring art, culture, and creativity that New York has bestowed upon me for the better part of a decade.
Alexandra Miller is The Everygirl…
Coffee order?
Iced Americano when I'm feeling fancy and black coffee when I can't be bothered.
Guilty pleasure.
Movie theater popcorn
I wish I knew how to… speak fluent Spanish.
If you could have lunch with any woman, who would it be and what would you order?
Tina Fey. I'd order us the Brooklyn Crab Royale for two. By the time she's figured out how to efficiently wrangle the meat out of 100 delish yet absurdly impractical crab claws, I'll have hopefully cracked the code to female greatness. Even if she's secretly from Maryland, raised by sea hunters and a mallet-wielding champion, no one can get through that smorgasbord of crustaceans in under an hour.
Describe a perfect NYC Saturday.
HBO comedy specials in bed, run along the East River (which can easily be and often is substituted by an unnecessarily decadent "Friend of a Farmer" brunch), drinks and BBQ on our patio until the sun goes down.
Product Sources
Living Room
Gilded mirror, purchased from another Homepolish client
Wall art, Book Installation by Andrea Perez
Wool rug, West Elm
Console table, One Kings Lane
Coffee table, Home Decorators
Leather armchair, Crate & Barrel 
Gold side table, Urban Outfitters
Gold floor lamp, Restoration Hardware
Couch, Home Decorators
Throw pillows, West Elm and Anthropologie 
Fur throw, Restoration Hardware
Leaning bookcase, Crate & Barrel
Glass lanterns, Zara Home and One Kings Lane
Gold sconces, Urban Outfitters
Black and white framed photos, Society6
Kitchen
Bar cart, Etsy
Marius Counter Stools, Wayfair
Bedroom
Bed linens, Horchow
Accent pillows, One Kings Lane
Framed art, Jordan Carlyle
Headboard, One Kings Lane
Side table, Crate & Barrel
Lamp, Dwell Studio
Decorative square mirror, Boston Interiors