When I think of a modern home, I think of a bright white apartment filled with only brand new pieces. Amanda Schoenrock's modern home with vintage, homemade touches proved me wrong. Amanda has entirely transformed this home (power tools included!), from refinishing its original hardwood floors to removing wood beams in the living room to give the space a brighter, more open feel (yeah, SHE did that). Amanda's vintage inspiration is evident. Like, can we talk about that gorgeous bathroom?! Read on to learn a little more about Amanda's work in aviation (so cool), where she gets her beautiful vintage pieces and all the handy work she's done to make this space as incredible as it is.
Name: Amanda Schoenrock
Age: 31
Current Location: Oshkosh, WI
Rent or Own: Own
Sq. Ft.: 1700
Years Lived In: 2.5
What was your first job and how did you land it?
I worked in marketing right out of college. A professor sent me the posting and encouraged me to apply. I did, and I got the job. But long before that my friends' parents would occasionally hire me to clean their kids' rooms. I would use the cash to re-paint my bedroom every other weekend.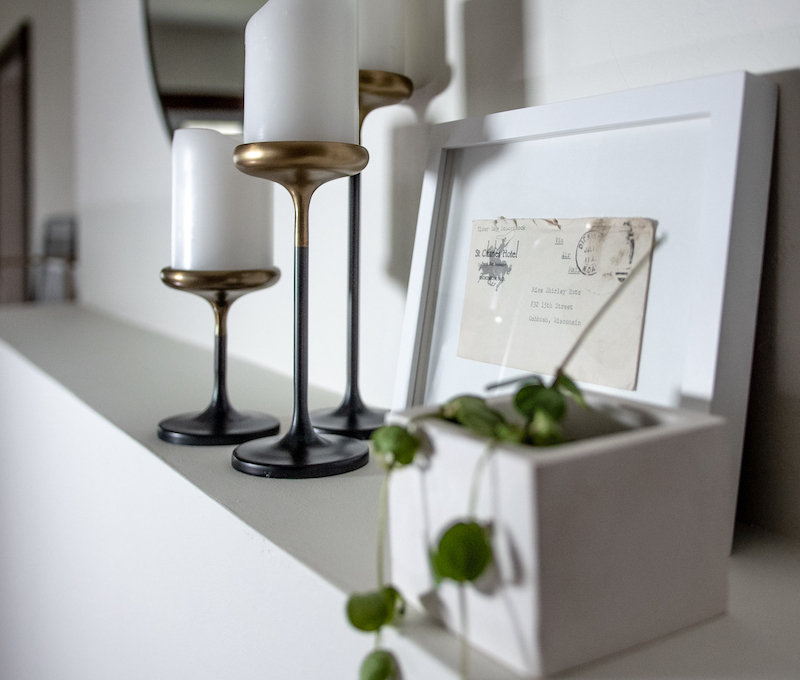 How did you get from economics to the aviation industry?
I grew up around aviation. My dad is a retired airline pilot and started his air charter company while he was on the road. When the business started growing he needed someone to coordinate trips. I always thought I would end up working with my dad eventually, but it happened a little sooner than I anticipated.
What's it like to work with your dad?
We're a pretty good team. We know each other's strengths and when the other needs a second to cool off. I think our biggest argument was about where we wanted to hang the paper towel dispensers in our new hangar.
Were there any details you remember from your grandparents' house that you were excited to bring back to it?
A pair of French doors! They were taken out during a 60s renovation and later put in the house my parents were building in the 80s. When I found old photos of them in this house I knew I had to have them back. Thankfully my parents agreed.
What tips do you have for successful vintage shopping? How do you know when you've found "the piece?"
A lot of my vintage furniture came from my grandparents. Pieces I loved, including my dresser, bathroom vanity, bar, and coffee table, were given to me years ago and moved with me from apartment to apartment until finding their way back into this house. While renovating, I've tried to add salvaged pieces when I can — the front door and powder room sink are from a local antique store. So often in older homes doorways and walls aren't standard or square, so I was just lucky to find something that fit. I'm currently on the hunt for a vintage mantel. But if I don't find the perfect piece I might just try to create something myself.
How did you find your current place?
I started looking about three years ago. I really wanted an old house with lots of charm but was frustrated that everything I was looking at had been updated. A few months into my search I found myself buying a house that has been in my family for four generations.
My grandmother had done a lot of redecorating over the years: living room and bedrooms in the 60s, kitchen in the 70s and again in the 90s, study in the early 2000s. Each space was great in its time and on its own, but the house lacked a common thread and that original charm I craved. Old photos have inspired me to try and recreate as many of those original 1920s details as I can.
Where did you start first in the decorating process?
Before there was the decorating process there was the rebuilding process. I ripped nearly the entire second floor down to the studs. It took so much work just to get each room back to a blank slate.
I like to think about how I want to make a space feel before I start decorating. One room may demand a moodier or more modern vibe than another, but I still want them to come together to create a cohesive look. After that, I choose simple, timeless pieces to help create a foundation so I can mix in pieces with a little bit of personality (think prints, textiles, vintage pieces). It's so easy to switch up pillows or rearrange art for a fresh look. I'm all about letting a space evolve.
How would you describe your design aesthetic? Which spot in your house best captures that?
Handmade modern with vintage charm. Visually clean, but layered with different texture, tones, and one-of-a-kind, sometimes handmade, pieces.
I think my bathroom really captures that aesthetic. I kept it pretty classic with fixtures and finishes: hex and subway tile, polished nickel hardware, and chunky trim. I wanted those elements to feel true to the age of the house but also wanted to add a few modern touches — and lots of plants.
What design challenges did you experience while working on the house? Any strange architecture due to the age of the home that you had to deal with?
Ask me this question again in a year or so when I'm working on the kitchen. Haha! The house was well maintained and is in great shape. Most of the challenges so far involved peeling back layers and layers of wallpaper, paneling, and carpet. Of course, there are uneven walls, creaky floors, and cracked plaster. I find it all very charming.
You've been working on this house for 2.5 years — which sections took you the longest? What project are you most proud of?
We (huge shout out to my mom and all my other friends and family who helped out) spent 100+ hours scraping carpet glue off of the original hardwood floors. It was so important to me that I kept and refinished them, and so far they've turned out gorgeous.
I bought a nail gun and borrowed a miter saw and replaced nearly every piece of trim in the house. I was always intimidated by heavy duty power tools, but that changed pretty quickly once I realized I was going to have to put in a lot of work. It feels good to be able to finish small projects on my own and keep things moving forward.
Where else do you shop for decor or furniture pieces?
Most of my furniture and larger decor pieces are from West Elm or Crate and Barrel. Target and IKEA are great sources for outdoor furniture and accessories. Rejuvenation is my go-to for lighting and hardware. I like to search Etsy and small boutique stores for unique decor pieces. I needed some art and wasn't finding exactly what I wanted, so I flipped through some of my coffee table books, tore out a few pages, and popped them in some frames.
What was the most difficult room to decorate? Why?
The living/dining room. When I first moved in it felt very dark and heavy. I removed carpet, wallpaper, and faux wood beams to really lighten and brighten the space and reworked the 60s faux fireplace to give the room a fresh focal point.
I tried several furniture options and arrangements and ultimately settled on a large dining table and sectional sofa help to define the two spaces. The wall of shelves turned out to be a great solution for what used to be a pretty dark corner. It gives the space some vertical interest and it's so easy to mix up the decor. But it's definitely still evolving. And don't worry — I'll have a television before football season (#gopackgo).
Which room do you like to spend the most time in?
Summer nights on the patio are where it's at.
Amanda Schoenrock is The Everygirl . . . 
Last TV show you binged…
Friends and Seinfeld forever.
Favorite way to spend a Friday night…
Dinner or a baseball game with friends and a glass of wine.
Home essential you can't live without?
Candles and a good playlist.
Most-played song on your Spotify?
Probably something by Robyn.
If you could have lunch with any woman, who would it be and why?
My grandmother, Willow. She passed away shortly after I moved in and she never got to see any of my work. She'd have a fit if she saw that I painted the patio walls black.