When you think of Nashville, what do you think? Personally, I think of delicious food, fun times with friends, and super laid-back yet put-together style. Annie Reeves, Marketing and Editorial Assistant at StyleBlueprint, must think the same way I do — because her Nashville home is basically the perfect combination of all of those things. Annie invited us into the gorgeous home she shares with with two of her best friends and her adorable pup — read on for some serious design inspo, some decorating tips, and some advice for creating the gallery wall of your dreams!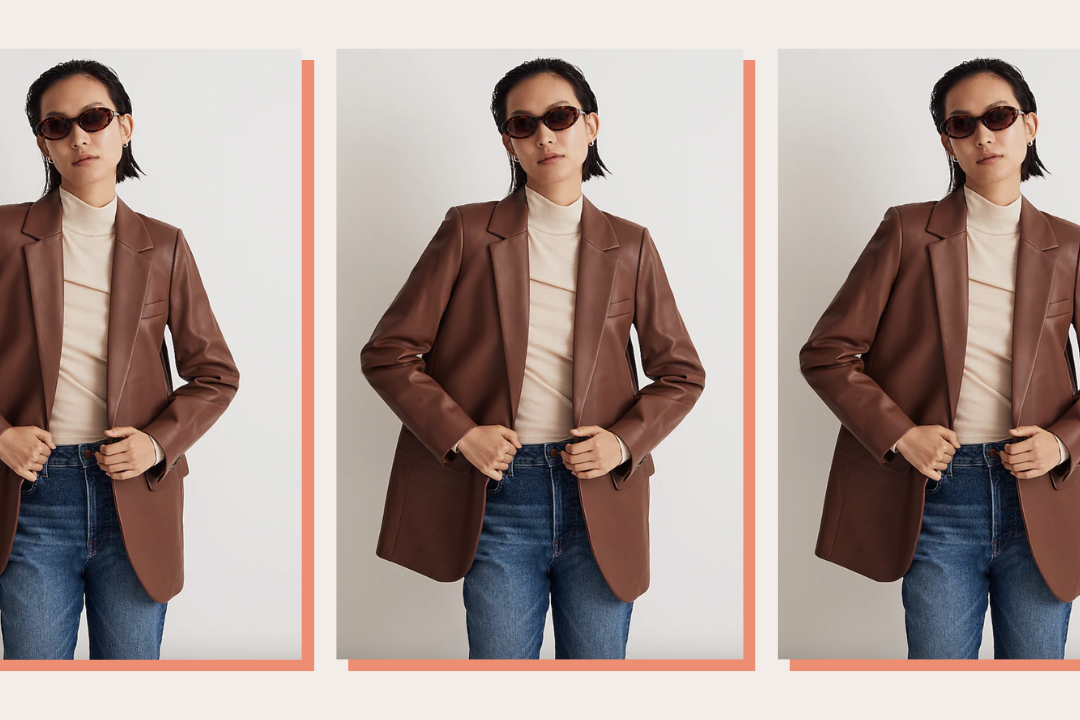 time for your fall wardrobe update!
Name: Annie Reeves, Marketing and Editorial Assistant at StyleBlueprint
Age: 26
Location: Nashville, TN
Sq. Ft.: 2,700
Years Lived In: 6 months
Rent or Own: Rent
What was your first job in your industry, and how did you land it?
I moved to Charleston in May of 2014 right after I graduated from Auburn. A few nights after, I attended an event for bloggers and creatives at Charleston Place Hotel. I had been blogging for about a year, and someone along the way had given me the advice to follow up with everyone I met. So, I did that with Deirdre Zahl of Candy Shop Vintage. A few weeks later, we collaborated on an Instagram takeover, and a few months later, I was working for her six hours a week. Eventually, I was working a good bit more than that and was there when she opened her shop in Charleston on Cannon Street.
While my job ranged from production to marketing and photography to wholesale management, I learned so much about the creative industry in general from Deirdre. An incredibly smart and creative businesswoman, I was (and still am!) in awe of her drive, fearlessness, and intuition. Now, she's one of my lifelong friends and mentors. And, fun fact: she now is a vendor in the StyleBlueprint shop, so we still get to work together. So, don't forget to follow up — personal connections are everything.
Don't forget to follow up — personal connections are everything.
You now work at StyleBlueprint, where you're able to inspire and empower creative and smart women every day. What do you love about your job?
I absolutely love my job at StyleBlueprint. I started there full time in March, but I've been working with them since October of last year. I have a unique job there where I split my time between the marketing and editorial departments. On a day-to-day basis, I bounce from proofreading to Photoshop to talking to potential vendors for our SB Shop. It's been an incredible way to ease from working as a freelancer on multiple projects to having one full-time position. I am able to exercise both my creative and analytical sides, which is an opportunity I do not take for granted.
One of the best parts about my job, though, has to be the women (and man) with whom I work every day. They are creative and kind and supportive, and I feel incredibly lucky to be part of the team. Our management team cares deeply about their employees, and that was highlighted in the hiring process and beyond.
You live with two roommates — how did you three decide to live together, and what unique perspectives do you each bring to the space and dynamic?
My best friend of 13 years, Caroline, moved here when she finished school and shortly after that her best friend and roommate from college, Hillary, moved to Nashville too. After I moved to town a few months later, the three of us made the easy decision to move into a house together. They are two of my favorite people, and living together is a blast! Each of us plays a specific role in our home, taking on different responsibilities, but at the end of the day our sense of humor and set of beliefs are the two things that really bind us together. That, and a deep love for Mexican food.
How was the experience decorating the space with all three of you? How do your tastes differ, and were you all equally opinionated throughout the design process?
It's been an interesting process! I would say that Caroline and I were more opinionated in the overall design of the home, since we both work more or less in that industry. Caroline is the lead designer at Sarah Bartholomew Designs, so her eye for design is, of course, immaculate. I've always had an interest in home decor, mostly from my blogging background, and living in a beautiful space means a lot to me. That said, without Hillary, that process would have looked very different. Her analytical mind keeps us on top of things around the house, and that perspective is imperative. Luckily, we mostly have similar tastes. Caroline errs slightly more classic, while I like some modern elements thrown in.
Of course, we didn't have a budget to go out and purchase many things for our home, so we really worked with what we had. Off the bat, we knew our most neutral pieces would go in the light blue room, so we started there — first planning our black and white gallery wall. Each of us contributed art to that wall, and we all three worked to put it together. It's one of my favorite features in the house for that reason — we're all well represented! (Caroline, especially, since she actually painted a few of those up there.)
We didn't have a budget to go out and purchase many things for our home, so we really worked with what we had.
We love the way your home uses bright colors without feeling overwhelming. How did you accomplish this?
Thanks so much! Personally, in both my home and the way I dress, I lean towards neutrals with some sort of surprising element – whether it's color or texture or an unexpected accessory. So, it was a natural flow into our home. My entire life, I've loved a pop of hot pink. I couldn't wear it head to toe, but the boldness and femininity has always been special to me. I had a blast putting together the sitting room right off of my bedroom because I could use the collection of colorful paintings and pillows I've gathered over the years in one space. Because it's small, I was okay with a bunch of color, but in common areas and my bedroom, I'm all neutral, all the way.
Your home is perfect for entertaining — what's your best advice for entertaining on a budget?
We love to entertain! During the holidays, it seemed like we were constantly having friends over for game nights or movie nights, and we had one big Christmas party in there too. I have to say, we've learned the hard way that it's important to really plan around a budget when it comes to entertaining (don't ask about our holiday party in my apartment last year). Now, we've learned that the reason we're entertaining is to bring people together and enjoy each other — not necessarily to eat a ton of food or drink a lot of alcohol that's all provided by the hosts. For bigger parties, we always do one cocktail but have everyone BYOB, while enlisting a few close friends to bring appetizers or snacks.
What's next for you, your roommates, and your home? Any renovation or design projects on the horizon?
We're so excited for spring to finally arrive! Our backyard is likely our next project. We're hoping to host a few day parties this summer, and that will be a new challenge since we've never hosted back there. On top of that, our lease is up in October, and you never know with this housing market in Nashville what's next! I absolutely love our house here, but I'm totally guilty of browsing HotPads on a regular basis just to see what else is out there. There's always something exciting about a new project!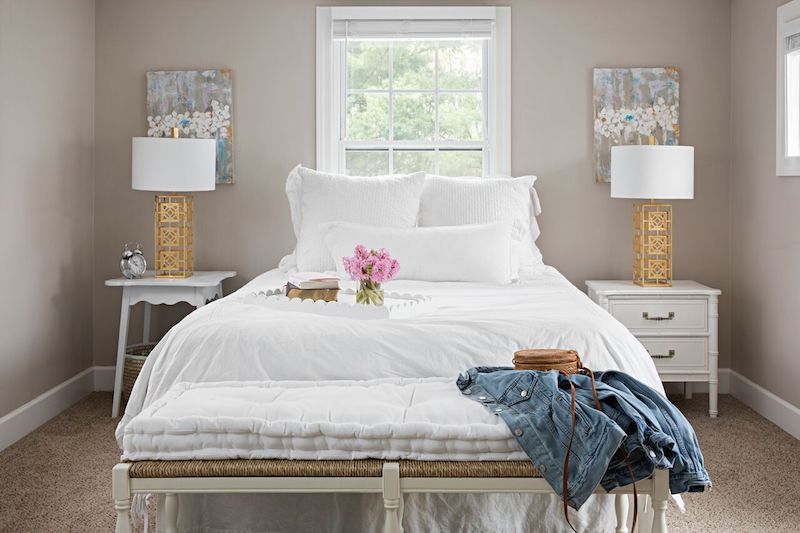 What's your favorite room/space in your home? Additionally, in which room do you spend the most time?
That's so hard! I think that my favorite space in our home is the front living room. This one was the last to come together, but it's had so much use since then. The Article couch is perfect right underneath the window, and it completed the room. The gorgeous Paige Kalena Follman (one of my favorite artists!) painting was intentionally placed above the fireplace instead of a TV to keep this room media-free (minus, of course, the karaoke machine behind the chair). This room, especially with a fire going during the winter, is ideal for game nights or wine nights with the girls. We've spent a loooot of late nights curled up on the comfy couch drinking wine and talking or playing cards — or sometimes, breaking out the karaoke machine.
In terms of where we spend the most time… it depends on the season! As it's warming up outside, I'd have to say our back porch. We love cooking dinner after work and sitting out on the back eating dinner together. It's a nice way to wind down and catch up, and like everyone else, we just cannot get enough al fresco time right now.
What's your favorite part of living in Nashville?
Nashville has been a surprise to me in so many ways. After two and a half years in Charleston, I was ready for a change — somewhere bigger and somewhere different. Nashville has definitely been that! Initially I was, admittedly, worried that Nashville might be the cheesy, country-music cliche that it's often portrayed to be. Luckily, that's not the case at all. (Though, I'd be lying if I said I don't love a rooftop on Broadway as much as any bachelorette on a pedal tavern.) It's a city filled with music, which I love, but there is so much more depth to the people and its attractions. The food scene is evolving and growing and delighting, which has been really fun to be a part of. In fact, we just started a monthly supper club with the intention of trying all of Nashville's newest and hottest restaurants — a great representation of the two things in Nashville I love most… delicious food and incredible community.
What advice would you give to your own younger self?
Stop trying to figure it all out. (Still relevant.)
Annie Reeves is The Everygirl…
Ideal way to spend a Saturday?
French-press coffee on the porch followed Tori's 9:45 CycleBar class; challah bagels with dill cream cheese from Proper Bagel; afternoon spent on a rooftop downtown; order in Taqueria del Sol for game night with friends
Favorite restaurant in Nashville?
Henrietta Red, hands down.
Dog's name?
Hasell – it's pronounced Hazel, and she's named after the street I first lived on in Charleston!
Last show you binged on Netflix?
Ugly Delicious and Schitt's Creek (though Dave Chapelle's stand up is a nightly go-to)

If you could have lunch with any woman, who would it be and why?
While Taylor Swift and Oprah Winfrey do come to mind, I have Mother's Day on the mind right now, and I'd love to have lunch with my mom, grandmothers, aunts and girl cousins – it's been too long! They are the women who inspire me and encourage me on a daily basis to chase my dreams and believe them for me even when I can't. Gems!