Let's be honest: Journaling is so hard to maintain. In a social media sea of journaling mavens, it may seem like you're the only wellness girlie who hasn't caught onto the practice (or perhaps you're coming back to it after falling out of the habit for the umpteenth time—I've been there), but it can be one of the most life-changing habits when we're consistent. When we're doing it daily, everything just flows. Our thoughts are less jumbled, our emotions are easier to manage, and even the busiest days feel not only doable but more exciting to take on. To help you get into a journal routine that will actually stick, we've rounded up the best journals for every need. From quick gratitude shares to aesthetic notebooks, consider this your one-stop shop for getting in the journaling flow.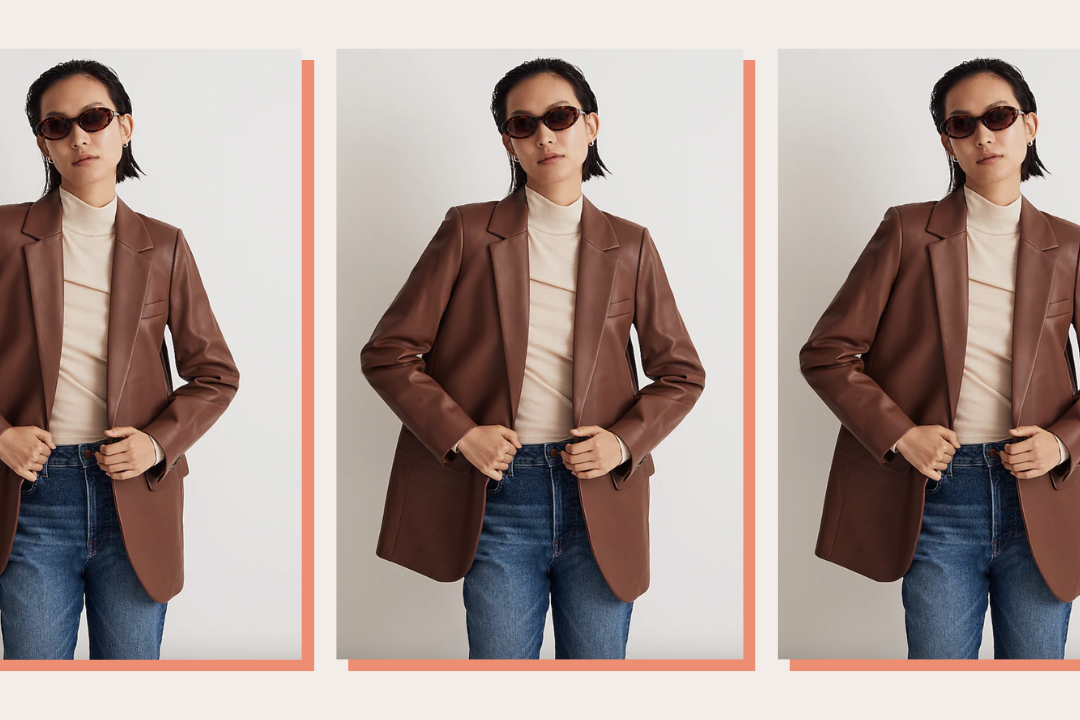 time for your fall wardrobe update!
If you never know what to write…
This is the journal in my current rotation and I am obsessed. As a writer, you'd think I'd be excited to dive in and fill a blank page. But…I'm not. I have my moments when I'm excited to set my imagination free, but when it comes to my journaling practice, I love a little hand-holding. I love how intuitively and intentionally this journal is laid out. The beginning pages give you space to set your intentions in every area of your life (nutrition, mind, activity, and self-care) and break them down into measurable goals. You can expect 12 weeks of daily overview pages to reflect on sleep, meals, water intake, self-care ideas, gratitudes, thoughts and feelings, and intentions, so it's guiding you through daily intentions for all areas of your well-being. It also has wish lists encouraging you to dream big and a friendly reminder on the first page that the goal isn't to achieve perfection, but to focus on what feels good and to lean into the practice.
Prompts to get started:
What is in and out of alignment for me this season?
What can I release to create more space in my life?
How can I change my morning and evening routines to experience more joy?
If you're going through a big life change…
With minimalist, aesthetic offerings across art, planners, notebooks, and cards, Wilde House is making a name for itself in the paper goods space. Beyond the visual design alone, the products are really intentional tools to help you gain a deeper sense of self-awareness and understand what you really want. The Reset Guide is designed as an interactive workbook, comprising of 52 pages filled with everything you need to dive deeper into what you value and who you authentically are. Expect to be challenged in getting truly honest with yourself, reflecting on the past and present to help you construct a more meaningful and aligned path forward.
Prompts to get started:
What am I learning about myself through this change?
In what ways is this change a blessing for me?
What am I most excited about this next season?
If you loved keeping a diary as a kid…
Widely known for the colorful, often floral-covered journals, planners, and stationery, Rifle Paper Co. is a favorite for joyful, serotonin-boosting designs. This journal set is intended to guide you through five years of growth, learning, and change. Each individual journal gives you dedicated space to track goals, celebrate milestone moments, mark down your travels, reflect on your favorite books and movies, and write a few thoughts about each day of the year. Because the set covers a larger scope of time, each individual journal doesn't go as in-depth as others. However, it's a great option if you're looking for a way to look back on the years with gratitude for all you experienced, achieved, and learned.
Prompts to get started:
What would you tell your younger self about your life right now? What can they look forward to?
In 10 years, what will you be proud of yourself for doing now?
How can you experience expansion in your life?
If you're a minimalist…
If you're craving a deeply introspective, peaceful journaling moment (while still uncovering truths about yourself you perhaps have never acknowledged), this is your journal. The beautifully understated guided journal contains 180 undated journal prompts grouped into six different themes (intention, healing, gratitude, presence, purpose, and growth), allowing you to focus on expanding your life in every area from gratitude to presence, purpose, and more. If you're not sure where to start when it comes to your journaling journey, light a candle and cozy up with a cup of tea and a pen. I guarantee: you'll happily sit with this journal for hours.
Example prompts:
What is something you haven't forgiven yourself for yet?
What would you name this chapter of your life right now?
Where do you go to feel closest to yourself?
If you want to level up your nighttime routine…
Intelligent Change staked its claim in the guided journaling world with its Five-Minute Journal but has since expanded its offerings with honed-in journals for specific areas of your life. This journal is the perfect way to cap off your nighttime rituals, with inspiring quotes to guide your nighttime musings and space to organize and clear out your mind before settling into a restful night's sleep. Pages are organized by Ideas, Dreams, To Dos, and Creative Musings, helping you get it all out on the page so you can let your mind wander, analyze your subconscious, take stock of your evening creativity, and make a plan for tomorrow. All that's left to do is close your eyes and drift off.
Prompts to get started:
What do I want to prioritize tomorrow?
What spark of inspiration do I want to act upon?
What could my dreams be telling me that my conscious mind can't yet hear?
If you're feeling stuck…
The bright, bold colors and graphic fonts say it all: Get ready to be inspired. Whether you're embarking on a creative project, pursuing a business idea, or simply wanting to make things happen, this journal is the support you need to move forward. Divided into five stages (Getting Going, Building Momentum, Overcoming Setbacks, Following Through, and Seeking Closure) with 144 pages and 75 inspiring prompts, this journal is designed to help you hone in on one goal and follow it through, start to finish.
Example prompts:
Make a list of all the activities that would occur during your ideal day of working and creating.
Have you been procrastinating on doing something for months? Articulate your biggest fear connected to that thing. Is it fear of failure, fear of success, fear of feeling dumb, fear of not finishing? Some other kind of fear?
If you're a new mom…
Throughout the journey of pregnancy and new motherhood, your life is changing in constant, seemingly unimaginable ways. While much of your focus is on your child, it can be helpful to also take stock of how you're growing and quickly evolving yourself. This guided journal is designed to support you throughout every stage through 136 pages meant to track your thoughts and feelings through every trimester. With dedicated spreads for each trimester and after the baby comes, you're equipped with questions, check-ins, and space to reflect on what you're feeling, what's challenging you, and all the many milestones you and your growing family are experiencing.
Prompts to get started:
How can I ask for support in this season of my life?
What do I find surprising about this new experience?
How can I carve out pockets of rest in my day?