Personally, I'm not really into New Year's resolutions. I'll go from 0-100 starting January 1st, stick to my guns for a couple of weeks, then slowly but surely fall off the wagon until the whole "new year, new me" mindset is left to die. But this year, I want to give myself a challenge that I'm genuinely excited to stick to in hopes of actually following through for once. After some consideration and a little self reflection, I've decided that the goal of putting more time and effort into my beauty and skincare routine is the winner. And I thought, what better place to start looking for products, tips, and tricks to try out than the Vogue Beauty Secrets videos?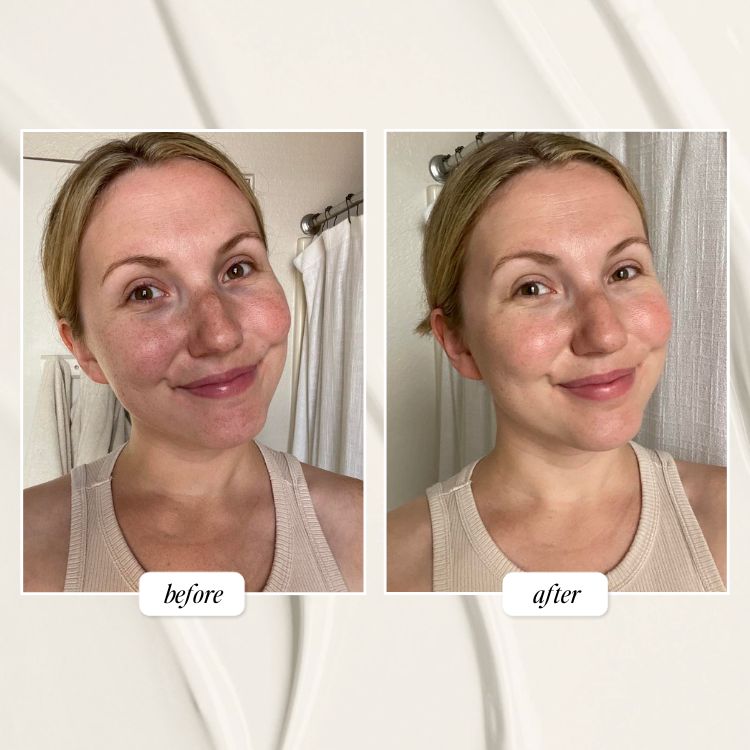 After years of doing the exact same thing with my skincare, makeup, and hair every single day, I'm ready to spruce things up in the name of boosting self confidence and having some fun—and I think that's a very doable resolution we can all set for ourselves. These addicting little vlogs of our favorite celebrities giving us the scoop on their go-to routines are a godsend. Like, yeah, I want my skin to glow like Hailey Bieber's—give me the 411. So, I did the digging through this year's best Vogue Beauty Secrets videos to get the looks so you don't have to. Here's the 2022 round-up that'll send us into 2023 looking and feeling like our best selves:
1. Kate Moss's Guide to Cool-Girl Beauty
Iconic supermodel Kate Moss is currently 48 years old and seemingly has skin as perfect as that of a newborn baby. While she touches on a super simple makeup and hair routine (and also some must-have CBD drops, of course) in the video, my ears were wide open as she listed off her go-to skin care products. To my pleasant surprise, nothing she uses was set at an overly unreasonable price point, so I'll definitely be taking notes in hopes that I can look half as glowy as she does as I age.
2. Never Have I Ever's Maitreyi Ramakrishnan's Guide to Bold Eyeshadow
When it comes to makeup for me, eyes have always been the most intimidating part. I usually just throw on some mascara and maybe a singular shimmer shadow if I'm feeling bold, but luckily Actress Maitreyi Ramakrishnan has blessed us with this super detailed, step-by-step guide to easily achieve a full glam eye look. A tip she gave that particularly stood out to me was to only put your pencil eyeliner on the inner third of your water line to give your eyes a pop while avoiding a raccoon eye moment. Thanks, queen.
3. Billie Eilish's Post-Show Beauty Routine
I don't know about you, but I'll gladly take skin care notes from someone who gets sweaty and oily from playing sold-out arena shows and still has a complexion that looks this good. As Billie Eilish takes us through her post-concert night routine, she can't stop raving about Los Angeles based facialist Bia de Sousa's line of skincare products and how her skin "had a complete transformation" when she started using them. She also swears by a go-to product for keeping her intensely color treated hair strong and healthy, which I know my fellow dyed hair gals are always down to hear about.
4. Euphoria's Storm Reid's Glowing Skin & Winged Eyeliner Guide
Nothing in this world makes me sweat quite like attempting to do winged eyeliner. Almost every tutorial I've ever watched makes it look so easy, but the second I get in there with a liquid liner and fine tipped brush, it's a dumpster fire. But, Storm Reid uses a thicker pencil liner and realistically simple technique that makes even me think, "Oh, I could definitely do that." On top of that, she talks about the importance of skincare, her must-use products for the job, and the golden rule of always making sure you're getting everything on your neck, too—not just the face.
5. Hailey Bieber's Date Night Skin Care & Makeup Routine
Being one of the few people to have not one but two Vogue Beauty Secrets videos, it's expected that Hailey Bieber came to slay even harder the second time around. She of course, as the founder of Rhode Skin, talks about how skincare is still the most important part of her makeup routine. She suggests the hack of mixing one of her favorite products from the line with her go-to foundation for an ultra-natural look, and finishing with a cult favorite hydrating concealer. Plus, she preps with bougie-looking eye masks that I'm determined to try in light of this 2022 resolution of mine.
6. Conan Gray's Guide to Curly Hair & 3-Step Skin Care
"I think everyone who has curly hair has, at one point, tried to deny they have curly hair," Conan Gray says as he gets into his routine that defines and moisturizers his gorgeous curls. As someone who has naturally ultra wavy hair but has always just straightened due to a lack of hair-styling abilities, this Beauty Secrets video might have just been the final push I needed to give my waves a go in 2023. Gray also shouts out my all time favorite pimple patches that I recommend to literally anyone with a breakout who's willing to listen.
7. Bridgerton's Charithra Chandran's Guide to a Foolproof Night-Out Look
Pro tip: no matter how amazing your makeup is or how flawlessly you apply it, you need the proper products to keep it all in place if you want your look to last. Charithra Chandran chats about how this is a lesson she learned from being on set for hours on end under harsh lighting on Bridgerton, and how we can use her holy grail products to ensure our GNO's and date nights aren't interrupted by smearing concealer and smudged mascara.
8. Stranger Things Star Natalia Dyer's Guide to Sensitive Skin Care
Actress Natalia Dyer reinforces the common message carried throughout the majority of this year's best Vogue Beauty Secrets videos: skincare above everything! While some of her favorite products are a tad pricey for most of our likings, she also swears by plenty that won't break your bank. Dyer perfectly channels the simplicity and chicness of the clean girl aesthetic we all know and love.