Beth Aschenbach's Palm Beach home is like summer—it just feels like vacation. And if you've ever perused her blog Palm Beach Lately, you know her aesthetic! This creative business owner's home is flooded with light, visually clean, and filled with chic details.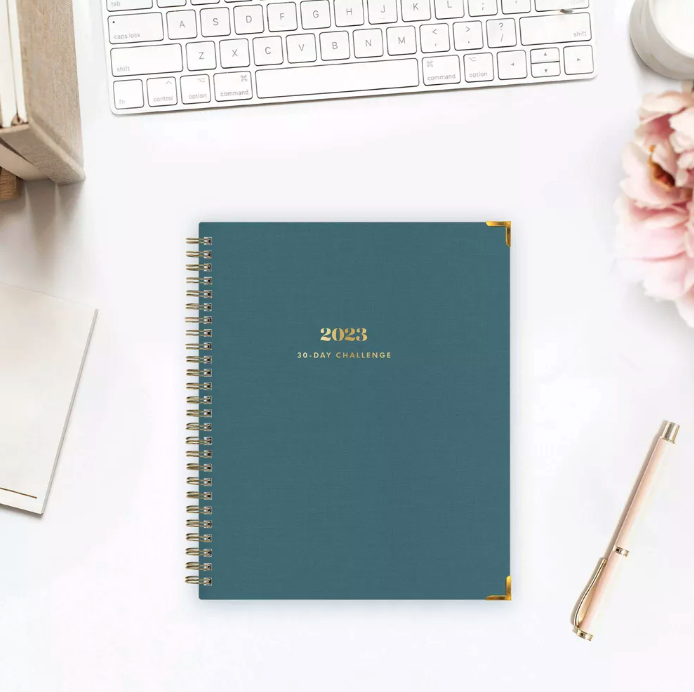 We may be biased, but this is the ultimate planner for the motivated goal-getter. Schedule your days, track your habits, and set new goals every month.
After graduating from the University of Florida with a degree in public relations, she needed a change of scenery and moved to New York City. In 2006, she returned to Palm Beach and started her own public relations and event planning business.
Two years ago, Beth and her sister Danielle began a new and exciting venture that is now known as Palm Beach Lately. The two sisters wanted to create a place where the women (and visitors) of Palm Beach could find Palm Beach's best. The site serves as an ultimate guide to life in Palm Beach—and even has a product line too! Now, she spends her time working on Palm Beach Lately and relaxing on her patio—a chic getaway nestled in the back of her light filled home.
Keep reading to find out more about Beth's life in Palm Beach, her business, and how she decorated her home on a budget!
Name: Beth Aschenbach
Age: 34
Current job/company: Co-Founder of Palm Beach Lately
Education: University of Florida, Public Relations
Bravo on starting your own business! What was that process like for you? What has made your business successful?
Perseverance. We were way ahead of our time in our area with Palm Beach Lately. This made it a challenge to get local businesses to understand what we were trying to be: the online, modern guide to Palm Beach. But we didn't give up and three years later we have local and national advertisers. We have a following all over the U.S. and have had the opportunity to partner with amazing, national brands. We also created a Palm Beach based product line that is sold online, in stores, and on One Kings Lane.
How would you best describe your style?
I would describe my style as a blend of rustic chic and regency. I had to find a way to select pieces that went together. But now I feel like anything goes. People are filling their home more and more with what they love versus sticking with a particular single style.
The key to staying within budget is finding great pieces and accessories for less—not getting sidetracked and buying things you don't need. We have quite a few pieces from IKEA, Target, Homegoods, and Etsy. I have also been known to buy things on a Homegoods run to try but ultimately returning them.
What is your favorite part of your home? 
The outdoor patio is my favorite part of our home. We love to eat breakfast or dinner out there, read books and entertain guests, too.
What's a cool find or DIY project that you're particularly proud of?
I'm a huge fan of green walls. We had a wall of faux boxwood for our escort cards at our wedding and I wanted to incorporate that into our home. I was hoping for a whole wall, but after many opinions on why it wasn't a good idea, I compromised for a section under the stairway. I absolutely love it! It's the first thing you see when you walk into our house and I get so many compliments on it!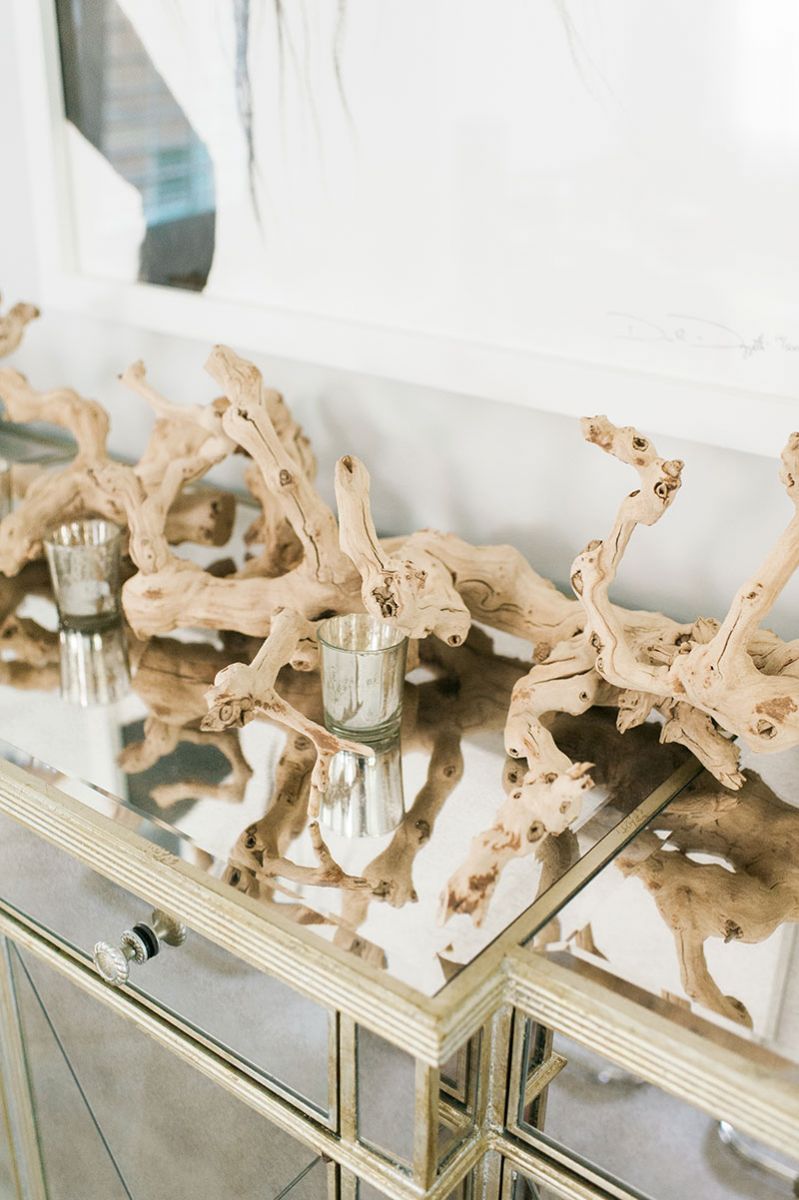 Being a homeowner is exciting—and such a big decision! How did you know that buying was the right decision for you? 
We rented for a few years and we knew we wanted to live in this area. After we got engaged, we thought it was time to start looking for a house. We bought a home in a new neighborhood and we were able to pick the finishes—which was so nice. I was happy to choose white subway tile and an exposed exhaust in the kitchen along with the other finishes.
We were supposed to move in months before the wedding, but as it goes, we closed just a few weeks before. As you can imagine, it was a lot with the wedding and house at the same time so we waited to move in until after the wedding.
What has been your favorite home project to date?
My patio makeover project with West Elm! We had an empty back patio and I dreamed of the day I would sit out back and have a glass of wine under strung lights. It was so fun to create a "Palm Beach" style patio with West Elm and mix in other elements like our Palm Beach Lately banana leaf and flamingo pillows, outdoor curtains, and lights.
What does a typical day at Palm Beach Lately look like? 
Each day varies because we wear many hats. I normally start each day with yoga, then emails, calls, or meetings with clients or advertisers, process online sales, coordinate shoots, brainstorm, and plan upcoming content for the blog and social media.
We talk to a lot of women about work-life balance. How do you find it?
I think this is a constant struggle for women. I wasn't very good at work-life balance, but this past year I have made serious strides in achieving it. If you haven't read Laura Casey's book Make It Happen, I strongly suggest it. I always thought busy equaled success, which she so eloquently shows us is not the case.
The more opportunities that came my way, the more I said yes, the more I filled my plate. If I wasn't in a meeting or at an event, I was answering an email or text. If I wasn't doing one of those things, I was on social media. I soon realized I was never not "on." I needed to find hobbies and downtime without my laptop in my lap or my phone in my hand. Now I feel my quality of work is much more proactive and intentional instead of reactive and rushed.
Tell us about life in Palm Beach! What are some of your favorite things about the town? 
I feel so lucky to live so close to the beach. For years I never went, but lately I make time to go for a summer sunset, a yoga class, or on Sundays after church. We also love to ride our bikes on the bike trail in Palm Beach and frequent the many new great restaurants in town.
You have a beautiful home and your outdoor space is amazing. Did you decorate a piece at a time or with a full picture in mind?
I'm a big Pinterest fan and I think it's helpful to see what you gravitate to consistently. We invested in a few of the bigger items like our bed, couch, and dining table. From there I would look at my inspiration on Pinterest and narrow it down to ideas that were cohesive. I noticed I was drawn to black and white with gold and pops of color. I focused on one area at a time and then would move to the next area, always keeping in mind the vision I had for the overall color palette.
Beth Aschenbach is The Everygirl…
Favorite way to begin the day? 
On the patio, reading and drinking my morning smoothie.
Life motto?
Busy is not a badge of honor.
Who would play you in a movie of your life? 
Jennifer Aniston
Favorite place to travel?
Napa
Aiden or Big?
Big
Product Sources
Outdoor Entry
Bench, West Elm
Striped Pillows, West Elm
Entryway
Clear console, One Kings Lane
Candle, Nordstrom
Wild at Heart Art, Etsy
Gold coral, Z Gallerie
Metalic zebra dish, Lulu & Georgia
Living Room
Sofa, Arhaus
Rug, Rugs USA
Pillows, Caitlin Wilson, Etsy, Target, West Elm
TV console, IKEA
Antler, Z Gallerie
Fig tree, Homegoods
Coffee table, Homegoods
Pouf, Target
Decorative box, West Elm
Tray, Target
Agate coasters, West Elm
American Fashion Accessories, Amazon
Kitchen
Table, IKEA
Chairs, Amazon
Rug, Crate and Barrel
Cutting board, Amazon
Glasses, J. Crew
Bar stools, Ballard Designs
Dining
Mirrored Buffet, Z Gallerie
Acrylic chairs, IKEA
Table, Urbia Imports
Hallway
Chairs, K Mart
Mirror, Z Gallerie
Pillows, West Elm
Gold side table, HomeGoods
Bedroom
Bedding, Pottery Barn
Bed, Restoration Hardware
Sunburst mirror, Home Depot
Bedside tables, Bungalow 5
Lamps, Homegoods
Dresser, Bungalow 5
Bathroom
Follow The Arrow print, Etsy
Guest Bedroom
Bedding, Biscuit Home
Chanel book, Amazon
Coral lamps, One Kings Lane
Candle, Nordstrom
Floral pillow, Furbish Studio
Dalmation pillow, Etsy
Mirror, HomeGoods
Benches, Target
Bedside tables, Target
Guest Bathroom
Mirror, Ballard Designs
Towels, Ralph Lauren
Prada Marfa print, Etsy
Office
Desk, Pottery Barn
Chair, IKEA
Pillow, Caitlin Wilson
Lamp, Target
Bookends, Homegoods
Outdoor
Sofa, West Elm
Banana leaf pillow, Palm Beach Lately
Flamingo Pillow, Palm Beach Lately
Cutting board, Palm Beach Lately
Cocktail napkins, Palm Beach Lately
"A" Pillow, Etsy