If I had to choose, I would rather read than watch or listen, which is why I didn't become a podcast person until I gave Bad on Paper a chance in 2020. To my surprise, I immediately fell in love with Grace Atwood and Becca Freeman's book recommendations, career advice, and real-life highs and lows. I now look forward to a new episode of Bad on Paper (now with new cohost Olivia Muenter) every Wednesday, and I have added other podcasts to my weekly listens, too. But when Becca Freeman announced that she was creating fiction podcasts with Rachel King, I wasn't sold on the idea. Spoiler alert: I was wrong—again.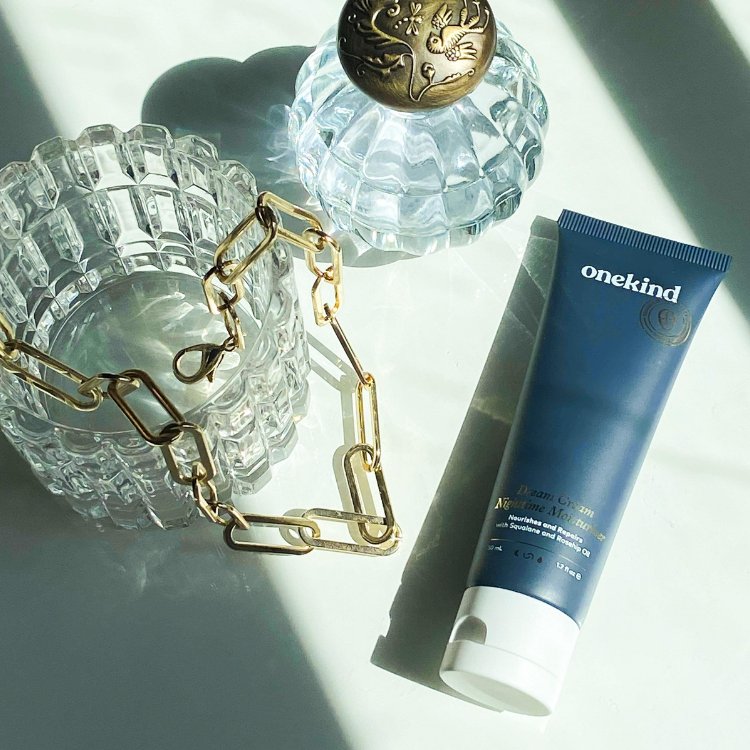 you just pay shipping—use code EVERYGIRL to get yours today!
I was absolutely blown away by Bone, Marry, Bury, a fiction podcast from Dear Media and RomComPods. But what is it that I loved about Bone, Marry, Bury? I loved that I was invested just from the title, that it didn't stick to one genre, and that it made me laugh out loud more times than I could count. I loved that it didn't shy away from taking risks, that it definitely wasn't a closed-door romance, and that the characters were oh-so relatable, even as they did things I would never do. I loved that I was wildly entertained by every minute of it.
If you're considering listening to Bone, Marry, Bury, here's what you need to know to convince you to hit "play" right now.
A Hook That Immediately Grabs Your Attention
The hook of Bone, Marry, Bury is simple: Within the month following a New Year's Eve party, Allie (Sarah Hyland) is going to bone, marry, and bury three different people. As best friend and narrator Gabe (Harvey Guillén) says, "It's "like f**k, marry, kill. I just wanted to say that, but it didn't clear legal, so… lawyers, am I right?" It's the perfect setup, priming us for lust, romance, and even a little murder.
A Genre-Bending Plot That Delivers On It All
Do you like mysteries? Are you into romance? What about heartbreak? Work drama? Perhaps a few illegal activities? Maybe a New Year's Eve party? No matter what type of fiction you usually turn to, Bone, Marry, Bury has something for you. The hook may have been simple, but the ways in which Allie goes about boning, marrying, and burying are anything but. What results is a genre-bending comedic thriller that will pull you in with its mystery just as much as it will make you laugh out loud.
Humor That Makes It Impossible Not To Laugh Out Loud
I gave Bone, Marry, Bury a chance because of the hook. But I kept coming back to it because of the humor. When I first laughed out loud while listening to the first episode, I liked the joke so much—"This girl is broke, OK, as in unemployed and not the fun Eat, Pray, Love kind"—I knew I wanted to post about it on my Instagram story. But by the time I had finished listening to the episode, I had laughed out loud so many times that I couldn't possibly pick a favorite line to share. Instead, I simply gushed about just how funny it was. And that's exactly how I felt about every single episode, as I literally guffawed at lines about everything from CrossFit to lesbians doing drag.
Pop Culture References That Are Insanely Relevant
It can be hard to find content that truly belongs in a cultural moment because publishers and producers are concerned about dating their material. But I love the nostalgia of going back to books and TV shows that so accurately fit into a particular moment in time, and I know that I'll return to Bone, Marry, Bury when I want to feel like it's 2022. Because what are we doing in 2022? We're watching Inventing Anna and discussing how the U.S. penalizes people for being single. We're listening to Brené Brown's podcast and salivating over the dishes in the new season of Top Chef. I even attended the Charleston Wine + Food festival and then listened to an episode that mentioned it two days later. If that's not culturally relevant, I don't know what is.
Two Very Different Best Friends Who Prove Opposites Attract
When we first meet Allie, she's a bit of a mess. She has just been fired, dumped, and evicted, and she could easily be bawling her eyes out on best friend Gabe's couch. But Allie is determined to make 2022 her year. And despite how immediately everything continues to go wrong for her, Allie's optimism and confidence in her decisions are what make her so lovable.
The show might be about Allie, but Gabe brings some serious main-character energy. Gabe is a "person that apparently no one knew was gay," a "man who enjoys wearing women's clothing for attention and cold hard cash," and quite possibly the best friend a girl could ask for. He's honest when you need him to be and sweet when you don't. He's one of the few characters I've encountered who has made me both laugh out loud and tear up. Part of what makes Gabe so, well, Gabe is that he is the narrator in addition to a character, allowing us to see him in scene and hear his unfiltered thoughts on the action. Allie and Gabe are two very different people, which makes them all the more entertaining when they're brought together.
A Cast That Brings the Story To Life
What makes fiction podcasts so unique is that they are truly a medium of their own. Like audio books, they rely solely on what the consumer can hear. Like TV shows, sounds beyond the character's dialogue are included, from makeup applying to heels clacking to, yes, I'll say it, sex. Like books, the consumer is able to create a picture in their head of the scenes being described. But unlike anything else, fiction podcasts rely heavily on only the voices of the actors to tell the story. And the cast of Bone, Marry, Bury did such an amazing job with this script.
Sarah Hyland brings the humor we're used to from Modern Family to Bone, Marry, Bury. Gabe literally wouldn't be Gabe without Harvey Guillén's amazing performance. And every actor, no matter how minor their character, absolutely delivered, from Tommy Martinez and Tom Maden who play love interests Luis and Jesse to actors who appear in only a scene or two. There wasn't a second of this podcast where I felt taken out of its world.
Final Thoughts
Never listened to a fiction podcast or listen to them all the time? Read page-turning thrillers or heartfelt rom-coms? Like to keep things low-key or are always ready to party? No matter what your usual taste is, Bone, Marry, Bury has something for you. I know that once you hit play on the first episode, you won't be able to stop listening to this wildly entertaining podcast (and singing along to its insanely catchy theme song).