Buying from a new brand can be a little scary if you've never tried anything from them before. Maybe their shipping takes a while, or they have a wonky return policy. There's so much research involved that it seems easier to just buy from the companies you already know and trust. But some of the best items come from brands you've maybe never heard of or tried.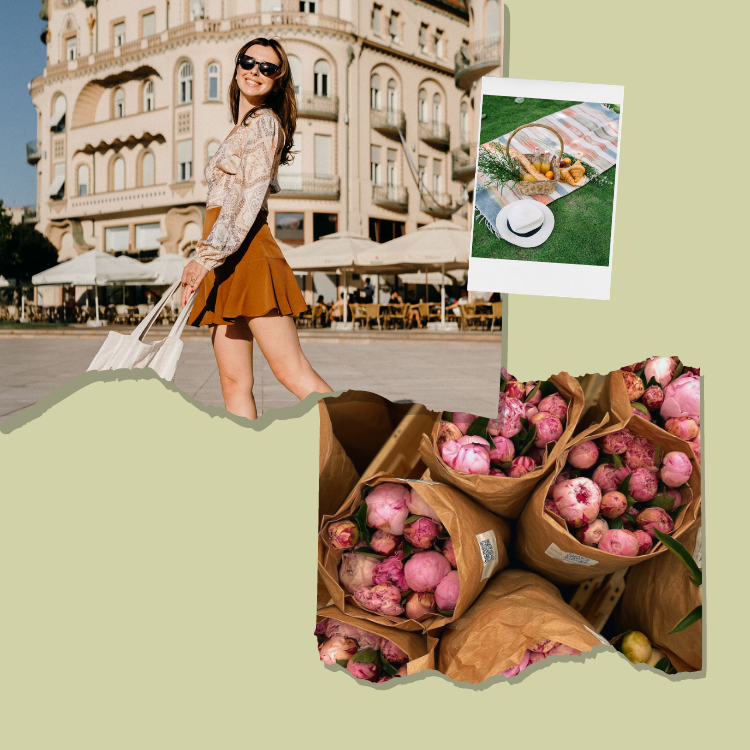 read this if you're in your saving era this summer
A few months ago, I vowed to start focusing more on small businesses, especially those owned by BIPOC. Don't get me wrong, I'll still buy clothes from H&M, and I'll never stop shopping at Sephora, but I wanted to see what I could snag from brands that weren't so big. These are just a selection of the brands I've tried recently, why I love them, and my favorite pieces.
If you're an eyeshadow lover, it's likely you've heard of Coloured Raine. Their eyeshadow formula is regarded as one of the best because it's highly pigmented and impactful. They went into Target stores about two years ago, and I've been a fan ever since. I recently just purchased a new palette from them, and I have become the meme of the woman who brings a plastic chair to the mailbox to wait for her package. They also have liquid lipsticks and complexion products that I'm dying to get my hands on. Those colors!
Maelove had been on my radar for a long time, but it wasn't until I saw their Glow Maker serum described as the better dupe to a Skinceuticals $166 serum all over Reddit that I wanted to try it. I've never been consistent with my skincare routine, and this was one of the first skincare products I ever repurchased. I just notice such a difference in my skin when I do and don't use this product. It adds just the right amount of glow to my combination skin without looking oily or feeling uncomfortable. Plus, I've noticed a long-term difference in the pigmentation of my acne scars. The pictures in this story I think really do it justice (I mean, my glow? Give me a break). Watch out for this in many editor empties to come!
I know I said I was talking about small brands, but I'd be lying if I said the majority of my wardrobe doesn't come from Target at this point. And if supporting small, sustainable businesses isn't in your budget or you're plus-size (hello, me!), I don't see anything wrong with doing what you can, and Target is a favorite. I love that they sell basically everything in an XXL (fits a 16/18), but if I need to size up, a lot of their in-house brands sell plus too. My current favorite for spring and summer has been their Wild Fable brand. Everything is trendy and cute, but the price tag is exactly what I want to pay for those types of pieces. In the spring, I got gorgeous bright-colored sweaters, and I've bought a few dresses from this line this summer as well. And don't worry that you're getting poor quality since the prices are so good. Some of these prices rival clothes I own from way more expensive brands.
Although CBD was the "it" wellness trend of 2019, it's become an absolute staple in the mess that is 2020. I've noticed the biggest difference in my stress levels, sleep, and chronic pain since I started using Equilibria CBD this year. Everyone's dosing is different, so I love that Equilibria offers free consultations with a dosing specialist to discuss what will be the best regimen for you. When we originally talked, my main concern was addressing the pain I get with my endometriosis, but a few months later, I spoke with her about needing a little extra help regulating my mood and daily anxiety (a classic tale for many this year, I'm sure). I began taking the Daily Drops twice a day—once in the morning, once at night—along with the Relief Cream and Mindful Soak as needed. I'm obsessed with the Mint Flavored Daily Drops—they actually taste good, and I love mixing them with coffee or my morning smoothie! I even love my Daily Drops as a face serum to help reduce inflammation and redness after using harsh acid exfoliators. Basically, the options with this product are endless.
Equilibria is a small business based in Chicago (love!) cofounded by two women who wanted to make a product for women. At the core of Equilibria, you can tell they wanted to help women, especially that they market their CBD as good for period cramps, pelvic pain, and more. I have fallen in love with their mission almost as much as I love the products!
Use coupon code "theeverygirl" for 20 percent off your first order!
Equilibria
The best starter box for someone new to CBD.
Use coupon code "theeverygirl" for 20 percent off your first order! 
Equilibria
Use coupon code "theeverygirl" for 20 percent off your first order! 
I've said it before, and I'll say it again: candles are sometimes considered a beauty product, and for the sake of this article, I am in agreeance. Boy Smells is a small, independently-owned candle line made in Los Angeles I've absolutely fallen in love with over the last six months. I snagged Cedar Stack from their Pride collection in which a portion of proceeds go to The Trevor Project. I let it sit on my credenza for about three weeks waiting to burn it because it was just so pretty. The yellow color brightened up my apartment, and the Boy Smells branding is on point. But I finally lit the candle the other day (a little Monday treat), and I fell in love and immediately ordered more. The throw is fantastic—I could smell the candle throughout my entire apartment (not that it's very big, LOL). I have really grown to love higher-end candles because I love how the scents are layered. This isn't all hot, sexy man; there's a hint of sweetness. This candle is so unique, and I can't think of a single person who wouldn't love the scent.
Boy Smells
15 percent of proceeds are donated to The Trevor Project to support mental health in LGBTQ+ communities!
Boy Smells
I've never seen a review in which someone said they didn't love this scent. It was formulated in collaboration with Kasey Musgraves!
I have to really give this one to Katie Sturino of The12ishStyle. Katie (I'm a huge fan of her and Megababe, and it does make it better that she's an Everygirl too!) does a series on her Instagram sharing how things fit on her size 18 body, and she did one all about thongs. I have always struggled with finding good underwear as a plus-size person. Nothing is wide enough, giving me a major front wedgie at all times. Plus, everything rolls down the second I bend over or honestly even more. She gave really high marks to Parade's underwear, and I ordered two pairs right away.
First of all, the ordering experience was really easy and quick. I love that everything is shown on plus-size models too, so I didn't have to wonder how something would look on me. I also love that everything comes in plus. There are a lot of brands that offer plus now, but it's only for select items, which is honestly annoying as all hell. I liked that I could order anything I wanted from their site. They also have a ton of options: High-Rise Thong, High-Cut Thong, Briefs, Cheeky, High-Rise Cheeky, and Boyshorts. Everyone has a different preference for their underwear (I'm a big High-Rise Cheeky girl), so there's something for everyone. I also love that these are comfortable but also sexy. I'm a big lingerie-wearer, and I feel like I can wear these just as much to be sexy with a partner as I do to go to the grocery store in a pair of jeans. They pass every plus-size underwear test in my book.