Native New Englander Bre Doucette spent her childhood driving up the coast admiring homes with weathered cedar shakes and bright hydrangea bushes — so when she started decorating her own home, she had a distinct vision. Bre's coastal home is everything you'd expect from a New Hampshire space — it's welcoming, nautical, and oh-so-inviting. Bre spoke with us about how she achieved the home of her dreams, how she started her blog, and the advice she has for you to do it too.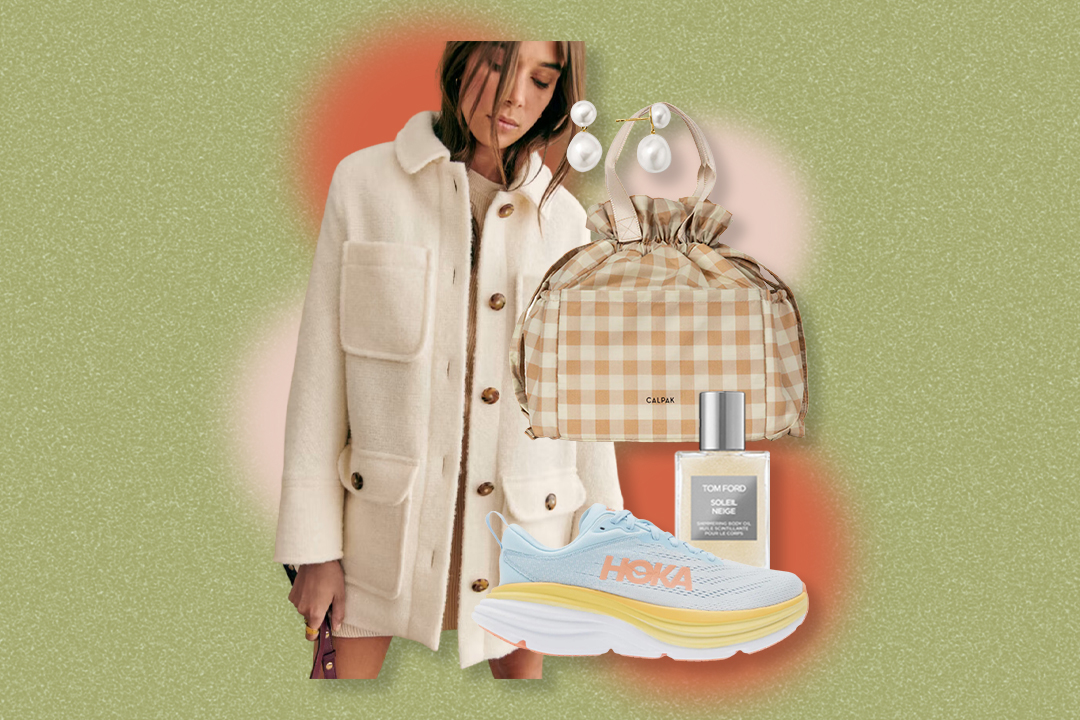 Name: Bre Doucette, Blogger
Location: Candia, New Hampshire
Sq. Ft.: 1,900 sq. ft.
Years Lived In: 8 years
Rent or Own: Own
What was your first job and how did you land it?
I grew up doing tons of babysitting and cleaning my grandmother's house — but my first actual job was at Dunkin Donuts, and I got the job because my friend worked there.
You grew up in New England, and mentioned that you love historic architecture and coastal homes. What makes them different to you, and why do you love them?
I was always drawn to the older homes in our area, even as a little girl. I'm not sure if it was the character they had, or the history they held. I loved to imagine myself living in the homes during the 1800s when they were built. Here in New England you can actually find homes classified on real estate listings as a "new englander," and their style can vary from home to home, but all resemble some type of a historic farmhouse, which is probably why I love them so much.
How do you think growing up in New England influenced your personal style? How would you describe your style?
I love the cape, and growing up in NH, we would frequently visit the beach. I loved driving up the coast looking at all the beautiful homes covered in weathered cedar shakes with bright hydrangea bushes lining their picket fences. I have definitely carried some of that through how I go about decorating our house today. One of my first goals was to plant as many hydrangea bushes in our yard as I could when we bought our house, so I would have fresh flowers to cut all summer long. I also love to decorate with pieces of driftwood I have found along the beach when we visit in the summer. They bring the coastal vibe home, along with loads of texture, and I love mixing some of that in with my other farmhouse decor.
Your home is beautiful! I love how it's so bright, but still warm and inviting. What are your tips for creating an inviting home?
Oh thank you so much! I love adding layers around our home, no matter what time of year it is. I truly think that layers add so much of that cozy factor that draws people in. I love layering rugs — and of course lots of throw pillows on our couch, but I also like to layer window treatments by pairing wood blinds with linen drapes. I also make sure I balance out all the white with warm or weathered wood tones, like the mirror above our sofa or the trunk we use as a coffee table in the living room, to add in some visual warmth.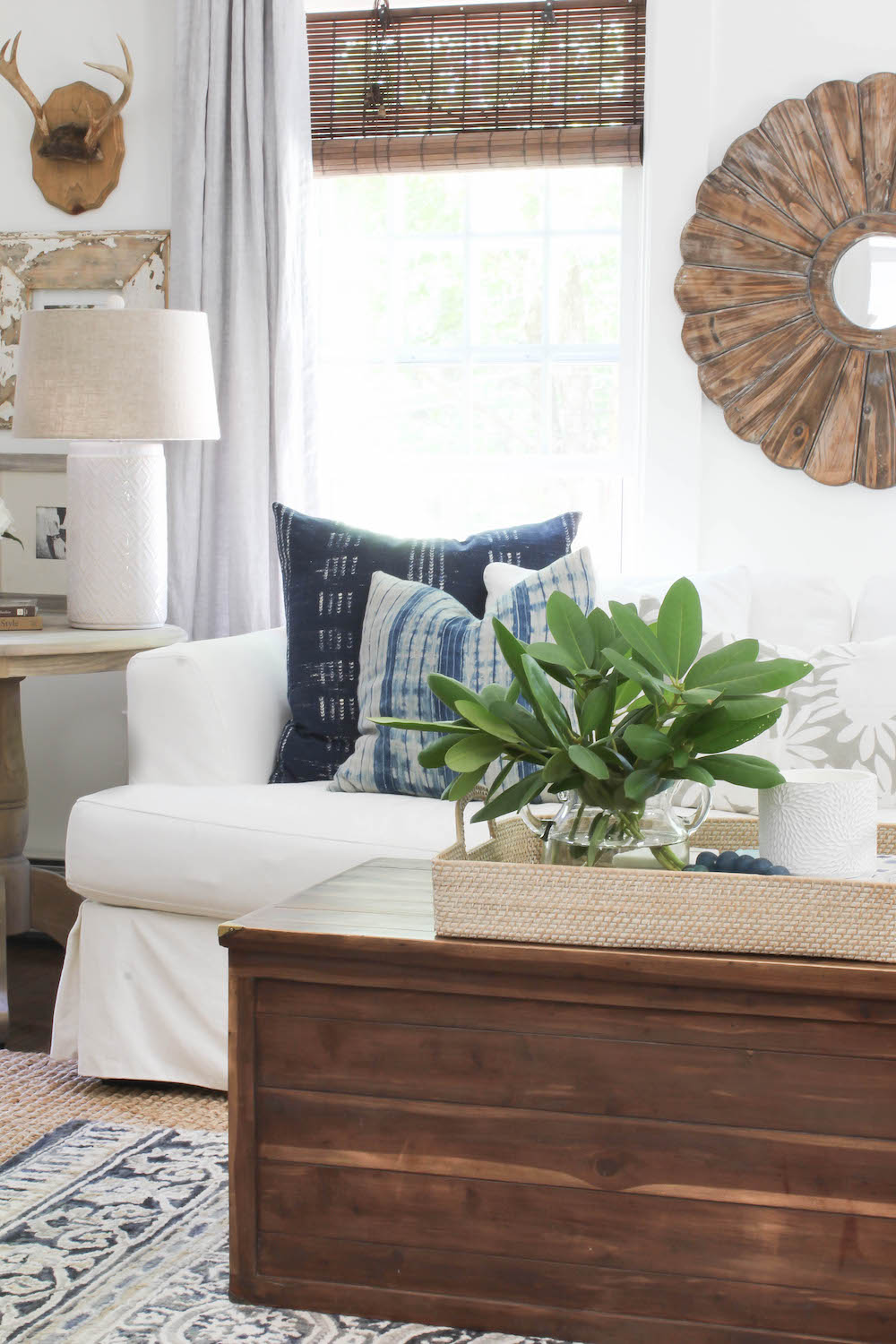 You mentioned it took you two years to find your current home. How did you know when it was "the one"?
We looked at probably over a dozen homes in those two years. We started when I was pregnant with our first baby, and finally found this home a few weeks after our second child was born (lol). It was the first home we looked at that had the exact mix of what we both wanted. I longed for an old farmhouse, but my husband didn't want the headache that came with all the updates older homes usually need. Luckily the major updates had already been done to this one: new windows, new electrical, new plumbing — you know, the non-pretty stuff. I think for guys it's more about practicality. When we had our first walk-through, we could both envision our family living there right away, so we put in an offer on the spot, and signed the papers four weeks later.
What made you decide to start your blog, Rooms for Rent?
A friend convinced me to start one shortly after we had just bought our first home. I had a 2-year-old and an 8-month-old, and she told me it would be a great way to document and share how I decorated around our home. It was in the fall of 2011, and after reading only one blog, I thought to myself, "I could do this." I had no clue how to start a website, I just started. What I didn't expect was for it to give me the creative outlet I was missing — with two toddlers, blogging about home decor was just the breath of fresh air I needed.
What advice would you give someone who wants to start their own blog? What is the biggest obstacle you've faced?
Just start! I think the fear of wondering if anyone will like it, or looking at other blogs who are further along, and comparing our small beginnings can hold us back from just even starting. If you feel passionate about wanting to start a blog, just start! It takes time to find your voice, gain followers, and grow your content, but you will never get there if you don't just start. I actually shared this in a blog post titled "There's Room For You Too" — I encourage anyone thinking about starting their own blog, or any creative business, that there is only one YOU, and we all have our own unique voice to offer something beautiful and inspiring to those around us.
My biggest obstacle was teaching myself photography. In an online world, where people are only virtually coming to see my home decor, I had to figure out how to take the quality of photos that I envisioned in my head, to produce the kind of content that I wanted to inspire others with. Learning how to use a DSLR camera is right up there, and I still get frustrated with it sometimes. But I take a deep breath, and remind myself that I'm doing this because I love to, it's supposed to be fun, and when it starts to get frustrating, I take a break and come back when I'm feeling inspired.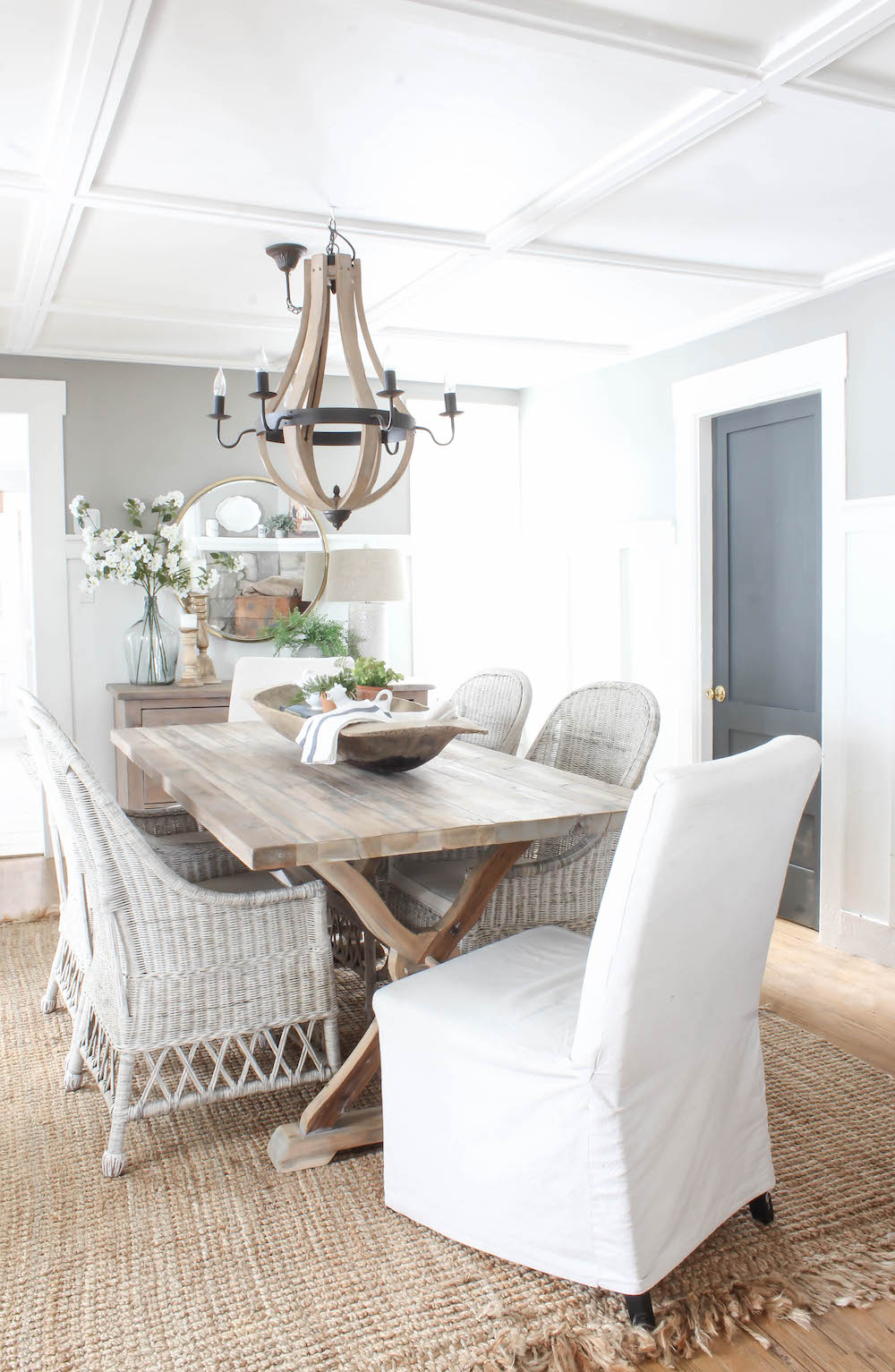 When you began renovating your home, where did you start? How did you prioritize different things?
Oh man, painting was the FIRST thing that had to be done. Like I mentioned, it had all the major updates done, like plumbing and electrical, but every room was painted a different shade of mustard yellow to deep brown. Even the columns with the half walls that separate our living and dining rooms were painted a dark chocolate brown, with a mustard brown trim. Those were the first things I painted white. Painting was the first thing we did to transform all the rooms, and then we started with small improvements as our budget allowed.
Were there any quirks in the space you had to design around? If so, tell us about them.
Oh my gosh, YES! I don't know if there is one that is worse than the other, but they definitely created some designing dilemmas for me to figure out. In our kitchen we have what I called the "wall of doors." There were three doors, practically side by side on this one wall. One led to a back hallway, one led to the basement, and the other a bathroom. In between two of the doors was a tiny portion of wall that bowed out because the original kitchen chimney they used to cook with back in the day was covered up behind it. This view drove me crazy, and after looking at it for a few months, one day as I was sitting at my kitchen island, the solution popped in my head. Of course it took another few months for me to convince my husband to do the project, but we tore down the small portion of wall that was there, cut out the unused chimney, and created a built-in plate rack for me to display some of my favorite plates and antique cutting boards on. A few years after that, we replaced the door next to it with a sliding barn door, and now the unsightly "wall of doors" is still there, but looking so much better! You can see most of the process here!
What is your favorite space in your home? Why?
I would say our living room. I love my white slip-covered couch, and when you are sitting on it, you get a view into the dining room — through those columns I mentioned, and also a view of the gallery wall going up our staircase. For me, it's the one room that really reflects our family, with all of our pictures on the wall, and of course cozy blankets to curl up in and relax. It's where I go to unwind and refresh.
Are you completely done designing your home, or do you have more projects in mind for the future?
My husband jokes that I am never done. And while I would say I think we are nearing the finish line, there are still a few things I would like to do in our home. Replacing some of the carpet upstairs with hardwood floors, a few ceiling lights that could use an update, and our farmers porch could use a facelift, as most of the columns are starting to rot out.
Where are your go-to places to shop for home decor?
I would say HomeGoods and Target for sure. I also love finding good deals on Wayfair, especially for rugs and accent furniture.
Do you have a favorite piece of decor in your home?
This is a tough one! I always tell people to decorate with only the pieces you truly love, and I can tell you I have definitely done that over the years, weeding out those hand-me-downs we got when we were first married. If I had to choose just one, I would say this antique dough bowl I got for my birthday one year. I had wanted one for so long after seeing them in Pottery Barn catalogues, and my husband found a huge one at a local antique shop for me for my birthday one year.
Decorating a home can get expensive. What advice do you have for someone trying to renovate their home on a budget?
Start with paint! It's the easiest way to transform a space without breaking the bank. Next I would start with a few accessories. Some new throw pillows I absolutely love, or a new lamp, something that will help give the room a new look, until the budget allows for bigger purchases.
Do you have anything exciting planned for 2019?
I have the release of my first book! I've been working on it behind the scenes for pretty much all of 2018, and we are in the final stages of the design for it, and it is due to release this fall! It was a long-time dream to be able to not only write a book, but to also do all my own photography for it as well. It's a dream come true, and I can't wait to share it with everybody.
If you could tell your 22-year-old self one thing, what would it be?
Ohh man, there is so much I would say, but if I had to wrap it up into one statement it would be, "You are going to be just fine." I felt so lost after high school and in my early twenties, with no major to declare as to what I wanted to be "when I grew up." I was the only one out of my friends who didn't get a college degree, and I stressed out over feeling like I had no purpose. I wish I could tell my younger self to just embrace the process. That it all contributes to who you will become. Not to compare your stage in life to others around you, that there is a season for everything, and even the meaningless jobs you hate doing right now will teach you something. I guess to sum it up, it would be to not worry so much — you will end up doing exactly what you were meant to do, as long as you don't give up.
Bre Doucette is The Everygirl…
The best piece of advice you've ever received? 
No one else can be me. Only I can offer my unique style, taste, likes, and dislikes to the world.
Last item you splurged on?
A new winter jacket
Dream vacation?
European cruise
Most played song on Spotify in 2018?
Trouble by Ray LaMontagne
Something you plan on doing in 2019:
Giving my home office space a makeover!
If you could have lunch with any woman, who would it be and why?
Oh this is an easy one. Joanna Gaines. I know it might seem obvious to most, but honestly I would love to just tell her thank you. Thank you for showing me that you can be passionate about all things home and chase your dreams, and when you trust God with them, anything is possible.
GET THE LOOK