One of the most surprising and unsettling realizations that I've had as an adult is how expensive furniture is. Why do picture frames cost more than a Leonardo da Vinci original? Why are faux fiddle leaf trees worth more than my left kidney? And why does that one Anthropologie mirror I've been eyeing for years cost more than a four-year college education? I digress.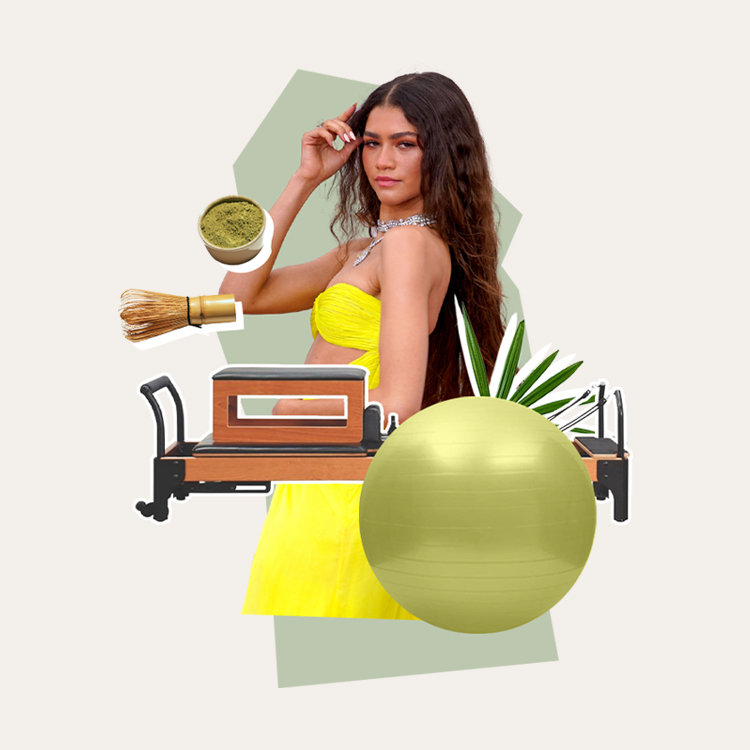 she's (kinda) just like us!
I've been apartment dwelling for about six years now and, no matter how many times I move, reevaluate my home needs, or decide to redecorate, I am always as sticker shocked as the first time that I Googled "apartment furniture" as a 22-year-old. When I finally said "goodbye" to studio-apartment living in 2021, I said "hello" to more space, which also meant that I welcomed the need for more/larger furniture to fill the space. It also gave me the opportunity to decide what pieces I wanted to ditch versus keep.
In my "to ditch" pile sat a shameful Amazon coffee table that I bought before I moved to Chicago in 2018. I can't dog on it too much—it was inexpensive (maybe $50) and it got the job done. But within four months of use, the faux wood was peeling before my eyes, and, for far too long, it served as quite a decor blemish. You get what you pay for though, right?
When I went about replacing my coffee table, I was looking at more expensive, investment options on West Elm, Pottery Barn, CB2, and World Market. But if I was going to spend $500 on a coffee table, it needed to be the chicest, most gorgeous coffee table I had ever laid eyes on. After weeks of browsing, I just couldn't find one I loved enough to drop that much money.
Then, as per usual, I was lovingly targeted by an Instagram ad that served up a carousel of home decor items from—wait for it—Walmart.com. The last time that I shopped at Walmart was probably on March 19, 2010 when Bieber's My World 2.0 hit stores. I swiped through the pieces and stopped dead in my tracks when I came across a coffee table that I thought would look absolutely stunning in my space.
When I saw the price, I gasped. $84.99? After a week of searching for the perfect addition to my living room, this was by far the most affordable price I had seen. It was even cheaper than the second-hand options that I was considering on Facebook Marketplace. But I had learned from my past coffee-table endeavor: You get what you pay for. Or so I thought.
I zoomed to the comments and reviews hoping to prove my previous experience and standing theory wrong. The reviews for this coffee table were sound. It had 97 reviews and averaged 4.6/5 stars. Customer-provided pictures looked a heck of a lot like the ones advertised. I added it to my cart and, unlike most online furniture purchases I've made, this one didn't make me want to projectile vomit when I put in my credit card information.
I didn't pay for expedited shipping but this bad boy arrived in three days. I barely had any time to vacuum the space. Up to this point, everything had seemed too good to be true. I had been burned before in the affordable furniture department so I proceed hopefully, but with caution.
Assembly took about 45 minutes and I only needed to pull a screwdriver out of my toolbox to complete the job. Putting it together was pretty painless and was honestly quite zen as I used it as yet another excuse to listen to the entire Folklore album. Note: Not all of my building endeavors are so peaceful. There is usually a mix of blood, sweat, and tears that make me consider returning the item altogether.
When I finished assembling it in the late hours of the night, I was absolutely stunned. I can't describe to you how expensive this thing looks. My favorite game to play when guests enter my apartment is to have them guess where my coffee table is from. So far, I've gotten estimates including but not limited to Pottery Barn, Wayfair, Target, and West Elm. Not once has anyone correctly guessed Walmart.
Not only is this coffee table absolutely gorgeous, but it's super sturdy, easy to clean, and includes storage that I haven't quite decided how I'm going to style just yet. Faux plants? Coffee table books? Blankets? Baskets of chargers? Snacks? The world is my oyster. Right now, the space is occupied by my cat, Gizmo, who is using it as a hiding spot to escape my affectionate clutches when she needs some privacy.
So thanks, Walmart, for reframing my mindset that inexpensive furniture is always cheap. This coffee table is a delightful exception to the "you get what you pay for" rule and, until further notice, I'll be raving about this coffee table to anyone who will listen.