There seems to be this pressure that holiday dinners are special. And while special doesn't necessarily mean fussy, it can be a little bit overwhelming to try to live up to all of that. You need to plan out each part of your meal (Will there be appetizers? Are you making cocktails or just drinking wine, soda, or water? What kind of food do you want to eat, anyway?), find recipes, write up a grocery list—and that's all before you even get to the actual cooking. Even if it's just Christmas dinner for two, it can feel like a lot really quickly.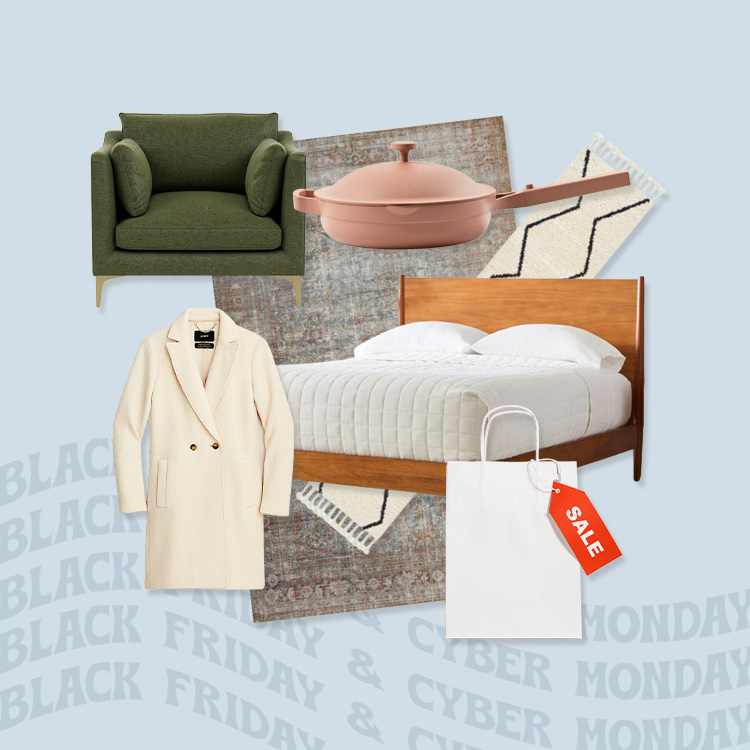 we combed the internet for the best OMG-CANNOT-MISS deals
Holiday dinners can absolutely be both special and easy (and when you're keeping celebrations close to home and smaller than you maybe otherwise would, I would argue they should be easy). To help with your planning this year, we've pulled together six different menus that will set your dinner apart from the usual workweek fare without leaving you feeling like you're in way over your head—no one needs that kind of stress this year.
Option 1
Side: Fried Brussels Sprouts with Lemon, Parmesan, and Breadcrumbs
Main: Slow Cooker Red Wine Sunday Ragù Pasta
Dessert: Flourless Chocolate Cake (with Mocha Whipped Cream)
Delicious pasta, savory Brussels sprouts, and a creamy, dreamy flourless chocolate cake? A pretty ideal menu (if I do say so myself, as the person who paired these dishes together). The day before, make your flourless chocolate cake. It needs plenty of time to chill before you serve it (only a couple hours, but you don't want to feel stressed, right?). The mocha whipped cream can be made the day before as well but preferably not too early. The day of, start with your sauce, which will spend plenty of hands-off cooking time in your slow cooker. Then, while your sauce finishes off, you'll have plenty of time to focus on frying your Brussels sprouts and pulling the meal all together.
Option 2
Appetizer: Prosciutto, Pear, and Arugula Rolls
Side: Simple Sautéed Greens
Main: Lobster Ravioli
At first glance, this might seem like it's a tricky menu. Homemade lobster ravioli? But don't fret, you're not making any fresh pasta for this recipe and everything can come together without too much fuss. Make the filling for the ravioli ahead of time to help cut down on last-minute stress (or even the ravioli themselves—Alex from The Defined Dish advised in the comment section that you can simply cover them with plastic wrap so that they don't dry out!). Slice your pears right before you put your appetizer together to keep them freshest. Finally, cook your greens while your ravioli simmers—neither take very long.
Option 3
Side: Smoky Maple Brussels Sprouts and Carrots
Main: Instant Pot Whole Cauliflower Piccata
Dessert: Vegan Red Velvet Cupcakes and Bourbon Vanilla Buttercream
Looking for a vegetarian main that will still be a show-stopper? A whole roasted cauliflower never disappoints. This one is seasoned with delicious, savory spices and a sauce reminiscent of chicken piccata. Because you're cooking your cauliflower in an Instant Pot, it cooks quickly. Prep your cauliflower, but don't start cooking until you're nearly ready to sit down to eat. The cupcakes can be made the day before so you're not spending your whole holiday in the kitchen. Make sure that you leave plenty of time so that the cupcakes are completely cooled when you ice them. If they're not, the icing will melt off the cake (not really the look you were going for). Then, when you're ready to make dinner, roast your Brussels sprouts and carrots and then finish with your cauliflower once the veggies are almost cooked (or even once they come out of the oven).
Option 4
Cocktail: Holiday Negroni
Appetizer: French Onion Tartlets
Main: Maple Mustard Salmon Sheet Pan Dinner
Start the day before with the filling for your onion tartlets. Pop that in the fridge—one less thing you'll have to do tomorrow. Then, the day of, mix up the cocktail and fill your pastry shells for the tartlets. Since the main dish is a sheet pan meal, you'll even have a bit of time for a snack break before making dinner.
Option 5
Side: Green Beans with Bacon Breadcrumbs
Main: Garlic Peppercorn Crusted Beef Tenderloin
Dessert: White Christmas Cranberry Layer Cake
Beef tenderloin is one of those dinners that looks impressive but isn't actually all that difficult to make. Though this recipe technically serves a crowd, you can cut down the recipe on the website (it'll do it automatically!) by adjusting the number of servings you want. Make sure to do that if you're just cooking for one or two. Since this menu includes a layer cake, that's where you'll start. You can make and fully assemble your cake the day before. Then, the day of, start with the beef tenderloin. You're going to need to let the beef sit out for a bit to come to room temperature, so don't get started right before you're hoping to eat. Leave yourself extra time. Make sure you have a meat thermometer handy—it's the only way you can be absolutely sure if it's cooked to your liking. While the meat is cooking, you'll have a little time to prep your green beans. Finish your green beans while the meat is resting, then slice and serve.
Option 6
Cocktail: Mrs. Claus Cranberry Whiskey Cocktail
Side: Harvest Fall Salad
Main: Sheet Pan Herb Roasted Turkey and Cranberry Pecan Stuffing
If your family traditionally eats turkey and all of the fixings on Christmas Day, you don't have to completely scrap that tradition this year if you don't want to. Opt for a turkey breast and this sheet pan turkey and stuffing situation to get all of those flavors you love without the work of a full roast turkey with all of the sides. Start with the star of the show and get that turkey and stuffing in the oven. While your turkey is roasting, you'll have plenty of time to make your salad. Finish with a festive, seasonal cocktail to tie it all together and make dinner all the more celebratory.