Ah, Christmas morning: the gifts, the mimosas, the smell of balsam and fir. And let us not forget the need to look presentable after having just woken up. The easiest way to do that? With a comfy, cozy outfit formula you already had filed in your brain.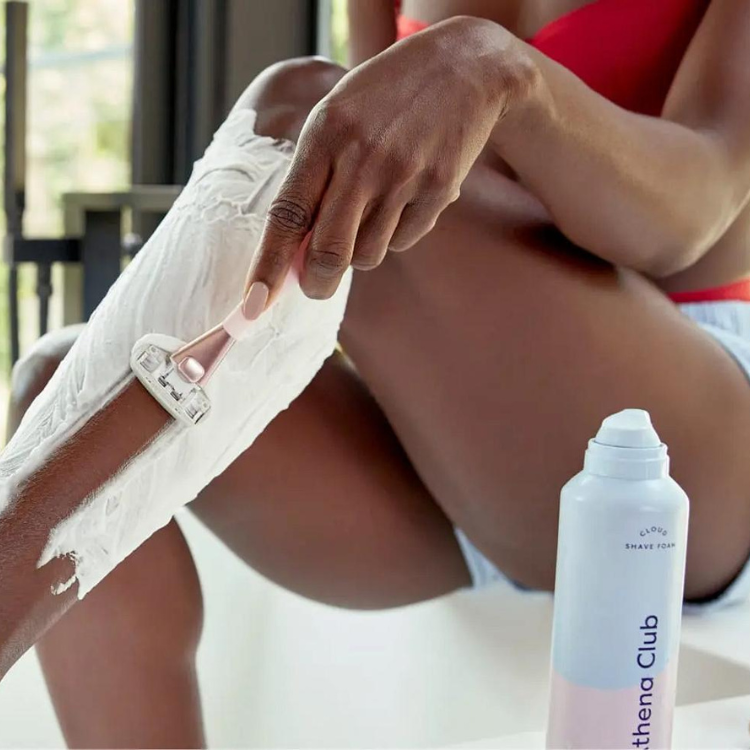 "This razor gave me the silkiest, smoothest shave I've ever had! I never get any cuts or scrapes, even on those hard-to-shave places."
While there is definitely nothing wrong with showing up to the tree in your favorite pair of holiday PJs, we also understand some desire to look put-together for the memories sure to be captured on many iPhones, or just to feel as festive as you possibly can. Your look doesn't have to be too fancy or over the top, but a great Christmas outfit is guaranteed to allow you to feel a bit more festive.
Rely on these outfit formulas this Christmas morning to keep you looking cute while staying comfortable for gift-giving festivities, holiday breakfasts, and all the best day of the year has to offer.
1. Faux-leather pants and a festive sweater
sweater | (plus)| faux-leather pants (plus) | boots | bag
Faux-leather pants make every outfit more chic, and are a surprisingly comfortable option (we're speaking from experience!). Pair them with a tunic sweater and block heels that will take you where you need to go in comfort, even when placed under the weight of the gifts you come bearing.
2. A sweater set and Uggs
sweater (plus) | lounge pants (plus) | Uggs
Loungewear that doubles as a cute outfit? Sign us up. Pair any matching pair of wide-leg pants and a cozy sweater together and all the grunt work of deciding on a Christmas outfit is already done. If you're hosting Christmas morning at your home or stepping out, Uggs are always a fan favorite.
3. A flannel shirt and jeans
flannel shirt (plus) | denim (plus) | bag | clogs
Flannel shirts and shearling details will always hold special places in our hearts—especially during the holidays. Add simple accessories to polish the casual, comfortable look.
4. A cardigan set and ballet flats
cardigan set (plus)| pants (plus) | flats | bag
Knit sets are a practical way to embody both style and comfort. If you're having a quiet Christmas morning at home, take full advantage of the situation and grab your coziest loungewear pieces. Add trendy ballet-flats for an ensemble that looks effortlessly put together if you need to step out.
5. A sweater dress and a trench coat
sweater dress | trench coat (plus) | boots
If you have to leave the house on Christmas morning and are looking to elevate your look beyond loungewear or jeans, then you can't go wrong with a sweater dress. Add festive flair with an iconic plaid scarf and keep the chic comfort going with an oversized jacket.
6. A cable knit sweater and slippers
sweater (plus)| jeans (plus) | slippers
Nothing says classic Christmas like a festive sweater. Wear it with a trendy pair of mom jeans for an effortless look made for mornings around the Christmas tree.
7. Pull-on pants and a collared sweater
sweater (plus) | turtleneck (plus) | pants (plus) | loafers | bag
Go outside your comfort zone and embrace the hues of the holiday with a color-blocked cardigan a pair of comfy trousers. Add a pair of festive earrings to add finesse to the look while sparing you added effort.