In case you've been living under a rock, the clean beauty movement is here, and here to stay. From celebs like Olivia Wilde backing safer cosmetics and skincare, to legal measures being taken to ensure our stores' shelves get cleaned up, literally, the toxic ingredients hiding in mainstream products are being brought to light. Finally!
hurry, it won't last long!
To give you an example of how behind the U.S. is when it comes to cosmetic policy, restrictions haven't been updated since 1938 (before WWII when a lot of chemicals were added). Chemicals like phthalates, parabens, sulfates, etc. are likely being applied to your face and skin everyday thanks to the products that we've relied on for decades. And not to totally freak you out, but these ingredients go further than causing allergies. Some of the most toxic of the ingredients are linked to all sorts of serious health issues.
If you want to take inventory of your medicine cabinet, this is a helpful list of ingredients to ditch.
Luckily, big stores and brands are getting behind this movement, with pure products improving greatly in terms of quality and effectiveness. And being a beauty lover but also understanding that health trumps everything, I've made it my personal mission to find effective safe products and to toss the toxic ones. After lots of trial and error, here are the swaps worth investing in.
Herbivore Brighten
I'm a huge facemask fan; Sunday doesn't feel right without one, so finding a clean option was crucial. I've been all about Herbivore's Brighten ever since trying it, and appreciate this mask for a number of reasons: 1. It comes with a cute applicator. 2. You barely need any. 3. You can see results instantly. 4. It's not messy (or an awful, weird color). This is an excellent once-a-week treat that evens out and brightens the complexion.
RMS Un Cover-Up

Even if I'm "not wearing makeup," I'm wearing concealer under my eyes and around my nose. Since this is something I couldn't live without, I've invested in quite a few. RMS proves to be the leader in multi-tasking while providing coverage. It's light, but definitely lessens my under eye bags or red splotches—without drying me out like a lot of mainstream concealers.

Source: @christinanadin
True Botanicals Hydrating Cleanser
I've been a long-time Cetaphil girl, and though it's a gentle, affordable option, it has chemicals. I've tried multiple clean cleansers since, and without a doubt True Botanicals is my fave. It doesn't have an odd smell or texture like some natural versions do – it actually smells amazing – and it strips makeup without striping skin. Is it weird that I truly look forward to cleansing now?
Primally Pure Sensitive Deodorant

If there's one thing I've wasted money on in the search for swapping out products, it's deodorant. Finding one that nixes smell alone has been a journey, and then consistency is another major problem. I started using Primally Pure's about a month ago and finally feel confident with a deodorant option.

Here's the thing—you will sweat, which for a lot of us isn't something we're used to. But it's necessary; I find that if I am getting sweaty, I just apply a little more product and everything soaks up.

Source: @tracy_joe_
ILA "In My Room"
I don't wear color daily, but if I'm going out, it's in my makeup bag. ILIA has the most gorgeous colors (personal favorite here) that actually hydrate lips and the lasting power is decent, too. It doesn't stick to my lips like some stains, but if you think about it, what chemicals are hidden in stains to make them stay on all day long? Kinda scary!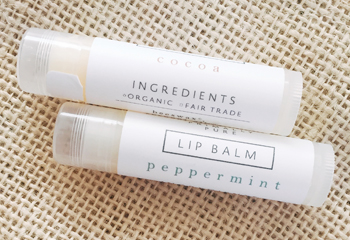 Primally Pure Lip Balm
For chapsticks, I've been super pleased with Primally Pure's line of lip balms. I always keep at least one with me and love the natural scents.
RMS Living Luminizer
The RMS highlighter has a cult following, so it's the first one I picked up—and I can't see myself buying anything else. It provides a glow from within and you barely need any to brighten up facial features.
Source:
@ninaagdal
Honest Company Apricot Lotion
Depending on my mood and the weather, I go back and forth between body oil and lotion. Lotion wise, Jessica Alba's company Honest has affordable options that blend well. Plus, I love the variety of scents to choose from.
Indie Lee Vanilla Citrus Oil
When I want oil, I'm crazy obsessed with the smell and feel of Indie Lee's Vanilla Citrus moisturizer. You're definitely oily for a couple hours, but sometimes that feels good.
Even making one swap a month is a wonderful start. I personally like to replace any product with a clean one once a toxic product is all used up—it's definitely the budget-friendly route to go.
Do you have any clean products that deserve a spot on this list?