As fall progresses and winter begins looming its chilly head right around the corner, it's normal for a little existential dread to set in. Swapping out beautiful plaid jackets and loafers for puffers and snow boots isn't a change we look forward to like we do when we swap clothes for other seasons, but that doesn't mean we can't make the most of it. Winter fashion can take on a whole new meaning when you have a solid arsenal of hacks under your belt to make it just a little bit easier for yourself.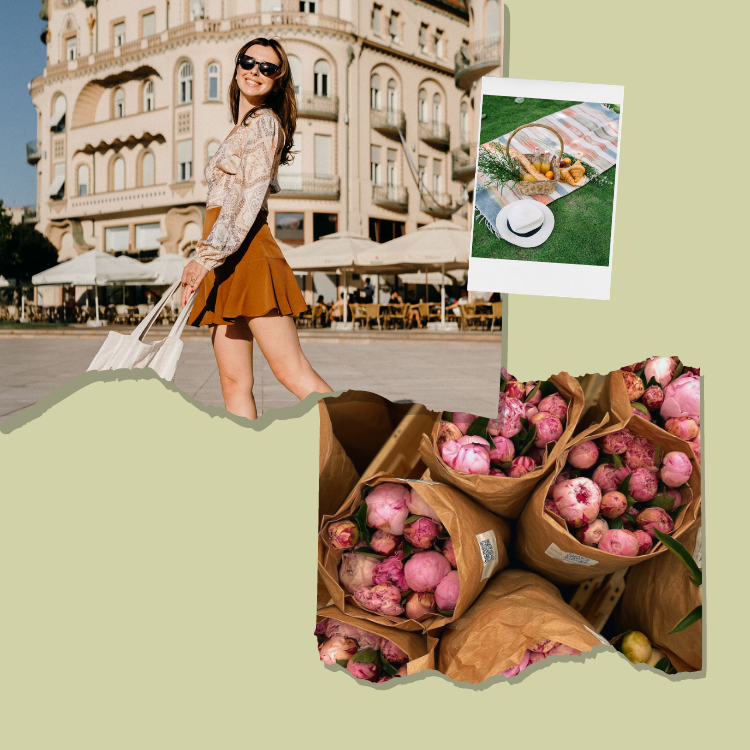 read this if you're in your saving era this summer
From not knowing how possibly to layer your pieces to stay warm, but not hot, to not being able to figure out how to tuck your favorite cable knit sweater into your jeans, winter dressing brings a whole slew of questions. But lucky for you, we have answers that'll make getting dressed for the cold months a breeze.
Whether we like it or not, winter is coming, but these six hacks will ensure you stay chic throughout the entire season.
1. Stop trying to tuck thick sweaters into pants
Sometimes, your sweater needs to be tucked in to complete your outfit, but trying to tuck your sweater into your bottoms is a recipe for disaster. It tends to make an outfit look bulky and sloppy—two things we're never trying to achieve.
Instead, you can get a tucked effect with the help of your favorite belt. Put a belt around your waist on top of your sweater, and buckle it so it's snug but comfortable. Then, pull the sweater out a bit over the top so it hangs over and hides the belt. It'll look exactly like you just tucked it in, minus the bulkiness.
2. Stock up on layering pieces
Not all layering pieces are created equal, and that's always evident the second you try to layer a jacket or blazer over a sweater that's a little too thick and you wind up not being able to move your arms. Instead, pick up a couple of basics for the purpose being layered underneath your other winter pieces. A sleek bodysuit, a turtleneck tank, a thin sweater—all of them can be worn on repeat underneath your jackets for a more seamless look.
3. Make your dresses wearable for winter
The easiest way to make your midis and maxis wearable in winter? Layer a turtleneck underneath. Not only will it keep you warm and cozy all day, but it'll look super chic and make your dress feel more appropriate for winter—especially if you also pair it with some knee-high boots that'll work to keep your legs nice and toasty too.
4. Stick to three layers or less
Just like two martinis is just right, but three are too many, four layers when it comes to clothes is just a liiiiittle too much. Instead, stick to the rule of three. You can layer a sweatshirt, blazer, and your winter coat, but putting a shirt under the sweatshirt would make it a little too much. By sticking to three pieces or under, you'll avoid being so bundled that you can't move your arms—we all know the feeling.
5. Layer your tights with socks
Tights are a winter essential (unless you want to walk around with bare legs every time you wear a skirt or dress), but they aren't necessarily super helpful in terms of warmth. To winterize your look, layer a pair of cozy socks on top that are high enough to peek out of the top of whatever shoes you're wearing for a cool outfit addition that'll keep your toes warm all day long.
6. Prepare shoes for winter weather
Odds are you have a go-to pair of winter boots that are meant for all kinds of terrain, but you probably don't want to wear those 24/7. Make your other boots and shoes more equipped for the elements with the help of a weatherproofing spray that'll help to ward off water and salt stains. Will they turn your shoes completely waterproof? No, but it'll help ensure you won't ruin them if you wear them out on a snowy day.
If your shoes do get salt or water stained, keep a leather and suede cleaner on-hand that you can use to remove the stains seamlessly and in turn make your shoes last longer.