Don't let the article's title or my fake tan fool you: I'm a Chicago girl through and through. It doesn't feel like fall without restocking up on sweaters, and Christmas can't come before it snows. But when I moved to sunny Los Angeles a few years ago, I was ready to give up hot chocolate, changing leaves, and the excitement of the first snowfall of the year—but I am not willing to give up these trends.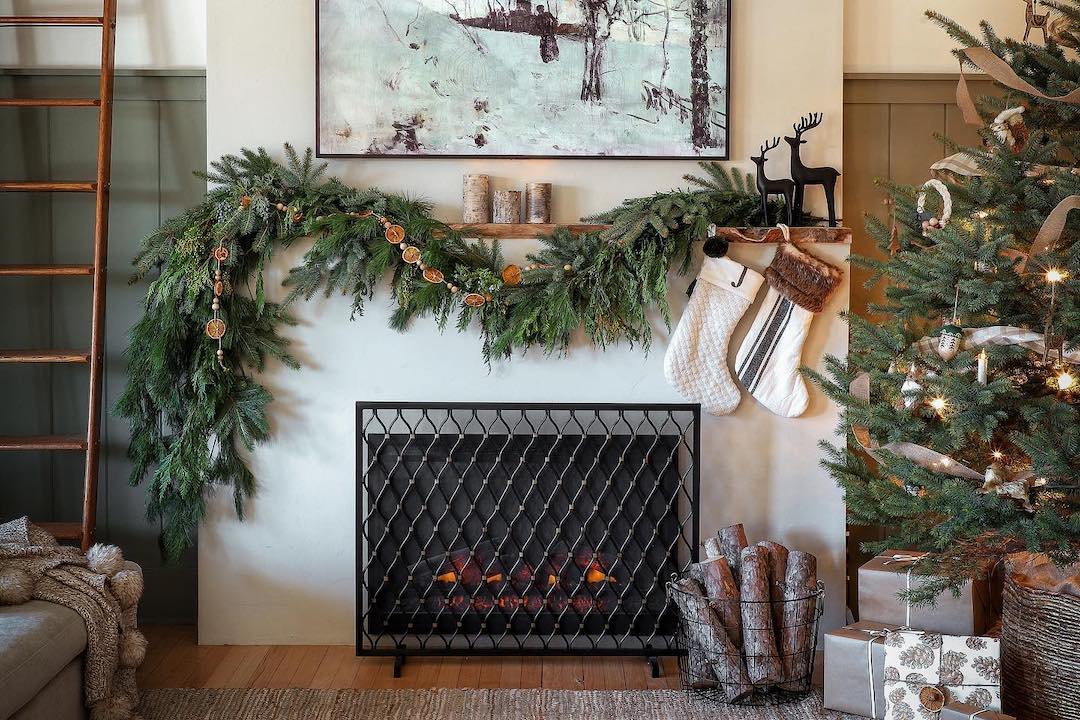 there's still time to deck your halls
Despite staying at home for almost an entire year, styles still come and go, and fashion feels just as fresh. This season brought trends so chic, unique, pretty, and bold that I just had to have them, even if the weather didn't permit. Whether you live in year-round warm weather or are currently parked in front of a space heater with your coat on indoors, you're going to want to indulge in these winter trends.
1. Everything Leather
Leather typically feels a little too hot and heavy for any temperature above 65 degrees. But this season said "thank you, next" to moto jackets, and leather started showing up in everything from fancy work trousers to sleek blazers. The everything-in-leather trend is so chic that I would endure a little extra sweat for the sake of fashion.
2. Cropped Puffers
OK, the last time someone wore a puffer coat in Los Angeles was, like, never. But in 2021, the cropped puffer is not just a tool to stay warm, it's a fashion statement. It has become my loungewear of choice when running to the grocery store (or staying warm in my A.C.).
3. Fringe Sweaters
I've been wearing cozy sweaters since stay-at-home started a year ago, so frankly, I'm bored of knit. But they're just so soft, there's nothing I'd rather wear during another stay-at-home day or one of the (few) chilly days in LA (curse you, cashmere!). So the fix for my sweater boredom is adding a stylish detail: fringe. Wear it as a cardigan over a white tee and denim, or rock a high-neck version with your favorite leggings.
4. Quilting
That's right: the pattern reminiscent of your grandma's go-to hobby is officially cool. Whether it's a lightweight puffy material or sleek faux leather, I can't get enough of the subtle trend. Even though it's traditionally on winter coats, I'll be stocking up on accessories, skirts, and jackets for staples classic enough to keep for years, but trendy enough to look of-the-moment.
5. Colored Velvet
Maybe it's the inner romantic in me, or maybe I've watched too much Bridgerton lately, but I can't get enough of luxe velvet in jewel-tones and royal hues (Penelope Featherington's OOTDs are a mood). Luckily, a lightweight piece like a blazer isn't too warm for LA, and a velour set of sweatpants is basically a must-have at this point.
6. Head-to-Toe Knit
Knit is no longer just a fabric; it's a way of life. So why stop at a sweater or shirt? Since legs deserve some love too, my winter outfit of choice is knit from head to toe. Whether it's a chic set (that looks way more stylish than my ratty old sweatpants and camp T-shirt), or a comfortably fitted midi dress (keyword: comfortably), I'm not giving it up, even as temperatures rise.
7. Statement Coat
Why should cities with cold weather have all the fun? I love a coat in a bold print or bright color because it makes any outfit look put-together and fashionable (no, seriously. Try it out yourself by throwing it over jeans and a tee). Don't think statement coats can last season to season? I've had the same leopard print coat for five years (yes, I have worn it in LA). And it always looks like I bought it that season.
8. Winter White
There's a reason white is the color of brides, angels, and snow: it just looks so pretty! (OK, maybe there are more logical reasons than the aesthetics, but you get my point.) I love a good white sundress come summer, but winter white is my favorite. Cozy sweaters and light denim are like making a statement with basics. To take full advantage of the trend, go head-to-toe white or opt for investment pieces (like a coat or bag) in the gorgeous hue.
9. Chunky Boots
Before you ask, no, I've never been considered athletic (I "played" volleyball in high school and sat on the bench the entire time). But just because I'm not athletic doesn't mean I can't be good at athleisure. I'm obsessed with the it-boot of the season: the chunky, functional, and practical athletic boot. They're like the trendier version of your old-school hiking boots. Since it never rains or snows in LA, the waterproof exterior is just a bonus.
10. Plaid Outerwear
What would Blair Waldorf wear in the winter of 2021? You can bet she'd still be rocking that iconic plaid outerwear. While a classic peacoat is always in style, I also love the structured shackets (shirt-jackets) of the season that are a combination of lumberjack-chic and your nice work shirt. Think: wide collars, a thick material, and an oversized fit.
11. Sweater Vests
All bets were off in 2020, so it's not surprising that one of the year's most fashionable items was originally rocked by Chandler Bing. And in 2021, the sweater vest trend isn't going anywhere. Wear it over collared shirts or turtlenecks while the weather is still cold, and I'll be transitioning it under blazers (or on its own with denim shorts) as the temperature gets warmer.
What cold weather trends are you obsessed with RN?