Here at The Everygirl, we're in the business of chasing dreams, manifesting careers we're passionate about, hitting up as many happy hours with our girlfriends as possible, traveling the world, finding our personal style, and being our most badass selves. But when it comes to keeping it together (read: trying to keep it together), we won't lie: Things can get a bit messy.
In our relentless pursuit to make our dreams a reality, we credit all of the planning, organization, and execution that gets us from point A to point B. So it was absolutely no surprise that you and the rest of our readers fell head over heels in love with our two seasonal day planner collections in collaboration with our friends at Day Designer. We absolutely loved seeing our planners in action and in the hands of the creative, career-driven, kickass women who held them, and—*spoiler alert*—the fun doesn't stop there.
We are so incredibly excited to announce our non-dated desk essentials collection in collaboration with Day Designer, available now at a Target store near you!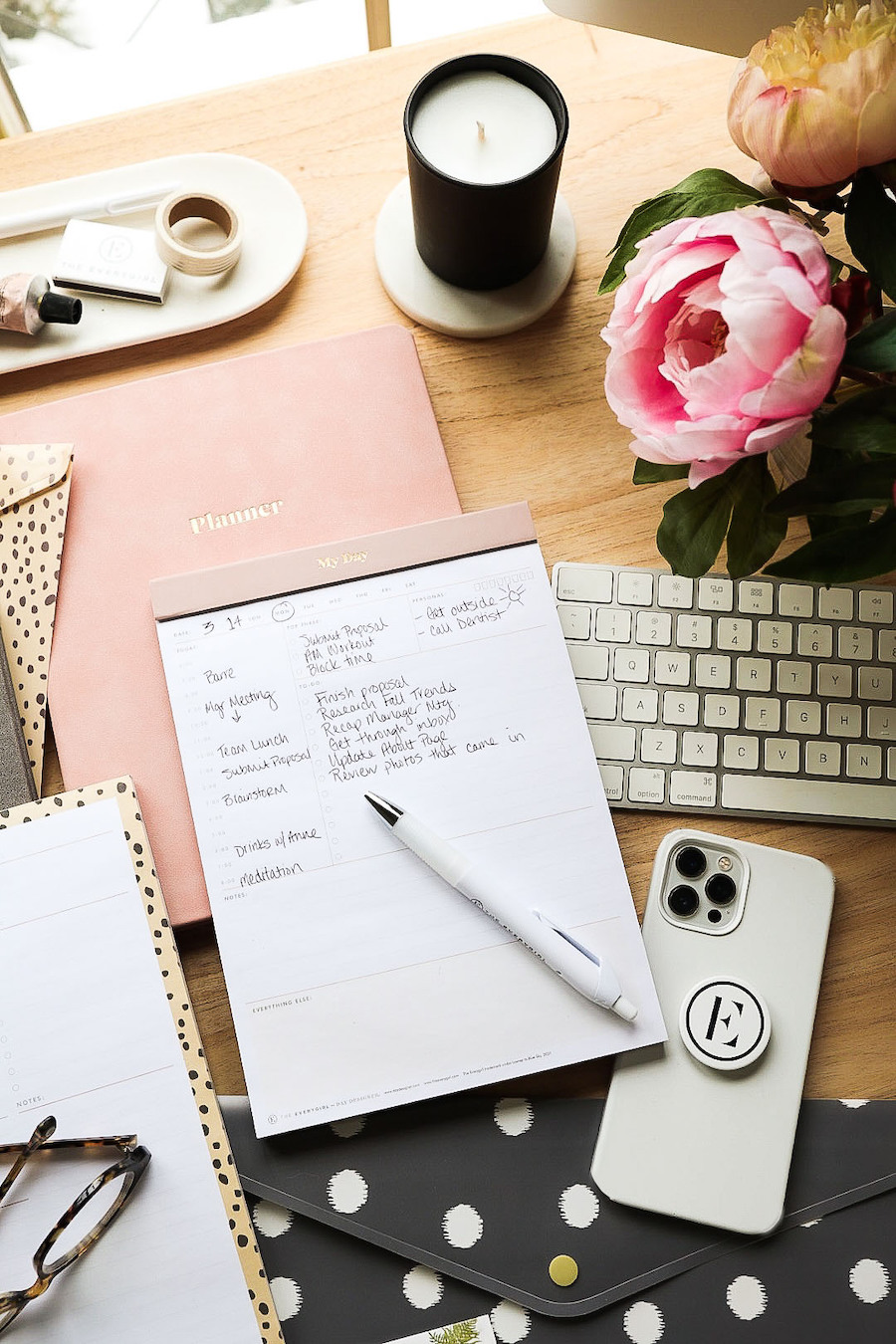 We're just going to say it: Getting our lives together has never looked so good. With high-quality finishes, our signature color palette that makes our in-house graphic designer swoon, chic designs, and intuitive layouts that make planning your life a breeze, our newest collection with Day Designer is as stylish as it is functional. Here's a sneak peek into our newest offerings that are on deck and ready to help you get things done and make more time for the things that drive you.
The Everygirl Desk Essentials Collection
*available NOW at a Target near you!*
Meet the new unsung hero of your next busy day and the go-to organizational tool that our CEO swears by. This cute one-page desk pad gives you your day at a glance and is formatted in a way that'll help you get a handle on meetings, brainstorming sessions, personal to-dos, water intake, and a back-to-back type of schedule. With a how-did-I-live-without-this "top three" section and an entire area that lets you plan your day by the hour, these desk notes help you get everything in your brain onto paper, organized, and prioritized.
For the list-makers and multitaskers alike, these blank notepads are a doodler's dream. With plenty of room for your ever-growing grocery list, your next big idea, keeping track of your to-read list, practicing gratitude, or jotting down meeting notes, this trio packs a punch and is a must-have for your desk, your on-the-go bag, and your bedside, ready to go when you are.
We're going to go out on a limb here and say that planning your upcoming weeks and months has never looked so chic. But this non-dated calendar with an elegant faux leather finish is more than just a pretty face. And if you aren't one to fully commit to the "use everyday" constraints that come with a dated planner, these have your name written all over them. With a generous 8×10-inch page size, flexibility to plan on your terms, and a huge section for notes, the world is truly your oyster.
These three envelopes are the office and home staple that you won't know how you lived without. Besides being undeniably cute, these folders have the ability to hold your most important documents, photos, and receipts in style. With three gorgeous patterns and functional sizes, these will help you get a handle on loose-leaf pages (and, therefore, your junk drawer).
Watching this collection come to life has been an absolute dream and we simply can't wait for you to get your hands on it. Whether you opt for the non-dated planner to stylishly plan the upcoming year, the notepad assortment to get your next game-changing thought into the physical world, the envelopes to help you get a mess under control, or the desk pads to make managing your day easier than ever, we know that you'll absolutely fall in love (all over again) like we have. If there's ever been a time to run to Target, it's now. This collection is one for the books.
See the full collection in Target stores now!