If you get a sense of déjà vu when looking at Julia Goodwin's gorgeous blue living room, it's because you've seen it before. A year ago, we offered a full home tour of Julia's then-bachelorette pad, complete with a signature pink wall that made us swoon.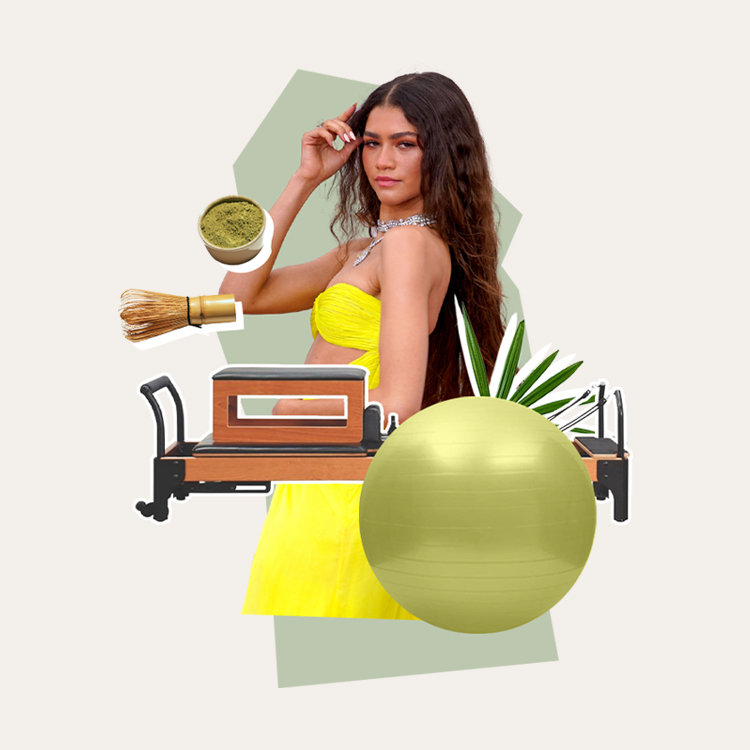 she's (kinda) just like us!
However, some big changes have taken place in Julia's life since then—for one, her fiancé moved in! In order to make the change from "me" to "we," Julia and her hubby-to-be decided to revamp their living room so it would reflect both their aesthetics and set the tone for the next chapter of their life together. The pink wall is gone, and in its place is a chic new dark aesthetic for the couple and their pooch.
Read on to find out more about how her business, Julia Goodwin Design, has grown, how Julia adapted her home to welcome her new housemates, and how you too can revamp your existing space like a pro.
Name: Julia Goodwin
Age: 34
Current job/company: Owner and Interior Designer, Julia Goodwin Design
Education: BA in Interior Design from California State University, Chico
BEFORE
AFTER
It's been a year since we've chatted! So tell us, how has your career changed, grown, or evolved?
So much! Through my business, Julia Goodwin Design, I've taken on more design projects than ever before, and I am enjoying how different each one of them is—no two are alike. I've also started a design and lifestyle blog called My Manicured Life, which gives me a creative outlet to help weave my passions for art, design, and culture with my business.
I've always received questions from friends and family about design, and I found myself sharing ideas and tips with social media contacts and people I meet while in my usual hunting grounds—antique fairs, tile shops, etc. My Manicured Life includes easy DIY projects, design tips, and general musings about life here in San Francisco from a girl with a strongly held belief that all things are better with a bit of lacquer.
So what made you decide to revamp your living room?
I work on projects quite often where two people decided to move in together and need help designing a space that reflects two very unique styles. Soon after my "bachelorette pad" was featured on The Everygirl, I found myself in the same spot! My fiancé, Brad, and his adorable 8-year-old boxer, Rufus, would soon be moving in. With rent control in San Francisco keeping renters feet firmly planted, starting fresh in a new place wasn't an immediate option. We wanted to make my place feel like ours, and we decided to start with the living room.
The aesthetic of the room changed dramatically over the course of the redesign—what was your motivation behind the shift?
We were ready to create a space that reflected both of our personalities, and we knew it would be a fun project to work on together! Even though it's a rental, I knew we could give it a whole new look by simply reworking some of my existing items and introducing Brad's belongings into the mix and space.
Walk us through the redesign process. How long did it take you?
We moved pretty quickly! We first discussed what we wanted the room to feel like, then which pieces to incorporate and which to get rid of. I think the biggest change was the paint color. I was sad to see the pink wall go! This apartment was once my bachelorette pad, but it was time for a change, and we wanted something dramatic.
We decided on a paint color called Soot by Benjamin Moore—it has a slight blue tint to it, and since the apartment gets a ton of natural light, I knew the dark color would work. Painting a room that has so much molding, especially with a dark color, takes a lot of time and isn't easy, but we rolled up our sleeves and completed it over the course of a weekend. I decided to paint all the way up the ceiling this time, which helped to make the ceilings feel a little higher.
BEFORE
see more of Julia's "before" apartment here
AFTER

Dark colors can be intimidating. How can you tell if dark paint will work in a space?
I would recommend painting your walls a dark color only if the space gets a lot of natural light. This is definitely my number one tip and consideration. If you are still uncertain, try painting a large swatch before proceeding—look at it during different times of day to see how light affects it. And if you have darker-hued furnishings, bring in lighter furnishings and accessories. Quick tip: Add a lighter throw over a sofa for a quick change.
How did you decide which furniture pieces to keep and which to replace?
We didn't actually get rid of too many pieces. The ones we kept were for sentimental reasons—they were well made and still functional for us. The bookshelf, the accent tables, and chairs stayed while the white rug was replaced, as it had seen better days and was not going to be dog friendly.
I had been keeping my eye out for a multi-colored rug that would give the room depth and work with a high traffic area such as the living room. We spotted this one, and it was a quick and easy decision for us. We also sat down together to sort through books and accessories, kept what we each felt was important to us and using those items, we edited and styled the room.
While we still got rid of the pink wall, Brad liked the shade of pink in the sofa from the office, so we simply switched the sofas, keeping a shade of pink in the room that doesn't feel overly feminine to either of us. I believe you never are completely moved into a place until the art is on the walls! These final pieces made the room feel complete. The artwork was taken from other areas of the home, and we introduced a piece that was a gift to us both.
How should the design process change when there's an animal living in the space?
You have to consider the materials you're using in the house. Your flooring is going to have to endure a dog's (or cat's) nails, and if you're a renter, you might need to place area rugs to protect hardwood floors. When you're choosing rugs, avoid overly woven or nubby fabrics, as the animal's nails can get stuck in these and ruin it. When it comes to furnishings, make sure you're thinking through who's going to use the furniture–is the dog going to sit on the sofa? If yes, you're going to have to consider the color—white won't work!—and how easily it can be cleaned, as well as the fabric.
BEFORE
see more of Julia's "before" apartment here
AFTER
Any tips on how people can make their current decor work with a new design concept?
If someone is looking to use their current decor with a new design concept, they should reexamine the furnishings they have around their home, and then edit and edit again. Switching out your artwork, lighting (including lampshades), and accessories can be a quick way to bring new life to a room. Try adding a blanket with a fun print over a headboard for an instant change. Accent pillows are a great way to liven up a bed, sofa, or chair, and there are tons of well-priced options out there. Have a lot of books? Arrange by color or even turn the spines to the back to bring in texture to give a bookshelf new life. It doesn't take a lot, you just have to look at it from another angle.
Paint is a great way to switch up a space giving it a whole new look without spending a lot. Don't be afraid to go bold!
What advice do you have for someone who wants to change up her home but doesn't know where to start?
Look for pictures that inspire you, and then see what similarities are in each of them. It could be colors, style of furnishings, textiles, and more. These are what you are naturally drawn to! From there, I would start by editing what you already own, keeping only the items that mean something to you and will work with the overall style that you want to achieve.
Be clear on your budget and stick to it. After you have edited what you already own and have a clearer view of your goal, list out each item and break down the cost—this will help you look for deals where needed. Meeting your design goal without going over your budget will allow you to enjoy the space that much more!  Overall, take your time and enjoy the process, allowing your design to evolve you as you work on your home.
You've walked us through a typical day, and you're a busy lady—how do you balance your personal projects with your career?
My work is my passion and for this, I am extremely grateful! Though it does creep into personal time often—as a creative person by nature, ideas, and design concepts never stop. I work on my own personal projects when I can, a little here and a little bit there. My own design process is an organic one, evolving each day depending on my needs and wants from my home.
What's your favorite thing about your home?
That it's flooded with natural light, which provides a nice welcoming feel.
What's next for you? Where do you see yourself in five years?
I started my company in 2008, and I am really grateful that my design business, along with my blog, have grown quickly and continue to gain momentum. I envision expanding my design team and taking on even larger projects that will provide more growth for me as a designer and business owner.
Personal projects will continue to grow as well—we recently purchased a home here in San Francisco, and I can't wait to remodel it, though we have decided to live in it a year prior to doing so. This will give us time to settle in, and see what our needs and wants are for the home. I can't wait to get started!
Julia Goodwin is The Everygirl…
Secret talent?
I think it is finding that "diamond in the rough," and then taking that and introducing it into a home in a way that it feels like it always belonged there.
Favorite way to unwind?
I love to do crafts and draw, and both of these work wonderfully with a glass of wine.
Dream design client?
Will and Kate—we would be best friends of course.
Best advice you've ever received?
To network! Don't be afraid to introduce yourself and ask questions. There is no shame in asking for help, ever. Reach out to those you admire—chances are they were in your place once and will be happy to help. You can't do it all, you can't know it all, but seek and you will soar.
Product Sources
Paint Color, Benjamin Moore
Sofa, GusModern
Leather Pillow, Potterybarn
Luminous Dots Pillow, Anthropologie
Blanket, Ikea
Chandelier, West Elm
Table Lamp, Target
Side table, Alameda Flea Market
Gold Accent Table, Target
Coffee table, ZGallerie
Tray, World Market
Area Rug, Loloi
Leather chair, Alameda Flea Market
Pillow on chair, West Elm
Blanket on chair, West Elm
Gold Pouf, Lulu & Georgia
Curtains, DIY
Swivel chair, Alameda Flea Market
Media Console, Target
Bookshelf, Ikea and DIY
Artwork, Society6
Artwork, Georgia O'Keeffe Museum
Glassware, Homegoods, One Kings Lane, Crate & Barrel