As the Manager of Strategic Channel Support at a Minneapolis start-up, you'd think Colie Christensen would be busy enough – but once she and her husband began renting an adorable home in the city's North Loop, she took on a few new roles as well:  designer and renovator! Colie's passion for interiors led her to design a space right out of our dreams. Here, she shares her best tips for maximizing space, for decorating with your spouse, and for unwinding after a long day.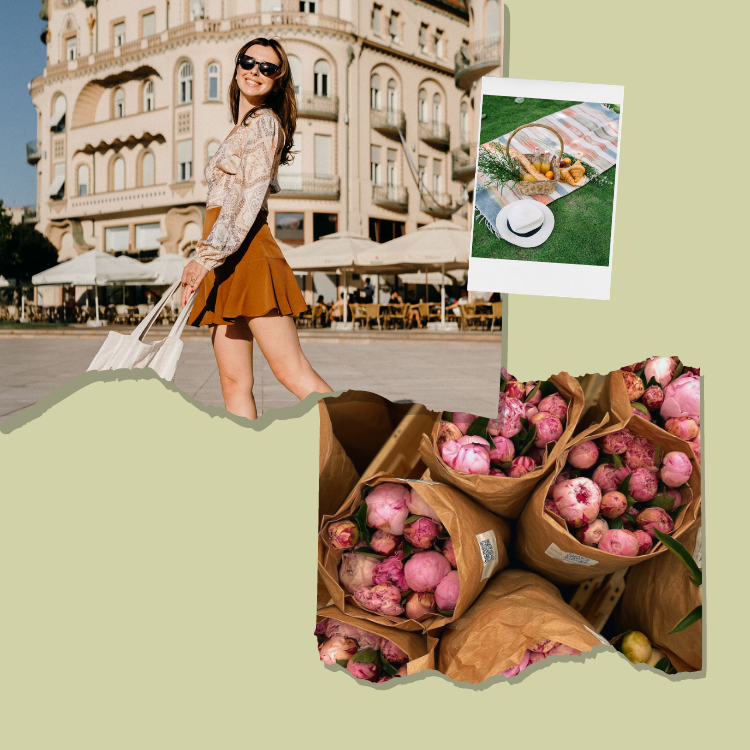 read this if you're in your saving era this summer
Name: Colie Christensen
Age: 30
Square Footage: 781
Rent or Own: Rent
City: Minneapolis, MN
Not only do you have a beautiful home, but you have an impressive career as well! Tell us about your job at Minneapolis start-up, When I Work.
When I Work is a software company that develops web and mobile-based apps to help businesses schedule, communicate, and track time with their hourly employees. Over 50,000 workplaces worldwide rely on When I Work to make sure they have the right people, at the right place, at the right time. I'm the Manager of Strategic Channel Support, which is a liaison between sales and marketing to ensure both teams are working together to achieve our goals.


How did you and your husband work together to create a space that feels like home to both of you? Which pieces did you keep from your single-girl home?
Well, sadly he had to leave his Michael Jordan posters in storage (kidding). He let's me take the reigns with our home design because he knows how much I love it. I used to have more of a feminine taste, but now I try to compromise with masculine decor and get his input. He loves to joke when we have people over by saying, "Do you like my decorating?" We have pieces from both of our parents incorporated which helps make it feel like home to both of us as well.
He let's me take the reigns with our home design because he knows how much I love it. I try to compromise with masculine decor and get his input.



How did you find your home? What were you looking for and how long did the process take?
Since we didn't live in Minneapolis at the time, I did all my looking online and created a spreadsheet of all the details to compare apartments by location, size, amenities, price, etc. We didn't have a lot of time to search for apartments because we were on a tight timeline. We knew we wanted to be in the North Loop, because the location was fantastic and I had a list of things I wanted, like white kitchen, natural light, wood floors, open concept… so this was the top choice. I called the building manager, had her walk me through the apartment via Facetime, and a day later we decided this was it.
Were there any quirks in your home you had to decorate around? If so, tell us how you made it work.
The apartment layout is very long and open to begin with and there's this space between the kitchen and living room that is meant to be a dining room. I didn't want to overcrowd that space with a table and I like the flow between the rooms so I added the bar cart/buffet instead. It works great and doubles as storage.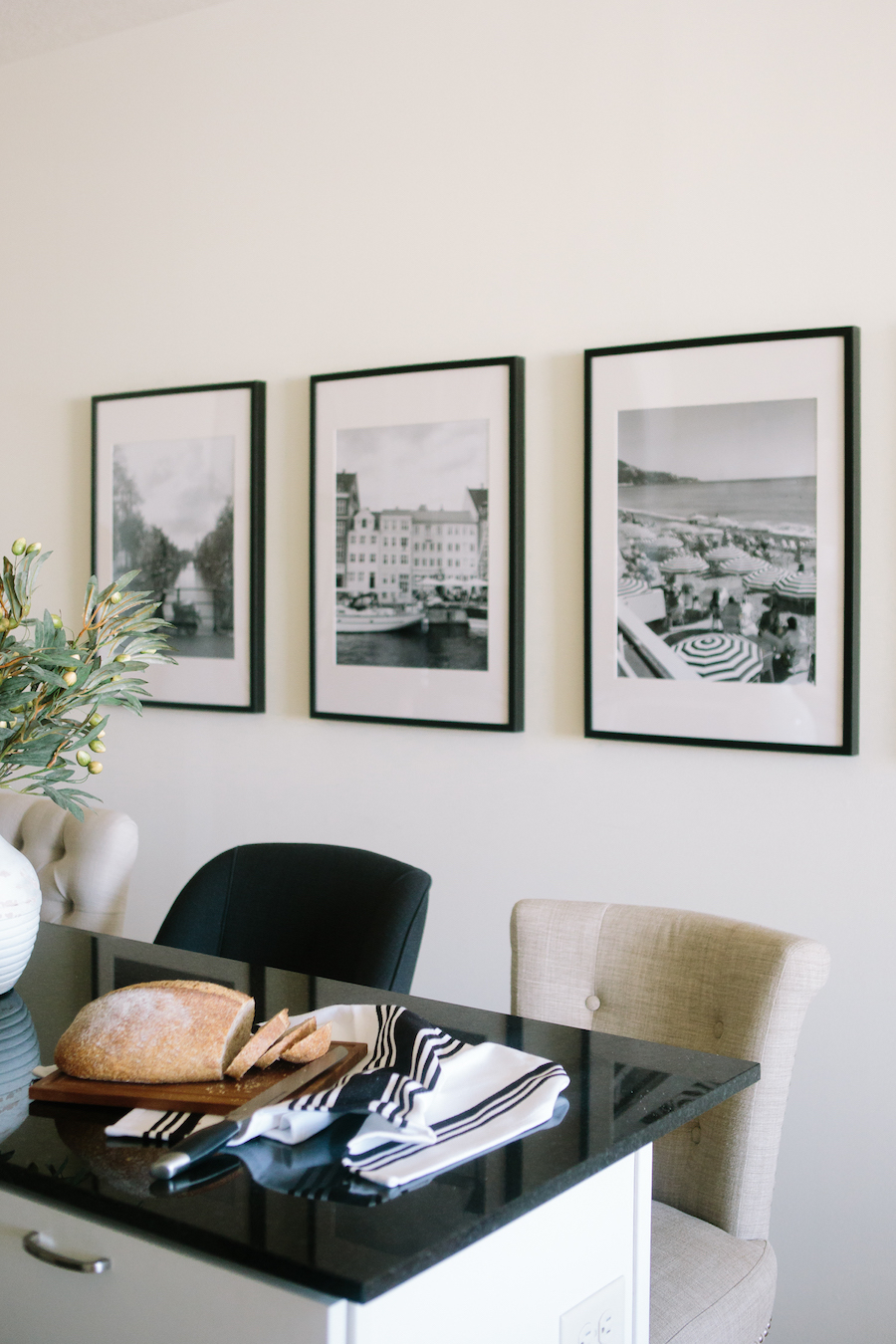 Tell us about the ways you incorporate color into your home. You seem to utilize a lot of key white pieces with splashes of color — tell us about those decisions!
I'm drawn to neutrals and clean bright spaces, but I also love eclectic style. Our main pieces of furniture (like the couch, bookshelf, and bar cart) are basic, which lay the neutral foundation and allow layering of colorful accents. I tend to plan the style of spaces, but when I randomly find something that stands out, I get it. I love finding pieces at vintage stores that others might not see the beauty in.
How long from move in until you felt the space was "done"?
It took a few months to get it to a place where it felt done. Hanging things on the walls took the longest. Since we rent, I wanted to make the fewest nail holes possible, so I planned out everything I hung very meticulously. But, it never feels fully "done." I'm constantly moving things around, swapping out pictures and accessories.
What's your favorite feature of your home? Do you have a favorite room as a whole, or a favorite piece?
Natural light is a big must have so the large windows were the selling factor. As far as favorite pieces, I have a lot of them since I try to only decorate with things I love. But if I had to choose, it would be items from both of our parents' homes because of the history.




What was the most difficult room to decorate?
The bedroom. It needed to serve as both a bedroom and workspace and since we have two TVs, one had to go in there as well. There turned out to be quite a few large pieces of furniture we were cramming into 160 sq ft so finding the right positions took some time to figure out.
Your home is an excellent example of space used well. What are your best tips for maximizing a small room's potential? How do you make each room feel larger?
Buy pieces of furniture that double as storage. When we first moved in, I bought a few pieces from IKEA — a bookshelf for all our books and a bar cart (well, it was a cube until I added legs) to house extra dishes. The pieces are also white so they blend in with the white walls and don't take up so much visual space.
Our floor plan is very long and open with consistent flooring and wall color throughout which helps make it feel like one big open space instead of choppy sections. The large rug in the living room defines the space without closing it off. I like the open floor plan since people tend to congregate in the kitchen, well really the whole living room feels like you're still in the kitchen, haha.
Your home is in the North Loop in Minneapolis, a place well-known for its frigid winters. How do you keep your home bright and cheery even when the weather is gloomy?
It's tough some days when daylight is short and temps below zero, but I enjoy all the seasons. Our floor to ceiling windows help keep our place bright year round. I bring in fresh flowers to give our space life during the coldest days and we open the windows every chance we get to bring in the outdoors. We live right by the Mississippi River and there's something beautiful about hearing birds chirping, dogs barking, and the smell of a grill on a sunny day.


A lot of the pieces in your home are both stylish and functional. So much of your furniture doubles as storage! How did you find and incorporate these pieces?
Coming from a 1,200 sq ft apartment, we knew storage was going to be an issue so I chose furniture that would double as extra storage. I love the open shelf look too so even stacking cake platters and bowls above the cupboards worked out great. We've tried our best to utilize every square inch of space in our place.
Where are your favorite places to find furniture and decor? Where are your go-to shopping spots?
I love a good deal and vintage things, so thrift and antique stores are my favorite spots to find both. Hunt & Gather is my go-to vintage store. The things you find there are one of a kind, which makes it feel special. I can always find things at Home Goods, Target, and on Etsy as well.
What was the best part about designing the decor of a home with your husband? What's the best part of married life in general?
Let me answer the latter first. The best part about marriage is having someone to share your best and worst moments with. Everything we face in life, we face as a team. A part of marriage is also supporting each other's interests and passions, which leads me back to the first question. He knows interior design is one of my passions so he lets me lead and sprinkles in his opinions.
The best part about marriage is having someone to share your best and worst moments with. Everything we face in life, we face as a team.
What's on the horizon for you and your husband? How long will you stay in this home and in this city? What will you look for in your next home?
Since both of our offices are blocks from our home, it makes a lot of sense for us to stay here for awhile. I can't wait to buy a home though and Minneapolis is full of homes with character. I stalk Redfin daily for Tudor homes and would love to one day renovate an older home. Don't tell my husband though!
What advice would you give to your 23-year-old self?
Don't care so much about what people think and travel as often as you can. Also, ditch the multiple layers of mascara.
Colie Christensen is The Everygirl…
Coffee or tea?
Coffee, por favor.
What food is your biggest guilty pleasure?
Haagen Dazs chocolate chip cookie dough ice cream. BUT, Halo Top has a version that is much "healthier" (and actually tastes great) so I usually choose that, then I don't feel so guilty.
Favorite way to unwind after a long day?
A glass of wine and a good story from my sister.
If you could have lunch with any woman, who would it be and why?
Queen Elizabeth II. We're currently watching "The Crown" and her reign as queen is so full of adventure and history. At 95 years old, no doubt she'd be able to teach me a thing or two.