If you caught all of our editors in a room together, it would take a matter of seconds to get a good feel for all of our personal style. Kelly is always effortlessly chic in minimal neutrals, Beth would be fearlessly wearing a combination of bright colors (with a coordinating eye look, of course)—how different each of our taste is has always been a staple of our office.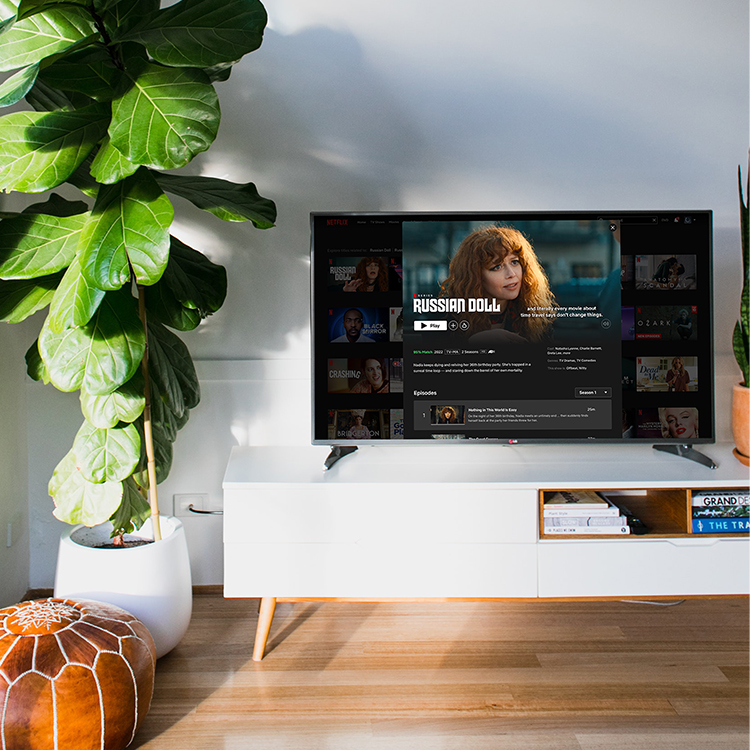 stop mindlessly scrolling on Netflix—these shows have our seal of approval
Things are looking up around here, and our minds are finally in a place where we can process wearing real clothes once again. Some of us are still holding onto our loungewear with a white-knuckled grip, others are diving full-force back into jeans, and a handful of us are figuring it out with something in-between. There's no hard-and-fast rule for what we should be wearing right now, but these are the outfits each of our editors are wearing the most right now. Need a little inspiration for the next time you get dressed? Look no further.
jeans / tank / sandals / bag / sunglasses
I'm going through a major phase of loving wearing color, and light blues and turquoises are at the top of my list. This super simple top paired with full-length '90s-inspired jeans, comfortable sandals, and this adorable woven bag is my uniform right now for any time I need to leave the house. — Madeline, Fashion Content Manager
leggings / sweatshirt / sports bra / sneakers / sunglasses
I wish I was the girl who could wear jeans or a blazer while working from home, but alas, I am the girl who can only manage to put on leggings every morning (bonus: I don't have to change when I get a 30 minute break to do a workout!). I love some neutral colors, a cozy sweatshirt (I'm cold 24/7, even in summer), and a good pair of white sneakers. — Josie, Wellness Content Manager
shirt / jeans / sneakers / bag / necklace
I'm having a sartorial crisis in which every single thing I own is either work clothes or home clothes. I simply have nothing for any occasion in-between. A button-up felt like a perfect choice to add to my closet because I can wear it basically anywhere I go. Of course, I paired it with jeans and a bag in a color-blocking bright shade for some pizazz along with slip-on sneakers because what the heck are socks when it's 80 degrees. — Beth, Beauty Content Manager
top / skirt / sandals / bag / sunglasses
I'm loving flowy dresses and sets this year, and this matching-skirt-and-top situation is an elevated look for summer days, but feels as comfortable as can be. I'm planning on using this rattan bag as the perfect seasonal addition to all of my outfits until fall. — Maya, Contributing Fashion Writer
jeans / shirt / sandals / hoops / bag / sunglasses
I'm all about a go-to outfit formula that I can wear again and again but always feel chic in. This classic jeans and a tee combo paired with fun, '90s-inspired accessories is what I'll be wearing all summer long. — Jessica, Assistant Editor
joggers / tank / hoodie / sneakers / hoops
If I'm honest with myself, I'm never returning to "real" pants. Joggers feel about as real as I want to get and I love that these still feel pulled together enough for public consumption. And I'll always be firmly in the camp of adding gold hoops to anything makes it instantly an outfit. — Kelly, Senior Graphic Designer
tank / jeans / sneakers / sunglasses / bag
2021 is the year I finally admit I am happiest in baggy jeans and sneakers. I'm always drawn to neutrals, but these shoes are my favorite way to add some color to my otherwise black-white-and-denim wardrobe. — Abigail, Social Media Editor