You want to be the type of person who listens to podcasts regularly. But as with everything on the internet, there is a near endless number of podcasts that we could be listening to. Options are great, but they present one huge problem: Where on Earth is anyone supposed to start? On top of that, we're so busy that committing to a podcast with hundreds of episodes already recorded seems like an impossible task—where are we going to find the time? We totally get it; there are so many out there, and also, are the top five listed in the charts every week really that good?
The trick to listening to podcasts is that you can basically do it while doing anything else. Washing the dishes? Open up your podcast app of choice and hit play. This goes for folding laundry, going for a walk, or, hey, you could even listen to a podcast during your workout instead of that 2010 Hits Playlist.
There's a lot more time in the day than you realize to listen to a podcast. It's happened to me endless times—I'm completing a low-stakes task and I come to the realization: "I could totally be listening to a podcast right now." Sooner or later, you'll look just like me, walking down the street laughing along with the host as if you two are longtime friends—trust me, they'll definitely start to feel like it. As for the question of where to begin, lucky for you, we're here to help you get started. We've rounded up what our editors are constantly listening to below.
I don't listen to podcasts too often (something I'm hoping to change after seeing all of the other ones that my coworkers are loving), but when I do, I'm listening to Life with Marianna hosted by Marianna Hewitt (cofounder of Summer Fridays and certified social media baddie). Besides the fact that I've come to absolutely idolize her, I really find the network of who she chooses to interview so interesting, especially as someone who works in media. From brand founders to influencers to other inspiring personalities and beyond, I always take away something from her podcast that can help me in my personal life or career.
– Ashley, Branded Content Editor
I listen to a lot of podcasts, but this one is my favorite when I need a good laugh and to feel like I'm hanging out with some girlfriends. Girls Gotta Eat is a comedy podcast all about dating, sex, and relationships, but the cohosts, Rayna and Ashley, also cover more topics like women empowerment, self-care, pop culture, and living your truth with the help of comedians, experts, and friends. This is a podcast I continue to look forward to each week and always either learn something new or get a different perspective.
– Keely, Senior Social Media Editor
As far as crime podcasts go, this is simply the best. They tell stories in a factual, concise way, as if you were talking about it with a (very educated) friend. I listen to every single episode they come out with, and they never disappoint.
– Maddie, Fashion Content Manager
As it's one of the OG popular podcasts, I've been listening to TSC for 6+ years (what can I say, I'm loyal). As someone addicted to self-improvement, I love their content centered on optimizing your life in every area, and the wellness experts they bring on to interview are unmatched. But the best part IMO is that they have a wide variety of guests from reality TV stars to finance experts to bestselling authors to share their stories and tips—and many guests they admittedly don't agree with. The no-frills honesty is refreshing and the husband-and-wife banter keeps things lighthearted and fun.
– Josie, Wellness Editor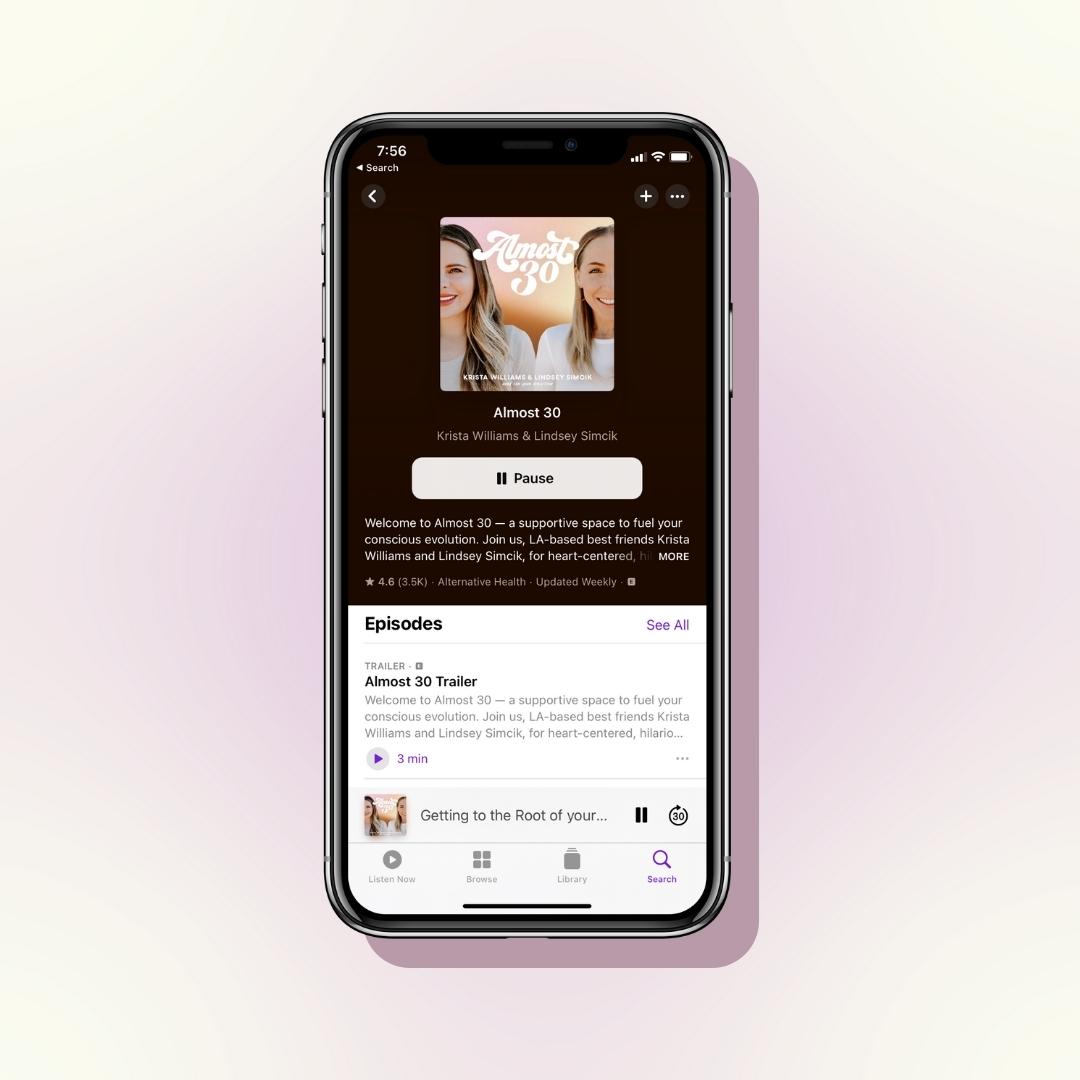 Almost 30 started when the hosts were going through their Saturn Return (which you can thank for that particularly turbulent time between 27 and 29) to help their listeners navigate their personal evolutions, and let me just say, I am hooked. I have been listening to this podcast for years and it has been so impactful for my spiritual journey and personal wellness. It's the kind of podcast where you want to take notes and then fully revamp your life after each episode. Their guests are amazing, and I so wish I could actually be friends with the hosts, but in the meantime, I'll stick to tuning in to the podcast.
– Jessica, Social Media Editor
As far as true crime podcasts go, Morbid is definitely my favorite! Alaina and Ash provide the perfect banter while still telling the whole story. These two not only have great chemistry, but the pace of the podcast also keeps you engaged. They really know how to tell the whole story, giving multiple perspectives, and also know how to convey real crime cases without making your stomach turn.
– Andi, Social Media Coordinator
I will listen to just about any beauty podcast out there (my Spotify wrapped assumes it is the literal only podcast genre I listen to), but Smell Ya Later is an underrated gem that I am, quite literally, obsessed with. Sable Yong and Tynan Sinks, two beauty editors and writers, took a whole different approach by focusing entirely on fragrance. In each episode, they discuss new favorites, talk about what perfumes they're loving, and interview people in the industry. They are hilarious and witty to boot and have made me run to the nearest department store to smell a perfume more times than I can count. And if anyone can make me believe in the magic that is Ariana Grande "Cloud" perfume, it's Smell Ya Later.
– Beth, Beauty Content Manager
The phenomenon of manifestation is blowing up like never before, but it's a cultural practice that I've ascribed to for quite a while that has made such an impact on my life. I was feeling a little stale on the Law of Attraction and not in a great headspace—until I found this podcast. I binged like 10 episodes in a few days, and my mood changed ten-fold. To Be Magnetic focuses on neural manifestation that combines the Law of Attraction with actual neuroscience, and it's both fascinating and easy to understand. I've learned so many coping mechanisms from this podcast that have helped with comparison, anxiety, and negative self-talk. Listen to episode #122 and thank me later.
– Beth, Beauty Content Manager
You know when you discover your latest favorite show, book, or movie, and everyone online is talking about it but no one in your real life has caught up yet? Chances are, Pop Culture Happy Hour has talked about it. It's great for when you're not too sure if you want to give that silly new sitcom a chance, want to know more about Netflix's latest movie with that super cute up-and-coming actor, or even just need to hear someone else gush about your latest favorite limited-series drama. Pop Culture Happy Hour is definitely your outlet for all things media.
– Bella, Editorial Intern
While I dabble here and there in true crime and other lifestyle podcasts, What We Said is the only one that I listen to every single week without fail. It's hosted by two influencers/entrepreneurs (and best friends) Jaci Marie Smith and Chelsey Jade Curtis. I love their personalities so much, and whenever I listen to this podcast I feel like I am chatting with some of my closest friends. I also love the variety—they podcast about everything from life advice to true crime stories to listener-submitted stories that make me cry laughing at my desk. I get so excited every Tuesday to listen to a new episode, and it truly makes my days better.
– Jess, Associate Editor & Jr. Graphic Designer
There are a lot of wellness podcasts out there, but The Blonde Files is one of the only ones that I listen to on a (very) regular basis. Every Wednesday, I get excited to hear Arielle Lorre's honest tips and advice on everything from sleep hacks to stress management, workout routines, and more. She even throws in details about her life in Hollywood and the celebrity gossip that comes with that—which I love. This podcast is truly the perfect mix of informational and lighthearted, so it makes me feel like I am chatting with a trusty friend while getting the latest scoop.
– Hailey, Editorial Assistant