When I started seeing my therapist a year ago, I was mostly looking for someone to listen to me and tell me how to fix my problems. What else is therapy for? After a few sessions, I learned that therapists are for more than listening, and mine loves to pull me out of my comfort zone and make me feel emotions I usually avoid—like anxiety.
If you've ever experienced overwhelming worry or stress, you'll know the lengths one can go through to just push through, "be productive," and figure everything out so you don't have to sit with the emotion of anxiousness. Then, once I get everything done, I'll self-soothe, maybe with my Equilibria Daily Drops CBD or a day of doing nothing at all. But the damage is already done, and I enter a cycle of feeling anxious all over again.
The one thing I was missing was self-compassion—something we always give to others but rarely to ourselves. Self-compassion means forgiving yourself, giving yourself grace, and accepting yourself. When you feel anxious, address that it's normal to feel anxious and continue to love yourself—that's self-compassion. One of the most important aspects of self-compassion for me has been distraction. I don't mean avoiding whatever negative emotion I'm feeling altogether—I distract myself until I'm ready to come back to the emotion with a level head.
Since I started distracting myself when I feel a negative emotion coming on—grief, overwhelm, sadness, loneliness, stress, disappointment, you name it—I actually feel like I'm able to deal with them, once and for all. One of the biggest additions to my routine has been incorporating my CBD regimen from Equilibria in a more intentional way. Instead of just taking my CBD and hoping for the best, I started using my favorite products in conjunction with the rest of my anti-anxiety routine, and it's finally made me feel at ease.
If you also want to try Equilibria's CBD in your self-care routine, use code "theeverygirl" at checkout for 15% off your order! Plus, through September 30, Equilibria is offering a first-of-its-kind deal: new and existing customers who've never subscribed before can get 20% off their first, second, and third months of an Equilibria subscription! Just use code "theeverygirlfall20" at checkout.
How I Show Myself Compassion: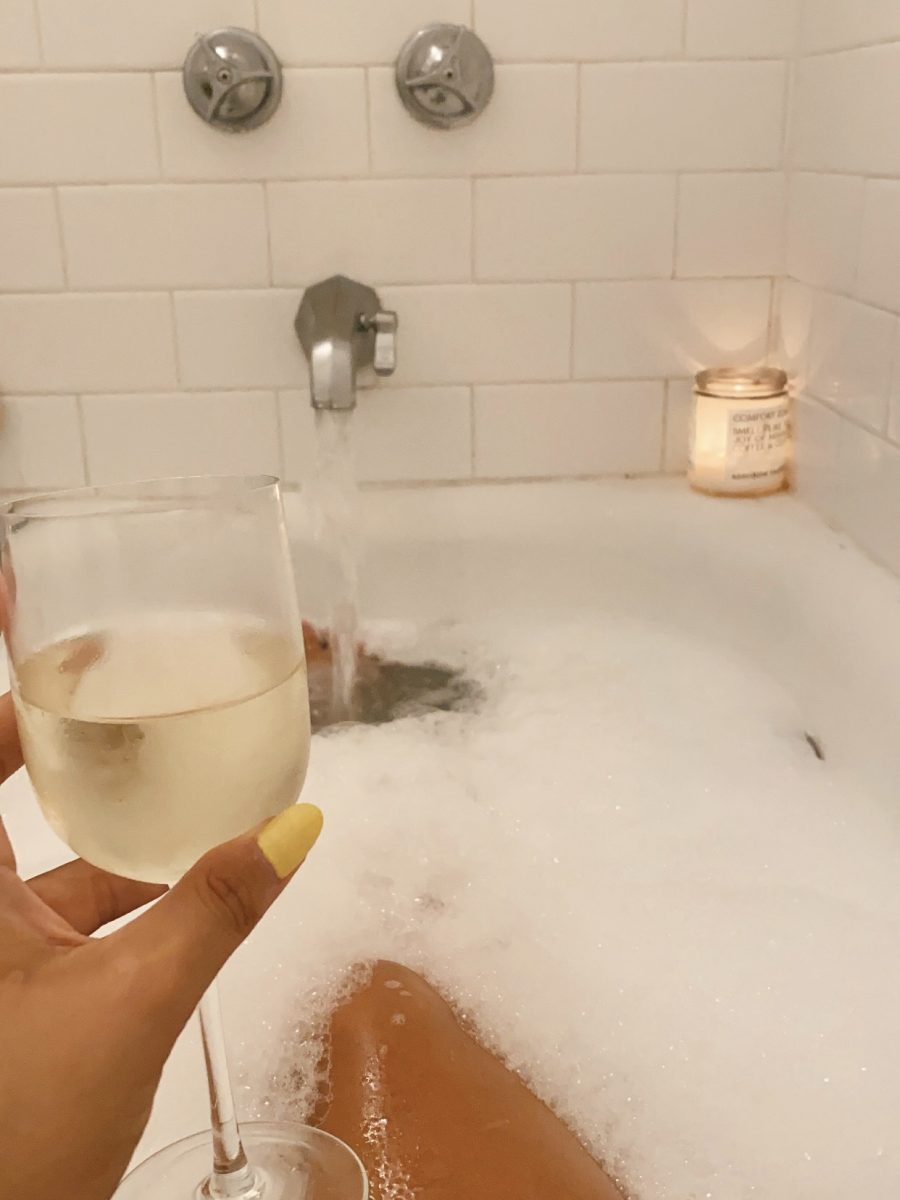 1. Taking baths
Most of my life, I never had a bathtub, so when I moved into my apartment, I took bath time very seriously. I'd put on a dreamy show, scroll on my phone, put on a face mask—and then I'd wonder why I didn't feel relaxed when I got out. Now, I use baths as a time to actually unwind by leaving my phone and computer and instead reading a book. I also started adding Equilibria's Mindful Mineral Soak, which utilizes full-spectrum CBD for a calming bath ritual from the start.
I take baths in the morning and at night, and I tailor them depending on the time. I love using the Equilibria bath soak at night because it really helps me sleep, whereas in the morning, I rely on Equilibria's Bath Bombs that make the bath smell invigorating and energizing.
2. Giving myself breaks throughout the day
When I push through my work to get as much done as humanly possible, I end the day feeling like I absolutely need a nap because I'm so exhausted, regardless of how much coffee my system endured earlier in the day. My therapist actually recommended I start giving myself scheduled breaks throughout the day to step away from my computer and re-energize.
I started incorporating the Equilibria Daily Gummies into breaks at my desk as a way to re-center when I'm experiencing a lot of overwhelm or worry, and they're a great way to take a short break. I'll take one and move to a different spot in my apartment or go for a walk. When I can feel myself wanting a Daily Gummy, I know that I'm in need of a quick break.
3. Nighttime body gua sha
I embarked on a fitness journey this year, and as much as it's improved my physical and mental health, I experience sore muscles quite a bit more than I ever have. This turned me to body gua sha, which I use with my Daily Treatment Oil from Equilibria (or the Relief Balm on really sore days). What I didn't know was how much body gua sha would become a self-care ritual for me, even when I don't have soreness. The CBD oil is so relaxing and soothing on my skin, and the gua sha forces me to take a break to show love to myself for 10-15 minutes every day.
I usually gua sha before bed, so I keep it on my nightstand with my other essentials like a book and lip balm. It's become a non-negotiable in my nighttime routine, right along with my face wash and retinol.
4. Cherishing my morning routine
I have a habit of waking up in the morning and getting straight to work or heading straight to the gym, not giving myself any time to wake up. I thrust myself into the day and then later wonder why I feel so drained at the end of the workday, which always leads me to feeling anxious. Instead, I have started to give myself an hour before I start working or leave the house. I'll make a cup of coffee and actually enjoy it while reading a book or catch up on my favorite show.
Putting too much focus on being productive turns everything I love—like exercise or making myself a good breakfast—into a chore. I wrote down my priorities in a morning routine (exercise, drinking a cup of coffee or tea, getting ready for the day, journaling), and I make sure I get to do those things as much as possible before I start my workday. My anxiety about getting everything done is lessened when I already feel like I've established my priorities for the day.
This post is sponsored by Equilibria, but all of the opinions within are those of The Everygirl editorial board.