While we're big proponents for retail therapy, some shopping is just more torture than it is enjoyable. Bras, swimsuits, jeans—finding the perfect ones feel like a chore, and at the top of that list is jean shorts.
Great jeans are hard to find, and somehow, when 80 percent of the legs are cut off for the summer-friendly short version, it feels like the difficulty is multiplied by 10. Jean shorts have a reputation for being uncomfortable and unflattering, but no matter how you cut it, they're a summer staple. Even though it doesn't feel like it, good jean shorts do exist, and if you do it right, you can find a pair that you wear every day of summer.
Our editors set out to try the most popular jean shorts of 2021 to see which ones are really worth it, and which are the ones we actually want to put on. Here's our breakdown, complete with the winner from each haul. Trust us, you're going to want these.
I fell in love with Abercrombie's Curve Love line when we tried out their jeans, so I just knew that I needed to try the shorts for summer. Because I don't own a super light-wash pair of distressed denim, this pair immediately caught my eye as the potential perfect chill girl option. I really love these, they just have one flaw: I don't know if I can get on board with the mid-rise. I kept wanting to pull them up, but that might be a me problem. However, I am obsessed with how they fit through the thigh… so maybe I'll just have to get used to it! These do run slightly large, so if you're between sizes, I would size down.
I really wanted to love these after how much I loved the '90s jeans from Abercrombie, but there was something about them that just felt "meh" to me. They weren't quite the ultra-relaxed fit I was going for (I would say the boyfriend pair was more in line with that), but they are definitely a cute pair of shorts. I just wish they were a little longer and had a wider and more relaxed fit through the thighs. They are also a slightly stiffer denim, so I felt like I would be adjusting them (pulling down on the legs, etc.) a bit more than I'd like to.
As mentioned above, I was really on the hunt for a longer, relaxed pair of denim shorts that give off ultimate cool girl energy for the summer. I simply can't be bothered with pulling down my too-short shorts, chafing, or just overall uncomfortableness anymore. Well, ladies, we found them. These shorts are so soft, so comfortable, and really the perfect length for what's on-trend right now. I just know I will be reaching for these again and again all season long. I found them to run a tiiiiiny bit large, so I would size down if between sizes—but if you're more into a looser fit, stick with your usual.
Gap jeans have been a staple in my closet for the last couple of years. They're budget-friendly, surprisingly trendy, and are some of the most comfortable jeans I own. I recommend Gap jeans to everyone, so I was extremely excited to try out their shorts. I opted for a high-rise button-fly short with a slightly longer inseam. I really, really wanted to love them—I have a pair of their cheeky straight jeans just like them! However, because I have fuller thighs (which makes shopping for shorts hard already) these just looked like someone took a pair of skinny jeans and cut them off mid-thigh. I love the way these look on the model online and the button-fly detail, and they fit great in the waist. They could be a great option for someone with a different body shape. But on me, they were a no-go.
My perfect short is high-waisted, relaxed, and stretchy, but not so stretchy they'll lose their shape. With all of that in mind, I ordered these shorts thinking they'd be damn near perfect—I could not have been more wrong. I stand at a whopping 5'3", and while these mid-length shorts might hit someone taller at their mid-thigh (like the model), they go all the way down to just a couple of inches above my knee. My legs are short, and these just made them look even shorter. That said, I did love some things about them. The wash and material are great, though the fit is more snug than relaxed. They're great shorts, just not for me.
Of the three shorts I tried on, I was the most skeptical about these. How "perfect" could they really be? Reader, they're the shorts of my dreams. I tried on both my normal size and a size up and though the size up is almost too big, they're exactly how I want my shorts to be. The last thing I want in the middle of a hot summer is to be wearing shorts that are uncomfortable and don't fit just right. They fit perfectly around my waist (no gaps!), have a little bit of EXTRA room in the thighs (something I always want but never find), and are made of a breathable, stretchy material I will feel comfortable in during summer's hottest days.
I love a good mom short, so I thought I would try out Topshop's take on the classic fit with edgy rips. Since the last adjective I would use to describe myself is "edgy," I was pleased that they were the perfect amount of distressed: there was just enough rips to give off the "I woke up like this" vibe, without showing off too much that I would feel uncomfortable wearing them around my grandma (you know the kind of rips I'm talking about). When it comes to jean shorts, I prefer a more structured pair that are less stretchy (call me self-destructive, but I think they look better on me), so I liked how this fabric didn't stretch throughout the day while still being comfortable. The only thing that I did not love was that there was a line of buttons instead of a zipper, which looked a little bulky (and hurt my fingers to button since the denim was so stiff). I guess you can't always get what you want, but these shorts were pretty close!
So maybe my style should have grown up by now, but my inner middle-school self couldn't resist trying a pair of One Teaspoon shorts. If you remember, the hipster-favorite denim brand was all the rage in the early 2010s, and 7th grade Josie desperately wanted a pair of these $100+ shorts. Seeing as I could barely afford a weekly frappuccino with my friends, the shorts were out of the question for me. Cut to 2021: I'm finally an adult, which means I can afford both frappuccinos and $100+ denim shorts (if they're worth the investment).
I had such high hopes for One Teaspoon but was immediately disappointed when the shorts looked nothing on me like they did on the model (but that's my fault because when do they ever??). I liked the wash, the rips, and how the hem rolled oh-so-slightly for the perfect effortless look I had long strived for in my denim shorts. However, they were so short I had to question if I had accidentally bought a denim-short style bikini bottom instead. I know I was looking for denim shorts, but this was not the "short" I had in mind. Perhaps the style did not work with my long torso and shorter legs, but either way, One Teaspoon is a no from me, dawg.
The perfect pair of denim shorts feels unattainable to me: I want a super high waist (like high enough that they make crop tops look like regular tops), but long enough to not feel overexposed or uncomfortable, and that impossible balance of distress and structure. If any jean shorts are going to get close to that level of perfection, it's going to be Levi's. After trying them on, I understood why they're called the "original" denim cut-offs: when one of the most classic denim brands nails a pair of shorts, there's no need to change them. These shorts were good. I'm still on my non-stretch bullsh*t, but I thought this pair was ridiculously comfortable and breathable for non-stretch denim. As for fit, the waist was not as high as I would've preferred and hit just below my belly button instead of right at it or above, but these shorts still get five gold stars in my book because the fit, feel, and wash made up for it.
I never in my life thought I would spend this amount of money on shorts. Shorts and I don't have a great past together. I thought it was me: I carry my weight in my thighs and (as I've gotten older) lower stomach. I associated shorts with a variety of tortures including (but not limited to) thigh chaffing and having to constantly yank them down so they don't look like a denim diaper. That was until instagram finally wore me down. I have seen so many bloggers rave about these shorts, but it wasn't until Kate from Be There In Five joined in that I finally gave in and purchased. That was three summers ago and they are still the only pair of shorts that I wear. They don't ride up, can be dressed up or down, and are comfortable from the moment they come out of the dryer to when it's finally time to wash them. Think they're too good to be true? I even took a nap on the couch in them last weekend. I love that the length is "short" without being buttcheek short, so I feel comfortable wearing them year after year. I could truly rave about how much I love these shorts all.day.long.
The only bummer about these shorts (other than the price) is that the sizing is based more on your body type and less on a size you normally order. I ordered up one size and they are the perfect amount of loose comfort. The waist isn't big or baggy, so the extra room is in the legs—which is perfect for my body type. If you have a more slender lower half, you'll probably want to size down. If you're able to, I suggest ordering two sizes and seeing which you prefer because it's a bit of a gamble.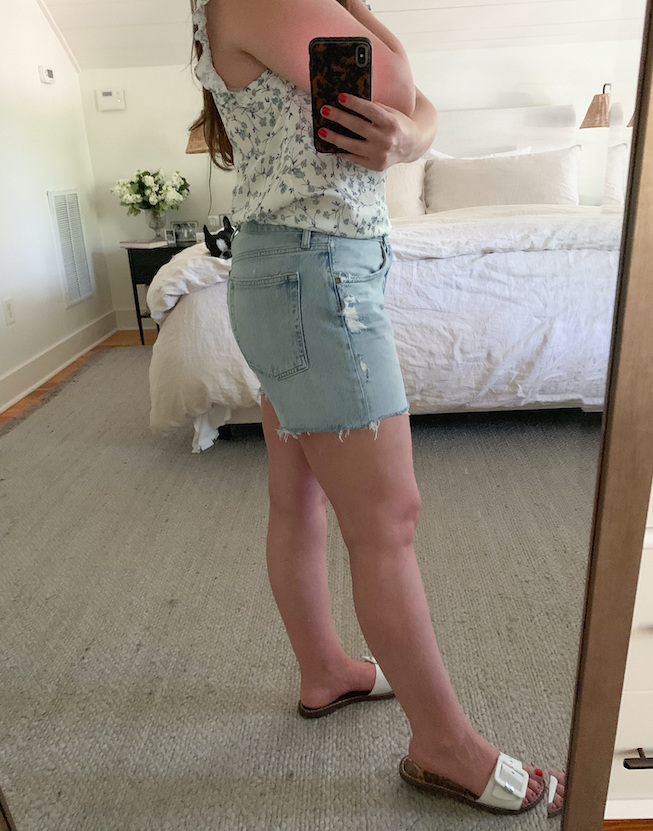 The Parker shorts may have made me a loyal convert, but branching out in the Agolde family hasn't been without its trials. I recently tried to order a pair of distressed jeans and couldn't them past my butt—and they were two sizes larger than my oversized Parker shorts. I truly don't know what's happening with their sizing, but someone please go check on them.
These were advertised as the slightly longer and more mature Parker short. I honestly believe you can wear whatever you want at any age, but after an afternoon of bending and chasing around my friend's toddlers at the park, I started to want an additional pair of shorts that didn't have me wondering if strangers could see my crotch while climbing on the playground. No, it's not an activity I'm usually doing but if these shorts last in my closet as long as I hope the Parker will, I need to plan ahead.
It's hard to compare anything to your first love (yep, still talking about shorts), but these hit all the marks just in a slightly different way. I would say they run TTS and the material is lighter with more stretch. I like that the front buttons make your lower stomach feel tucked in like a pair of high-waist jeans. The color is a lighter denim which I know is trending right now but does worry me slightly for the future.
I wear my shorts to the beach, the lake, and basically anywhere they could possibly get messed up throughout the summer, so I like having some inexpensive options that I won't feel bad about if they get gross after a few wears. For the price point, these are a solid summer short. They fit well, I love how long they are, and they come in a variety of washes.
I didn't love that these were cuffed (I just find it uncomfortable and don't think it looks good on me), so I did some DIYing and turned these into cut-offs, and now they're perfect! These aren't the best shorts on the market, but they're pretty damn good for $20.
After hearing our Editor in Chief rave about Agolde's shorts and jeans the last year, I was dying to try them. I scoured the internet trying to find a pair in my size, and it was not easy. They were sold out in my size in every wash and style practically everywhere, so I jumped at it when I finally saw a pair in my size. As you can see, they were a miss. As far as the material and the style of these shorts, they're incredibly nice. Are they $128 nice? Not sure, but this denim is definitely the highest quality I've ever put on my body. It's the ideal mix of rigid, vintage denim but still has some stretch to make it comfortable. If these had fit, they would have been a 10/10 I'm sure… but they ran a complete size (maybe two) too small. I got the same size as I got in the shorts I tried from Gap and H&M, so it was all the shorts. I'm interested in trying a different style, as I've read that their sizing across the different shorts styles can be really inconsistent.
The Gap Sky High Cheeky Straight Jeans are the best jeans I've ever worn—period. They're practically the only jeans I've been wearing the last few months. They have a little stretch without getting baggy, and they just fit my body like a glove. The shorts felt the exact same. They have the same high waist fit I love, they're true-to-size, and they're fitted but don't make me feel like a stuffed sausage. The only caveat to these jeans is that they're pretty short. I ordered them in "tall" hoping they would be a little longer, and even then, they're a little shorter than I'd like. The fit is so good, though, that I'll deal with them being a little short.
When I put these on, I knew immediately that they were the perfect "effortless" short. They look like something you've just had in your closet forever and bring out once warm weather hits. For me this summer, they were a little shorter than I feel super comfortable in, but if you're looking for a shorter short that also doesn't risk flashing your cheeks, these are for you.
These were the shorts I was most excited to try on by far. I'm into the vintage, longer short look right now, and I loved the wash of these. Unfortunately, they were too big one me. I ordered my regular Madewell size and could have sized down by a size (or maybe even two). If they fit me right they could have been a winner, as they felt super comfortable and the fit seemed lovely, minus running large.
I loved how these shorts looked on the model online, but realized quickly after putting them on that I don't know how to function in bottoms that aren't high-waisted right now. These landed a couple of inches below my belly button, and I just like a short with a little bit higher of a waist—but that's just my personal preference. Besides that, these shorts were super flattering, and if you prefer a mid-rise, these would be a great option.

These are truly the denim shorts of my absolute dreams. I've now had them for a couple of months and don't know how I ever lived without them. They're exactly the length of denim short I'm interested in right now: a mom-ish short without being too mom-ish. They're a super soft denim that makes for a comfortable fit, but I haven't had issues with them stretching out. These will be on my body approximately six days a week this summer.