Winter is known for a lot of things but never exactly for its clothes. It can feel like from the months of January to March, fashion is put on hold and replaced with survival in the forms of black parkas and snow boots every day. But as protest to the notion that winter outfits can't be just as exciting as the rest of the year's, our editors are making it a priority to approach the colder temps in style in 2022.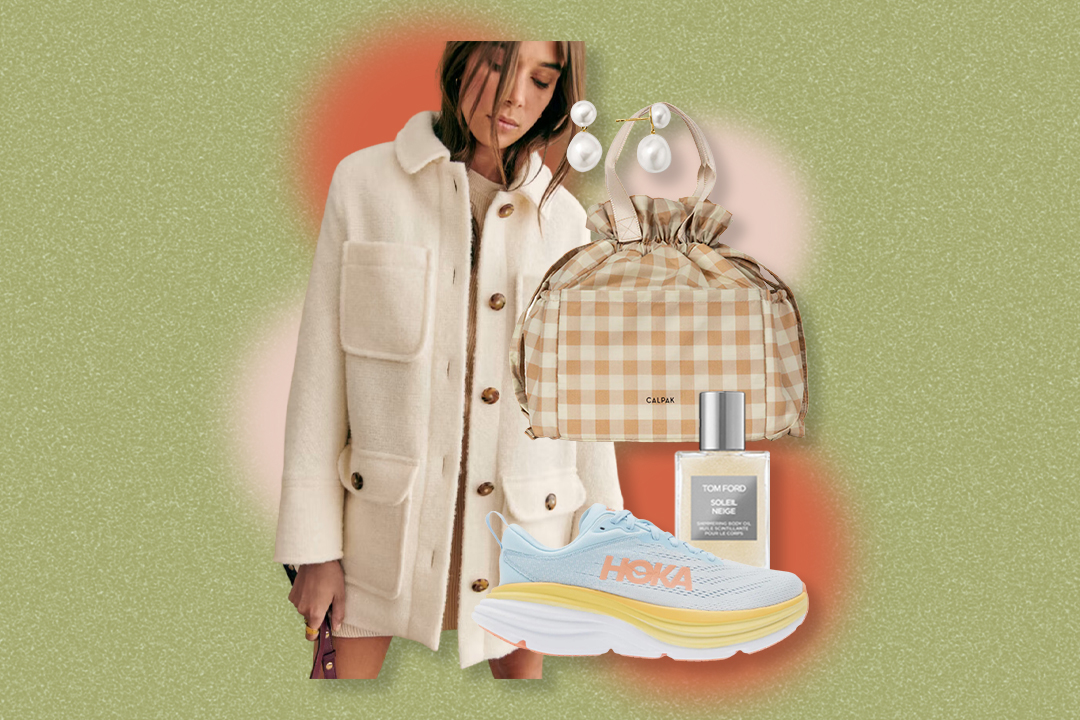 With accessories to look forward to throwing on before we head out the door and coats that spark joy instead of a sense of existential dread, each of our editors has found a go-to outfit that makes us wish winter away a little less (which, for those of us in Chicago, is really saying something).
Whether your winters consist of 60-degree LA days or sub-zero Midwest temps, the next 10 weeks don't need to feel dull or drab—wait for spring in style by taking a page from our editors' books of go-to winter outfits.
hoodie | coat | beanie | sunglasses | leather pants | boots
I like to think my winter style falls under the umbrella of "cool girl who doesn't care" (unfortunately I do care, but passerby on the street don't need to know that). I wear a beanie-and-sunglasses combo every time I leave the house, as it makes me feel like I'm a celeb who doesn't want to be spotted, rather than a girl just walking her dog on her lunch break.
I also live in these leather pants, and love how effortless a hoodie with a wool coat feels, and am particularly obsessed with this plaid one right now. Any time I leave the house, you can bet this is what I'm wearing.
— Madeline, Fashion Editor
shirt | pants | coat | bag | shoes
Living in LA, I only get a couple months to wear some form of outerwear and I intend to make the most of it. For the days that drop below 65, you can bet I'll be rocking a wool coat, which is warm enough for nights (it gets cold, I swear!), but won't give me heat stroke if the sun comes out during the day.
My uniform in general is baggy jeans and a button-up (super easy and chic!), so I'll be making it interesting with accessories (a chic heeled bootie never goes out of style, and green is my favorite color du jour).
— Josie, Wellness Editor
turtleneck | coat | scarf | sunglasses | bag | jeans | boots
My winter-in-Chicago aesthetic? Chic Steve Jobs. I swear by a classic, mock-turtleneck and have found that pairing it with my favorite pair of denim jeans and a lug-sole boot is always the move. If you invite me for dinner and drinks, there's a 95 percent chance that I'll show up in this exact outfit formula. Dress, rock, and repeat—all season long.
— Ashley, Branded Content Editor
sweater | beanie | pants | clogs | socks
I am currently on a mission to leave my home as rarely as possible, so when I do have to leave, I don't have to change back into comfy clothes the second I walk into the door. A cozy sweater looks professional and put-together on Zoom, but it's keeping me warm as I sit in my ice-cold apartment all day. Paired with a pair knit pants and cozy socks (plus my beloved clogs whenever I walk outside), I feel like I got dressed that moment when I actually feel like a human blanket. Ta-da.
— Beth, Beauty Content Manager
sweatshirt | beanie | puffer | joggers | bag | sneakers
It's hard to catch me in anything but loungewear when the temps are below freezing, but I will elevate the look if I'm leaving my house. A cute jacket and purse turn a matching loungewear set into a trendy outfit fit for any time that happens—regardless of what plans I might have.
— Jessica, Social Media Editor
sweatshirt | puffer | pants | belt bag | boots
If there's one thing I strive for when it comes to my winter wardrobe, it's finding the perfect balance of looking cute while not absolutely freezing whenever I go outside. I also tend to go for comfier looks when it comes to the cold weather, because I simply can't be bothered to put too much effort in. This combo of wide-leg lounge pants, a graphic sweatshirt, chunky waterproof boots, and a warm-yet-chic statement puffer has gotten me through some of Chicago's chilliest days.
I also don't leave my apartment without this under-$20 Amazon belt bag, which is not only super cute, but also fits everything I could possibly need for a day (or night) out and about.
— Jess, Associate Editor