As the spot that greets you as soon as you walk in the door, the entryway can sometimes be a magnet for clutter. It's easy to toss jackets, shoes, and bags on the floor right by the door or set piles of mail and other papers down on any surface that's close by. While all of these items definitely belong near the door for easy access, if they don't have a designated spot, your entry can quickly devolve into chaos. This is where a tidy, aesthetically pleasing entryway organization system comes in clutch.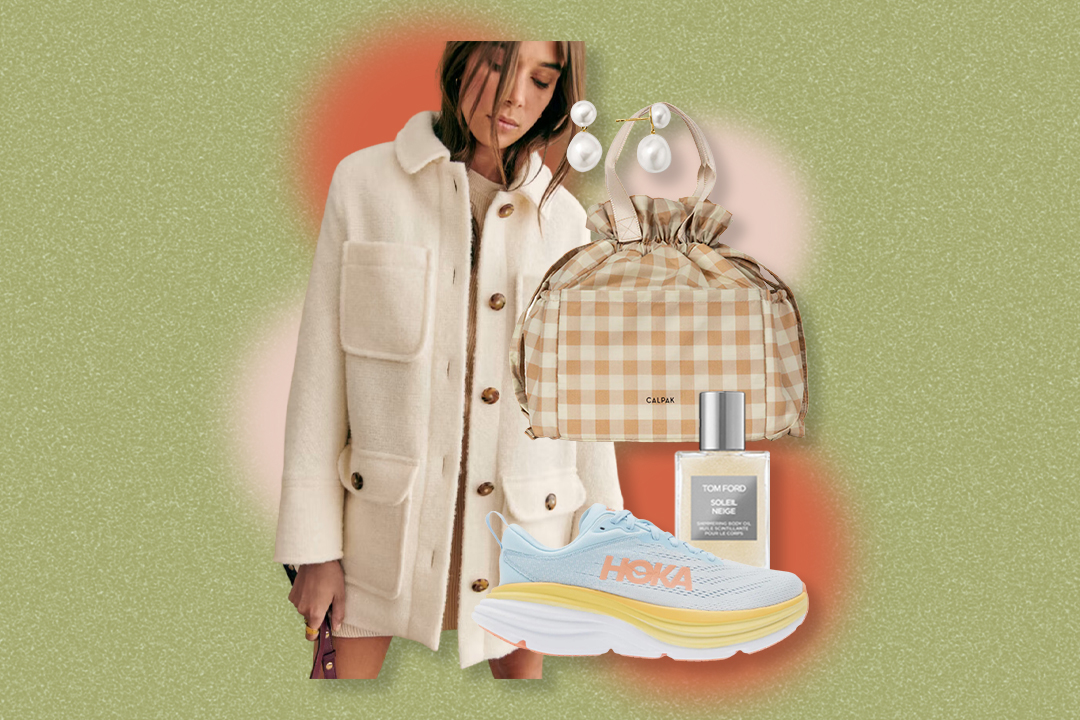 The good news is you don't need a ton of stuff to keep the entryway organized, but it does help to have a few essentials on hand. If you're looking to give this small but mighty part of your home a spring makeover, read on for the key entryway organization pieces that will keep your space uncluttered and pristine.
1. Some sort of surface
If you're always complaining about not having anywhere to set things down when you walk in the door, an entryway table is a necessary investment. This piece will not only work to keep clutter at bay, but it can also serve an aesthetic purpose, too. Add a small lamp to brighten the space up, or decorate it with framed pictures or vases full of flowers. Some consoles have drawers for extra entryway organization, while others have space underneath for baskets—both are great storage options to keep things out of sight and in order.
If you don't have room for a piece of furniture, set aside some space on a nearby surface to hold those items you often reach for when heading out or dump immediately when you walk in the door. When I lived in an apartment that didn't have an entryway, I designated a spot on our kitchen counter near the front door for my essentials. Don't be afraid to use what you have!
2. A catch-all bowl or tray
Once you have a designated surface in your entryway, add a catch-all bowl or tray for things like your keys, sunglasses, wallet, and other miscellaneous items you need to grab and go. Instead of just tossing things on your table, corral them in a bowl to keep things tidy and ensure you'll know where to look every time you need them. My catch-all bowl holds my husband's wallet and wristwatch, as well as the key fob for our neighborhood gym.
3. Hooks
Perfect for hanging keys, bags, and outerwear, hooks are a great way to give some nearby wall space a purpose. Depending on how much stuff you need to hang, you could opt for individual wall hooks, which are available in a variety of styles and finishes, or invest in a wall-mounted shelf with multiple hooks. Some also include storage slots for mail or an open shelf, which is a perfect spot to display a small plant, a framed picture, or even a reed diffuser to keep your entryway smelling fresh.
4. A designated spot for shoes
It doesn't matter if you're a "no shoes in the house" girlie or not, you'll want to have a designated spot for shoes by your front door. Having your trusty pair of sneakers at the ready when it's time to grab the mail or walk the dog just makes life easier. The same goes for your favorite pair of slippers—that way, you can quickly slip into something cozier as soon as you walk through the door.
You have several options for shoe storage, and the best one for you depends on your space and how many shoes you'd like to store. You could simply lay down a mat by the door for outdoor shoes or find a shoe rack that can double as your entryway surface if you're tight on space. Shoe storage cabinets can also work well for small entryway organization, as they are slim and keep shoes out of sight—a plus if you like a more streamlined look. Another option for keeping shoes close by and out of sight is to store shoes in baskets under your console table. To really keep them hidden, find a basket with a lid!
5. A small basket for recycling
The amount of junk mail I receive is mind-boggling, so I keep a small recycling bin right by the door to make it easier to get rid of it right away. There's no need to let junk mail pile up if you deal with it right when you walk in! Instead of dumping it on the kitchen table, a recycling bin near the door is a much better option.
6. A mirror
It's always nice to do one last check-in before you head out the door, and an entryway mirror is perfect for last-minute hair and makeup touch-ups. Not only that, but a mirror will also reflect light and make your entryway space appear a bit brighter and larger. Place your mirror right over the console table for the perfect finishing touch. Bonus points if you find a mirror that includes some hooks, too!