We get it — winter can put you in a major style rut. After all, it feels too cold to wear anything besides a sweater, and, with a bulky coat on top, who cares what you wear underneath, right? WRONG.
Winter is the perfect time to upgrade your fashion game, even if all you want to wear are your skinnies and a big, cozy sweater — we're all about staying warm and making getting dressed easy! But that doesn't mean you have to succumb to boring, lackluster ensembles when the temperatures drop. To vary up your winter wardrobe and get you out of your style rut, here are 9 shoes you can wear with skinny jeans (and your beloved sweater):
1. Chelsea Boots
Source: Pinterest
They're timeless for a reason — Chelsea boots are the ultimate wardrobe staple for the classic girl. Channel your inner Kate Middleton and pair with your chicest accessories: a wool peacoat, your favorite watch, or a stylish AF fedora. The best part is, in the words of Taylor Swift, they'll never go out of style.
2. Sneakers
Source: Daily Mail
Whether you're a certified gym rat or shopping is your cardio à la Carrie Bradshaw, you can't deny that sneakers have become the biggest thing since skinny eyebrows in the '90s. They're cool, they're comfortable, and they look oh-so-good with your skinny jeans. Go full on sporty-chic with a bomber and baseball cap, or resort back to your oversized sweater. Either way, your shoes will be comfy and your outfit will be #OOTD ready.
3. Velvet Pumps
Source: The Sunday Chapter
It's true, sometimes high heels are just unavoidable — even in winter — if you're going to a fancy restaurant, a dinner party, or just need a confidence boost. Instead of going for your basic stilettos, look for a pump in velvet. It's more weather-appropriate, much trendier for 2019, and works with your skinny jeans and oversized sweater, flawlessly.
4. Loafers
Source: Daily Mail
On the days it doesn't snow, your workwear or brunch outfit requires simplicity and style. Enter: loafers. More weather-appropriate than ballet flats but more elegant than boots, they're the perfect shoe to throw on whether you're headed to the office or running errands. There's something about loafers, skinnies, and an oversized sweater that is just so. damn. chic.
5. Snow Boots
Source: Pink Peonies
Unless you live in perpetual warm weather (in which case, #goals), there's always a few days a year that we need to call in the troops. And by troops, I mean snow boots. It might be just so cold or snowy outside that there's literally no other option. But don't panic, your skinny jeans and sweater combo work just as well and still look stylish (#winterchic).
6. High-Heeled Booties
Source: Who What Wear
Remember those velvet pumps? Well what do you do if it's just too cold to wear pumps, but you want to rock a high heel? Uh, duh — high-heeled booties! They go from work to after work drinks perfectly, and look good with any skinny-jean-and-sweater combo.
7. Furry Flats
Source: Refinery29
Sure, winter can be too cold for flats. But, thank the fashion gods, there's a solution to that! 2018 gave us the furry flat trend of our dreams, and they're still going strong in 2019. We no longer need to decide between cozy and style because the two are combined to create the coziest, trendiest shoe since Uggs first became cool.
8. Sock Booties
Source: @allyshayung for Glamour
Another 2018 trend that looks like it's sticking around for a long time — the sock bootie, a Kardashian/Jenner favorite, is being rocked from summer to winter by cool girls, everywhere. Good news: they're extra flattering and leg-lengthening when paired with skinny jeans.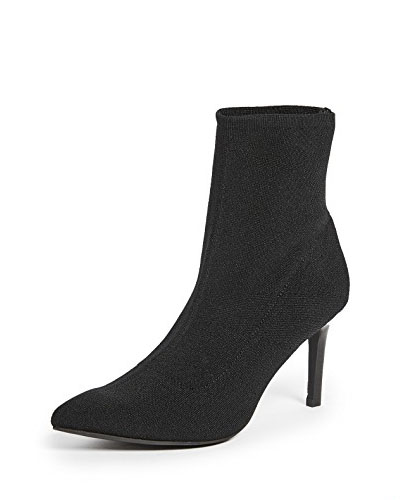 9. Over-the-Knee Boots
Source: Glamour
Good news for those of us suffering through the brutal winter: the warmest boots in your closet (besides those reserved for snow days) totally upgrade your basic skinnies. Over-the-Knee boots look chicer than ever in the variety of colors and styles in the 2019 versions, and blend perfectly with your winter wardrobe, taking your blah skinny jeans and sweater to #OOTD ready.
What's your favorite shoe style to wear with your skinnies?