I'm a lot of things, but one thing I am not—and never have been—is hairy. This, like most things in life, is a double-edged sword. On one hand, I can go a week between shaving my legs and was never subject to the fresh hell that was getting your upper lip waxed in the back of a nail salon before Homecoming in high school; on the other hand, the hair on my head is wispy-thin and my eyebrows look like I spent years over-plucking them (alas, I didn't). So when bushy, full brows became the it-thing to have on your face, I knew I'd have to turn to a whole lot of eyebrow gel to fake mine.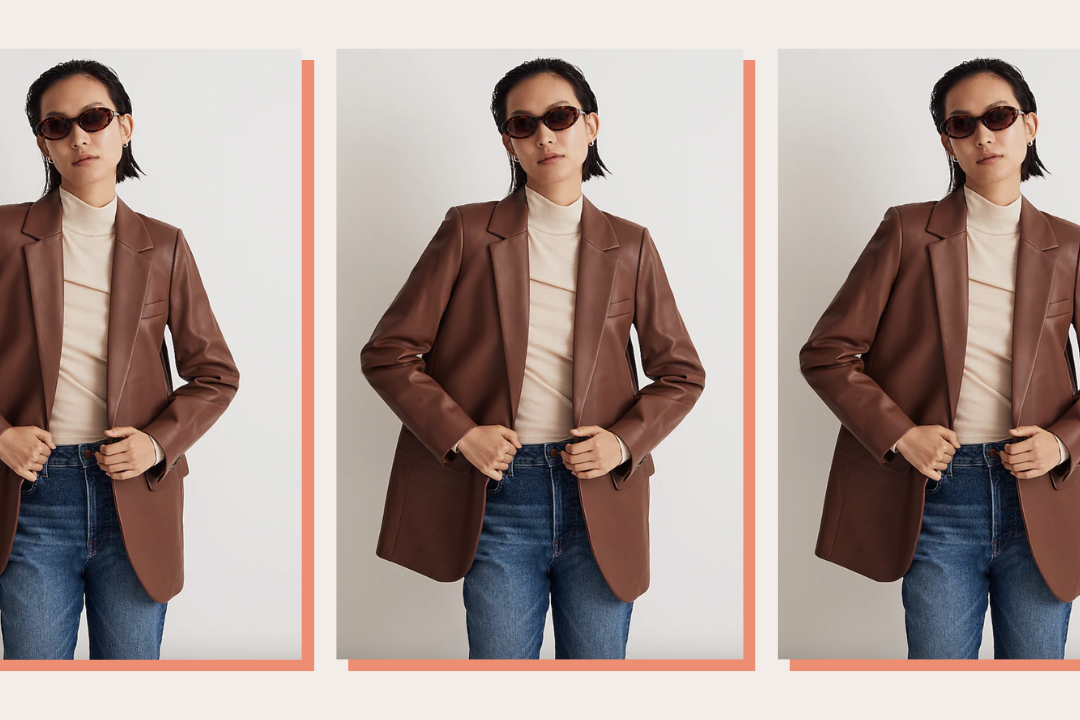 time for your fall wardrobe update!
While my brows have been growing out for years with a bit of progress, at the end of the day, they're still on the thin and fine side. When I fill in my brows, rather than just using a pencil, I like to prioritize volumizing gels that give them a tint and can trick people into looking like there's much more hair there than there really is. To help my cause, there's no shortage of brow gels on the market right now, so I tried the highest-rated ones to see which took me a step closer to the brows of my dreams.
After weeks of trial and error, these are my unfiltered thoughts on each of them, whether they gave my brows any bang for my buck or who I think would like each—so your brows can be feathered up to the heavens too.
No product's name drew me in like this one's did, which let me get a little carried away with my expectations (which were somewhere along the lines of Brooke Shields' brows in a tube).
Off the bat, I loved that this product gave my brows a pretty hefty tint. It's very pigmented, which made my brows look much more opaque. It definitely eliminated the need for me to touch up any spots with a pencil, which is a huge bonus. For my fine brows, I wished it had more of a volumizing effect—but that doesn't mean I don't think it would be amazing for those who are more well-endowed in the brow area (and even for me on days I just want a quick, easy sweep of color). The applicator was on the slightly larger size but gave me enough control that I could apply it without it getting all over the place.
Perfect if: You want a brow gel that eliminates the need to fill in with a brow pencil
I've seen rave reviews of this product all over TikTok, so it was the first product I tossed on when I got my order (which is really saying something, because how does one pick from a box of the most popular eyebrow products?).
On a day-to-day basis (for working from home, taking Zoom meetings, etc.), I like my makeup routine to include a little mascara, a little bronzer, and a little eyebrow action, and this was the answer to those desires. It has the perfect tint (not too dark or overwhelming if I'm not wearing other makeup but pigmented enough that I don't fill in any other gaps) but also gave them a fluffy, full look at the same time. It isn't a drastic before-and-after but is one that made me feel super confident and less naked, like I sometimes feel when my eyebrows are going commando. Over the past few weeks, this was the product I reached for the most for daily life, and I can already tell it will be a repurchase for me.
Perfect if: You want a tinted brow gel that does it all
A very interesting point in 2022's brow products is that many have "with lamination effect" in the name. And sure, that sounds nice, but it sounds like an empty promise. I have gotten my eyebrows laminated multiple times before, so I know how it feels and looks on my face—and ladies and gentleman, this product is literally an eyebrow lamination in a tube.
I love an eyebrow lamination, and in a perfect world, I would have one at every moment of my life, but I don't for two reasons: 1. They're expensive and don't last that long and 2. They're really bad for your eyebrows and make mine look even worse once it's worn off. As a girl with no eyebrow hairs to spare, damaging the ones I do have further isn't ideal—but I can really say I don't think I'll ever get one again because of this product.
Remember the Anastasia Brow Freeze craze a few months back (yes, I tried it, and no, it isn't in this article because I hated it and didn't want to waste anyone's time)? This is everything that it claimed to be but 100x better. First, I have gone through a 14-hour day full of the elements and sweat working against me, and this does not budge—not at all. The hairs stay up and in place through whatever I put them through. Second, the double-sided, super-unique brush—which is literally a brush rather than a spooly and has one plastic, comb-like side and one that's like a tiny brush—allows you to push up the hairs to actually look like an eyebrow lamination rather than just like you have eyebrow gel in.
If I had to name one downside to this, it's that I do fill in the more sparse spots of my brows after I use this if I'm going out and have full makeup on, but that isn't really a downside to me because it makes my eyebrows look so full that the rest is super minimal (as you can see in the picture above). I truly cannot recommend this enough. Showstopping, never-been-done, perfection, 10/10.
Perfect if: You want an eyebrow lamination in a tube
Behold! Another product that has "brow lamination effect" in the name (see what I mean?). While the other Kosas gel I mentioned is tinted, this one is clear and boasts the added lamination magic in the claims.
While this is far from a lamination effect, I do think this is a really lovely brow gel. It makes my brows super fluffy and much fuller looking, which is perfect for me for summer days where makeup-free or days I just need something quick to throw on before I leave the house. If I'm going to be heading to the beach or pool, I don't want any tinted product in my eyebrows at risk of becoming a mess, so this is what I'll be reaching for those days this summer.
Perfect if: You want a clear gel that makes your eyebrows uber-fluffy
This was my ride-or-die product for all of college, so I was stoked to re-visit it and see if it held up to my high expectations. Spoiler: It didn't.
Some way, somehow, this product actually made my eyebrows look even thinner (which did not please me, as you can clearly tell from the misery on my face). The formula felt a bit heavier compared to the others, so it kind of made my eyebrow hairs stick to each other and weighed them down, making them the opposite of the light, fluffy look I'm after. If you have full brows that need to be tamed, I think you'd like this, but if you're looking for a product to do a lot of heavy lifting, this is a skip.
Perfect if: You have naturally full brows that you just want tamed
This is another oldie but goodie to me, and in my opinion, it's Benefit's absolute best brow product. If I was comparing this to another product, it would be the Refy gel that I love but with one major difference: Rather than the more slicked-down look, this gives a fluffy-but-full look. It doesn't quite make my brow hairs stick straight up in an industrial way (which is what a lamination does) but rather holds them up all day while leaving them looking a bit more natural.
Like the Refy gel, this one is super long-lasting. While I've never worn it for 24 hours like the name claims, I have worn it for upwards of 14 while maintaining the fluffy brow look. Since this one is a smidge less intense, it makes it a bit easier to use a pencil on top if I feel like I need to fill them in too.
Perfect if: You want full-looking brows that don't look like they have product in them
Another product that rose to TikTok fame this year, this little guy was sold out at the stores I went to, so I had to order it online, which is no biggie—just a little insight if you want to try it yourself.
This product is a wet, gel-like eyebrow glue that feels similar to if you put hair gel on a spooly, then on your eyebrows—and it works. It's wet and a bit heavier in formulation but definitely gives the brows a brushed-up look. The only problem was that out of all the products, this lasted the least amount of time on me. I found that if I wore this for more than six hours, my brows would fall a bit back down to normal—but if that isn't an issue for you, this is the best drugstore brow product I've found.
Perfect if: You want an affordable gel that'll make your brows look super fluffy
There is no eyebrow product article without discussing the OG, Glossier's Boy Brow. Back in the day, this was the brow gel that stopped everyone in their tracks—but does it hold up to 2022's standards?
In my opinion, no, it does not. I got the clear Boy Brow, and to me, it felt like a pretty basic clear brow gel. I think we have better options now that give a bit more oomph, but that cannot be said for the Brow Flick. I decided to try both in tandem since that's what they recommend, and it is by far the best brow pen/pencil I have ever used.
The Brow Flick is a felt-tipped brow pen that allows you to use hair-like strokes to really fill in brows in a realistic way, and it is truly incredible. I ordered it in the color blonde, and within a few quick strokes, it looks like my brows are double the fullness. A felt-tipped pen on brows sounds a little scary, but it is so easy to use and completely transforms how my brows look, putting my go-to pencil to shame. If I'm doing my makeup, I'll use the Refy gel and fill the front and any gaps in with the Brow Flick, and the duo cannot be topped.